Tech feature: Javelin 2006, October 27, 2005
Javelin flies into carbon and Europe for 2006
Up-and-coming bike builder Javelin recently unveiled its 2006 range with a big move into carbon fiber frames. But that's not all, as founder Scott Warren told Cyclingnews North American Editor Mark Zalewski; Javelin has its eye on Europe and hopes to use its relationship with the TIAA-CREF team as a springboard across the Atlantic.
Scott Warren shows off the Torgiano
Photo ©: Mark Zalewski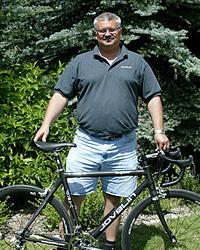 Scott Warren and Javelin have been busy as... well, bike builders bent on making a big splash in 2006. Not only has the company overhauled some of its current line, it is adding to it -- and the name of the game is carbon. The biggest expansion comes in the road frame line, in part due to the company's two team sponsorships with the developmental men's team TIAA-CREF and the women's Ford-Basis team. Javelin invited Cyclingnews to visit them in Beaver Creek, CO for their first-ever dealer conference to get a sneak peek and sneak-ride of the new line.
The two days of the conference were packed with riding, riding and more riding so that your local bike shop owner knows the ins and outs of the newest rides. Scott Warren and his team were most anxious to show their latest advancements in carbon frame building, that boasts two frames that utilize the new carbon wrapping technology for assembling the frames.
Lean and mean
Photo ©: Mark Zalewski

"We now have three carbon frames and even better construction. We've found new people to make the frames as well, some in Italy some in Asia," says Warren, the founder of Javelin. "Things are moving fast, but we're not going too fast to make any mistakes. There are some supply issues and that makes you pause when developing new products."
Torgiano seat cluster
Photo ©: Mark Zalewski

The latest development in carbon technology that Javelin is utilizing is carbon wrapping, whereby pieces of carbon are used to join individual carbon tubes. "The advantage of joining carbon with wrapping is that you get a light frame and the geometry you want and make changes," Warren explains. "We get the custom tubes, set the geometry we want and then cut the tubes to size. Then we wrap carbon around the joints, vacuum bag and cure the whole thing."
The Grigio
Photo ©: Mark Zalewski

At the top-end of Javelin's carbon line-up is the new Torgiano, which uses carbon wrapping for the entire frame, and tips the scales at right around 1000 grams. This frame's construction, using individual carbon tubes cut to size and assembled, is much like how metal frames are assembled. This could lead to an all-custom carbon frame at some point, but not for 2006. "We're considering a custom frame program once we have the production frame down," Warren says. "So far we haven't built anything custom yet."
No joins
Photo ©: Mark Zalewski

Stepping up in the carbon line is the Grigio, which gets a makeover for 2006 by utilizing the same wrapping technology in the rear stays as the Torgiano, but has a monocoque front triangle. This frame will weigh in at about 1200 grams claimed. Finally, the all-aluminum Amarone from 2005 becomes an all-carbon monocoque frame for 2006 and a race-ready workhorse to be sure.
A Javelin employee
Photo ©: Mark Zalewski

Present at the conference was TIAA-CREF's director Jonathan Vaughters -- in part to support his team's bike sponsor but also to get a close look at the new line for the 2006 team bikes. While his team has mostly ridden the carbon/aluminum Brunello this year, Vaughters gave the updated Grigio and new Torgiano the stamp of approval, so it will be interesting to see which bike his team will be riding next year.
The Vigorelli track frame
Photo ©: Mark Zalewski

Javelin's in-depth involvement in road sponsorship is showing dividends, which will encourage the company to continue its participation. "Teams create a following in the high-performance bike shops," says Warren. "That is where we are seeing the most growth." The other benefit of team sponsorship is to get quality feedback in a timely manner. "Javelin has always been a high-performance company, and it's important to interact with the top athletes." With TIAA-CREF making more and more inroads into Europe, Javelin is following close behind as well. "We are just starting in Europe. TIAA-CREF spending time over there really helps. We are talking to different distributors in Europe and Australia as well."
See also: Javelin - Growing an oak from an aero acorn
For more information see www.javbike.com
Photography
For a thumbnail gallery of these images, click here
Images by Mark Zalewski/Cyclingnews.com