Tech feature: Inside Javelin, July 7, 2005
Growing an oak from an aero acorn
A little bike company that started with a highly-regarded time trial frame is branching out into components and a full line of bikes. But as Javelin founder Scott Warren tells Mark Zalewski, he and the company remain deeply commited to involvement in the racing cutting edge.
Scott Warren of Javelin
Photo ©: Mark Zalewski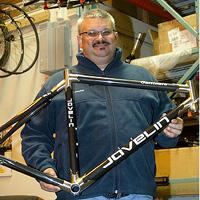 Javelin founder Scott Warren has been involved in developing American cycling in one way or another for a long time. His industry 'palmares' include coaching elite and professional teams such as TCBY and Celestial Seasonings in the 1980s and 90s; starting the bicycle frame company Javelin from scratch, and being one of the first in the industry to include wind tunnel testing in bike design.
"I started going [to the wind tunnel] in 1989 at Texas A&M," says Warren. "Many people from the industry were starting to go, realizing that there was something to [aerodynamics,] especially with the advent of the Scott aero-bar and other technology."
Brunello ready to race
Photo ©: Mark Zalewski

Warren started Javelin in 1994, and it has been his most successful venture, boasting an arsenal of more than twenty different bike models, ranging from road to multi-sport to track. He sold the company a few years ago, but remains intimately involved, remaining in charge of research and design, while the mundane duties of peanut counting and sales are handled by others. This has allowed Javelin to broaden in terms of materials used in frames and to expand beyond framesets to offer whole bikes, complete with Warren's new Zero line of lightweight components. Warren also handles the U.S. importation of the Lightweight brand of amazingly light carbon wheels from Carbon Sports in Germany -- coveted by some of the top pros around the world.
Gattinara head lug
Photo ©: Mark Zalewski

Warren has used the success of Javelin to expand areas such as team sponsorship, which for a former team director, holds a special place in his heart. "For me personally, I was always involved in cycling teams form a developmental standpoint -- and it's something we continued with Javelin," says Warren "It is important to develop the next top riders. Sure we'd like to win every race we go to but it's also important to develop the next champions, and it's a price were willing to pay."
Javelin currently sponsors two U.S. domestic teams, both of which have a developmental mission that Warren enjoys. The Ford-Basis women's team, led by rider/director Nicole Freeman, has ridden Javelin road frames for the past few years. In 2005, Javelin began sponsorship of the U23 TIAA-CREF team with road and time trial frames, as well as Zero components. "Our involvement with Jonathan [Vaughters] and Nicole [Freedman] is something that we really like to do because they will be top teams and the talent developed will be the top end someday."
More than just time trial bikes
Arcole TT frame
Photo ©: Mark Zalewski

A common misconception Scott Warren faces with Javelin is that the company only makes time trial or triathlon frames. This couldn't be farther from the truth, as Warren explains. It just happened to be that the first frame that Javelin produced was a highly successful time trial frame.
Javelin manages the air
Photo ©: Mark Zalewski

"I started Javelin in 1994, and the first model we came out with was the aero model. I think it [happened] because we came out with the aero, time trial models first. We continue to develop those style of bikes, and people won national championships on our aero bikes -- like Mari Holden." And the term 'highly successful' means more than people might realize. Javelin's TT bikes have been used 'unofficially' by pros in the biggest races for years, thanks to the art of repainting and reapplication of other sponsor's decals.
However, Warren isn't trying to rid the company of it's reputation of championship-winning designs. "Its not a bad thing to be known for because it's the highest end of the technological side of the business," explains Warren. "So we're not trying to shed ourselves of the stereotype as much as trying to build awareness of our high-end mass-start road bikes -- and we're doing that through our sponsorships, and promoting research and development."
Bright future
Wheels are a new line for Javelin
Photo ©: Mark Zalewski

When Cyclingnews visited the North Little Rock, Ark. facility, the volume of product moving in and out was high, with orders lining up to be shipped. Javelin even had to buy the warehouse across the street in order to house the broadening product lines, further showing that this company is on the rise in terms of growth. And while Javelin is growing, it is not compromising the custom-design quality and focus on innovation that has made it successful.
The complete non-disc wheel line-up.
Photo ©: Mark Zalewski

For example, the new line of components that Warren is developing, named Zero for their lightweight design, is a result of dealers and athletes wanting more high-end racing products from the design guru. "We've always had some ideas for components like wheels that we wanted to bring to the market -- and a lot of dealers have asked as well as fulfilling our creative desires," says Warren. "It also allows our athletes to be provided with top level components."
While Warren is reluctant to let too much information about his latest projects see the light of day, new areas of focus include deeper ventures into carbon technology. Additionally, the company will utilize valuable feedback from the sponsored teams and riders from this season, insuring that athlete-specific information is translated into technical improvements. "We keep evolving more products in both lines. For 2006, some of the R&D that has gone on with the teams we sponsor will be implemented -- because we want to always keep building a better-performing product."
For more information see www.zerocomponents.com and www.javbike.com
Photography
For a thumbnail gallery of these images, click here
Images by Mark Zalewski/Cyclingnews.com