Recently on Cyclingnews.com
Review - November 3, 2004
Lightweight wheels
German made and widely used in the pro peloton for more than a decade, Lightweight wheels are now starting to hit the general market. Cyclingnews' Chief Online Editor Jeff Jones had a chance to test a pair for a few weeks, and gives us the lowdown on these fairly exclusive carbon hoops.
A Lightweight
Photo ©: CN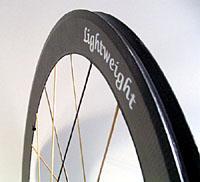 When it comes to deep rimmed carbon wheels, a few popular brands spring to mind, such as Zipp, HED and Campagnolo. But a close inspection of the pro peloton will show another very popular carbon wheel that hasn't had the recognition that it has perhaps deserved, due to contractual obligations with sponsors. The somewhat covertly named Lightweight wheels, now owned by German company CarbonSports GmbH, have been ridden by the world's top cyclists, triathletes and duathletes for over 10 years, and in recent times Lightweights have begun to penetrate the amateur market as well.
History
When describing the history of Lightweight and CarbonSports, the company avoids mentioning the names of the riders that have ridden its wheels to victory in the Tour de France, World Championships and other big races. But there are strategically placed photos of Mario Cipollini, Bjarne Riis and Jan Ullrich on the CarbonSports website, and company founder Heinz Obermayer has mentioned Johan Museeuw, Lance Armstrong, Marco Pantani, Stefano Garzelli, Joseba Beloki, Hanka Kupfernagel and more as riders who have used the wheels in races.
Lightweight wheels (for bikes) started off life in the late 1980's by two aerospace engineers, Rudolf Dierl and Heinz Obermayer, who had a considerable amount of expertise in composite materials. They produced everything in their small factory in Munich, Germany, and until 1994 only made disc wheels under the 'Ultec' name. The deep rimmed carbon wheels started in 1995, and since then have undergone only a few changes to their basic design. As the production process was necessarily slow, the waiting list was up to a year long and the price was the equivalent of €2000. But that didn't deter riders from queuing up to order these wheels.
Lightweights
Photo ©: CN

The rear wheel
Photo ©: CN

The front wheel
Photo ©: CN

The rear hub
Photo ©: CN

The front hub
Photo ©: CN

The Lightweight wheel
Photo ©: CN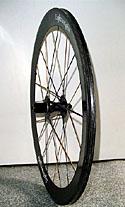 A close up of the rim
Photo ©: CN

The Lightweight name
Photo ©: CN

Special brake blocks
Photo ©: CN

In 2003, Dierl and Obermayer sold their company to CarbonSports GmbH, a much bigger German company that specialised in building carbon fibre components for many uses, not just bicycle wheels and frames: aircraft and satellite parts, medical technology, and aerodynamic components for Formula 1 cars are all made by CarbonSports. The manufacturing base moved to Friedrichshafen (still in Germany), and Hans Obermayer trained the production crew to make the wheels to the right specifications, taking the pressure off himself. Obermayer is now involved more in development and monitoring of the production process, while Rudolf Dierl has retired.
The wheels
Cyclingnews had the rare opportunity to test a set of the Lightweight standard spoked 700c tubular wheels (Lightweight don't make clinchers) for a period of four weeks. The rims are completely made out of carbon fibre, including the braking surface, and have a lightweight foam core. They measure 52.8mm deep and 19.5 mm high. They are built around Lightweight's own carbon fibre-shelled hubs, although there is an option to use a DT Swiss Hugi 240s hub for the rear, which permits interchangeability of Shimano and Campagnolo 9/10 speed cassettes. The lens-shaped spokes are a mixture of carbon fibre with a Kevlar core, which are joined to the rim seamlessly. This is designed to improve aerodynamics, although truing the wheel without taking the tyre off is impossible. Lightweight claims that each spoke can hold up to 1200 kg without a significant increase in length.
Lightweight's rear wheels are all 20 spoked, while the front wheels are either 12, 16 or 20 spoked (we tested a 20 spoked front wheel). The weight differences between the wheels are about 10g per four spokes. Our test wheels came with Lightweight's signature Continental Competition tubulars and the special brake pads for the carbon surface.
The wheels now come standard with a memory chip laminated into the rim. It weighs just 0.2 g and contains a unique tracking number with information about the production process, as well as giving you the option of registering your wheel with the bikefinder.de database, allowing identification in case of theft. Finally, there is an option to have a 0.8 g wheel magnet laminated into the rim.
The claimed weight of the bare wheels, without tyres, skewers or cassette, is 660g for the rear and 470g for the front. That's 1130g a pair, and certainly justifies the Lightweight name. These aren't the lightest deep rimmed wheels out there, but they come damned close. Also, Lightweight claims that its wheels are built to be stiff as well as light, and this is an important point. In many racing conditions, stiffness is one of the most desired qualities in a wheel.
The cost for a pair of these wheels, without tyres, brakes or skewers, is a cool €2500, a lot more than my entire bike is worth.
Testing and performance
The testing period was approximately three weeks, during which time I managed to ride roughly 1500 km on the Lightweights. It was enough time to get a good feel for them, although too short to assess the durability characteristics of the wheels. Due to the bad weather in Belgium, I was forced to do a lot of riding and racing in the wet. In fact, the very first ride I did on the wheels was a race near Gent where the heavens opened with about two laps to go, and I got to experience the pleasures of braking on carbon rims in the wet. It wasn't much fun, but it also wasn't ridiculously bad. I do think that descending a Pyrenean col in a thunderstorm on these wheels would test one's nerves...
That aside, I found the wheels to be very good under normal racing conditions, and managed a third place at the Journo World Championships in Verona with them on. Although you won't notice the benefits much at 30 km/h, I found that riding at 50 km/h in a bunch became slightly less painful, as did working in a breakaway. In fact, having these wheels on made me a bit overconfident at times and I'd attack far too often for my own good! Interestingly - and in accordance with my experience - Lightweight claims that the wheels give a relatively better performance benefit at high speeds, e.g. riding in a bunch, with a tailwind or descending. Conversely, aero wheels provide comparatively less benefit in a headwind than a tailwind because they are moving more slowly through the air. They are still better than standard spoked wheels, of course.
The act of shaving 3/4 of a kilo off my bike via the wheels helped acceleration and climbing of course, even though the effective weight saving was less than 1 percent of the whole bike plus rider package. But every little bit counts when you and whatever you had for breakfast are the only motor.
Comfort-wise, the Lightweights are right up there with standard spoked wheels. Their carbon construction soaks up the bumps, and I had plenty of opportunity to test this on Belgian cobbles, which are administered in small but painful doses in many races. The other thing that is common in Belgium is wind, and I found that like most deep rimmed wheels, the Lightweights required a bit more control to be exercised when riding in a crosswind. It was nothing too serious, and there was never a danger of being blown sidewards as long as I was alert.
Wear and tear
As mentioned above, the testing period wasn't quite long enough to beat these wheels to death, as I prefer to do in my reviews. I did try, and although I didn't willfully seek out potholes, I didn't give the Lightweights the cotton wool treatment. At the end of the review, the rear wheel was a little out of true, and I wasn't inclined to pull the tyre off to try to fiddle with it. I'll leave that to the experts, as I'd glued the tyres on in accordance with Cyclingnews' tubular mounting guidelines and they weren't coming off in a hurry. And I don't honestly know whether the wheel went out of true due to normal riding or transporting it from Gent to Verona on the train...
Stefan Behrens of CarbonSports told us that, "In normal use, the wheels simply can't get out of true because they are a one-piece construction and have no mechanical connections. If they are out of true after an heavy impact, you can send them back to us and we can true them. We also do repairs on the wheels after bad accidents - no other company will do this. And if the first owner registers their wheels, they get a lifetime 30% discount offer if the wheels are ever crashed."
Conclusions
Over a three week, 1500 km testing period, the Lightweight standard spoked 700c tubular wheels met just about all of my expectations: Their low weight and aerodynamic profile make them excellent racing wheels for flat or mountainous terrain, and they are able to handle rough surfaces and strong winds with ease. I found them to provide the biggest advantages at high speeds, either in a fast moving peloton or in a tailwind. Braking on the carbon rims was not as good as with normal machined metal surfaces, but this was expected. Similarly, some braking power was lost in the wet.
Although these wheels are designed to stay in true, big potholes and accidents will happen, and if they do, you really do have to send them back to the manufacturer for truing or other repairs. The good news is that CarbonSports does repair its own wheels.
Specifications
Recommended retail price: €2500
Claimed weight (bare wheel w/o skewer): 660g (rear, 20 spoke), 470g (front, 16 spoke)
Colour: Carbon grey rims, yellow/black spokes
Rims: Carbon with foam core
Spokes: Carbon fibre/Kevlar
Hub: Carbon fibre body with cartridge bearings
Pro: Very lightweight, stiff, aerodynamic, comfortable
Con: Expensive, very hard to do any self maintainence, tubular only
More information: Carbon Sports website: English, German
Cyclingnews Rating: