Tech review - July 31, 2004
On test: Giro Atmos helmet
A feeling of cool
The Giro Atmos: A feeling of cool
Photo ©: Cyclingnews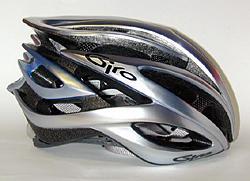 Giro's top lid for roadies has a new successor. And as Cyclingnews' Anthony Tan discovers, it's a real head-turner.
Another one of three-time Tour de France champion Greg Lemond's American-owned accessories that popularised the peloton, Giro hit the world stage when Lemond wore his teardrop-shaped helmet to victory on the final day of the 1989 Tour de France. Averaging a record 55.545 kilometres an hour and simultaneously creating the greatest upset and closest winning margin in history, a mere eight seconds was all that separated the American and local favourite Laurent Fignon after 3283 kilometres of racing.
Giro has continued to set new benchmarks both in road and mountain biking circles while maintaining an über-cool edge with striking design and colours, as demonstrated with their Rev Six TT helmets at the Tour de France. And just when we finished 'oohing' and 'aahing' over the Pneumo road lid, the Atmos - Giro's latest top-shelf offering and the result of over 400 prototypes - continues to leave the mouths of a more than a few wide open.
A closer look
Further wind tunnel testing
Photo ©: Cyclingnews

Boasting 26 vents,
Photo ©: Cyclingnews

Carbon fibre inserts
Photo ©: Cyclingnews

The front 'strap bones' are gone,
Photo ©: Cyclingnews

Giro's Roc Loc 4 cradle
Photo ©: Cyclingnews

Boasting 26 vents - seven more than its predecessor - and carbon fibre inserts, the Atmos has a claimed weight of just 240 grams for their size small lid (our medium sample weighed 260 grams). Inside, lightweight, adjustable straps provide a secure though hardly irritating fit under the chin, and at the rear, Giro's patented but often-copied Roc Loc 4 cradle keeps any fore/aft movement at bay. Three Coolmax foam pads (two at the front and one on top) ensure a snug fit where helmet meets hair - or scalp, should your dome be clean-shaven. However, anyone who thinks these are going to stop buckets of sweat running down your face and into your eyes is sadly mistaken; if you've got perspiration issues, go buy a headband or bandanna.
All this sliding, shifting, opening and closing takes all of about five minutes before... click - aah, that's better - I obtain a next-to-perfect fit. But trust me on this one: if you've got the right size and the shape doesn't suit your noggin, look elsewhere. There's nothing worse than wearing a helmet that moves around or feels as if someone's turning screws from either side of your temple, simply because it looks good. However, Giro claim their lids cater to 95 percent of all domes out there.
Feelin' like a million bucks
So, with helmet on head and feelin' like a million bucks (does my metallic silver Atmos make you horny, baby?), I go for a spin. And another. And another. And another. Hey, I like this helmet!
Apart from a new bike, there's nothing like a new lid to bump up the motivation levels as far as I'm concerned, albeit temporarily. Though let me confess: ever since I redirected some funds (sorry Mum, that Organisational Behaviour textbook wasn't 120 dollars) to purchase my first Giro Hammerhead way back in 1992, I enter a period of renewed enthusiasm. Terribly vain, I know, but isn't confession the first step to absolution?
Anyway, back to the bike. Hammering along at the front of the bunch, alone into a headwind, or even just plodding along at 30 clicks an hour, you really notice the Atmos' generously-sized vents as the wind breezes in one side and flows out the other. The combination of superb ventilation and light weight are so good, in fact, that an inkling of doubt crossed my mind as to whether this lid would actually hold up in a serious crash. I wasn't prepared to find out, though subsequent memories of having endured two complete write-offs using a Giro that left noggin unbruised and intact soon restored my faith.
On most occassions, that feeling of cool was more than welcome. And not just literally, either - I've lost count of the number of envious glances I've copped. In each instance, I've tried to be as humble as I can, pretending not to notice... before a smirk gradually usurps my poker face.
Raising the bar
Giro have lifted the bar yet again. Great fit, light weight, superior ventilation, striking design and colours - what more do you want? While I'm hoping the helmet's head-protection qualities won't require testing anytime soon, the Atmos meets or exceeds US CPSC standards. No cons, but there was one occassion this past week where the weight and ventilation were a little too effective - I mistakenly believed I'd forgotten to don the lid... now that's a 65-buck fine Down Under!
Photography
Images by Cyclingnews.com
Recommended retail price: US$190.00
Weight: 240 grams (size small)
Sizes: S (51-55 cm), M (55-59 cm), L (59-63cm)
Colours: Titanium/Yellow, Silver, Red, White, USPS, Lone Star (limited edition)
Pro: Great fit, light weight, superior ventilation
Con: Ventilation is sometimes too good on chilly days - make sure to wear a bandanna or headband

More information: Giro's website

Cyclingnews Rating:

Note: In some jurisdictions (such as Australia) some helmets may not be legal for use on the road if they do not conform to the relevant national standard. Readers are advised to check their local requirements.