Road Season Preview 2004
January 24, 2004
US Postal Service presented by Berry Floor
USPS team launch: "How can I possibly be the favourite?" asks Armstrong
By Kristy Scrymgeour in Solvang
"How can I possibly be the favourite?"
Photo ©: CN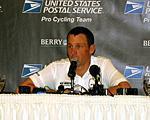 As usual a big crowd of journalists awaited the words of Lance Armstrong today at the press conference held by the United States Postal Service Pro Cycling Team presented by Berry Floor. A very relaxed Armstrong expressed how happy he is with the team this year and how they have been "blessed" once again with perfect weather for their team training camp in Solvang, California.
The question on most people's lips was whether Armstrong was definitely going to be participating in the Tour de Georgia this year as was recently released by the race organization. Armstrong did not confirm one way or another whether he would in fact start in the race, but that it was indeed possible.
"We're still working on the domestic program," he said. "There will definitely be one US race on my program, either Tour de Georgia or the Tour of the Gila, but we're not quite sure yet." As for spending more time training in the US this year, Armstrong was certain of that. "I'll spend about six weeks here, although I don't know exactly where I will train. It's tough to find the right place in April. It's still too cold in Colorado and we'll be looking for a place that has long hard climbs and no traffic. California is as good a place as any. So it could be here."
Armstrong also expressed his confidence in the Tour team for 2004. "Obviously the loss of Roberto Heras was hard," he said, "but now we have Jose Azevedo and we are confident that he can do the same job as Roberto did."
Michael Creed
Photo ©: CN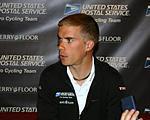 Later Cyclingnews caught up with Azevedo who seems very happy to be starting a new part of his career with USPS and expressed his thoughts on the kind words of Armstrong. "With those words come a lot of responsibility but at the same time it's a great acknowledgment of my value on the team," he said. "My objective is to work for Lance. I don't have any personal objectives."
Wrapping up the press conference Armstrong sarcastically joked that he was definitely not the favourite for the Tour de France this year, as he has been eating too many donuts and attending too many late night movies (the latter of which has been reported in the media of late). "How can I possibly be the favourite?" he said.
Postal's plans
USPS delivery - Team training camp