Road Season Preview 2004
Team Profile, March 5, 2004
Ready for the Classics: U.S. Postal Service presented by Berry Floor
It's not all about Lance
By Jeff Jones
The US Postal-Berry Floor classics team
Photo ©: CN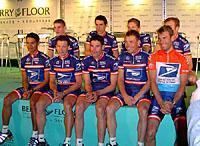 With Berry Floor's involvement in sponsoring the U.S. Postal Service cycling team getting bigger, there is now more emphasis in the team on the northern European classics, particularly those in Belgium and France in spring. The 'classics team' is a subset of the U.S. Postal-Berry Floor outfit, and Cyclingnews travelled to Kortrijk in the west of Belgium to find out what this arm is about.
Although the U.S. Postal Service cycling team has been in the game for over seven years now, 2004 marks only the second year of involvement with Belgian "presenting sponsor" Berry Floor. The "presented by" part in the full team name refers to the fact that Berry Floor contributes a significant proportion (€2 million), but certainly not an equal part of the team's €10 million plus budget. And Berry Floor, a Belgian laminated flooring specialist, is certainly happy with its exposure so far, estimating that just the TV time gained during the 2003 Tour de France was worth more than double its investment.
Being Belgian, Berry Floor wants to see the team do well in the classics, which form the heart of Belgian cycling. Beginning with Het Volk and running right through March and April until Liege-Bastogne-Liege, the classics season is the primary focus of many teams in the first part of the year.
Although George Hincapie and Viatcheslav Ekimov are proven performers in the classics, the team wanted more depth to compete with the likes of Quick.Step-Davitamon, Rabobank and Lotto-Domo. The acquisition of Dutchman Max van Heeswijk in 2003 marked start of a gradual strengthening of the classics team, and this has continued through 2004 with the signing of young talents Stijn Devolder (third in the GP E3 Prijs last year) and Jurgen Van Den Broeck, winner of the 2001 junior world time trial championships. Coupled with existing members Benoît Joachim, Guennadi Mikhailov, Antonio Cruz and Damon Kluck and team directors Dirk Demol and Laurenzo Lapage, the USPS-Berry Floor classics team has taken on a new dimension.
The season started badly for the team last year when it lost George Hincapie to a sinus infection. That basically left Van Heeswijk and Ekimov as the top men, and they performed well, with Van Heeswijk's second in Het Volk and third in Dwars door Vlaanderen, and Ekimov's third in Paris-Roubaix and eighth in Flanders being the highlights. What can we expect from them in 2004?
Hincapie has had problems with a bacterial infection in his stomach at the start of this season, but is getting over them after a heavy course of antibiotics. Ekimov is recovering from a crash in the Ruta del Sol, but he has the time. The rest of the team appears to be firing well, with the highlight being Max van Heeswijk's three stage wins in Spain in the first month of the European season. Also Stijn Devolder has shown that he has what it takes, finishing third in the very hilly Tour du Haut Var and making the big selection in Kuurne-Brussels-Kuurne, which functioned as the opening race on the Belgian calendar after Het Volk was cancelled.
Team director Dirk Demol (R)
Photo ©: CN

At the team's presentation in Kortrijk, West Flanders in late February, U.S. Postal-Berry Floor team director Dirk Demol spoke to Cyclingnews about the team's realistic ambitions for the classics. "We would like a World Cup victory and the central aims are the Ronde van Vlaanderen and Paris-Roubaix," he said. "You have to be good in Flanders to be good in Roubaix. I'm sure they [Hincapie, Van Heeswijk and Ekimov] will be ready. Last year in Paris-Roubaix, Van Petegem was very strong but Max was in the right breakaway together with Ekimov."
Demol admitted that the team doesn't the "explosive types" for Milan-San Remo nor the "climbing types" for the Ardennes classics. "Milan-San Remo is not a race which we have high hopes for, but in any case we are concentrating on the Ronde van Vlaanderen and Paris-Roubaix," he said. "Liege-Bastogne-Liege also, where we need real climbers - we do have real climbers in the team, but none which are at 100 percent yet. It's just a little too early in the season."
Demol summed it up thus, "If we can get these guys together as a team - George, Eki and Max - then around the other guys, Benoît Joachim, Stijn Devolder, Guennadi Mikhailov and Tony Cruz, I think we have a very solid team."
Comments from the Boys in Blue
Max van Heeswijk
The one they call "Mad Max":
Photo ©: CN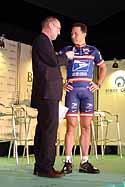 The team's only Dutch rider, Max van Heeswijk, is enjoying a rejuvenated career after a quiet couple of years with Domo-Farm Frites. Van Heeswijk rode with Armstrong and Hincapie in Motorola in the mid 1990's, so he certainly fits in with the team. The sprinter already has three wins to his name in 2004 and is certainly looking for more. What's the secret to his early season success? "I've trained a bit harder than these guys," he said. "They follow a good plan but everything is possible in this team."
With his early victories, Van Heeswijk has started to gain that all-important confidence that he needs to be in there for the kill in April. "At the beginning of the season I won two stages in the Ruta," he said. "I felt good but I don't know how good. We'll wait and see in the coming days."
George Hincapie
George Hincapie
Photo ©: CN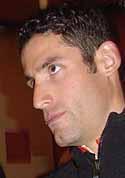 Another one of the team's experienced riders, George Hincapie has a dual rolein the team, riding for himself in the World Cups and as a lieutenant for Lance Armstrong in the Tour. It's not easy to do both, but Hincapie has managed to juggle it for the past few seasons and still looks forward to both April and July.
Given the nickname "No chain" by Lance Armstrong, Hincapie is a rider who can work at the front all day for his teammates if required. And if he gets his own chance in a break, then you won't see him missing too many turns. Hincapie said that his nickname has now spread around the peloton: "The other day we were in Portugal and there was a young Rabobank rider away the whole day," he recalled. "He was away for 150 kilometres, it was pouring rain and it was a really nasty day. So we caught him right before the finish and after I went up to him and said 'hey man, good job, you were really strong today' and he looked up at me and said, 'No chain'. I thought that was pretty funny. Lance said that in his book and we joke around about it a lot."
When pressed to remember his last victory, Hincapie has to go back to 2001 when he won the San Francisco Grand Prix. Earlier that year he won Gent-Wevelgem, and finished fourth in Paris-Roubaix, among other highlights. The desire has certainly not lessened. "I love those races and I really hope to be there this year," he said. "This year we have an amazing team, we did last year as well and I missed last year, so I definitely want to be part it. With the team we have this year we can do many things."
Hincapie is a happy man now after meeting the girl of his dreams last year. "My girlfriend now is someone who I met at the Tour - she worked for Credit Lyonnais - and we've been together since then so it's a nice story. I've been a bachelor for a long time. Things are really serious with Melanie and I, so it was a good Tour de France for many reasons. Lance winning and me meeting a very special person."
The 31 year old is in his 11th season as a pro and is now reaching a good age for a classics rider. His chief objective is a World Cup win, and there are two races that suit him down to the ground: Tour of Flanders and Paris-Roubaix. Hincapie is hard pressed to pick which one he would prefer, although Paris-Roubaix might just get the edge.
Viatcheslav Ekimov
Viatcheslav Ekimov
Photo ©: CN

Just turned 38 years young (as he likes to refer to his age), Viatcheslav Ekimov is one of the most important members of the US Postal-Berry Floor team. His vast experience and his ability on the bike make him a competitor never to be underestimated. His 2004 season hasn't started in the best possible way, crashing in the third stage of the Ruta del Sol and hurting his back. But Slava seems to be on the mend now in time for the big classics. "Well I need to be really," he says matter-of-factly.
Last year's third place in Paris-Roubaix was the highlight of Ekimov's classics season, as he charged off the front with Dario Pieri in the finale, only to be caught by eventual winner Peter Van Petegem with 15 km to go. "I think those races are pretty good for the old guys," Ekimov commented. "I hope this year I have the same success. Peter Van Petegem is a strong guy, but everyone can be beaten."
Stijn Devolder
Stijn Devolder
Photo ©: CN

Stijn Devolder is a third year pro, having ridden with Belgian division II team Vlaanderen-T Interim in 2002-2003 with success. His biggest result was his third place in the GP E3 Prijs in Harelbeke last year, and he has already shown that he can compete with the best by taking third in the Tour du Haut Var in 2004.
"I think there's been a few different factors," said Devolder of his improvement. "First and most of all there is the motivation. The preparation has also improved a lot, and everything together makes you stronger. With the other riders from the team you ride at a higher level.
"Normally it was the intention to ride a little bit calmer in Haut Var, but if I had good legs I could try something. I was really strong then and I wanted to really test myself to see if I could be good for Het Volk and the other classics."
Devolder is happy to be among such experienced riders as Hincapie, Van Heeswijk and Ekimov. "I am in a very strong team for the classics and maybe I'll have the possibility to win a big race," he said.
Jurgen Van Den Broeck
The winner of the 2001 junior world time trial championships and GP des Nations for juniors, Jurgen Van Den Broeck could one day be what the team is seeking for the Ardennes classics. A time trialist who can climb, Van Den Broeck won the Tour of Limburg in 2002 and finished second in the Belgian U23 time trial championship last year. Just turned 21, Van Den Broeck is untried at the top professional level.
As to how he found it with US Postal so far, he replied "I don't know yet, I haven't raced! I've trained with them yes, but there's a big difference...In Mallorca we did six or seven hours per day. In the second week I paid for it a bit, but after some rest I feel a bit better."
Van Den Broeck will do the Tour of Murcia, Redlands in the US, return to Europe and probably do the Basque Country tour. He does hope to show himself in the Ardennes classics, although team director Dirk Demol thinks that he's still a little young.
Antonio Cruz
Tony Cruz
Photo ©: CN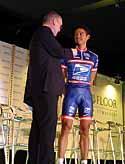 The seasoned rider from Long Beach, California, is looking forward to another two months of cobbles and mud in Belgium. He's ridden the Tour of Flanders several times and calls it "one of my favourite races. It doesn't really make much sense - it's hard, there's a lot of cobbles, it's usually bad weather but I like it."
"My fitness is really good right now and I hope to move up to the next level," added Cruz, who will mainly be riding in support of Hincapie, Van Heeswijk and Ekimov. "You have to do your job first and right now I'm supporting those guys, but if you train hard enough you can make opportunities for yourself and that's what I'm hoping to do. That's what I'm working for."
Damon Kluck
The tall, slightly built 26 year old American from Santa Cruz, California, is in his second year with U.S. Postal-Berry Floor and his fourth as a professional. Kluck raced in Belgium "a few years back," he said. "I stayed in Izegem for a while (with U.S. U23 manager Noel Dejonckheere). We did a little bit of racing on cobbles - we don't have those in America so it was definitely a new thing. It was painful.
Kluck classes himself as a "climber and a bit of an all rounder" and of course hopes to gain selection for the Tour de France team.
Guennadi Mikhailov
Guennadi Mikhailov
Photo ©: CN

30 year old Russian Guennadi Mikhailov now makes his home in Bekkevoort, Belgium, which is a long way from his home in Samara, Russia. "Samara is 800km from Moscow - almost 4000 km from here," he said. "I phone home often and I'm sometimes homesick."
Mikhailov's role is straightforward this season: "I hope to help my teammates win some races. That's my job."
Benoît Joachim
Luxembourg champion Benoit Joachim
Photo ©: CN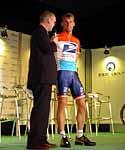 The strikingly tall, blond Luxembourg champion Benoît Joachim is in his sixth season as a pro, all of which have been ridden with US Postal. "It's a very good team and I'm very content here," he said.
One of the main workhorses during the Tour in July, Joachim is also employed for the classics, even though he considers himself as more of a diesel. "I have problems in the first few kilometres but after 100 kilometres I'm start to drive OK," he explained.
Joachim has already gained some TV time in the opening race of the calendar, Kuurne-Brussels-Kuurne, in which he made a long solo breakaway before being caught with 55 km to go.
Photography
Images by Jeff Jones/Cyclingnews.com