99th Paris-Roubaix (CDM)
France, April 15, 2001
Domo-nation
By Tim Maloney, cyclingnews.com correspondent

Domo-nation
Photo: © Tim Maloney/CN
Domo Farm-Frites was supposed to be a talent laden classics super team. Last summer, Mapei-Quick Step manager Patrick Lefevre announced that he and his Belgian band would get a divorce from Mapei and start a new team with Belgian carpet maker Domo. Johan Museeuw, who was slated to be team leader, suffered a terrible leg injury in a motorcycle crash in the summer and there were doubts whether he would ride again. Lefevre then brought on second sponsor Farm Frites last fall, but had to have a delicate operation last November. Museeuw worked hard at his rehabilitation and training, but was still a major question mark. All this tumult made the off-season transition from Mapei to Domo tense difficult and as a result, Domo Farm-Frites got off to a slow start.
Lefevre simply wasn't happy with the early results; he told the media that "we aren't winning enough ", but on Easter Sunday at Paris-Roubaix, the real Domo Farm-Frites, the classics superchief cycling watchers were waiting for showed up. In fact, they did so in spades, going 1-2-3 to take all the podium spots and four out of the top 5 in the 99th edition of Paris-Roubaix, the most esteemed single day race in the sport of road cycling!
After P-R, Lefevre told L'Equipe that "Domo Farm-Frites showed the way all day. It was about time; before the start I told the team that Johan and I had suffered a lot in the last few months and today it was time for us to show our stuff."

Hincapie couldn't shake them
Photo:© Sirotti
While USPS rider George Hincapie had another excellent ride at Paris-Roubaix, his lack of teammates hurt his chances for a win. Hincapie said he could do nothing against the Domo men. "They rode a great race; always strong and up front."
This year's P-R was designed to be tougher; 18 km shorter at 254.5 km with less pavé overall, but more cobbles in the second half. Torrential spring rains actually flooded the new pavé sections placed before the Arenberg Forest to make P-R race more selective, but local firemen moved in with the pumpers to clear the fearsome cobbles before race day.

Early break
Photo: © Jeff Jones/CN
Easter Sunday dawned wet and windy for the start in Compiegne, with 197 starters heading north to Roubaix. The strong tailwind kicked things off with a bang at 50 km/h and as the rain stopped and the weather began to clear, the battle lines were drawn as the peloton approached the Somme River. Unlike 1914, no shots were fired but after numerous attacks, a group of six formed and began to gain ground on the main group. By the time the fugitive sextet hit the first cobblestones at Troisvilles their lead was just under 5'00 on the earnestly chasing peloton.
The overnight rain and weeks of bad weather had turned the bumpy, winding cobbled farm lanes into a gooey, slippery sticky mess that immediately covered the riders with a coating of mud. "These are the worst (pavé) conditions I've ever seen," said race boss J-F Pescheux of the Societe du Tour De France, and certainly the toughest since '94, when heavy rains turned Paris-Roubaix into a major mud bath. These extreme conditions had an immediate impact on the race; slowing the break and causing the peloton to split in three parts, with a crucial counter attack of 11 riders led by flamboyant Philippe Gaumont (Cofidis) and Wilfred Peeters (Domo-FF) driving the pace.

Leading bunch at Haspres
Photo:© Tim Maloney/CN
Other players in the key move included the decidedly in-form World Champ, Romans Vainsteins and Domo-FF teammate Servais Knaven, Steffan Wesemann (Telekom), speedy Leon Van Bon (Mercury-Viatel), Lampre hardman Ludo Diercksens, Frank Hoj (Coast) and Sven Nijs (Rabobank).
The conditions were so extreme that after only four sections of pavé, with 140 km still to race to the velodrome finish, the character of the 2001 Paris-Roubaix was forged; the main selection was made and it was clear that it would be an epoch race. The reason why they call a classic a classic.
As three time winner Johan Museeuw (Domo-FF) bridged up with George Hincapie at St. Python, joining his three teammates in the chase, pre-race favorite Andrei Tchmil (Lotto-Addeco) crashed hard on the second pave section and was desperately chasing almost three minutes behind. The chase group began to grow as more riders desperate to join the move of the day forced their way to the front.
Domo's arch-rivals from Mapei, former winner Franco Ballerini, riding his last race was dropped from the counter attackers, while Andrea Tafi, another former winner from Mapei was chasing in a group almost 2'00 behind. Museeuw became the general up front; driving his Domo-FF guys and the other 12 riders forward, pulling back the break on the next sector of pavé and preparing to launch Phase 2 of the Domo-FF battle plan as the dreaded 2400 meter Arenberg Forest pavé approached.

Peeters goes for it
Photo:© Sirotti
In front of a huge, roaring crowd, Museeuw sent the rangy figure of his faithful lieutenant Peeters over the top, in pursuit of the courageously attacking Hincapie into the tree lined trench of Arenberg, perhaps the poorest excuse for a road in bike racing. Behind Peeters, Gaumont's rear wheel slipped and the French rider crashed heavily on the dangerous cobbles, breaking his right femur and opening a huge gap between Peeters and the rest of the chasers. When George punctured just ahead, 37 year old Wilfy passed him and never looked back; after all, it was his last Paris-Roubaix and like a dray horse turned throughbred, he took the bit in his teeth and headed to Roubaix, 89 km and 12 pavé sections away.
Despite his numerous punctures, General Museeuw stayed calm and let his Domo boys rule the roost. Loyal lieutenant Peeters was up the road, giving the 3 other Domo's a major advantage. For more than an hour, the frantic chase behind Peeters blew the competition out the back, while Domo controlled the action like a well-oiled team machine. Big Wilfy powered solo over the cobbles, showing his class and experience to the max.
Eventually, powerful, tough riding from Hincapie, Wesemann, Dierckxsens and Cofidis duo Mattan and Peers, and bonk began to chew up the 1'00 advantage of Peeters. With 25km to race, Domo was still firmly in control, but Hincapie decided to test the status quo. His acceleration at Cysoing on pavé sector 5 reeled back the fading Peeters to 15"; the Domo man was now in sight of the chasers.

Museeuw chases
Photo:© Sirotti
Peeters held on to his lead, but suddenly, Paris-Roubaix dealt another card. This time it wasn't a good one for Domo. Museeuw had his 5th puncture of the day at pavé sector 3 (Carrefour de l'Arbre), while a surging Mattan fell and lost contact. Vainsteins and Knaven were still up front, but they had only Hincapie and Diercksens to contend with. As the pave ended, it was echappee terminee and Peeters immediately went out the back as Diercksens hammered on the front, although Van Bon and Weseman had also gone.
The drama played out behind as General Museeuw made an incredible 5 km chase behind to get back to the front of the race. Along the way he caught Peeters, who made a huge effort to cling to his teammate's wheel. Both riders made it back with 12 km to go and Domo had once again taken control of the race with their powerful, savvy team riding.
Now Domo launched Phase 3: attack. Knaven was their secret weapon, a classy amateur rider and former Dutch pro road and TT champion who had never realized his true potential as a pro after 8 years with TVM and Farm Frites. But under the command of General Museeuw, the 30 year old Knaven has become a new man. His off-season training for agility and quickness on a 'cross bike had paid off, as he has never before made it so far in the front group in P-R. With Lefevre's Domo team philosophy of the team win, it didn't matter if Museeuw won a third P-R, what was important was that the team won.

Knaven gets it
Photo:© Sirotti
Knaven went with 10km to go and although Hincapie followed, the Dutchman was flying. In only 3 km, Knaven quickly gained 25". Museeuw eventually powered away from the chase and in front of the roaring crowd in the Roubaix velodrome, Knaven and the General rode home to a 1-2 finish. The icing on the Domo-FF cake was Roman Vainsteins, who took the sprint for 3rd ahead of Hincapie and traded his World Champ jersey for the World Cup leader's tunic.
After their slow start, Domo-Farm Frites showed their true colors in the toughest classics battle of all; Paris-Roubaix. They won the war and they won the day. After the last few years of uproar in pro cycling with doping scandals, accusations of being out of touch with today's fans, sponsor problems et al, Patrick Lefevre and his Domo Farm Frites team showed at this year's Paris-Roubaix that not only is professional road cycling alive and well, but it can even be a thrilling world class spectacle.
Knaven wins Paris-Roubaix
By Gerard Knapp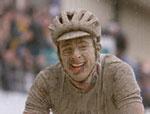 Servais "winners are grinners" Knaven
crosses the line
It was a triumph of the strongest team at the 99th Paris-Roubaix, with Dutch rider Servais Knaven bringing home the win for Patrick Lefevre and the Domo-Farm Frites team, with Johan Museeuw (Bel) taking second and reigning World Champion Romans Vainsteins (Lat) filling out the podium for the new Belgian squad.
The 99th edition of the Hell of the North lived up to its name as the riders set off in pouring rain and encountered pave of the muddiest and most slippery kind. Flooding in previous weeks had left a good coating of mud on the cobbles, which was further prepared for action by an overnight storm.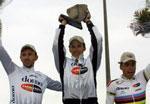 Domo riders took all three
podium places
Even with Domo riders puncturing, there were still enough in the lead group to ensure there would be at least three riders for the finale. It was a repeat of Lefevre's total control of this race when he was managing Mapei's Belgian squad, as he had four riders in the leading group for up to 150 kilometres.
Leading the Domo pack was Belgian Wilfired Peeters, who launched an attack with 90km to go and behind him, any serious chasing was thwarted by the constant surveillance and marking by the Domo riders, including Museeuw, Knaven and Vainsteins. Peeters stretched his lead to well over a minute, but the cobbles began to take their toll.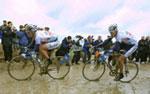 Knaven leads Peeters
Only 14km from the finish in Roubaix, Peeters was finally caught, which signalled the start of constant attacks by the other Domo riders. Within the leading group, US Postal's George Hincapie (USA) and Ludo Dierckxsens (Bel) Lampre-Daikin were the ham in the Domo sandwich.
After the race, a disappointed Hincapie said "Domo had a super team. And what they did is normal tactics. I'm a little disappointed, because I felt very strong today. I hope one day I can win."
Dierckxsens said afterwards "the Domo's were so strong. I was alone, the same as Hincapie and Wesemann. I think Hincapie was the strongest, but you can forget it with such a Domo-clan. I had superlegs, like last week in the Ronde van Vlaanderen".
As for other pre-race favourite Andre Tchmil, a fall in the pave put an end to his chances, although he put in a super effort in the final 100km. "I fell and couldn't follow anymore. Please stop this interview because I'm so cold," he said, before heading off to the showers.
A full report with many additional pictures from the race will follow soon.
Results - 254.5 km

1 Servais Knaven (Ned) Domo-Farm Frites               6.45.00 (39.19km/h)
2 Johan Museeuw (Bel) Domo-Farm Frites                   0.34
3 Romans Vainsteins (Lat) Domo-Farm Frites               0.41
4 George Hincapie (USA) Us Postal Service
5 Wilfried Peeters (Bel) Domo-Farm Frites
6 Ludo Dierckxsens (Bel) Lampre Daikin
7 Steffen Wesemann (Ger) Team Deutsche Telekom
8 Andrei Tchmil (Bel) Lotto Adecco                       2.35
9 Chris Peers (Bel) Cofidis
10 Rolf Sorensen (Den) CSC-World Online                  2.59
11 Dario Pieri (Ita) Saeco Macchine de Caffe             3.07
12 Maximilian Sciandri (GBr) Lampre Daikin               3.17
13 Nico Mattan (Bel) Cofidis
14 Leon Van Bon (Ned) Mercury-Viatel
15 Gianluca Bortolami (Ita) Tacconi Sport-Vini Caldir    7.57
16 Rolf Aldag (Ger) Team Deutsche Telekom
17 Christophe Mengin (Fra) La Francaise Des Jeux
18 Denis Zanette (Ita) Liquigas Pata
19 Arvis Piziks (Lat) CSC-World Online
20 Enrico Cassani (Ita) Domo-Farm Frites
21 Christophe Agnolutto (Fra) Ag2R Prevoyance
22 Hendrik Van Dyck (Bel) Lotto Adecco
23 Hans De Clercq (Bel) Lotto Adecco
24 Peter Van Petegem (Bel) Mercury-Viatel
25 Franck Pencole (Fra) Big Mat - Auber 93               8.03
26 Frédéric Guesdon (Fra) La Francaise Des Jeux
27 Andrea Tafi (Ita) Mapei-Quick Step
28 Matthé Pronk (Ned) Rabobank
29 Nicola Loda (Ita) Fassa Bortolo
30 Frank Hoj (Den) Team Coast
31 Aart Vierhouten (Ned) Rabobank                        8.09
32 Franco Ballerini (Ita) Mapei-Quick Step               8.13
33 Nicolay Bo Larsen (Den) CSC-World Online              8.16
34 Marco Milesi (Ita) Domo-Farm Frites                   8.40
35 Paul Van Hyfte (Bel) Lotto Adecco                    10.25
36 Koen Beeckman (Bel) CSC-World Online
37 Karsten Kroon (Ned) Rabobank
38 Florent Brard (Fra) Festina                          12.28
39 Jean Michel Tessier (Fra) Cofidis                    12.44
40 Jens Voigt (Ger) Credit Agricole
41 Sven Nijs (Bel) Rabobank                             14.46
42 Bart Leysen (Bel) Mapei-Quick Step                   19.56
43 Damien Nazon (Fra) Bonjour
44 Gerben Löwik (Ned) Rabobank                          19.56
45 Benoît Joachim (Lux) Us Postal Service               20.21
46 Steven De Jongh (Ned) Rabobank                       22.52
47 Johan Verstrepen (Bel) Lampre Daikin
48 Wilfried Cretskens (Bel) Domo-Farm Frites
49 Mathew Hayman (Aus) Rabobank
50 Wim Vansevenant (Bel) Mercury-Viatel
51 Coen Boerman (Ned) Rabobank
52 Sylvain Chavanel (Fra) Bonjour
53 Ludovic Auger (Fra) Big Mat - Auber 93
54 Plamen Stainov (Bul) Mercury-Viatel                  38.09
55 Alexandre Chouffe (Fra) Big Mat - Auber 93

Finishers: 55
World Cup standings after round 3
1 Romans Vainsteins (Lat) Domo-Farm Frites                116 pts
2 Gianluca Bortolami (Ita) Tacconi Sport-Vini Caldiro     111
3 Servais Knaven (Ned) Domo-Farm Frites                   101
4 Erik Zabel (Ger) Team Deutsche Telekom                  100
5 Johan Museeuw (Bel) Domo-Farm Frites                     80
6 Erik Dekker (Ned) Rabobank                               75
7 George Hincapie (USA) Us Postal Service                  73
8 Rolf Sorensen (Den) CSC-World Online                     72
9 Mario Cipollini (Ita) Saeco Macchine de Caffe            70
10 Denis Zanette (Ita) Liquigas Pata                       58
11 Ludo Dierckxsens (Bel) Lampre Daikin                    56
12 Chris Peers (Bel) Cofidis                               52
13 Andrei Tchmil (Bel) Lotto Adecco                        44
14 Maximilian Sciandri (GBr) Lampre Daikin                 43
15 Steffen Wesemann (Ger) Team Deutsche Telekom            42
16 Biagio Conte (Ita) Saeco Macchine de Caffe              40
17 Gabriele Balducci (Ita) Tacconi Sport-Vini Caldiro      40
18 Paolo Bettini (Ita) Mapei-Quick Step                    39
19 Wilfried Peeters (Bel) Domo-Farm Frites                 36
20 Daniele Nardello (Ita) Mapei-Quick Step                 36
21 Gabriele Colombo (Ita) Cantina Tollo Acqua&Sapone       32
22 Markus Zberg (Swi) Rabobank                             28
23 Nico Mattan (Bel) Cofidis                               28
24 Michele Bartoli (Ita) Mapei-Quick Step                  26
25 Dario Pieri (Ita) Saeco Macchine de Caffe               24
26 Guido Trenti (USA) Cantina Tollo Acqua&Sapone           20
27 Peter Van Petegem (Bel) Mercury-Viatel                  15
28 Christian Vandevelde (USA) Us Postal Service            15
29 Leon Van Bon (Ned) Mercury-Viatel                       12
30 Gian Matteo Fagnini (Ita) Team Deutsche Telekom         12
31 Andrej Hauptman (Slo) Tacconi Sport-Vini Caldirola      11
32 Rolf Aldag (Ger) Team Deutsche Telekom                  10
33 Mirko Celestino (Ita) Saeco Macchine de Caffe           10
34 Hans De Clercq (Bel) Lotto Adecco                       10
35 Christophe Mengin (Fra) La Francaise Des Jeux            9
36 Arvis Piziks (Lat) CSC-World Online                      9
37 Mario Aerts (Bel) Lotto Adecco                           8
38 Frank Hoj (Den) Team Coast                               8
39 Jo Planckaert (Bel) Cofidis                              7
40 Enrico Cassani (Ita) Domo-Farm Frites                    6
41 Christophe Agnolutto (Fra) Ag2R Prevoyance               5
42 Bart Voskamp (Ned) Bankgiroloterij-Batavus               5
43 Hendrik Van Dyck (Bel) Lotto Adecco                      4
44 Fabio Malberti (Ita) Liquigas Pata                       4
45 Francesco Casagrande (Ita) Fassa Bortolo                 3
46 Marco Velo (Ita) Mercatone Uno-Albacom                   2
47 Franck Pencole (Fra) Big Mat - Auber 93                  1

Teams

1 Cofidis (Fra)                    21 pts
2 Domo-Farm Frites (Bel)           18
3 Lampre-Daikin (Ita)              18
4 Rabobank (Ned)                   15
5 Lotto-Adecco (Bel)               14
6 Mapei-Quick Step (Ita)           13
7 Saeco Macchine per Caffe (Ita)   12
8 Tacconi Sport (Ita)              10
9 US Postal Service (USA)          10
10 Telekom (Ger)                   9
11 CSC-World Online (Den)          9
12 Cantina Tollo (Ita)             8
13 Mercury Viatel (USA)            5
14 Fassa Bortolo (Ita)             4
15 BigMat Auber 93 (Fra)           2