Team Cyclingnews.com - 2005
Team Journal Entry - July 19, 2005, by Glen Chadwick
Tour of Qinghai Lake, China, July 16-24, 2005
China, here we come!
Hi Everyone,
Chaos theory was proven
Photo ©: Team CN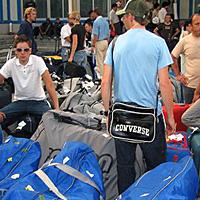 Well I'm currently sitting in my hotel room in China in a city called Xining (she-ning) approximately 2270m above sea level. So you can guess the air takes a bit of getting used to! They also don't mind a bit of pollution up here either just to spice things up a bit.
The Line up:
Riders
Glen
Cam
Jeremy
Leigh
Sven
Tom
Management
Gilbert
Eddie
Wim
Patrick
Raoul
Where can we land?
Photo ©: Team CN

But before our arrival here on the 13th (my brother's birthday; Happy Birthday Mark from the squad) we had a slightly epic journey. It began with a one hour flight to Frankfurt on the 10th, a two hour park up there. A 10 hour flight to Beijing with about a two hour haul to go through immigration and find our luggage and load it all onto the buses. I think in our team we had roughly 350-400kg of checked in luggage. Plus there were about five other teams which had just arrived - they also had the same amount if not more! Once on the bus it was only about a 15 minute drive to the hotel for a one night stop over and a feed of rice (Mmmmm, after spending two years in an Asian team the food hadn't changed since I was last here!) All of us were pretty smashed from the six hour time difference and the lack of sleep. I was rooming with Cam and we were both fighting to stay awake till dinner!
Maybe down there!
Photo ©: Team CN

The next day with most of the teams here we all got loaded on the buses and back to the airport for our check in and a two hour flight up to Xining! Now with about 10-12 teams all checking in on a small plane there was always gonna be a problem with getting all the bikes and luggage onto the plane and as the plane rolled away from the terminal some people's fears were realised as they saw their bikes or luggage still sitting in trailers. It was like the lottery and a sigh of relief when your gear rolled out on the conveyer belt at our destination. Unfortunately Cam, Jeremy, Eddie and Raoul were left with no luggage for a day and a half. Some teams were missing all theirs bikes and most of their luggage - bugger!
From then on there wasn't much action going down, a couple of training rides amongst the crazy traffic but no problems. A bit of catching up with old friends including ex Cyclingnews rider Phil Thuaux, who lines up for the Indonesian Wismilak Team. The weather has been good with the sun shining; we can only hope it continues till next Sunday when the tour finishes.
That's tops!
Photo ©: Team CN

We've also managed to get a bit of shopping in, mainly stocking up on our DVD collections. Up here for roughly one Aussie dollar you can pretty much buy any movie you want including ones that aren't quite out yet! If ya get what I mean! Last year when I was here I bought Oceans 12 which was no where near the cinemas, little did I know it was no where near finished filming and ended up with some German movie which turned into a Frisbee straight into the bin! Also last year there were actual shops and now you found yourself walking down alleys and locked into rooms! A bit 'hush hush' really! We found ourselves in one instant being hushed by the sales chick as someone knocked on the door and they were peaking through a crack in it to see who it was? Turned out to be some old Chinese woman who was chasing a digitally re-mastered copy of the Rambo trilogy!
Sven with a local
Photo ©: Team CN

So a little about the race as I don't really want to think too far ahead and just take this race a day at a time. The lowest altitude we race at is here at 2270m and the highest point being 3858m. Today's stage (1) is 103km from Huangzhong to Xining, which is only about 30km, then we have eight laps of 12 around Xining! Basically we'll be trying to stay out of trouble, lose no time and try and get a couple of lads up for a sprint! But with US$2300 on the first man across the line each stage I'm sure everyone is keen for a bit of that action!
Well I had better kit up and head off! So till tomorrow, thanks for coming!
All the best,
Chady
Photography
For a thumbnail gallery of these images, click here
Images by Team Cyclingnews