Team Cyclingnews.com - 2005
Team Journal Entry - July 6, 2005, by Glen Chadwick
A good win and plenty to play for
Hi everyone, I'm back again!
The winner is - Chady
Photo ©: Team CN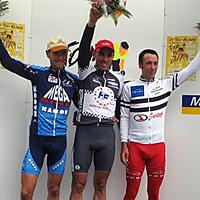 This time I'm sitting in front of the TV watching Stage 2 of Le Tour de Lance, it's raining outside and it's the perfect time to tell a tale! When I last wrote I was in the team van heading to Switzerland for the Tour de Jura, a 190km run around the province of Jura - funny that?
Eight of us lined up for this Tour of Juraty;
Chady
Worm
Dag
Hamish
Bok
Tank
Coat-d
Steve-O (Sven reckons he would get more attention if he's an Aussie so his Aus name is Steve-0)
So after we finally got to jump out of the van and plonk our feet on Swiss soil we kitted up for a nice old leg roll through the roads of the region. Wasn't many places to ride except up and we found ourselves spinning our way up a 10km climb which turned out to be one of the descents in the race! Always good to know what we're racing down that way no sharp corners sneak out and send us over the railings! But anyway, after a nice feed and a good sleep we were off to the start which was up in the hills somewhere 1000m above sea level. The weather wasn't too bad with the occasional sprinkle left us pondering whether booties or a spray jacket would be required.
The usual suspects
Photo ©: Team CN

The race began with everyone assigned by the Don of the family (Daniel) a job to do. We spent the first 20km basically going down hill which was a nice little warm up. We had one first up of 75km with rolling terrain and one small climb that would see a few lads say good bye to the back of the bunch never to be seen again that day! One lad from the Jartazi Granville Team actually went MIA after 20km and his team was still waiting for him an hour after the finish. Nothing seemed to be getting away from the peloton although it wasn't from lack of trying from the lads; most of the team were pretty active trying to force small moves off the front. Cam and I just had to sit in and wait for a while before coming to life! Which wasn't a problem for us as we were both feeling a bit shabby and were hoping to ride ourselves into it. Around the 113km mark we hit a long climb which wasn't so steep but was fast. There were some small attacks but nothing was getting away, I moved up and had a dig - got about 100m off the front but they weren't gonna let me go! Over the top and down the other side with only half the field left the attacks began, With myself, Cam, Sven and Jeremy still there we were sure not to miss anything!
The road points up
Photo ©: Team CN

With 50km remaining 22 riders rode off the front with Cam and I in it - Sven was near the front when all this was happening and just let a wheel go and away we went (thanks mate). With most of the stronger teams having at least one guy up there (some with four) this move quickly pulled away from the remainder of the field. Cam and I did just enough work to keep things moving along and not p*** any guys off from sitting on. The three laps we did on the finishing circuit were only 7km long but had a sharp little 1.5km long goat track in it which was to be the decider according to the Don. He said if you had 10 seconds at the top of it and with a 2km descent to the finish you'd have it in the bag! With this in mind I decided to lay it low on the first two laps and just let the other riders set the pace and shack a few stragglers of the group.
Cam was also playing it safe knowing that the final run up the climb would be where the smack went down! So coming through with one lap remaining and just 11 guys left there was an attack by the U23 French champion which split the group; but not for long, as Cam bridged it back, leaving everyone to sit up and figure out their next moves were going to come from. Down the hill to the bottom of the climb I surged through and got a gap which no-one reacted to; I thought that that was gonna be too easy and sure enough I was caught by a couple of others at the bottom. Starting at the front was where I wanted to be anyway and I rode that 1.5km goat track as hard as I could, hoping that I'd split the group to bits or even better, get a gap. Lucky for me it was the latter; give me an inch and I'll take a mile!
A gentle roll before the start
Photo ©: Team CN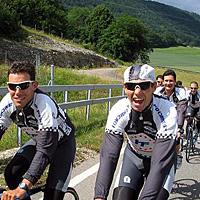 When you see that you've got a metre or so on the wheel behind you seem to get an extra bit of incentive which can push you on. By the top I had the magic 10-15sec gap and off I went down the other side. With three big hairpin corners on the descent all I could think about is not stuffing it up! I stayed up ok and hit the last corner into the crowd-lined paved finish straight with enough time to enjoy the victory! A few punches in the air and then standard two-arm salute across the line 10 seconds clear of Kiwi road champ Heath Blackgrove, who also had a solid ride, and a Swiss lad who won the race in 2003. Cam Sprinted through with another good ride in seventh. With two of us in the top 10 it's great for the team and future opportunities, with the wins and results we have been getting there has definitely been a lot of interest generated in the team by way of future sponsors!
Next park up will be where the rice flows free, the Tour of Qinghai Lake in China. Probably the biggest tour this team has done to date! It's a 2.HC tour, 1345km over nine stages ranging from 100 - 201km, a minimum altitude of 2270m and maximum of 3858m, plus the good part of total prize money of US$250,000. A stage win is worth $2,300, overall winner takes $11,000 home with him and that's just a little bit of the coin! We are all keen to grab a piece of that action!
We will be doing our best to keep cyclingnews up to date with the tour so keep an eye out! I've also included a few pics from Belle's (my wife) birthday bash. Enjoy - we did!
So till next time, all the best and stay vertical!
Chady
Photography
For a thumbnail gallery of these images, click here
Images by Team Cyclingnews