Team Cyclingnews.com - 2005
Team Journal Entry - March 3, 2005, by Glen Chadwick
Back in Belgium - Brrrr!
Glen Chadwick has spent the last couple of years riding for the Giant Asia team, but, as he tells in his first diary entry for Team Cyclingnews.com, he's decided to give Europe one more go. Pity about the weather - but it didn't seem to slow him down in his first race.
A bit of a shock after sunny Rocky
Photo ©: Glen Chadwick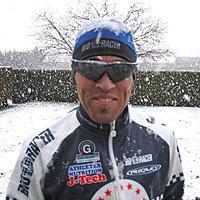 Iíve thrown away my chopsticks and decided to head back to the hub of cycling, Belgium, plus of course the fact I have a little lovely Belgian fiancee also helped in the decision. Two years in Asia was definitely a learning experience and enjoyed most of it. It's nice to be earning a bit of money to ride but it doesnít cure everything. So we (Belle & I) figured to give Europe another storming. Which led me back to my old team which now travels under the name of Team Cyclingnews.com/Fondriest. With great sponsors, equipment and management I was quite happy to line up for them again. So after two months in Australia, training, holidaying and catching up with my family and friends I was off back to cobbles!
I spent a lot of my time in Australia in the sun on the beach and lapping it up! It was a big mistake to forget where I was heading on the 18th of February. After a lovely 30 hours of traveling, five airports (Rockhampton, Brisbane, Hong Kong, London and Brussels) and some not-so-lovely plane meals, we landed in Brussels to a warm zero degrees Celsius and were very thankful that Belle's mum had our nice warm jackets there waiting for us. Then it was a nice 30 minute drive back to our home town of Tienen.
Typical road conditions in Rockhampton
Photo ©: Glen Chadwick

And in Belgium
Photo ©: Glen Chadwick
There wasnít too much snow around - that was still to arrive the following day while I was out training! It was nice to be back here, but we will always miss my family back home, I think thatís probably the toughest part about being over here for most guys. But Belle's mum cooked up a few of my favorite dishes to take my mind off the weather and what was ahead. I'm pretty lucky to be living with Belle and her parents who give tremendous support.
The team had a week till our first race so this basically involved us doing our best to adapt to the cooler weather. My first outing the day after I arrived ended up in me coming back as a snowman. The weather wasnít too bad when I left the house but about 30 minutes from home down it came and while pleasant at first I soon realized that I didnít rate it at all. I had never realised that snow can poke you in the eyes and at one point I had both my eyes shut. Very tricky to ride like that so somehow I had to pull over and not ride into a ditch. The rest of the week wasnít too bad - just damn cold. The temperature never went over two or three degrees.
First race
35 degrees
Photo ©: Glen Chadwick

Zero degrees
Photo ©: Glen Chadwick
The team this year consists of six Aussies, two Pomgolians [British riders - Ed], one Belgie, one South African and a German lad.
So we headed off to the first race of the season at Oud-Heverlee: seven laps of just over 16km with rolling hills and a narrow bumpy 2km section through a forest, that stayed greasy just to add a bit of spice to the race. It was minus one degrees Celsius, and that was just standing still. Throw in the wind chill factor and that drops the temperature quite a bit!
To give you a rough idea how cold it was I had on: jersey and knicks (of course); wind proof under shirt plus another under shirt; two sets of arm warmers; leg warmers; wind proof socks; three layers of overshoes; surgical gloves under my thermal long-fingered gloves; cap and ear warmers. Now with all that it wasn't too bad. We also started with nice hot tea in our bidons (bottles) - if it was just water it could possibly freeze. After a couple of laps I decided to stick my nose out and test the water; just as I thought bloody cold! I spent maybe 8km on my own trying to bridge across to a small group and just couldn't get my legs turning enough to ride the last couple of hundred meters to them. Two hundred meters doesn't seem far but it is! So after my little effort I decided to hide for the remainder of the race and keep out of trouble. The rest of the guys kept the team pretty active through out the whole race, taking turns to attack or go with moves but making sure they didn't blow their lights out in the cold.
Two laps from the finish I moved up to the front and started to jump in some moves, Cam Jennings stuck in an attack and no one reacted. From previous experience I decided to jump away with him. We were hoping that a small group would ride across to us but the move didn't work as about 40 guys ended up coming. Not quite what we had planned. Coming through the finish with one lap remaining the main field was closing in fast, I kept on attacking and going with moves till one finally stuck!
Glen and the winner's flowers
Photo ©: Glen Chadwick

About 12km to go three of us got away and managed to hold off the field by about 20-30 seconds. Not renowned for my sprinting prowess I dug deep into my archives of how to do it. I didn't lead it out and rode it from last wheel as there was sneaky head wind into a dragging uphill finish. A German rider led it out with a little Dutchy on his wheel and just my luck the Dutchy hit out early leaving the German behind. That's where I stepped out from the little guy's wheel, powered past and crossed the line first, throwing my hands after I knew I had made it, just in case!
So not bad for my first race back in Belgium, A lot of luck plays a big role in racing, so many moves or attacks go in a race and it's a matter of getting into the right one and making it work.
This weekend we head to the Flanders region where we race the Vlaamse Pijl (Flemish arrow). Nasty piece of work with a lot of Belgium's famous or infamous cobbled climbs in it!
So till next time,
All the best and stay vertical,
Glen "Chady" Chadwick
Photography
For a thumbnail gallery of these images, click here
Images by Glen Chadwick/Team Cyclingnews.com