Team Cyclingnews.com - 2005
Team Journal Entry - April 27, 2005, by Cody Stevenson
Keep smiling
G'Day,
Keep smiling Cody!
Photo ©: Chris Fry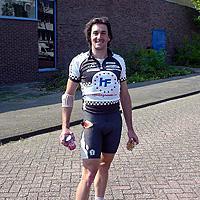 Well...I was gee-ed to race Ronde Van Noord Holland, until I got up close and personal with the tarmac!
Kane, Dan and I all hit the deck in the same crash - at least we were riding together as a team! Apart from the crash a good weekend was had; good motel, good weather. Half of the team went away to Switzerland, and the flat-landers went North to Holland. It is always good to get a bit of a road trip away.
I am now nursing a couple of deep holes in my right elbow, which make it kind of hard to brush my teeth and eat, which is done with my left hand...and I also have a slight head cold....so I feel super! I should be good in a day or so; well I hope so, as I am off to Denmark this weekend. Hopefully the teams luck changes a bit!
The previous weekend was Rund um Duren in Germany - it was not such a great day for the team. We all missed a group that got away on the first climb and basically that was it. As the weather was not so good it meant that the peloton let the group ride away. Sven and Glen got in a small move that tried to get away, but to no avail.
I had a sprint at the end and was seventh in the bunch kick, after a dodgy move on the last corner, taking me to 22nd place. I was happy enough to get through the race as it was quite hilly. The boys are still taking the piss out of me regarding my climbing style...or maybe my grinting style...out of the seat, in the drops, big gear, it ain't pretty - but it's somewhat effective for me!
Claret and ripped shorts
Photo ©: Chris Fry

It was also great to have my girlfriend, Kate, at the race. It was the first time that I have had someone special at a race. Period. Not even my parents have seen me race in Europe. I don't think alot of Belgians can relate to this, as they generally have family, friends and animals at every race they attend!
Munge [Kane Oakley] calls me the smiling assasin; I am still smiling after hitting the deck at 50kph! Next week is Denmark, and the week after that we're scheduled for another trip to Germany - you've just gotta keep smiling. That's life, eh?
Till next time,
Cody
Photography
For a thumbnail gallery of these images, click here
Images by Chris Fry/Team Cyclingnews.com