Team Cyclingnews.com - 2005
Team Journal Entry - March 14, 2005, by Cody Stevenson
Back to it in 2005 - time to race!
Hello from the Cyclingnews.com team house on a clear, albeit crisp, Belgian day.
You can actually get tanlines
Photo ©: Chris Fry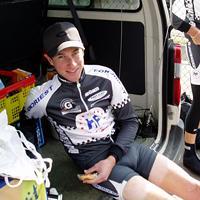 Having only been back for about a week, it's good to see that everything is same ole same! The boys are off doing Kemzeke today, a lovely 200 kilometre echelon fest. I have just walked in the door from an invigorating four hour solo jaunt...including a tailwind to push me home the last 20km. Don't you just love it when that happens!
The new Fondriest bikes look great; a full carbon frame decked out with Campag will hopefully propel the team to great success this season, and the fact that the Bio Racer kit is practically unchanged from last year means we will be instantly recognisable, and comfortable!
I am sure, after last season, that the boys are keen to replicate a good season and hopefully raise the bar a notch, and I'm also sure that the new, young guys are keen to move their way up the pecking order!
Everything in order, Glen?
Photo ©: Chris Fry

For me I hope to achieve bigger things than the previous year, including more WINS and not just one WIN. It is going to be another tough year; another year of leaving my girlfriend and family, another year of hard racing, another year of trying to make it!
Stay tuned for our weekly race reports, photos, and a good dose of Aussie banter - I hope you can all make it along for the ride…
Cody
Photography

For a thumbnail gallery of these images, click here
Images by Chris Fry/Team Cyclingnews.com