Team Cyclingnews.com - 2005
Team Journal Entry - August 15, 2005, by Cam Jennings
Holes in Hungarian roads
Hi all,
Glen wins stage 5
Photo ©: Cam Jennings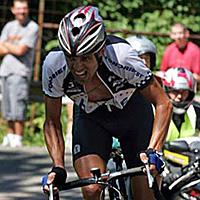 Well, back from the Tour of Hungary and it was a mixed bag for the Cyclingnews/Fondriest boys. We were all travelling well and succeeded in scoring two stage wins plus numerous top 10 placings, but we lost Hamish whilst in yellow to a bad stomach bug and Leigh to a broken collarbone and cracked elbow on the last stage. So how did all this happen?
Prologue - Veszprem
Arrived in Veszprem Monday after flying into Budapest on Sunday night. Had a good two hour ride and team presentation and checked out prologue course. Turned out to be a very technical course with two cobbled hills and a third tarmac one, and a cobbled finish. No need for fancy time trial bikes in this one. Fortunately we don't have any.
Prologue did not go too well for me as I missed my start by a good 10 seconds. I arrived at the marshaling area a good four minutes before the start and continued to ride around and stay warm. Lost track of time and did not hear my name called out. Perhaps it was their Hungarian pronunciation of my name and I didn't register. I also took my watch off before the start for reasons I'm yet to find. Anyway, missed the start by a good 10 seconds and any chance of a good result. Felt good though, and my time minus 10 seconds indicated that I was not going slow. Nevermind, no one to blame but me. Sort of thing you do once in your life - this is my first and only.
Glen and Hamish had great rides and finished third and fifth respectively.
Stage 1 - Balatonfured
The Cyclingnews boys are presented
Photo ©: Cam Jennings

40km crit at Balatonfured, a beautiful town by lake Balaton. A pretty simple course with one hairpin turn and long flowing straight up and over a little hill. Nothing was getting away despite our best efforts, and we got organised and led Cody into the sprint. I was his last man and got him to the last turn in about fifth spot and he stayed there till the line. Not a bad way to start. Glen and the guys were strong in the morning and Cody seemed to have a clean set of wheels, and the team was gelling well together.
Stage 2 - Balatonfoldvar - Keskemet
160km over a relatively flat terrain. Only real obstacle today was the weather that unfortunately turned a little sour by the time our 1:30pm start time rolled around. So the wet weather stuff was dragged out of our bags and put on and we set off. The stage had 20km of neutral by the shore of the Balaton, which lengthened the day to 180km but gave us a nice chance to warm up and also get dirty.
Action from the stage 1 crit
Photo ©: Cam Jennings

Stage started and all was going well, getting into breaks. Little hiccup when four guys got away with none of us but Kane, Leigh and myself got on the front and brought that back. Kane then slipped off the front in an unlikely looking move with seven other riders, including Hamish. The bunch let them go. Surprisingly no team organised themselves to bring the break back and with our GC rider, Glen, sitting in the bunch it was not ideal when the break was getting close to six minutes up the road. Glen tried numerous times to get away but they were all on him. So, despite having two up front Leigh and myself started to work on the front so Glen would not get too far behind. Come the finish the break was back to three minutes, with Hamish winning the stage and the yellow and Glen not getting too far out of the picture. Cody had a good sprint for the minor placings and we all missed the crash 2km out.
Stage 3 - Csongrad - Bekesceba
A bit wet on stage 2
Photo ©: Cam Jennings

120km pan flat today to Bekesceba, a town not too far from the Romanian border. With Hamish in yellow we had to defend the jersey a little but we were not going to get on the front from km zero and set the pace all day. We were going to look for breaks and see what happened. Cody won the intermediate sprint at 4km and then Glen attacked. I followed the wheels and looked around as we had a break of six with a small advantage on the bunch. Break got out to a minute but that was as far as it got and with only a select few working in the group we were bought back after 30km.
When we were caught the dark clouds rolled in and it poured for the remainder of the stage. A few of the German teams attacked and tried to split it up and on dangerous roads with little visibility we decided it was better/safer for all concerned to sit on the front and control the race rather then chase attacks all day. So Leigh, Kane and myself ploughed away on the front for the next 70km in the slop until other teams got to the front and wound it up. The dodgy finish in Bekesceba resulted in a big crash; luckily none of us were involved. Hamish was still in yellow, and the rain still coming down.
Stage 4 - Szeghalom - Mezokovesd
Hamish takes the win on stage 2
Photo ©: Cam Jennings

150km pan flat. Similar objectives to yesterday. Chase attacks for the first bit and see what happened. Start of the stage was interrupted due to bad road conditions that arose from the incessant rain over the previous days, and at the 32km mark, just after the first sprint the race was neutralised for 15km as we tip toed our way around holes, rocks and puddles. Race got going again and Glen and I found ourselves on the wrong end of the bunch in a cross wind section and had to do a bit of work to get back. We got back after a 20km chase and Glen went to the front and had a go himself. Caused a bit of panic in the bunch and a few riders got across to him but unfortunately it came back and Leigh, Kane and myself got back up front and chopped along.
Unbeknown to me, Hamish started to feel sick some 30km from home. Not sure what brought it on but it all came on pretty quickly. With 10km to go he was in a right mess and struggling to keep going. By this time some of the teams with sprinters had taken over on the front so we had to help Hamish to the line. With 7km to go Glen attacked over an overpass and was away with a few others trying to get a bit of time back before the mountain the next day. Glen ended up second on the stage and pulling back 30 seconds. Hamish ended up covered in vomit as he let go of a Linda Blair escape display 1km from the line. He was struggling to ride and thanks to a bit of quick thinking from Daniel he managed to finish the stage with bunch time. Unfortunately he was not to start tomorrow. After spending the night in hospital with a fever of 40 degrees and low blood pressure on a drip he was too weak to do anything let lone ride a bike and had to forfeit his chance in the Tour of Hungary.
Stage 5 - Mezokovesd - Kekesteto
Glen celebrates
Photo ©: Cam Jennings

100km of hilly terrain with a 15km mountaintop finish. As I stated before, the stage started without Hamish. He was still in hospital and was not allowed out till the afternoon. This day was the most important day of the tour and the day Glen was looking forward to.
Early proceedings were controlled by the new yellow jersey team, the German US Financial Team. The bunch was all together at the bottom of the last climb but a strong tempo set by the Slovakian team soon whittled the bunch down. After only a few kilometres of climbing there was a lead group of 10-15 riders with both Glen and I present. A Dutch rider attacked with about 7km to climb but the last 3km was at a 10% gradient. He was not getting too far in front and 1km before the steep stuff started Glen attacked from mid-way down the group and was never headed. He caught the Dutchy and he hung on for a while, but with 1km still to climb he dropped off and Glen won the stage and the KOM jersey. I came in ninth, 1 minute 30 seconds down. All the other guys finished comfortably. To add to the jersey Glen also moved to fourth, with the time he lost on stage 2 proving crucial.
Stage 6 - Matrahaza - Kekesteto
Glen takes second on stage 6
Photo ©: Cam Jennings

After a few hours recovering it was time for the afternoon's stage; a time trial up the last 4km of the climb that we had just done. No need for too much detail here. I didn't miss my start this time and rode a good tempo up the hill, keeping my gear ticking over nicely and coming in 19th. Glen had another pearler and placed second on the stage and moved to third. The other guys did what they had to do to get the stage out of the way.
Stage 7 - Vac - Dunakeszi
Two stages on the last day - the morning stage was a hilly little 60km trip and a 50km criterium in Budapest in the afternoon. The stage in the morning didn't start well for us as Leigh crashed and cracked his collarbone and chipped his left elbow. Riders failed to point out a massive hole and the rider in front of Leigh hit it and went down. Kane also came down but luckily he ran off the road and into the grass. He came back into the bunch looking like he had just played an entire game of cricket in the slips; grass stains all over. Leigh and his bad luck - this was the third time in nine months that he had broken and or cracked his right collarbone.
There was one KOM sprint along the way and Glen cemented his lead in that competition, getting second on the climb. It was then wound up for the finish by the sprinter's teams and I did my best to get Cody to the front in a twisty dangerous finish. Cody once again was in the coin, getting sixth in the kick. The mood later on after the stage was pretty dull as we all felt for Leigh. He was riding well and doing heaps of good work for the team. He just didn't deserve it.
Stage 8 - Budapest
Now, you have to eat!'
Photo ©: Cam Jennings

The last stage, a 50km criterium, started at 5pm. With all GC positions safe, it was going to be a controlled race by the yellow jersey team. Nice simple course up and down the Danube with no dangerous corners but a few big Hungarian holes thrown in just to keep us on our toes.
After the first sprint I had an attack that lasted all of 1km as I bogged myself down up the long finish straight into a headwind. Sat back for a bit and then after the second sprint with five laps to go I tried again, and this time had the company of a Slovakian rider. We worked well for a lap but again the strong wind up the Danube was thwarting everybody's best efforts. Glen had a go as well but was quickly marked, so it came down to the inevitable bunch kick. Cody was feeling good and Glen and I led him up to the front. I remember looking around with about 800m to go and seeing Cody behind me, so I picked the pace up again and led into the last corner with 400m to go. Started my sprint there, and as the riders started to come past I didn't see Cody. He pretty much got knocked off his bike by one of the young arrogant Akud riders from Germany and lost any chance of a result. Not the best way to finish the race but that's how it goes.
Setting the pace
Photo ©: Cam Jennings
So, Glen won a stage and Hamish did as well. We had the yellow for three days and controlled the race for those three days, and we only lost the jersey to something out of our control. Glen got the KOM jersey and we were always in the top 10. Even though we lost Hamish and Leigh it was again a successful tour of Hungary.
After a few Britney's later on that night down at the Nuclear and good old look around Budapest on Monday where we threw caution to the wind and experienced the Budapest Metro with one minor stuff up, we jumped on a plane later that night and arrived home in Booischot. Big thanks to our staff who drove the long drive to and from Hungary, while we cruised along at a few thousand feet.
So now for me is a bit of down time. No scheduled race for two weeks, so taken this first week after Hungary dead easy and relaxing a little bit off the bike. Have had a consistent race schedule since I arrived so have been switched on for a few months. A week and a bit dead easy is well earned methinks.
Till next time we meet,
Cameron Jennings