Team Cyclingnews.com - 2005
Team Journal Entry - May 11, 2005, by Cam Jennings
More fun in Holland
Hi all,
Cam Jennings and Kane Oakley
Photo ©: Cam Jennings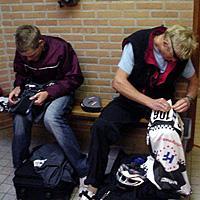 All loaded up with new supplies from First Class Nutrition, we travelled up to Netherlands last Sunday for our most recent race, Omloop de Kempen. Straight off the bat I will say that it is not my favourite race, but once again I was determined to put in a good effort, and no amount of rain, wind or hail was getting in my way.
After another dodgy neutral section around the start/finish town we headed out; straight away Dan hit the deck and was out. Dan has about as much fun as me in races when we're in Holland. Nevertheless, the race went on and was still all together at the 70km mark when we hit the first cobbled section, all 8km of it. Now they are not the big "bread loaf" sized Belgium cobbles, but coupled with wind, rain and hail they still had the same effect and split the bunch into numerous pieces. We lost a few guys at this point being too far back, but Cody, Henry, Tom and myself were still in the thick of it.
Returned to the after 105km and then headed out again for another 70km loop over the same cobbles. As we approached the cobbles again I was up front in the gutter and it split into a lead group of 15, with five riders up front. We were away over the cobbles but quickly got pulled back once they had finished. After numerous attacks coming into the finish it split again, and once again I made the front, only to be pulled back. Still feeling good, but, with three riders up the road and being chased by Rabobank I was in two minds as to having a go. If I had a go and made the front group (20 seconds away) the bunch would eventually catch up and my effort would have been a waste. So I waited.
Mechanic Nick
Photo ©: Cam Jennings

Having said all that, come the last local lap it split in the wind again and I was at the front - but beginning to fade and content to wait and try my luck in the sprint. After a nervous, stressful day of constant moving up and dodging crashes I was spent, rolling in at the back of the sprint for 28th signaled the end of the day - a fast one, with an apparent 47km/h average.
What is next - well, racing arguably the team's biggest race of the year, the Booischot Kermesse, our hometown race. We won it last year so will be aiming for something similar. Problem is that it's been raining on and off all day and it doesn't start until 6pm. Went for a ride this morning and felt alright so...
Till next time we meet,
Cameron
Photography
For a thumbnail gallery of these images, click here
Images by Cam Jennings/Team Cyclingnews.com