Team TIAA-CREF - 2005
Team Journal Entry - January 14, 2005, by Craig Lewis
Craig Lewis - Back from the dead
Starting as a young rider in an even younger team is definitely no easy task. This wasn't made any better for Craig Lewis. After being hit by a car during the time trial at the Tour of Georgia, and some 40 broken bones, two punctured lungs, severe concussion and internal bleeding later, Lewis is making his comeback in 2005 - he tells us how it's going.
Craig Lewis
Photo ©: Beth Seliga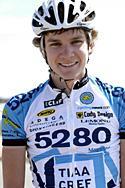 Come backs are never easy. In the Tour de Georgia I went headlong into a car at about 60kph on a downhill section of road. I never saw it, as I had my head down - or at least that's what I've been told. Then I had to go through six separate surgical procedures doing everything from removing fluid from my abdomen to fixing a shattered scapula. I punctured both lungs, which meant I had to learn how to breath all over again. Lots of fun!
So, obviously, after my accident in Georgia I knew I had a long road ahead of me. My first thoughts were if I would ever ride a bike again. That soon deteriorated into if I would live or if I wanted to. I still can't believe what I went through and I don't know if I ever will, but you can't have the ups without the downs, eh?
A long road back
Going through rehab was hell. I had to learn everything over again. I started out with walking, which was hard for me to deal with. I mean, I went from the best shape of my life to having to learn how to walk in just three weeks. I guess not being able to move and losing almost forty pounds will do that to you. And when I say I had to learn everything over again I mean everything, even using the restroom. Believe me that was hard, especially when you have the nurse standing next to you saying, "No pressure, if you can't go we will just put this huge tube back in you, it will only burn for a day or two." Yeah right! I am still having nightmares from that! Luckily I didn't have to go through it alone as I had the support of my family, my team and my friends.
I did eventually make it out of the hospital and back to my house, but it wasn't the same. I had to rent pretty much the whole hospital because I still needed all the equipment. But being back home made me start thinking about the bike again, especially when the Giro was on TV. It wouldn't be until five weeks after the accident that I did my first ride; I hope my doctors are not reading - they would kill me if they knew I was riding so soon after almost dying! Anyhow, I rode about fifteen minutes on the trainer the first day, and I my mom had to peel me off my bike I was so tired. My mouth was wired shut and I had all of these pins and wires in my body, it was not a good experience. Some good did come out of it though, for the first time since the accident I was able to sleep through the night, which was a big deal!
Back on the bike
From then on everything got better. With about two weeks of riding in my legs I went out to Colorado and did my first training race. This was by far the most nervous I have ever been for a race. I knew if I crashed that would be the end of my career for sure. My body was not even close to being healed, but I had to give it a shot - I had the boss there with a car if anything did happen. It started out alright, but I soon started wearing down and was beginning to suffer. There were only a couple of small hills on the course; hills I used to coast up. But on every hill my heart rate would rise over 200 and I was getting passed by everyone. I could have swore that I even saw JV's four year old son, Charlie, riding past me! I was still there though, and we were coming up on the bell lap so I knew I would finish. I started thinking about the sprint. I really wanted to beat my teammate, Jay Ku, who is a good sprinter. In the end I ran out of road and he got me on the line. As soon as we finished I felt like I was going to die - it was a welcome feeling though. It was that self-inflicted pain that I hadn't felt in a really long time
"Going through rehab was hell. I had to learn everything over again."
-Craig Lewis on the aftermath of his accident at the 2004 Tour of Georgias
About ten weeks after the accident I decided to go to the Tour to try to find more motivation and make sure I wanted to continue in the sport. I found all of that after the Villard de Lans stage when my friend, George Hincapie, invited me to hang out on the team bus. While I was on the bus Johan Bruyneel spoke to me. Can you believe that? Johan Bruyneel, the mastermind behind all of Lance's victories, was speaking with me! I was blown away, I knew then more than ever that I wanted to stay in the sport.
What lies ahead
Since then I have done a few races, which went well for me, and I bought a new house which I love!!! I've been training all winter with George and that has been crazy. I have even gotten my first crash out of the way for 2005. Last week we were going up one of the local climbs when we came across a patch of ice. Everything was ok until George freaked out and decided to take a 90 degree turn into my front wheel putting me on my butt!! Some friend, eh? For real though, I am so lucky to have him as a friend and mentor. He has taught me everything I know and I never stop learning from him. I know he is going to have a great year, so keep both eyes on him!
Now that the Discovery training camp is underway I am training solo, well, not quite - I'll always have my ipod! So that means the start of another season is just around the corner, and I can't wait to get back on the road with my boys on TIAA-CREF. I hope all of you will try to get tickets to our team presentation on February 15th, it will be huge. TIAA-CREF is stacked with talent and we are the only U25 team in the nation - the future of the sport! I'm definitely heading into the year with a new outlook on cycling and life in general, so wish me well.
Thanks for reading,
Craig