Team TIAA-CREF - 2005
Frischkorn and Macgregor to lead TIAA-CREF in 2005
After its successful first year in 2004, Jon Vaughters' TIAA-CREF under team joins the UCI ranks as a Continental team and has a new star rider in Will Frischkorn and European goals for 2005.
Will Frischkorn (seen here winning Stage 3 of the 2004 Colorado Cyclist Classic) joins TIAA-CREF in 2005.
Photo ©: Beth Seliga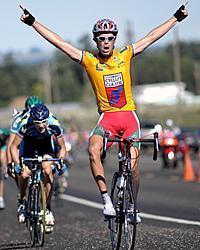 Ian MacGregor (pictured here at the 2004 Tour de Georgia) will be one of TIAA-CREF's two team leaders in 2005
Photo ©: Beth Seliga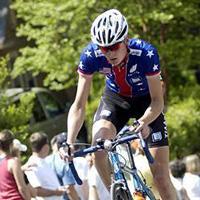 American cyclist Will Frischkorn will be moving into a team leadership role as he joins newly crowned national champion Ian Macgregor in heading up Team TIAA-CREF in 2005.
Sponsored by Fortune 68 financial services company, TIAA-CREF, the team begins its second season with a full slate of the country's most exciting, young up-and-coming riders.
Frischkorn, who comes to TIAA-CREF after serving as a key teammate for Chris Horner at Saturn, is widely recognized as one of the country's top talents. An accomplished rider at only 23, Frishkorn has won stages in the Ronde de L'isard and the Tour of Austria, along with an impressive third-place finish at the U23 Tour of Flanders. Indeed, Frischkorn was heavily recruited by top pro teams early on his career, but the native Coloradoan opted to take a more methodical approach to his development as a rider.
"Will's thoughtful approach to his own career fits in perfectly with this team's philosophy," says team director Jonathan Vaughters. "Will has a great deal of talent. His results show that and we appreciate his desire to focus on the long-term rather than on trying to achieve too much, too quickly. Will comes into this role now with both the talent and the maturity to lead this 18-rider team to success. Frankly, that is the sort of approach our own sponsor brings to the financial planning world, so this is natural fit."
Frischkorn will be joined by Macgregor, who will still be an U-23 rider in the coming season.
"This is our first season as a UCI Continental registered squad," said Vaughters. "Ian is another key element in ensuring success this season." Other top talent on TIAA-CREF include Univest GP winner, Chad Hartley, 4th place finisher in the Ronde de L'Isard, Timmy Duggan, and US Collegiate National Champion, Bryan Smith.
With the addition of such riders, Team TIAA-CREF will undertake an ambitious race schedule in 2005, highlighted by most of the major north American UCI races and making multiple forays into Europe, with the ultimate goal of competing in the Societe Tour de France event, Le Tour de L'Avenir.
Mechanic Kevin Grove returns, complete with retro eyewear.
Photo ©: Beth Seliga

Team TIAA-CREF will be under the direction of Vaughters, a former European professional and one-time holder of the record up the infamous Mt. Ventoux; and Sydney World Cup points race winner, Colby Pearce. Pearce and Vaughters will be assisted by road manager Ben Turner, head soigneur Alyssa Morahan, and former Mercury mechanic, Kevin Grove.
After a week long training camp scheduled in Boulder, Colorado Feb. 9-15, Team TIAA-CREF will be unveiled to the public for the first time on February 15th in Denver by host Phil Liggett.