Recently on Cyclingnews.com
Results and Reports for June 29 - July 5, 2002
USA
Promoters wishing to submit results should send them to cyclingnews
Dr. Steven Seiden Memorial Ride
UC Irvine, Irvine, California, June 29, 2002
Orange County Riders Honor Fallen Friend
Report by Brian Ignatin
Addressing the crowd
Photo: © Rudy Fernandez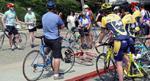 More than 25 cyclists of varying ability and backgrounds gathered at 10:00 this morning, on a warm, sunny day to honor Dr. Steven Seiden, one of two cyclists who died earlier this month (June 11), when he was hit by a truck during a training race in Baton Rouge, Louisiana.
Seiden, a UC Irvine alumnus, started cycling while he was an undergrad at Irvine, and was a pioneering member of the UC Irvine Cycling Team. Seiden was an Associate Professor of Computer Science at Louisiana State University, and a member of the Red Stick Racers at the time of the accident. He was a prominent and well-respected member of the Baton Rouge cycling community, even though he had only arrived there in 1999. He was known for being very soft spoken and for being a strong proponent of safe riding.
The memorial ride was co-sponsored by the current UC Irvine Cycling Team, and was attended by riders from several Orange County Clubs, as well as by alumnus from the UCLA, Cal State Long Beach, and University of Illinois teams. Prior to the ride, sympathies and well wishes were received from around the world and included alumnus members of the UC Irvine, UCLA, and USC teams, who were unable to attend the memorial.
Three eras of the UC Irvine team participated in the ride, including club founder Brian Ignatin, who co-organized the ride with Mark Fluss. Ignatin and Fluss lived and raced with Seiden during a few of their undergrad years. Some of Seiden's other UC Irvine teammates participating in the memorial ride included, Julio Flores, Dean Yonemori, Ed Rands, Andrew Costley, and team coach Karl Bonawitz. All agreed it was great to get together once again, but that it was a shame that it had to be under such unfortunate circumstances. Fond memories of Steve were traded throughout the event.
Prior to the ride Fluss read a statement prepared by Tracey Seiden, wife of Steve, "I'd like to express my gratitude for this display of sympathy for Steve. Cycling meant a great deal to him, and I can't think of a better way to remember him than with the memorial ride you're having for him today. In his quiet way, he would be deeply honored".
Tracey's sister, Krista Rovello attended the start, along with her Uncle, Aunt, and Cousin, displaying recent photographs of newborn, Steven Benjamin Richard Seiden, Steve and Tracey's son, who was born the day following the tragic accident.
Ignatin gave an update on the Dr. Steven Seiden Memorial Fund, founded by a student in the Computer Science Department at LSU. To date the fund has raised over $4300 to benefit Tracey and her son. Contributions can be made via paypal to: seiden_fund@greatmindsworking.com Mention was made of the possibility of forming a scholarship fund in Steve's name.
The ride left the from the flag poles outside the UC Irvine Administration Building, a traditional gathering point for UC Irvine Club rides. Fluss stated, "It was appropriate for this ride to leave from here, as this is the spot where I first met Steve back in the fall of 1987." The ride started just a few blocks away from where Seiden's racing career began, at the Mesa Court Criterium, a collegiate race hosted by UC Irvine on February 7, 1987.
The ride was a 23-mile loop, traveling on roads adjacent to some of Irvine's once famous, and now last remaining Orange Groves and Strawberry Fields, before heading out around the El Toro Marine Air Station, and then returning to the university via the Irvine Spectrum commercial area. Ignatin stated "It was apropos for us to have chosen these roads for this memorial ride. Over the years we pedaled many miles through here with Steve." He added with a grin and fond recollection, "Steve had a propensity for these fields; he crashed into them on several occasions back in his early days. Fortunately for all of us, Steve's bike handling skills improved dramatically, in the months that followed."
Seiden's career progressed swiftly; he was successfully competing at the Collegiate "A" level in only his second season, and was also a Category 3 in USCF races. Julio Flores wrote in the Memorial Journal, "The best thing I remember and admired about Steve was that he never gave up. We raced against teams and riders that were stronger, etc., but Steve would always be up for going against them. I'll always remember his spirit". Dean Yonemori contributed, "Steve was an inspiration, and will always be remembered", while Robert Charton added, "Steve could ride for hours without saying a word, but when he would say something, it was usually funny enough to knock you off your bike".
The consensus among the riders was it was a nice ride, despite the tragic circumstances leading to it. Fluss and Ignatin agreed that "Steve, despite his modesty and dislike of being the center of attention would have been touched by the occasion", then added with grins, "he probably would have mocked us for picking such an easy route". All who knew him agree that he will be missed.
Photography
Images courtesy Rudy Fernandez