Recently on Cyclingnews.com
Results and Reports for April 20-21, 2002
USA
Promoters wishing to submit results should send them to cyclingnews
Boulder Racing.com Spring Criterium II
Boulder, CO, April 21, 2002
Moninger escapes to solo victory
Scott Moninger
Photo: © BoulderRacing.com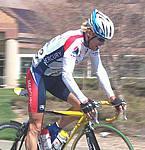 Sunshine and relentless, gusting winds decimated the weaker riders at Sunday's CU Research Center Park crit. The 0.7 mile course had gradual sweeping turns, so the race resembled a motor pacing session with 60 of your closest friends.
For the Pro men attacks came mainly on then headwind stretch and after many attempts to get away, a break finally formed consisting of Scott Moniger (Mercury), Jon "Teton" Tarkington (Vitamin Cottage), Chuck Coyle (7 Up, Nutra Fig), and morning collegiate winner Nate Dills (CU). The break held a small gap as Chris Wherry, Scott's teammate, and the fierce winds held the field at bay. With two to go, Scott attacked the break and Dirk Friel (Choco-Andean Coffee) attacked the field. As Scott soloed in for the win, Teton outsprinted Chuck and Nate. In the remaining few meters, Dirk's gap quickly shrunk, only to be caught by Wherry.
On the women's side, it was very competitive racing with Gail Longenecker from Rona, Sara Conrad (Mercy Cycling) and the Veritas contingent all in attendance. Similar to the men's race, the early breaks were all brought back until a late race counter attack by Conrad duped the rest of the field. When Sara left, no one immediately chased, giving her the gap she needed to take the checkered flag.
With the return of the University of Colorado men and women from Spring Break, the rest of the field was no match as CU dominated the field and the podium. In the women's collegiate A race, CU riders Kathy King and Megan Melamed were able to successfully break from the field thanks to the blocking tactics of their teammates. King and Melamed rode strong and lapped the field, finishing first and second respectively. Jessica Kizorek took third place for a one-two-three finish for CU's womens team.
On the first lap of the men's collegiate A race, John Steirwalt (CU) attacked with lightening speed and was off the front for several laps before getting caught. Several other CU riders countered, sending yellow jerseys up the road in an effort to wear out their competitors. About three quarters of the way through the race, Nate Dills (CU) got away and rode solo for more than a half a dozen laps, gaining approximately 30 seconds on the field for the win. CU rolled in the next three riders to stack the podium.
Photography
Thanks to BoulderRacing.com for these images
Results
Mens Pro 1,2  Open
 
1 Scott Moniger (Mercury)
2 Jon Tarkington (Vitamin Cottage)
3 Chuck Coyle (7 Up / Nutra Fig)
4 Nate Dills (Red Rocks)
5 Chris Wherry (Mercury)
6 Dirk Friel (Choco-Andean Coffee)
7 Sam Martin (Monsoon Racing)
8 Christian McCarthy (Pro Peloton)
9 Frederick Gardner (Cliff Bar / Denver Spoke)
10 Steve Brawley (GS Ciao)
11 Mike Janelle (Tokyo Joe's)
12 Kevin Nicol (Monsoon Racing)
13 Joseph Taddeucci (Vitamin Cottage)
14 Jon Steirwalt (Trek VW)
15 Nicholas Traggis (TPRT)
16 Frank Overton (Pro Peloton)
17 Mark Southard (Trek VW)
18 Tim Elebaut (Outdoor Inc)
19 Steve Smith (TPRT)
20 Micah Martin (Monsoon Racing)
21 Billy Masterson (Excel Sports)
22 Hatcher rosebrook (Red Rocks)
23 Todd Berger (Pro Peloton)
24 Marc Gullickson (Mongoose)
25 Kelly Rudick (Pro Peloton)
26 Clark Sheehan (7 Up / Nutra Fig)
27 Frank Mapel (Excel Sports)
28 John Cotton (TPRT)
29 Joe Cooper (Team Pure Altitude)
30 Brandon Dwight (Excel Sports)
31 John A Seehufer (Pro Peloton)
32 Guy Coffey (Pro Peloton)
33 Jeremie Texier (CU Cycling)
NP Aaron Ekland (BCP)
NP Andrew Manart (CU Cycling)
NP Brian Chimileski (Trek VW)
NP Daniel Depaemelaere (Front Range)
NP Dave Aschwanden (Trek VW)
NP Dejan Smaic (Velonews)
NP Derrick Nidzel (Cody Racing)
NP Eric Nussbaumer (GS Ciao)
NP Joseph Pickerton (Vitamin Cottage)
NP Kindler Chase
NP Michael Lange (Cbike.com)
NP Michael Larson (Pro Peloton)
NP Michael Sandler (CSU)
NP Nat Campbell (Vitamin Cottage)
NP Nate Busch (FCRC)
NP Robert Hicker (Allegheny Cycling)
NP Ryan Gilmer (Hammer Racing)
NP Samuel Baugh (GS Ciao)
NP William Robinson (Pro Peloton)
NP Zak Grabowski (Saturn Development)
 
Mens Cat 3
 
1 Robert King (Colorado College)
2 Grant A Berry
3 Ian MacGregor (ACA)
4 Matthew Wab (Red Rocks Velo)
5 Scott Gilleon (Pro Peleton Velo)
6 John Shippey (Twin Peaks)
7 CJ Gauss (GS Ciao)
8 Hank Esperon (Mountain Max)
9 Benjamin Cruickshank
10 Charles Panaccione (Pedelhome.com / Rogue Wave)
11 Jay Bourque (ACA)
12 Sara Conrad (Mercy Cycling)
13 Margell Abel (Veritas Womens Cycling)
14 Chris Behrens (Pedelhome.com / Rogue Wave)
15 Brian Williams (BoulderDenver Couriers)
16 Katrina Berger (Cannondale USA)
17 Timmy Duggan (Vecchios)
18 Chancie Cavenish (Grazie / Johnson)
DNF Thomas Dolak (Fort Collins Cycling Club)
DNF John Wahl (LRT)
DNF Steven Kohuth (Twin Peaks)
DNF Patrick Walker (GS Ciao)
DNF Steve O'Halloran (Twin Peaks)
 
Mens Cat 4
 
1 Jan Melsaether (CU)
2 Brian Jew (Rocky Mounts)
3 Mike Giem (Univ of Wyoming)
4 Daren Hyandale (Wonderbon)
5 Scott Vogelman (Univ of Wyoming)
6 Bruce Gardner (Pro Peloton)
7 Dustin Stein (Red Rocks)
8 David O'Brien
9 Eric Baysen
10 Matthew Alford (Swift Cycling)
11 Dale Hill (Pro Peloton)
DNF Patrick Flemming (Univ Wyoming)
DNF Jayson Clark
DNF Colin Taylor
DNF Vinnie Basile (Rocky Mounts)
DNF Ryan Young (Air Force)
DNF Trevor Davis (Monsoon Jr Development)
DNF Joe Pflug (Louisville Velo)
DNF John Chinkles (LVC)
DNF Timothy Madden (Laurel Street Racing)
DNF Chris Ewing
NP Tim Smith
NP John Jenkins
 
Mens Cat 5
 
1 Clayton Barrous
2 Michael Blair (GS Ciao)
3 Mark McMullen
4 Bob Green (Bike Peddler)
5 Corey Salzer
 
Men 35+
 
1 Michael Carter
2 Jim Everett (Simple Green )
3 Guy Coffey (PPV)
4 Michael Larson (Pro Peloton)
5 Derrick Nickel (Cody Racing)
6 Craig Hilton (Red Rocks)
7 Richard Rodriquez
8 Fred Gluck (Cliff Bar / DenverSpoke)
9 Michael Brown (Cliff Bar / DenverSpoke)
10 Anthony Glovioso (DBC)
DNF Brian Oberbeck (Laurel Street Racing)
DNF Chris Martel (Team mack)
DNF Broc Thompson (Twin Peaks)
DNF Karl Kiester (Cody Racing)
DNF Tim Lesh (Stealth / Twi n Peaks)
NP Kurt Tuggle
 
Juniors
 
1 Gus Carlson (PBC)
2 Sam Carlson (PBC)
3 Bryce Lanson (Fron Range)
4 Joshua Burke (HRCC)
 
Womens Open
 
1 Sara Conrad (Mercy Cycling)
2 Emily Gloeckner (Veritas Womens Cycling)
3 Gail Longenecker (Rona)
4 Katrina Berger (Cannondale USA)
5 Margell Abel (Veritas Womens Cycling)
6 Maatje Benassi (Veritas Womens Cycling)
7 Anne Lannan (Veritas Womens Cycling)
8 Kate R Furze (Boulder Womens Cycling)
9 Leslie Lowry-Abate (Pedalhome.com / Roguewave)
10 Mary Kneeland (Pro Peloton)
11 Leah Trapp (CSU)
12 Carla Wollum
DNF Erin Stromley-Wahl
DNF Lara Kroepsch (Trek Plus)
DNF Kerry Barnholt (Excel)
 
Womens 3,4
 
1 Laura Danley (Monsoon / RioGrande)
2 Alicia Seltz (Boulder Womens Cycling)
3 Beth Jordan (Boulder Womens Cycling)
4 Nicky Van Bulck (Pedalhome / Roguewave)
5 Missy Mandery
6 Shannon Edson
 
Men Collegiate A
 
1 Nate Dills (CU Cycling)
2 Darby Thomas (CU Cycling)
3 Jeremie Texier (CU Cycling)
4 Patrick Sullivan (CU Cycling)
5 Jeff Pink (CSU)
6 Jacob Frenz (CU Cycling)
7 Jon Stierwalt (CU Cycling)
8 Matthew Wasp (CO School of Mines)
9 Robert King (Colorado College)
10 Peter Beland (Univ of Wyoming)
11 Hatcher Rosebrook (CU Cycling)
12 Andrew Manart (CU Cycling)
13 Nat C Campell (CSU)
14 Clayton Barrows (Univ of Wyoming)
15 Ryan Lynch (CU Cycling)
16 Bill Danyluck (USAFA)
17 Ross Canup (USAFA)
18 Jordan Logan (CU Cycling)
19 Jonathan Massie (CU Cycling)
20 Matthew Karre (Univ of Wyoming)
21 Collin Becker (CU Cycling)
DNF Benjamin Moran (USAFA)
DNF John Peterson (Univ of Wyoming)
DNF Joseph Pinkerton (CSU)
DNF Michael Sandler (CSU)
DNF Miguel Arias (CU Cycling)
DNF Nathaniel Ksiazkiewicz (CSU)
DNF Pete Robinson (Univ of Wyoming)
DNF Steve Owens (CSU)
DNF Todd Larsen (Univ of Wyoming)
 
Men Collegiate B
 
1 Ryan Young (USAFA)
2 Ryan Hamity (UNC)
3 Patrick Fleming (Univ. of Wyoming)
4 Michael Giem (Univ. of Wyoming)
5 Ian Holt (USAFA)
6 Derek Derkacs (UNC)
7 Peter Shayhorn (USAFA)
9 Michael Bowman (USAFA)
9 Scott Vogelmann (Univ. of Wyoming)
10 Bobby Lambrix (CU Cycling)
11 Jeffrey Wu (CU Cycling)
DNF Jay Austin (CU Cycling)
DNF Mason Jones (USAFA)
 
Men Collegiate C
 
1 Josh Lumkin (CU Cyling)
2 Bennett Stucky (UNC)
3 Christopher Botkins (UNC)
4 Daniel Snyder (UNC)
5 Matt Hilgers (CU Cyling)
6 Randall Lee (UNC)
7 Robert Espejo (CU Cyling)
8 Scott Wenzel (UNC)
 
Women Collegiate A
 
1 Kathy King (CU)
2 Megan Melamed (CU)
3 Jessica Kizorek (CU)
4 Louise Bakley (CU)
5 Leah Trapp (CSU)
6 Vicky Sama (CU)
7 Amanda Harris (CU)
8 Elizabeth Carrington (Colorado College)
9 Lindsey Seeney (CU)
 
Women Collegiate B
 
1 Melanie Barres  (USAFA Cycling)
2 Luat Vuong (CU Cycling)
3 Jennifer Caufield (CU Cycling)
4 Christian Robinson (Univ of Wyoming)
5 Holly Borowski (USAFA Cycling)