Recently on Cyclingnews.com
Results and Reports for April 20-21, 2002
USA
Promoters wishing to submit results should send them to cyclingnews
Historic Roswell Criterium
Roswell, GA, April 21, 2002
Vogels outsprints Lieswyn in tight crit
Henk Vogels
Photo: © Greg Schisla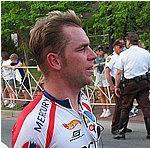 Mercury's Henk Vogels started today's first annual Historic Roswell Criterium with good form. A big crowd turned out in the historic district that dates back to early America. Being a first year event, the Mercury team did a quick recon of the course early Sunday morning. With two long narrow straights and five tight turns, the team knew a small group could get away and stay away.
With that in mind, Vogels made the first attack early in the race. Quickly a group of 5 went clear. The group contained Vogels, Leiswyn (7-UP), McCook (Prime Alliance), Johnson (Schroeder), and hometown hero Chris Pic (Jittery Joes). Both Saturn and Navigators missed the move and after several failed attempt to bridge across, the Navigators put their team on the front to bring back the group.
With 30 minutes left of the 85 minute event, the lead was 38 seconds and growing. It was quickly apparent that the winner of the race would come from the five. With six laps to go, an attack from Vogels split the group to three in the front. It was Leiswyn, McCook, and Vogels to battle.
Behind, the pack was looking for a leader, and with three laps to go, Mercury was on the front for Gord Fraser to bring back the remaining two dropped riders. With the Mercury train at full steam, the breakaway soon was in danger of being caught on the last lap. A strong move by Leiswyn held off the group but gave a great leadout for Vogels who was clear by several meters at the finish. Mercury had to get off the gas to make sure that they did not catch their man in front. The hesitation gave Jonas Carney fourth with Fraser fifth.
Photography
Thanks to Greg Schisla for these pictures
Results
Men
 
1 Henk Vogels (Mercury)
2 John Leiswyn (7-UP)
3 Dave McCook (Prime Alliance)
4 Jonas Carney (Prime Alliance)
5 Gord Fraser (Mercury)
 
Women
 
1 Tina Mayolo (Diet Rite)