Results and Reports for April 6-7, 2002
USA
Promoters wishing to submit results should send them to cyclingnews
Stazio Criterium
Boulder, Colorado, April 6, 2002
Wherry and Dunlap take local honours
By Rob Karman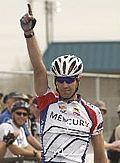 Chris Wherry
Photo: © Rob Karman
The local Colorado race season got into full swing today at the Stazio Criterium in Boulder. Part of the Colorado Cycling Festival, the Stazio Crit is the second local race of the season and with all the local pros back in town from the early season racing in California, the competition was intense.
In Men's Pro 1-2 action, Chris Wherry (Mercury) won solo from a group of 10 that broke away from the field early on in the 60 minute race. The move contained three Mercury riders who each took turns attacking their breakaway companions until with 6 laps to go Wherry got a gap that stuck to the end. Jonathan Vaughters was in town for his upcoming training camp with the public and took part for some quality miles.

Alison Dunlap
Photo: © Rob Karman
The Womens Pro 1-3 race saw reigning Mountain Bike World Champ Alison Dunlap win in a field sprint before turning around and racing the Senior Mens Cat 3 race that started five minutes after the Women's finish. Asked about the difficulty of doubling up she said that "in the women's race it is attack and slow down, where in the [men's] cat 3 race, it is pretty much a steady pace which is easier for [me] as a mountain biker."
The final event of the day was the Men's 35+ race where Saturn Team Coach Jim Copeland made a surprise appearance and took a not so surprising win. A former pro himself, Copeland made an early attack to test his legs before launching the final blow with one and a half laps to go to solo to the line.
Action continues tomorrow with the Boulder-Roubaix Road Race, a tribute to the race in northern France with the similar name. A 17 mile loop over washboard dirt roads, a bit of gravel double track and just enough pavement to connect the two is in store along with forecasted rain. Pro Men will do five laps and Pro Women will complete three circuits with amateur categories riding between two and four laps. Look for a report and photos (provided the camera stays dry) from cyclingnews.com correspondent Rob Karman.
Photography
Images by Rob Karman
Results
Men Pro/1
 
1 Chris Wherry (Mercury Cycling Team)                   1.02.17
2 Hendrichs Vogels (Mercury Cycling Team)                  0.09
3 Alex Candelario (Prime Alliance)                         0.34
4 Plamen Stoyanov (Mercury Cycling Team)
5 Jon Tarkington (Vitamin Cottage/Morgul Bismark)
6 Chuck Coyle (7up/Nutra Fig)
7 Dirk Friel (Jittery Joe's-Choco-Andean Eco Coffee)       0.36
8 Jeremy Horgan-Kobelski 
9 Chris Fisher (Saturn Cycling Team)
10 Andrew Manart                                           0.58
11 James Carney (Prime Alliance Cycling Team)              1.15
12 Danny Sullivan 
13 Jon Stierwalt 
14 Christian McCarthy (Pro Peleton)
15 Nathan Dills (Fondriest/RRV)
16 Michael Larsen (Pro Peleton)                            1.16
17 Andy Clark 
18 Mike Wilk 
19 Micah Martin (Monsoon/rio Racing)
20 Kevin Livingston (Team Telekom)
21 Mark Schwab (Excel Sports)
22 Jeff Hartman (Big Shark)
23 Nat Campbell (Vitamin Cottage/Morgul)
24 Kevin Nicol (Rio Grande/Monsoon)
25 Jacob Frank 
26 Ben Huth 
27 John Seibert 
28 Travis Brown (Trek)                                     1.17
29 Nathan Busch 
30 Dan Bowman 
31 Joseph Cooper (Team Pure Altitude)
32 Mark Southard (FCRC/Trek)
33 Hatcher Rosebrock (Fondriest/RRV)                       1.18
34 Matt Bromen 
35 Darby Thomas 
36 Thomas Danielson (Sobe)
37 John Seehafer (Pro Peleton)
38 Jeff Courter (Hind/Al's/Bianchi)                        1.19
39 Aaron Elland 
40 Kelly Ruddick (Pro Peleton)                             1.20
41 Kevin Nugent 
42 Dan DePaemelaere (Pedalhome.com/Rogue Wave)
43 Jonathan Heidemann                                      1.21
44 Joseph Pimerton 
45 Sean Pettersen 
46 Clark Sheehan (7UP-NutraFig)
47 Steve Owens 
48 Don Spence 
49 Billy Masterson (Excel Sports)
50 Zak Grabowski (Saturn Development Cycling Team)
51 Kurt Rees (Churchhill-Higher  Gear)
52 Marc Gulliekson 
53 Michael Brown (Clif Bar/Denver Spoke)                   1.22
54 Todd Berger (Pro Peleton)
55 Joseph Taddeucci (Vitamin Cottage/Morgul)
56 Dave McIntosh 
57 Jeffrey Hartmann (FCRC-Trek/Volkswagon)                 1.23
58 Barkley Robinson (Schwab Cycles/Torelli)
59 Brian Hludzinski (Jamba Juice)
60 Travis Baugh (Al's Barber/Bianchi)
61 Kindler Chase                                           1.24
62 Jeffrey Dickinson (Schwab Cycles Torelli Velo Prjt)
63 Patrick Sullivan 
64 Joe DePaemelaere 
65 Devens Hamlen 
66 Joby Sicilimno                                          1.25
67 Michael Ley (Jittery Joe's-Choco-Andean Eco Coffee)
68 JP Boylan (Boulder,Co)                                  1.26
69 Guy Coffey (Pro Peleton)
70 Frank Mabel                                             1.27
71 Thad Stocker                                            1.28
72 Steven Tibbitts (First Endurance)                       1.29
73 Skylar Reeves (Pro Peleton)
74 Michael Carter (Clif Bar/Denver Spoke)
75 Rich Davis (Rio Grande/Monsoon)                         1.30
76 Paul Rowney 
77 Michael Everett (GS Ciao)
78 Eric Nussbaumer                                         1.31
79 Chris McGee                                             1.35
80 Rishi Grewal (Klein/Fox)                                1.36
    
Women 
    
1 Alison Dunlap (Luna Chix)                               49.42
2 Karen Bockel (Rona)
3 Renee Eastman (Vitamin Cottage/Morgul)                   0.01
4 Mary Grigson (Subaru/Gary Fisher)                        0.02
5 Ivana Bisaro 
6 Kendra Keeley 
7 Jessica Phillips 
8 Lara Kroepsch (Trek Plus)
9 Sarah Konrad 
10 Kerry Barnholt (Excel Sports)                           0.03
11 Kori Kelly (Diet Rite)
12 Julianne Boylan (Boulder,Co)
13 Maatje Benassi (Pro Peleton Velo)
14 Gretchen Reeves 
15 Lisa Matlock 
16 Sarah Hammer (Diet Rite)                                0.04
17 Kathy King                                              0.21


Men 35+

1 Jim Copeland (Saturn)