Results and Reports for April 1-2, 2002
France
Promoters wishing to submit results should send them to cyclingnews
Prix de Sorbiers
April 1, 2002
Evans starts French sojourn with a win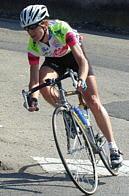 Bridget Evans
Photo: © Christophe Podevin
An Anglophone one-two in this French regional race as Australian Bridget Evans beat Canadian Sue Smith. It was Evans first race for French club VC Caladois.
Evans animated the race with an early attack, taking Smith with her. A small group formed behind the lead duo, including Evans' team-mate Cathy Reymond, but Reymond was unable to bridge to Evans.
Evans attacked again nearer the finish, this time dropping Smith to solo in with a margin just over two minutes.
Results

1 Bridget Evans (Aus/VC Caladois) 
2 Sue Smith (Can/VG Meyzieu)                      2.05
3 Cathy Reymond (VC Caladois)                     3.59
4 Martine Gauthier (JGS Nevers)
5 Alna Burato (RO Annecy) 
6 Aurore Jeudy (CC Etupes) 
7 Audrey Perreon (VC Caladois) 
8 Caroline Payot-Podevin (VC Caladois) 
9 CŽcile Caillot (VC Tence) 
10 Audrey Chevalier (VC Lyon-Vaux en Velin) 
 
Courtesy velo.club.caladois.free.fr