51st Herald Sun Tour - 2.3
Australia, October 18-27, 2002
Main Page Results Previous Stage
Stage 12 - October 27: Geelong Kermesse, 44 km
Cooke first Aussie in 16 years to win Sun Tour
Vogels takes final stage in Geelong
By Rod Morris in Geelong
Henk Vogels
Photo: © Tom Balks

Victory on home soil was made all the more sweeter for Victorian rider Baden Cooke in today's final stage of the VicRoads Herald Sun Tour in Geelong. Cooke (24) appropriately enough carried the No. 1 saddlecloth for the 12 stage tour and after 1030 km was crowned the No. 1 road rider of Australia's premier road cycling classic.
Victory in the final stage of the 51st Herald Sun Tour - a 44 km criterium around picturesque Eastern Beach in Geelong - went to Henk Vogels, riding for the Bicycle Superstore/Vic State Home Loans team - but overall honours belonged to the former Benalla racer.
"I used to idolise this race when I was a kid," Cooke said. "Stages of the race used to go past our primary school and I always wanted to race in it...but to actually win the tour is totally awesome."
Cooke entered the final stage, holding onto a slender 1.17 minute lead over Allan Iacuone (Active For Life), who won the toughest stage of the tour, the 84.9 km mountain goat climb from Warragul to Mt Baw Baw on Saturday. Today in Geelong, Cooke's Jayco teammates, who because of injury and mechanical mishaps had been reduced to just two - Rodney McGee and Mark Renshaw, rode defensively to protect their captain's lead.
Only Iacuone and Swede Jonas Ljungblad (Malaysia Airlines) - 1.46 minutes behind - had any realistic chance of reeling in Cooke and their every attack was watched like a hawk hovering over a rabbit. To prove he meant business, Cooke produced another top finish, claiming fifth place which earned him a further four seconds in bonus and overall victory came with a final margin of 1.24 minutes.
Baden Cooke
Photo: © Tom Balks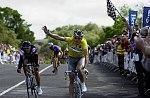 "This win means so much to me, not just because of the UCI ranking points and the prize money, but the sheer fact it is Australia's most prestigious road tour," Cooke said.
Cooke showed in this year's Tour de France what potential he has and winning the Herald Sun Tour will only add further to his list of credentials. Cooke is the first home grown Australian to win the tour since the "Canberra Cannonball" Neil Stephens was successful in 1986.
"Sixteen years without an Australia was a long time, but in that same period the race has grown in stature around the world," Tour Director John Craven said. "The UCI lifted the ranking of the race this year and for an Australian to win, shows how much Aussie cyclists have improved."
Without any shadow of a doubt, Australia has enjoyed its best ever year in the eyes of world cycling, with gold, silver and medal placings in the World Track and World Road Championships at both senior and junior level, stage wins in the Tour de France, dominating the Commonwealth Games and even scoring medal success in the World Mountain Bike Championships. The sun is definitely shining on Aussie cycling at the moment.
Today's stage saw a brave break by five riders, Tasmanian Karl Menzies (City of Melbourne), New South Welshman Rhys Pollock (Fitzroy Cycles/Australian Abalone Exports), Belgian Danny In't Ven (Carlton Midstrength), Sweden's Tomas Gronqvist and his Malaysian Airlines teammate, Kjell Carlstrom from Finland at about the half way mark.
The quintet did get away to a 19 second gap and scored some handy - albeit late - sprint bonuses before being reeled in by the chasing peloton.
The crowds in Geelong
Photo: © Tom Balks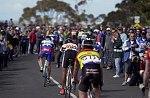 The field was averaging just over 3 minutes per lap on the 2.2 km course and produced an average speed of 42.93 kmh for the 44 laps. For the 1030 km of the tour, the average speed was also a handy 40.30 kmh.
Vogels, who held the yellow tour leader's jersey early in the week but lost it over the Harrietville to Omeo - Mt Hotham stage, showed his class in a bunch sprint, winning from American Kevin Monahan (Ballarat*eureka) and talented young Queenslander Jonathon Cantwell (VicRoads).
"This was definitely easier - and more fun - than that climb we had over Mt Baw Baw on Saturday," Vogels said. "It's nice to finish the tour off with a win, it was a hard race and most certainly a fast one."
Criterium specialist Hilton Clarke was just pipped out of the placings, finishing fourth just ahead of Cooke, but took victory in Active For Life Criterium Championship in a countback from the tour winner. New Zealander Scott Guyton (Pelaco) dominated the Shimano Sprint Championship for the latter part of the week and already holding an almost unassailable 32 point lead today, triggered into another gear to score a further 9 points to eventually win that title by 41. He won 25 of the 103 intermediate sprints throughout the tour.
The East Gippsland Shire King of the Mountain Championship was wrapped up on Saturday by Trent Wilson (Active For Life) and he was also part of the unit which won the Teams Classification. Joining Wilson in the victory line-up was Jamie Drew, Allan Iacuone, David McKenzie and the injured Brett Lancaster - all members of the newly formed itemaNova.com outfit, which is trying to establish itself in the rat cunning and cut throat road circuit in Europe.
Their efforts this week which included three stage wins, three riders in the top five and a win in the KOM, have done their chances of attracting more sponsors no harm whatsoever.
Photography
Images by Tom Balks/www.tombalks.com
1 Henk Vogels (Aus) Bicycle S/Store-Vic State Home Loans      1.01.30 (42.93 km/h)
2 Kevin Monahan (USA) Ballarat*Eureka
3 Jonothan Cantwell (Aus) Vicroads
4 Hilton Clarke (Aus) Ballarat*Eureka
5 Baden Cooke (Aus) Jayco
6 Jonas Ljungblad (Swe) Malaysia Airlines
7 Lubomir Kejval (Cze) Latrobe City
8 David McKenzie (Aus) Active For Life
9 Alan Iacuone (Aus) Active For Life                             0.04
10 Nathan Russell (Aus) Coates Shorco Sykes
11 Heiko Szonn (Ger) City Of Melbourne
12 Thomas Grönqvist (Swe) Malaysia Airlines
13 Jaarod Poad (NZl) Rio Coffee
14 Aaron Kemps (Aus) Vicroads
15 David McPartland (Aus) Coates Shorco Sykes
16 Trent Wilson (Aus) Active For Life                            0.07
17 Kjell Carlström (Fin) Malaysia Airlines                       0.08
18 Phillip Thuaux (Aus) Frf Couriers                             0.10
19 Eric Wohlberg (Can) Ballarat*Eureka
20 Tomas Buchacek (Cze) Coates Shorco Sykes
21 David Betts (Aus) Fitzroy Cycles-Aust Abalone Exports         0.12
22 Andrew Torney (Aus) Fitzroy Cycles-Aust Abalone Exports
23 Joel Pearson (Aus) City Of Melbourne
24 Michal Precechtel (Cze) Latrobe City                          0.15
25 Jamie Drew (Aus) Active For Life
26 Bart Heirewegh (Bel) Carlton Midstrength                      0.18
27 Jeremy Maartens (RSA) Maffra Community Sports Club
28 Ryan Cox (RSA) Maffra Community Sports Club
29 Garry Parsons (Aus) Morey & Hurford
30 Rhys Pollock (Aus) Fitzroy Cycles-Aust Abalone Exports
31 Juha Paajanen (Fin) Malaysia Airlines
32 Luis Fernando Pinheiro (Por) Ballarat*Eureka
33 Bernard Sulzberger (Aus) Vicroads
34 Klayten Smith (Aus) Coates Shorco Sykes
35 Danny In't Ven (Bel) Carlton Midstrength
36 Tiaan Kannemeyer (RSA) Maffra Community Sports Club
37 Christopher Carr (Aus) Fitzroy Cycles-Aust Abalone Exports
38 Karl Menzies (Aus) City Of Melbourne
39 Bruce McIntosh (Aus) Carlton Midstrength
40 Jindlich Vana (Cze) Latrobe City                              0.23
41 Petr Bencik (Cze) Latrobe City                                0.27
42 Mark Renshaw (Aus) Jayco                                      0.45
43 Caleb Manion (Aus) City Of Melbourne                          0.53
44 Andrew Graham (Aus) Bicycle S/Store-Vic State Home Loans      0.56
45 Ryan Russell (NZl) Pelaco
46 Lee Vertongen (NZl) Pelaco
47 Russel Van Hout (Aus) Rio Coffee                              1.01
48 James Perry (RSA) Malaysia Airlines                           1.07
49 Simon Walker (Aus) Bicycle S/Store-Vic State Home Loans       1.22
50 Steve Cunningham (Aus) Rio Coffee                             1.54
51 Tom Leaper (Aus) Bicycle S/Store-Vic State Home Loans
52 Rodney McGee (Aus) Jayco                                      2.03
53 Peter Rogers (Aus) Rio Coffee                                 2.13
54 Robin Reid (NZl) Pelaco                                       3.04
55 Scott Guyton (NZl) Pelaco                                     3.06
56 Nathan Clarke (Aus) Carlton Midstrength
57 Ben Johnson (Aus) Fitzroy Cycles-Aust Abalone Exports         3.28
58 Heath Blackgrove (NZl) Pelaco                                 4.00
DNF Peter Rogers (Aus) Rio Coffee
 
Sprints
 
Sprint 1 - Lap 2
 
1 Scott Guyton (NZl) Pelaco                                         3 pts
2 Jonas Ljungblad (Swe) Malaysia Airlines                           2
3 Ryan Russell (NZl) Pelaco                                         1
 
Sprint 2 - Lap 3
 
1 Michal Precechtel (Cze) Latrobe City                              3 pts
2 Nathan Clarke (Aus) Carlton Midstrength                           2
3 Jamie Drew (Aus) Active For Life                                  1
 
Sprint 3 - Lap 4
 
1 David McPartland (Aus) Coates Shorco Sykes                        3 pts
2 Karl Menzies (Aus) City Of Melbourne                              2
3 Jonas Ljungblad (Swe) Malaysia Airlines                           1
 
Sprint 4 - Lap 5
 
1 Scott Guyton (NZl) Pelaco                                         3 pts
2 David McKenzie (Aus) Active For Life                              2
3 Thomas Grönqvist (Swe) Malaysia Airlines                          1
 
Sprint 5 - Lap 6
 
1 Michal Precechtel (Cze) Latrobe City                              3 pts
2 Ryan Russell (NZl) Pelaco                                         2
3 Luis Fernando Pinheiro (Por) Ballarat*Eureka                      1
 
Sprint 6 - Lap 7
 
1 Scott Guyton (NZl) Pelaco                                         3 pts
2 Luis Fernando Pinheiro (Por) Ballarat*Eureka                      2
3 Michal Precechtel (Cze) Latrobe City                              1
 
Sprint 7 - Lap 8
 
1 David McKenzie (Aus) Active For Life                              3 pts
2 Jonas Ljungblad (Swe) Malaysia Airlines                           2
3 Alan Iacuone (Aus) Active For Life                                1
 
Sprint 8 - Lap 9
 
1 Kjell Carlström (Fin) Malaysia Airlines                           3 pts
2 Thomas Grönqvist (Swe) Malaysia Airlines                          2
3 Danny In't Ven (Bel) Carlton Midstrength                          1
 
Sprint 9 - Lap 10
 
1 Kjell Carlström (Fin) Malaysia Airlines                           3 pts
2 Karl Menzies (Aus) City Of Melbourne                              2
3 Thomas Grönqvist (Swe) Malaysia Airlines                          1
 
Sprint 10 - Lap 11
 
1 Kjell Carlström (Fin) Malaysia Airlines                           3 pts
2 Danny In't Ven (Bel) Carlton Midstrength                          2
3 Karl Menzies (Aus) City Of Melbourne                              1
 
Sprint 11 - Lap 12
 
1 Danny In't Ven (Bel) Carlton Midstrength                          3 pts
2 Thomas Grönqvist (Swe) Malaysia Airlines                          2
3 Kjell Carlström (Fin) Malaysia Airlines                           1
 
Sprint 12 - Lap 13
 
1 Thomas Grönqvist (Swe) Malaysia Airlines                          3 pts
2 Karl Menzies (Aus) City Of Melbourne                              2
3 Kjell Carlström (Fin) Malaysia Airlines                           1
 
Sprint 13 - Lap 14
 
1 Kjell Carlström (Fin) Malaysia Airlines                           3 pts
2 Karl Menzies (Aus) City Of Melbourne                              2
3 Rhys Pollock (Aus) Fitzroy Cycles-Aust Abalone Exports            1
 
Sprint 14 - Lap 15
 
1 Karl Menzies (Aus) City Of Melbourne                              3 pts
2 Kjell Carlström (Fin) Malaysia Airlines                           2
3 Thomas Grönqvist (Swe) Malaysia Airlines                          1
 
Sprint 15 - Lap 16
 
1 Kjell Carlström (Fin) Malaysia Airlines                           3 pts
2 Danny In't Ven (Bel) Carlton Midstrength                          2
3 Karl Menzies (Aus) City Of Melbourne                              1
 
Sprint 16 - Lap 17
 
1 Phillip Thuaux (Aus) Frf Couriers                                 3 pts
2 David McPartland (Aus) Coates Shorco Sykes                        2
3 Rodney McGee (Aus) Jayco                                          1
 
Sprint 17 - Lap 18
 
1 Klayten Smith (Aus) Coates Shorco Sykes                           3 pts
2 Rodney McGee (Aus) Jayco                                          2
3 Luis Fernando Pinheiro (Por) Ballarat*Eureka                      1
 
Final general classification
 
1 Baden Cooke (Aus) Jayco                                    26.03.41
2 Alan Iacuone (Aus) Active For Life                             1.24
3 Jonas Ljungblad (Swe) Malaysia Airlines                        1.43
4 David McKenzie (Aus) Active For Life                           2.17
5 Trent Wilson (Aus) Active For Life                             2.42
6 Heiko Szonn (Ger) City Of Melbourne                            3.30
7 Eric Wohlberg (Can) Ballarat*Eureka                            3.59
8 Thomas Grönqvist (Swe) Malaysia Airlines                       4.26
9 Kjell Carlström (Fin) Malaysia Airlines                        6.08
10 Tomas Buchacek (Cze) Coates Shorco Sykes                      8.41
11 David McPartland (Aus) Coates Shorco Sykes                    8.55
12 Phillip Thuaux (Aus) Frf Couriers                             9.02
13 Tiaan Kannemeyer (RSA) Maffra Community Sports Club           9.35
14 Bart Heirewegh (Bel) Carlton Midstrength                     11.17
15 Ryan Cox (RSA) Maffra Community Sports Club                  11.36
16 James Hannam (Aus) Rio Coffee                                19.30
17 Jeremy Maartens (RSA) Maffra Community Sports Club
18 David Betts (Aus) Fitzroy Cycles-Aust Abalone Exports        23.05
19 Rhys Pollock (Aus) Fitzroy Cycles-Aust Abalone Exports       25.09
20 Danny In't Ven (Bel) Carlton Midstrength                     27.50
21 Henk Vogels (Aus) Bicycle S/Store-Vic State Home Loans       28.20
22 Luis Fernando Pinheiro (Por) Ballarat*Eureka                 28.57
23 Petr Bencik (Cze) Latrobe City                               29.48
24 Garry Parsons (Aus) Morey & Hurford                          30.30
25 James Perry (RSA) Malaysia Airlines                          30.44
26 Jamie Drew (Aus) Active For Life                             30.55
27 Jindlich Vana (Cze) Latrobe City                             35.38
28 Heath Blackgrove (NZl) Pelaco                                38.36
29 Karl Menzies (Aus) City Of Melbourne                         38.57
30 Ryan Russell (NZl) Pelaco                                    40.03
31 Christopher Carr (Aus) Fitzroy Cycles-Aust Abalone Exports   41.51
32 Jonothan Cantwell (Aus) Vicroads                             42.05
33 Michal Precechtel (Cze) Latrobe City                         47.33
34 Ben Johnson (Aus) Fitzroy Cycles-Aust Abalone Exports        50.46
35 Rodney McGee (Aus) Jayco                                     53.48
36 Andrew Torney (Aus) Fitzroy Cycles-Aust Abalone Exports      54.25
37 Joel Pearson (Aus) City Of Melbourne                         57.34
38 Lubomir Kejval (Cze) Latrobe City                          1.00.42
39 Nathan Russell (Aus) Coates Shorco Sykes                   1.01.11
40 Juha Paajanen (Fin) Malaysia Airlines                      1.04.36
41 Russel Van Hout (Aus) Rio Coffee                           1.10.41
42 Mark Renshaw (Aus) Jayco                                   1.13.13
43 Aaron Kemps (Aus) Vicroads                                 1.13.15
44 Bernard Sulzberger (Aus) Vicroads                          1.15.08
45 Kevin Monahan (USA) Ballarat*Eureka                        1.15.17
46 Scott Guyton (NZl) Pelaco                                  1.15.37
47 Caleb Manion (Aus) City Of Melbourne                       1.17.23
48 Klayten Smith (Aus) Coates Shorco Sykes                    1.19.07
49 Steve Cunningham (Aus) Rio Coffee                          1.19.13
50 Tom Leaper (Aus) Bicycle S/Store-Vic State Home Loans      1.26.10
51 Nathan Clarke (Aus) Carlton Midstrength                    1.29.30
52 Jaarod Poad (NZl) Rio Coffee                               1.33.03
53 Robin Reid (NZl) Pelaco                                    1.33.44
54 Hilton Clarke (Aus) Ballarat*Eureka                        1.36.40
55 Andrew Graham (Aus) Bicycle S/Store-Vic State Home Loans   1.47.47
56 Lee Vertongen (NZl) Pelaco                                 1.53.08
57 Bruce McIntosh (Aus) Carlton Midstrength                   1.54.36
58 Simon Walker (Aus) Bicycle S/Store-Vic State Home Loans    2.39.29
 
Shimano Sprint Championship
 
1 Scott Guyton (NZl) Pelaco                                        95 pts
2 Baden Cooke (Aus) Jayco                                          54
3 Michal Precechtel (Cze) Latrobe City                             33
4 Lee Vertongen (NZl) Pelaco                                       32
5 David McPartland (Aus) Coates Shorco Sykes                       27
6 Kjell Carlström (Fin) Malaysia Airlines                          26
7 Eric Wohlberg (Can) Ballarat*Eureka                              23
8 Phillip Thuaux (Aus) Frf Couriers                                20
9 Bart Heirewegh (Bel) Carlton Midstrength                         16
10 Andrew Torney (Aus) Fitzroy Cycles-Aust Abalone Exports         16
11 Thomas Grönqvist (Swe) Malaysia Airlines                        15
12 Danny In't Ven (Bel) Carlton Midstrength                        14
13 Jaarod Poad (NZl) Rio Coffee                                    13
14 Kevin Monahan (USA) Ballarat*Eureka                             13
15 Karl Menzies (Aus) City Of Melbourne                            13
16 Henk Vogels (Aus) Bicycle S/Store-Vic State Home Loans          13
17 David Betts (Aus) Fitzroy Cycles-Aust Abalone Exports           12
18 Jamie Drew (Aus) Active For Life                                12
19 David McKenzie (Aus) Active For Life                            12
20 Jonas Ljungblad (Swe) Malaysia Airlines                         12
21 Ryan Russell (NZl) Pelaco                                       11
22 Alan Iacuone (Aus) Active For Life                               9
23 Trent Wilson (Aus) Active For Life                               8
24 Klayten Smith (Aus) Coates Shorco Sykes                          7
25 James Perry (RSA) Malaysia Airlines                              6
26 Tiaan Kannemeyer (RSA) Maffra Community Sports Club              6
27 Steve Cunningham (Aus) Rio Coffee                                6
28 Ryan Cox (RSA) Maffra Community Sports Club                      6
29 Christopher Carr (Aus) Fitzroy Cycles-Aust Abalone Exports       5
30 Rodney McGee (Aus) Jayco                                         5
31 Joel Pearson (Aus) City Of Melbourne                             5
32 Jonothan Cantwell (Aus) Vicroads                                 5
33 Mark Renshaw (Aus) Jayco                                         4
34 Luis Fernando Pinheiro (Por) Ballarat*Eureka                     4
35 Heath Blackgrove (NZl) Pelaco                                    4
36 Heiko Szonn (Ger) City Of Melbourne                              3
37 Nathan Clarke (Aus) Carlton Midstrength                          3
38 Tomas Buchacek (Cze) Coates Shorco Sykes                         3
39 Russel Van Hout (Aus) Rio Coffee                                 2
40 Tom Leaper (Aus) Bicycle S/Store-Vic State Home Loans            2
41 Lubomir Kejval (Cze) Latrobe City                                2
42 Garry Parsons (Aus) Morey & Hurford                              2
43 Hilton Clarke (Aus) Ballarat*Eureka                              1
44 Rhys Pollock (Aus) Fitzroy Cycles-Aust Abalone Exports           1
45 Jeremy Maartens (RSA) Maffra Community Sports Club               1
46 Jindlich Vana (Cze) Latrobe City                                 1
47 Petr Bencik (Cze) Latrobe City                                   1
 
East Gippsland Shire King Of The Mountain Championship
 
1 Trent Wilson (Aus) Active For Life                               40 pts
2 Thomas Grönqvist (Swe) Malaysia Airlines                         29
3 Tiaan Kannemeyer (RSA) Maffra Community Sports Club              28
4 Jeremy Maartens (RSA) Maffra Community Sports Club               22
5 Danny In't Ven (Bel) Carlton Midstrength                         20
6 Phillip Thuaux (Aus) Frf Couriers                                20
7 Baden Cooke (Aus) Jayco                                          17
8 Scott Guyton (NZl) Pelaco                                        16
9 Alan Iacuone (Aus) Active For Life                               11
10 Garry Parsons (Aus) Morey & Hurford                             10
11 Ryan Cox (RSA) Maffra Community Sports Club                      8
12 Jamie Drew (Aus) Active For Life                                 7
13 Juha Paajanen (Fin) Malaysia Airlines                            6
14 Heiko Szonn (Ger) City Of Melbourne                              6
15 David McKenzie (Aus) Active For Life                             6
16 Klayten Smith (Aus) Coates Shorco Sykes                          4
17 Kjell Carlström (Fin) Malaysia Airlines                          4
18 Bart Heirewegh (Bel) Carlton Midstrength                         3
19 David Betts (Aus) Fitzroy Cycles-Aust Abalone Exports            3
20 Heath Blackgrove (NZl) Pelaco                                    3
21 Andrew Torney (Aus) Fitzroy Cycles-Aust Abalone Exports          2
22 Henk Vogels (Aus) Bicycle S/Store-Vic State Home Loans           2
23 Eric Wohlberg (Can) Ballarat*Eureka                              1
24 Jonas Ljungblad (Swe) Malaysia Airlines                          1
25 Lubomir Kejval (Cze) Latrobe City                                1
 
Active For Life - Criterium Championship
 
1 Hilton Clarke (Aus) Ballarat*Eureka                              39 pts
2 Baden Cooke (Aus) Jayco                                          39
3 Henk Vogels (Aus) Bicycle S/Store-Vic State Home Loans           32
4 Kevin Monahan (USA) Ballarat*Eureka                              22
5 David McKenzie (Aus) Active For Life                             21
6 Mark Renshaw (Aus) Jayco                                         11
7 Bart Heirewegh (Bel) Carlton Midstrength                         11
8 Jonothan Cantwell (Aus) Vicroads                                 11
9 Alan Iacuone (Aus) Active For Life                                9
10 Jamie Drew (Aus) Active For Life                                 9
11 Heiko Szonn (Ger) City Of Melbourne                              7
12 Joel Pearson (Aus) City Of Melbourne                             6
13 David McPartland (Aus) Coates Shorco Sykes                       6
14 Michal Precechtel (Cze) Latrobe City                             5
15 Jonas Ljungblad (Swe) Malaysia Airlines                          5
16 Jaarod Poad (NZl) Rio Coffee                                     5
17 Lubomir Kejval (Cze) Latrobe City                                4
18 Trent Wilson (Aus) Active For Life                               4
19 Phillip Thuaux (Aus) Frf Couriers                                3
20 Eric Wohlberg (Can) Ballarat*Eureka                              3
21 Russel Van Hout (Aus) Rio Coffee                                 1
22 Caleb Manion (Aus) City Of Melbourne                             1
23 Nathan Russell (Aus) Coates Shorco Sykes                         1
 
Herald Sun - Australian Based Rider Award
 
1 Phillip Thuaux (Aus) Frf Couriers                          26.12.43
2 James Hannam (Aus) Rio Coffee                                 10.28
3 Garry Parsons (Aus) Morey & Hurford                           21.28
4 Karl Menzies (Aus) City Of Melbourne                          29.55
5 Christopher Carr (Aus) Fitzroy Cycles-Aust Abalone Exports    32.49
6 Jonothan Cantwell (Aus) Vicroads                              33.03
7 Rodney McGee (Aus) Jayco                                      44.46
8 Andrew Torney (Aus) Fitzroy Cycles-Aust Abalone Exports       45.23
9 Joel Pearson (Aus) City Of Melbourne                          48.32
10 Nathan Russell (Aus) Coates Shorco Sykes                     52.09
11 Aaron Kemps (Aus) Vicroads                                 1.04.13
12 Bernard Sulzberger (Aus) Vicroads                          1.06.06
13 Andrew Graham (Aus) Bicycle S/Store-Vic State Home Loans   1.38.45
14 Bruce McIntosh (Aus) Carlton Midstrength                   1.45.34
15 Simon Walker (Aus) Bicycle S/Store-Vic State Home Loans    2.30.27
 
Victorian Transport Association Aggressive Rider Awards
 
1 Danny In't Ven (Bel) Carlton Midstrength                          8 pts  pts
2 Henk Vogels (Aus) Bicycle S/Store-Vic State Home Loans            7
3 Trent Wilson (Aus) Active For Life                                6
4 Bart Heirewegh (Bel) Carlton Midstrength                          5
5 Scott Guyton (NZl) Pelaco                                         5
6 Thomas Grönqvist (Swe) Malaysia Airlines                          5
7 Jaarod Poad (NZl) Rio Coffee                                      4
8 Jeremy Maartens (RSA) Maffra Community Sports Club                3
9 Tiaan Kannemeyer (RSA) Maffra Community Sports Club               3
10 Eric Wohlberg (Can) Ballarat*Eureka                              2
11 Kjell Carlström (Fin) Malaysia Airlines                          2
12 Karl Menzies (Aus) City Of Melbourne                             2
13 Lee Vertongen (NZl) Pelaco                                       2
14 Rhys Pollock (Aus) Fitzroy Cycles-Aust Abalone Exports           2
15 Baden Cooke (Aus) Jayco                                          2
16 Michal Precechtel (Cze) Latrobe City                             2
17 Andrew Torney (Aus) Fitzroy Cycles-Aust Abalone Exports          2
 
Don Porter Regional Challenge
 
1 Ballarat*Eureka                                            79.01.00
2 City Of Melbourne                                             36.19
3 Latrobe City                                                  54.58
 
Team classification
 
1 Active For Life                                            78.09.22
2 Malaysia Airlines                                             13.42
3 Maffra Community Sports Club                                  42.24
4 Ballarat*Eureka                                               51.38
5 Coates Shorco Sykes                                           53.48
6 Jayco                                                         54.38
7 Fitzroy Cycles-Aust Abalone Exports                         1.21.43
8 City Of Melbourne                                           1.27.57
9 Latrobe City                                                1.46.36
10 Pelaco                                                     1.48.26
11 Carlton Midstrength                                        2.54.27
12 Vicroads                                                   3.12.09
13 Bicycle S/Store-Vic State Home Loans                       3.35.30
14 Rio Coffee                                                 3.42.32