51st Herald Sun Tour - 2.3
Australia, October 18-27, 2002
Main Page Results Previous Stage Next Stage
Stage 11 - October 26: Warragul - Mt Baw Baw, 84.9 km
Cooke clinches it on Baw Baw climb
By Rod Morris in Mt Baw Baw
Alan Iacuone
Photo: © Tom Balks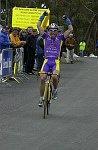 Victorian Baden Cooke is 44 km away from becoming the first Australian champion of the VicRoads Herald Sun Tour cycling classic since 1986. Cooke (24) produced a giant ride in today's gruelling 84.9 km 11th stage from Warragul to the peak of Mt Baw Baw - a climb described by Cooke as "The toughest hill climb stage I have ever had to do." Cooke collapsed just over the finish line with medicos treating him for hyperventilation.
While Cooke and his Jayco teammates revel in the glory of leading Australia's premier road race, today's hero was Alan Iacuone of the Active For Life team. The popular 27 year old Victorian, winner of the 1997 Tour of Tasmania, won his first ever Herald Sun Tour stage, climbing the mountain quicker than anyone else, but even that was half an hour slower than what tour officials expected the stage to finish at.
With the temperature at just 4 degrees and spectators enjoying the snow conditions on the 1900 m mountain, Iacuone had the never-ending smile of his, turned into a grimace when he finally crossed the line.
"I was hoping to do a good ride and because I'm a climber, I was reasonably confident, but this is still beyond what I really expected...I'm rapt," Iacuone said. "I did this climb about a week before the tour started, so I knew what to expect, but that still didn't make it any easier."
Cooke summed the climb up even more succinctly, when he chipped "All the bad things people told me about this hill were absolutely true."
Baden Cooke hung on, but paid
Photo: © Tom Balks

Iacuone's great ride also elevated him into second position and just 1 minute 17 seconds behind Cooke, but that margin will be almost impossible to peg back in tomorrow's final stage, a 44 criterium around Geelong's Eastern Park. With 18 intermediate sprints, each carrying a 3 second bonus, along with a further 20 second bonus for winning the stage, the best Iacuone can hope for is to 74 seconds, which would leave him short by 3 seconds. And that's providing Iacuone wins every sprint, wins the stage and Cooke doesn't feature at all....a big call and an extremely unlikely one. The only other scenario would be if Cooke failed to finish the stage...another remote possibility.
Swedish rider Jonas Ljungblad (Malaysia Airlines) slipped to third, despite producing a solid ride for seventh over the mountain. Ljungblad is now 1.46 minutes behind Cooke, while Victorian David McKenzie (Active For Life) is fourth at 2.18 minutes off the lead.
One of the bravest rides today was South African-Australian Jeremy Maartens (Maffra Community Sports Club). Maartens was part of a 15 man breakaway group early in the stage but at the 45 km hit out on his own and he went onto win four successive hill climbs before the chasers dragged him back.
Iacuone made his final attack at the Mt Baw Baw toll gatehouse, some 6 km from the finish, although it was still a tough climb to the top. His day's work elevated him into second position on General Classification, some 1.17 minutes behind Cooke.
Cooke's Jayco teammate Matt Wilson and Canadian Eric Wohlberg (Ballarat*eureka) provided the hard luck stories of the day. Wilson broke the handlebars on his bike just 15 km into the stage and with no replacement available, he joined team sponsor Jerry Ryan in the support vehicle, his tour over. Wohlberg was not a happy rider after colliding with a media motorbike, falling and losing valuable time on GC standings.
Trent Wilson (Active For Life) ensured his win in the East Gippsland Shire King of the Mountain Championship even though he didn't win any climbs today. Meanwhile New Zealand's Scott Guyton (Pelaco) will carry a big lead in the Shimano Sprint Championship into tomorrow's stage. Guyton picked more valuable points today before he and teammate Lee Vertongen got shelled out the back of the peloton and finished 41 minutes behind Iacuone in last place.
Tasmanian rider Sean Sullivan (CarltonMidstrength) also saw his tour come to an end a day earlier than planned. Sullivan punctured early in the stage and was unable to regain his place in the peloton, eventually withdrawing to the safety of the sag wagon.
Today's stage enhanced the reputations of some riders and destroyed that of others. What it has done to their fitness and confidence could be seen in Geelong tomorrow. The 12th and final stage will start at 2.45 p.m., although the day's activities, which includes criteriums for age group riders, will kick off at 10 a.m.
Photography
Images by Tom Balks/www.tombalks.com
Results
1 Alan Iacuone (Aus) Active For Life                        2.43.26 (31.17 km/h)
2 Phillip Thuaux (Aus) Frf Couriers                            0.10
3 Tiaan Kannemeyer (RSA) Maffra Community Sports Club          0.20
4 Trent Wilson (Aus) Active For Life                           0.29
5 David McPartland (Aus) Coates Shorco Sykes
6 Ryan Cox (RSA) Maffra Community Sports Club                  1.01
7 Jonas Ljungblad (Swe) Malaysia Airlines                      1.08
8 Heiko Szonn (Ger) City Of Melbourne                          1.17
9 Baden Cooke (Aus) Jayco                                      1.23
10 David McKenzie (Aus) Active For Life                        1.34
11 Rhys Pollock (Aus) Fitzroy Cycles-Aust Abalone Exports      1.40
12 Eric Wohlberg (Can) Ballarat*Eureka                         2.08
13 Thomas Grönqvist (Swe) Malaysia Airlines                    2.46
14 Kjell Carlström (Fin) Malaysia Airlines                     3.11
15 Tomas Buchacek (Cze) Coates Shorco Sykes                    3.26
16 Peter Rogers (Aus) Rio Coffee                               3.54
17 Petr Bencik (Cze) Latrobe City                              4.03
18 Ryan Russell (NZl) Pelaco                                   4.05
19 Luis Fernando Pinheiro (Por) Ballarat*Eureka                4.10
20 Danny In't Ven (Bel) Carlton Midstrength                    4.42
21 Garry Parsons (Aus) Morey & Hurford                         5.12
22 Bart Heirewegh (Bel) Carlton Midstrength                    5.18
23 James Perry (RSA) Malaysia Airlines                         5.38
24 Michal Precechtel (Cze) Latrobe City                        5.47
25 Karl Menzies (Aus) City Of Melbourne                        6.41
26 David Betts (Aus) Fitzroy Cycles-Aust Abalone Exports
27 Klayten Smith (Aus) Coates Shorco Sykes                     7.44
28 Jonothan Cantwell (Aus) Vicroads                            8.05
29 Jeremy Maartens (RSA) Maffra Community Sports Club          8.56
30 Juha Paajanen (Fin) Malaysia Airlines                       9.06
31 Heath Blackgrove (NZl) Pelaco                               9.59
32 Robin Reid (NZl) Pelaco
33 Tom Leaper (Aus) Bicycle S/Store-Vic State Home Loans      10.32
34 Ben Johnson (Aus) Fitzroy Cycles-Aust Abalone Exports      11.09
35 Aaron Kemps (Aus) Vicroads
36 Andrew Torney (Aus) Fitzroy Cycles-Aust Abalone Exports    12.24
37 Rodney McGee (Aus) Jayco                                   12.46
38 Christopher Carr (Aus) Fitzroy Cycles-Aust Abalone Expo
39 James Hannam (Aus) Rio Coffee                              13.08
40 Lubomir Kejval (Cze) Latrobe City                          14.01
41 Henk Vogels (Aus) Bicycle S/Store-Vic State Home Loans     14.21
42 Russel Van Hout (Aus) Rio Coffee                           15.07
43 Andrew Graham (Aus) Bicycle S/Store-Vic State Home Loan
44 Steve Cunningham (Aus) Rio Coffee
45 Joel Pearson (Aus) City Of Melbourne                       15.21
46 Jamie Drew (Aus) Active For Life                           15.35
47 Mark Renshaw (Aus) Jayco                                   15.40
48 Simon Walker (Aus) Bicycle S/Store-Vic State Home Loans    16.43
49 Nathan Russell (Aus) Coates Shorco Sykes                   17.32
50 Jindlich Vana (Cze) Latrobe City                           17.46
51 Bernard Sulzberger (Aus) Vicroads                          18.36
52 Caleb Manion (Aus) City Of Melbourne
53 Nathan Clarke (Aus) Carlton Midstrength
54 Hilton Clarke (Aus) Ballarat*Eureka
55 Kevin Monahan (USA) Ballarat*Eureka                        18.53
56 Bruce McIntosh (Aus) Carlton Midstrength                   20.00
57 Jaarod Poad (NZl) Rio Coffee                               20.44
58 Scott Guyton (NZl) Pelaco                                  41.19
59 Lee Vertongen (NZl) Pelaco
DNF Glenn Stojanow (Aus) Coates Shorco Sykes
DNF Simon Gerrans (Aus) Ballarat*Eureka
DNF Christian Lademann (Ger) Latrobe City
DNF Matthew Wilson (Aus) Jayco
DNF Sean Sullivan (Aus) Carlton Midstrength
 
Sprints
 
Sprint 1 - Rokeby Town Hall
 
1 Jaarod Poad (NZl) Rio Coffee                                    3 pts
2 Ryan Russell (NZl) Pelaco                                       2
3 Jeremy Maartens (RSA) Maffra Community Sports Club              1
 
Sprint 2 - Police Station
 
1 Scott Guyton (NZl) Pelaco                                       3 pts
2 Heath Blackgrove (NZl) Pelaco                                   2
3 Tom Leaper (Aus) Bicycle S/Store-Vic State Home Loans           1
 
Sprint 3 - Soldiers Memorial
 
1 Scott Guyton (NZl) Pelaco                                       3 pts
2 Garry Parsons (Aus) Morey & Hurford                             2
3 Tom Leaper (Aus) Bicycle S/Store-Vic State Home Loans           1
 
Sprint 4 - Noojee Hotel
 
1 Scott Guyton (NZl) Pelaco                                       3 pts
2 Joel Pearson (Aus) City Of Melbourne                            2
3 Jonothan Cantwell (Aus) Vicroads                                1
 
Hill Climbs
 
Climb 1 - Cat.4 Dollar Burn Rd
 
1 Scott Guyton (NZl) Pelaco                                       3 pts
2 Trent Wilson (Aus) Active For Life                              2
3 Phillip Thuaux (Aus) Frf Couriers                               1
 
Climb 2 - Cat.4 Veer Right to Mt Baw Baw
 
1 Jamie Drew (Aus) Active For Life                                3 pts
2 Phillip Thuaux (Aus) Frf Couriers                               2
3 Lubomir Kejval (Cze) Latrobe City                               1
 
Climb 3 - Cat.3 Thorngrove Homestead
 
1 Scott Guyton (NZl) Pelaco                                       5 pts
2 Garry Parsons (Aus) Morey & Hurford                             3
3 Andrew Torney (Aus) Fitzroy Cycles-Aust Abalone Exports         2
 
Climb 4 - Cat.2 Right to Tanjil Bren
 
1 Jeremy Maartens (RSA) Maffra Community Sports Club              7 pts
2 Garry Parsons (Aus) Morey & Hurford                             5
3 Heath Blackgrove (NZl) Pelaco                                   3
 
Climb 5 - Cat.4 Pennyweight Creek College of Commissaires:
 
1 Jeremy Maartens (RSA) Maffra Community Sports Club              3 pts
2 Garry Parsons (Aus) Morey & Hurford                             2
3 Juha Paajanen (Fin) Malaysia Airlines                           1
 
Climb 6 - Cat.2 Icy Creek
 
1 Jeremy Maartens (RSA) Maffra Community Sports Club              7 pts
2 Juha Paajanen (Fin) Malaysia Airlines                           5
3 David Betts (Aus) Fitzroy Cycles-Aust Abalone Exports           3
 
Climb 7 - Cat.3 Tanjil River West Branch
 
1 Jeremy Maartens (RSA) Maffra Community Sports Club              5 pts
2 Thomas Grönqvist (Swe) Malaysia Airlines                        3
3 Trent Wilson (Aus) Active For Life                              2
 
Climb 8 - Cat.1 Tanjil River East Branch
 
1 Alan Iacuone (Aus) Active For Life                             10 pts
2 Phillip Thuaux (Aus) Frf Couriers                               6
3 Tiaan Kannemeyer (RSA) Maffra Community Sports Club             4
 
General classification after stage 11
 
1 Baden Cooke (Aus) Jayco                                  25.02.15
2 Alan Iacuone (Aus) Active For Life                           1.17
3 Jonas Ljungblad (Swe) Malaysia Airlines                      1.46
4 David McKenzie (Aus) Active For Life                         2.18
5 Trent Wilson (Aus) Active For Life                           2.31
6 Heiko Szonn (Ger) City Of Melbourne                          3.22
7 Eric Wohlberg (Can) Ballarat*Eureka                          3.45
8 Thomas Grönqvist (Swe) Malaysia Airlines                     4.28
9 Kjell Carlström (Fin) Malaysia Airlines                      6.15
10 Tomas Buchacek (Cze) Coates Shorco Sykes                    8.27
11 Phillip Thuaux (Aus) Frf Couriers                           8.51
12 David McPartland (Aus) Coates Shorco Sykes                  8.52
13 Tiaan Kannemeyer (RSA) Maffra Community Sports Club         9.13
14 Bart Heirewegh (Bel) Carlton Midstrength                   10.55
15 Ryan Cox (RSA) Maffra Community Sports Club                11.14
16 Jeremy Maartens (RSA) Maffra Community Sports Club         19.08
17 David Betts (Aus) Fitzroy Cycles-Aust Abalone Exports      22.49
18 Rhys Pollock (Aus) Fitzroy Cycles-Aust Abalone Exports     24.48
19 Danny In't Ven (Bel) Carlton Midstrength                   27.36
20 Henk Vogels (Aus) Bicycle S/Store-Vic State Home Loans     28.36
21 Luis Fernando Pinheiro (Por) Ballarat*Eureka               28.39
22 Petr Bencik (Cze) Latrobe City                             29.17
23 James Perry (RSA) Malaysia Airlines                        29.33
24 Garry Parsons (Aus) Morey & Hurford                        30.08
25 Jamie Drew (Aus) Active For Life                           30.37
26 Heath Blackgrove (NZl) Pelaco                              34.32
27 Jindlich Vana (Cze) Latrobe City                           35.11
28 Karl Menzies (Aus) City Of Melbourne                       38.48
29 Ryan Russell (NZl) Pelaco                                  39.06
30 Christopher Carr (Aus) Fitzroy Cycles-Aust Abalone Expo    41.29
31 Jonothan Cantwell (Aus) Vicroads                           42.11
32 Ben Johnson (Aus) Fitzroy Cycles-Aust Abalone Exports      47.14
33 Peter Rogers (Aus) Rio Coffee                              47.17
34 Michal Precechtel (Cze) Latrobe City                       47.21
35 Rodney McGee (Aus) Jayco                                   51.44
36 Andrew Torney (Aus) Fitzroy Cycles-Aust Abalone Exports    54.09
37 Joel Pearson (Aus) City Of Melbourne                       57.18
38 Lubomir Kejval (Cze) Latrobe City                        1.00.38
39 Nathan Russell (Aus) Coates Shorco Sykes                 1.01.03
40 Juha Paajanen (Fin) Malaysia Airlines                    1.04.14
41 Russel Van Hout (Aus) Rio Coffee                         1.09.36
42 Mark Renshaw (Aus) Jayco                                 1.12.24
43 Scott Guyton (NZl) Pelaco                                1.12.36
44 Aaron Kemps (Aus) Vicroads                               1.13.07
45 Bernard Sulzberger (Aus) Vicroads                        1.14.46
46 Kevin Monahan (USA) Ballarat*Eureka                      1.15.28
47 Caleb Manion (Aus) City Of Melbourne                     1.16.26
48 Steve Cunningham (Aus) Rio Coffee                        1.17.15
49 Klayten Smith (Aus) Coates Shorco Sykes                  1.18.48
50 James Hannam (Aus) Rio Coffee                            1.20.56
51 Tom Leaper (Aus) Bicycle S/Store-Vic State Home Loans    1.24.12
52 Nathan Clarke (Aus) Carlton Midstrength                  1.26.22
53 Robin Reid (NZl) Pelaco                                  1.30.36
54 Jaarod Poad (NZl) Rio Coffee                             1.32.55
55 Hilton Clarke (Aus) Ballarat*Eureka                      1.36.42
56 Andrew Graham (Aus) Bicycle S/Store-Vic State Home Loan  1.46.47
57 Lee Vertongen (NZl) Pelaco                               1.52.08
58 Bruce McIntosh (Aus) Carlton Midstrength                 1.54.14
59 Simon Walker (Aus) Bicycle S/Store-Vic State Home Loans  2.38.03
 
Shimano Sprint Championship
 
1 Scott Guyton (NZl) Pelaco                                      86 pts
2 Baden Cooke (Aus) Jayco                                        54
3 Lee Vertongen (NZl) Pelaco                                     32
4 Michal Precechtel (Cze) Latrobe City                           26
5 Eric Wohlberg (Can) Ballarat*Eureka                            23
6 David McPartland (Aus) Coates Shorco Sykes                     22
7 Phillip Thuaux (Aus) Frf Couriers                              17
8 Bart Heirewegh (Bel) Carlton Midstrength                       16
9 Andrew Torney (Aus) Fitzroy Cycles-Aust Abalone Exports        16
10 Jaarod Poad (NZl) Rio Coffee                                  13
11 Kevin Monahan (USA) Ballarat*Eureka                           13
12 Henk Vogels (Aus) Bicycle S/Store-Vic State Home Loans        13
13 David Betts (Aus) Fitzroy Cycles-Aust Abalone Exports         12
14 Jamie Drew (Aus) Active For Life                              11
15 Ryan Russell (NZl) Pelaco                                      8
16 Alan Iacuone (Aus) Active For Life                             8
17 Trent Wilson (Aus) Active For Life                             8
18 Kjell Carlström (Fin) Malaysia Airlines                        7
19 Jonas Ljungblad (Swe) Malaysia Airlines                        7
20 David McKenzie (Aus) Active For Life                           7
21 James Perry (RSA) Malaysia Airlines                            6
22 Danny In't Ven (Bel) Carlton Midstrength                       6
23 Tiaan Kannemeyer (RSA) Maffra Community Sports Club            6
24 Ryan Cox (RSA) Maffra Community Sports Club                    6
25 Steve Cunningham (Aus) Rio Coffee                              6
26 Christopher Carr (Aus) Fitzroy Cycles-Aust Abalone Expo        5
27 Thomas Grönqvist (Swe) Malaysia Airlines                       5
28 Jonothan Cantwell (Aus) Vicroads                               5
29 Joel Pearson (Aus) City Of Melbourne                           5
30 Mark Renshaw (Aus) Jayco                                       4
31 Peter Rogers (Aus) Rio Coffee                                  4
32 Klayten Smith (Aus) Coates Shorco Sykes                        4
33 Heath Blackgrove (NZl) Pelaco                                  4
34 Heiko Szonn (Ger) City Of Melbourne                            3
35 Tomas Buchacek (Cze) Coates Shorco Sykes                       3
36 Tom Leaper (Aus) Bicycle S/Store-Vic State Home Loans          2
37 Garry Parsons (Aus) Morey & Hurford                            2
38 Russel Van Hout (Aus) Rio Coffee                               2
39 Lubomir Kejval (Cze) Latrobe City                              2
40 Rodney McGee (Aus) Jayco                                       2
41 Nathan Clarke (Aus) Carlton Midstrength                        1
42 Jeremy Maartens (RSA) Maffra Community Sports Club             1
43 Petr Bencik (Cze) Latrobe City                                 1
44 Jindlich Vana (Cze) Latrobe City                               1
45 Hilton Clarke (Aus) Ballarat*Eureka                            1
 
East Gippsland Shire King Of The Mountain Championship
 
1 Trent Wilson (Aus) Active For Life                             40 pts
2 Thomas Grönqvist (Swe) Malaysia Airlines                       29
3 Tiaan Kannemeyer (RSA) Maffra Community Sports Club            28
4 Jeremy Maartens (RSA) Maffra Community Sports Club             22
5 Danny In't Ven (Bel) Carlton Midstrength                       20
6 Phillip Thuaux (Aus) Frf Couriers                              20
7 Baden Cooke (Aus) Jayco                                        17
8 Scott Guyton (NZl) Pelaco                                      16
9 Alan Iacuone (Aus) Active For Life                             11
10 Garry Parsons (Aus) Morey & Hurford                           10
11 Ryan Cox (RSA) Maffra Community Sports Club                    8
12 Jamie Drew (Aus) Active For Life                               7
13 Juha Paajanen (Fin) Malaysia Airlines                          6
14 Heiko Szonn (Ger) City Of Melbourne                            6
15 David McKenzie (Aus) Active For Life                           6
16 Klayten Smith (Aus) Coates Shorco Sykes                        4
17 Kjell Carlström (Fin) Malaysia Airlines                        4
18 Bart Heirewegh (Bel) Carlton Midstrength                       3
19 David Betts (Aus) Fitzroy Cycles-Aust Abalone Exports          3
20 Heath Blackgrove (NZl) Pelaco                                  3
21 Andrew Torney (Aus) Fitzroy Cycles-Aust Abalone Exports        2
22 Henk Vogels (Aus) Bicycle S/Store-Vic State Home Loans         2
23 Eric Wohlberg (Can) Ballarat*Eureka                            1
24 Jonas Ljungblad (Swe) Malaysia Airlines                        1
25 Lubomir Kejval (Cze) Latrobe City                              1
 
Active For Life - Criterium Championship
 
1 Baden Cooke (Aus) Jayco                                        33 pts
2 Hilton Clarke (Aus) Ballarat*Eureka                            32
3 Henk Vogels (Aus) Bicycle S/Store-Vic State Home Loans         22
4 David McKenzie (Aus) Active For Life                           18
5 Kevin Monahan (USA) Ballarat*Eureka                            13
6 Mark Renshaw (Aus) Jayco                                       11
7 Bart Heirewegh (Bel) Carlton Midstrength                       11
8 Jamie Drew (Aus) Active For Life                                9
9 Heiko Szonn (Ger) City Of Melbourne                             7
10 Alan Iacuone (Aus) Active For Life                             7
11 Peter Rogers (Aus) Rio Coffee                                  7
12 Joel Pearson (Aus) City Of Melbourne                           6
13 David McPartland (Aus) Coates Shorco Sykes                     6
14 Michal Precechtel (Cze) Latrobe City                           5
15 Jaarod Poad (NZl) Rio Coffee                                   5
16 Trent Wilson (Aus) Active For Life                             4
17 Jonothan Cantwell (Aus) Vicroads                               3
18 Phillip Thuaux (Aus) Frf Couriers                              3
19 Eric Wohlberg (Can) Ballarat*Eureka                            3
20 Caleb Manion (Aus) City Of Melbourne                           1
21 Russel Van Hout (Aus) Rio Coffee                               1
 
Herald Sun - Australian Based Rider Award
 
1 Phillip Thuaux (Aus) Frf Couriers                        25.11.06
2 Garry Parsons (Aus) Morey & Hurford                         21.17
3 Karl Menzies (Aus) City Of Melbourne                        29.57
4 Christopher Carr (Aus) Fitzroy Cycles-Aust Abalone Expor    32.38
5 Jonothan Cantwell (Aus) Vicroads                            33.20
6 Rodney McGee (Aus) Jayco                                    42.53
7 Andrew Torney (Aus) Fitzroy Cycles-Aust Abalone Exports     45.18
8 Joel Pearson (Aus) City Of Melbourne                        48.27
9 Nathan Russell (Aus) Coates Shorco Sykes                    52.12
10 Aaron Kemps (Aus) Vicroads                               1.04.16
11 Bernard Sulzberger (Aus) Vicroads                        1.05.55
12 James Hannam (Aus) Rio Coffee                            1.12.05
13 Andrew Graham (Aus) Bicycle S/Store-Vic State Home Loan  1.37.56
14 Bruce McIntosh (Aus) Carlton Midstrength                 1.45.23
15 Simon Walker (Aus) Bicycle S/Store-Vic State Home Loans  2.29.12
 
Victorian Transport Association Aggressive Rider Awards
 
1 Henk Vogels (Aus) Bicycle S/Store-Vic State Home Loans          7 pts
2 Danny In't Ven (Bel) Carlton Midstrength                        6
3 Trent Wilson (Aus) Active For Life                              6
4 Bart Heirewegh (Bel) Carlton Midstrength                        5
5 Scott Guyton (NZl) Pelaco                                       5
6 Jaarod Poad (NZl) Rio Coffee                                    4
7 Jeremy Maartens (RSA) Maffra Community Sports Club              3
8 Thomas Grönqvist (Swe) Malaysia Airlines                        3
9 Tiaan Kannemeyer (RSA) Maffra Community Sports Club             3
10 Eric Wohlberg (Can) Ballarat*Eureka                            2
11 Lee Vertongen (NZl) Pelaco                                     2
12 Baden Cooke (Aus) Jayco                                        2
13 Michal Precechtel (Cze) Latrobe City                           2
14 Andrew Torney (Aus) Fitzroy Cycles-Aust Abalone Exports        2
 
Don Porter Regional Challenge
 
1 Ballarat*Eureka                                          75.56.41
2 City Of Melbourne                                           35.47
3 Latrobe City                                                54.16
 
Team classification
 
1 Active For Life                                          75.04.47
2 Malaysia Airlines                                           14.11
3 Maffra Community Sports Club                                41.35
4 Ballarat*Eureka                                             51.54
5 Jayco                                                       52.02
6 Coates Shorco Sykes                                         53.40
7 Fitzroy Cycles-Aust Abalone Exports                       1.21.07
8 City Of Melbourne                                         1.27.41
9 Pelaco                                                    1.43.38
10 Latrobe City                                             1.46.10
11 Carlton Midstrength                                      1.49.12
12 Rio Coffee                                               2.35.55
13 Vicroads                                                 3.12.02
14 Bicycle S/Store-Vic State Home Loans                     3.33.37