51st Herald Sun Tour - 2.3
Australia, October 18-27, 2002
Main Page Results Previous Stage Next Stage
Stage 10 - October 25: Sale - Moe, 99.8 km
Matt Wilson wins stage as Heirewegh gains some time back
By Rod Morris in Moe
Matt Wilson
Photo: © Tom Balks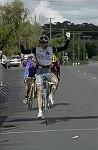 After a 90 minute spell, riders were ready to go again, this time for the 99.8 km stage from Sale to Moe. But waiting for them was the worst weather the tour has seen this week. If the strong headwinds weren't enough, riders were also met with driving rain, causing the expected finish time to be 10 minutes later than expected.
A group of 12 riders made a break at around the 65 km mark, but with no real challengers on GC placings included, the tour leaders didn't chase too hard. The best positioned rider in the breakaway group was Jayco's Matt Wilson, who started the stage in 14th and 7.36 minutes behind teammate Cooke - he ended it in 9th place and had reduced the margin to 3.36 minutes...definite striking distance.
Belgian Bart Heirewegh (Carlton Midstrength), 16th at 10.54 mins behind, was also there, but for some of the others, this was the first real serious foray at the front of the race. Heirewegh ended the day in 12th place and a neat 7 minutes behind Cooke - if he can climb, he may still be a threat.
By the 80 km mark, the breakaways were 3 minutes ahead, but sensing danger. The hammer went down and some riders couldn't hack it. The first casualty was New Zealand's Jaarod Poad (Rio Coffee), losing contact with the sprinters under the 10 km sign. Tasmanians Nathan Clarke (Carlton Midstrength) and Bernard Sulzberger (VicRoads) also dropped off, but to their credit, fought back gamely to score their best placings for the week.
Out the front, Wilson, Jamie Drew (Active For Life), Heirewegh and 22-year-old NSW rider David McPartland (Coates Shorco Sykes) made their own attack and in the final sprint, finished in that order. All in all, day 8 of the 10 day Herald Sun Tour belonged to the Jayco team, whether Mt Baw Baw is as kind, remains to be seen.
The tour will finish in Geelong on Sunday with a 44 lap kermesse at Eastern Park, starting at 2.45 p.m.
Photos
Images by Tom Balks/www.tombalks.com
Results
1 Matthew Wilson (Aus) Jayco                                      2.31.46
2 Jamie Drew (Aus) Active For Life
3 Bart Heirewegh (Bel) Carlton Midstrength
4 David McPartland (Aus) Coates Shorco Sykes
5 Peter Rogers (Aus) Rio Coffee                                      0.28
6 Henk Vogels (Aus) Bicycle S/Store-Vic State Home Loans          
7 Simon Gerrans (Aus) Ballarat*Eureka
8 Nathan Clarke (Aus) Carlton Midstrength
9 Christopher Carr (Aus) Fitzroy Cycles-Aust Abalone Exports
10 Sean Sullivan (Aus) Carlton Midstrength
11 Bernard Sulzberger (Aus) Vicroads                                 1.04
12 Jaarod Poad (NZl) Rio Coffee                                      2.21
13 Aaron Kemps (Aus) Vicroads                                        3.35
14 Jonothan Cantwell (Aus) Vicroads                                  3.37
15 Andrew Torney (Aus) Fitzroy Cycles-Aust Abalone Exports       
16 Joel Pearson (Aus) City Of Melbourne
17 Baden Cooke (Aus) Jayco
18 Nathan Russell (Aus) Coates Shorco Sykes
19 Jonas Ljungblad (Swe) Malaysia Airlines
20 Tomas Buchacek (Cze) Coates Shorco Sykes
21 Rhys Pollock (Aus) Fitzroy Cycles-Aust Abalone Exports
22 David McKenzie (Aus) Active For Life
23 Alan Iacuone (Aus) Active For Life
24 Jindlich Vana (Cze) Latrobe City
25 Eric Wohlberg (Can) Ballarat*Eureka
26 Kevin Monahan (USA) Ballarat*Eureka
27 Trent Wilson (Aus) Active For Life
28 Garry Parsons (Aus) Morey & Hurford
29 Andrew Graham (Aus) Bicycle S/Store-Vic State Home Loans
30 Kjell Carlström (Fin) Malaysia Airlines
31 David Betts (Aus) Fitzroy Cycles-Aust Abalone Exports
32 Thomas Grönqvist (Swe) Malaysia Airlines
33 Phillip Thuaux (Aus) Frf Couriers
34 Tom Leaper (Aus) Bicycle S/Store-Vic State Home Loans
35 Heiko Szonn (Ger) City Of Melbourne
36 Ben Johnson (Aus) Fitzroy Cycles-Aust Abalone Exports
37 Scott Guyton (NZl) Pelaco
38 Caleb Manion (Aus) City Of Melbourne
39 Rodney McGee (Aus) Jayco
40 Mark Renshaw (Aus) Jayco                                          3.58
41 Hilton Clarke (Aus) Ballarat*Eureka                               6.04
42 Jeremy Maartens (RSA) Maffra Community Sports Club               10.26
43 James Perry (RSA) Malaysia Airlines                   
44 Danny In't Ven (Bel) Carlton Midstrength
45 Juha Paajanen (Fin) Malaysia Airlines
46 Luis Fernando Pinheiro (Por) Ballarat*Eureka
47 Bruce McIntosh (Aus) Carlton Midstrength
48 Christian Lademann (Ger) Latrobe City
49 Michal Precechtel (Cze) Latrobe City
50 Petr Bencik (Cze) Latrobe City
51 Lubomir Kejval (Cze) Latrobe City
52 Karl Menzies (Aus) City Of Melbourne
53 Simon Walker (Aus) Bicycle S/Store-Vic State Home Loans
54 Lee Vertongen (NZl) Pelaco
55 Heath Blackgrove (NZl) Pelaco
56 Ryan Russell (NZl) Pelaco
57 Robin Reid (NZl) Pelaco
58 Klayten Smith (Aus) Coates Shorco Sykes
59 Glenn Stojanow (Aus) Coates Shorco Sykes
60 Russel Van Hout (Aus) Rio Coffee
61 Steve Cunningham (Aus) Rio Coffee
62 Tiaan Kannemeyer (RSA) Maffra Community Sports Club
63 Ryan Cox (RSA) Maffra Community Sports Club
64 James Hannam (Aus) Rio Coffee
 
Sprints
 
1 Bundalaguah Primary School
 
1 Kjell Carlström (Fin) Malaysia Airlines                               3
2 Baden Cooke (Aus) Jayco                                               2
3 Jindlich Vana (Cze) Latrobe City                                      1
 
2 Pedestrian Xing & Rotunda
 
1 Bart Heirewegh (Bel) Carlton Midstrength                              3
2 Phillip Thuaux (Aus) Frf Couriers                                     2
3 Mark Renshaw (Aus) Jayco                                              1
 
3 80km Sign at 26.7km
 
1 Mark Renshaw (Aus) Jayco                                              3
2 Phillip Thuaux (Aus) Frf Couriers                                     2
3 Simon Gerrans (Aus) Ballarat*Eureka                                   1
 
4 Hayfield Primary School
 
1 Scott Guyton (NZl) Pelaco                                             3
2 Tomas Buchacek (Cze) Coates Shorco Sykes                              2
3 Alan Iacuone (Aus) Active For Life                                    1
 
5 Cowwarr General Store
 
1 Jaarod Poad (NZl) Rio Coffee                                          3
2 David Betts (Aus) Fitzroy Cycles-Aust Abalone Exports                 2
3 Bart Heirewegh (Bel) Carlton Midstrength                              1
 
6 Toongabbie General Store
 
1 Jaarod Poad (NZl) Rio Coffee                                          3
2 Bart Heirewegh (Bel) Carlton Midstrength                              2
3 Nathan Clarke (Aus) Carlton Midstrength                               1
 
7 Glengarry General Store
 
1 Jamie Drew (Aus) Active For Life                                      3
2 Matthew Wilson (Aus) Jayco                                            2
3 Bart Heirewegh (Bel) Carlton Midstrength                              1
 
8 Tyers Primary School
 
1 David McPartland (Aus) Coates Shorco Sykes                            3
2 Jamie Drew (Aus) Active For Life                                      2
3 Jaarod Poad (NZl) Rio Coffee                                          1

Hill Climbs
 
1 Cat.4 Left to Moe in 3rd St
 
1 Matthew Wilson (Aus) Jayco                                            3
2 Bart Heirewegh (Bel) Carlton Midstrength                              2
3 Jamie Drew (Aus) Active For Life                                      1
 
General Classification after stage 10
 
1 Baden Cooke (Aus) Jayco                                        22.17.26
2 Jonas Ljungblad (Swe) Malaysia Airlines                            2.01
3 David McKenzie (Aus) Active For Life                               2.07
4 Eric Wohlberg (Can) Ballarat*Eureka                                3.00
5 Alan Iacuone (Aus) Active For Life                                 3.03
6 Thomas Grönqvist (Swe) Malaysia Airlines                           3.07
7 Heiko Szonn (Ger) City Of Melbourne                                3.28
8 Trent Wilson (Aus) Active For Life                                 3.34
9 Matthew Wilson (Aus) Jayco                                         3.36
10 Kjell Carlström (Fin) Malaysia Airlines                           4.27
11 Tomas Buchacek (Cze) Coates Shorco Sykes                          6.24
12 Bart Heirewegh (Bel) Carlton Midstrength                          7.00
13 David McPartland (Aus) Coates Shorco Sykes                        9.50
14 Phillip Thuaux (Aus) Frf Couriers                                10.24
15 Tiaan Kannemeyer (RSA) Maffra Community Sports Club              10.27
16 Ryan Cox (RSA) Maffra Community Sports Club                      11.38
17 Jeremy Maartens (RSA) Maffra Community Sports Club               11.48
18 Henk Vogels (Aus) Bicycle S/Store-Vic State Home Loans           15.38
19 Jamie Drew (Aus) Active For Life                                 16.28
20 David Betts (Aus) Fitzroy Cycles-Aust Abalone Exports            17.32
21 Jindlich Vana (Cze) Latrobe City                                 18.48
22 Simon Gerrans (Aus) Ballarat*Eureka                              19.23
23 Danny In't Ven (Bel) Carlton Midstrength                         24.17
24 Rhys Pollock (Aus) Fitzroy Cycles-Aust Abalone Exports           24.31
25 James Perry (RSA) Malaysia Airlines                              25.18
26 Luis Fernando Pinheiro (Por) Ballarat*Eureka                     25.52
27 Heath Blackgrove (NZl) Pelaco                                    25.59
28 Garry Parsons (Aus) Morey & Hurford                              26.27
29 Petr Bencik (Cze) Latrobe City                                   26.37
30 Christopher Carr (Aus) Fitzroy Cycles-Aust Abalone Exports       30.06
31 Scott Guyton (NZl) Pelaco                                        32.55
32 Karl Menzies (Aus) City Of Melbourne                             33.30
33 Jonothan Cantwell (Aus) Vicroads                                 35.30
34 Ryan Russell (NZl) Pelaco                                        36.26
35 Glenn Stojanow (Aus) Coates Shorco Sykes                         37.13
36 Ben Johnson (Aus) Fitzroy Cycles-Aust Abalone Exports            37.28
37 Rodney McGee (Aus) Jayco                                         40.21
38 Michal Precechtel (Cze) Latrobe City                             42.57
39 Andrew Torney (Aus) Fitzroy Cycles-Aust Abalone Exports          43.09
40 Joel Pearson (Aus) City Of Melbourne                             43.22
41 Peter Rogers (Aus) Rio Coffee                                    44.46
42 Nathan Russell (Aus) Coates Shorco Sykes                         44.54
43 Lubomir Kejval (Cze) Latrobe City                                48.01
44 Russel Van Hout (Aus) Rio Coffee                                 55.52
45 Juha Paajanen (Fin) Malaysia Airlines                            56.34
46 Bernard Sulzberger (Aus) Vicroads                                57.33
47 Kevin Monahan (USA) Ballarat*Eureka                              57.58
48 Mark Renshaw (Aus) Jayco                                         58.07
49 Caleb Manion (Aus) City Of Melbourne                             59.13
50 Christian Lademann (Ger) Latrobe City                          1.02.32
51 Aaron Kemps (Aus) Vicroads                                     1.03.21
52 Steve Cunningham (Aus) Rio Coffee                              1.03.31
53 Sean Sullivan (Aus) Carlton Midstrength                        1.05.34
54 Nathan Clarke (Aus) Carlton Midstrength                        1.09.09
55 James Hannam (Aus) Rio Coffee                                  1.09.11
56 Lee Vertongen (NZl) Pelaco                                     1.12.12
57 Klayten Smith (Aus) Coates Shorco Sykes                        1.12.27
58 Jaarod Poad (NZl) Rio Coffee                                   1.13.37
59 Tom Leaper (Aus) Bicycle S/Store-Vic State Home Loans          1.15.05
60 Hilton Clarke (Aus) Ballarat*Eureka                            1.19.29
61 Robin Reid (NZl) Pelaco                                        1.22.00
62 Andrew Graham (Aus) Bicycle S/Store-Vic State Home Loans       1.33.03
63 Bruce McIntosh (Aus) Carlton Midstrength                       1.35.37
64 Simon Walker (Aus) Bicycle S/Store-Vic State Home Loans        2.22.43
 
Victorian Transport Association Aggressive Rider Awards
 
1 Henk Vogels (Aus) Bicycle S/Store-Vic State Home Loans                7
2 Danny In't Ven (Bel) Carlton Midstrength                              6
3 Trent Wilson (Aus) Active For Life                                    6
4 Bart Heirewegh (Bel) Carlton Midstrength                              5
5 Jaarod Poad (NZl) Rio Coffee                                          4
6 Thomas Grönqvist (Swe) Malaysia Airlines                              3
7 Tiaan Kannemeyer (RSA) Maffra Community Sports Club                   3
8 Eric Wohlberg (Can) Ballarat*Eureka                                   2
9 Scott Guyton (NZl) Pelaco                                             2
10 Lee Vertongen (NZl) Pelaco                                           2
11 Baden Cooke (Aus) Jayco                                              2
12 Michal Precechtel (Cze) Latrobe City                                 2
13 Andrew Torney (Aus) Fitzroy Cycles-Aust Abalone Exports              2
 
Team Classification
 
1 Active For Life                                                66.52.58
2 Malaysia Airlines                                                  8.39
3 Jayco                                                             23.44
4 Ballarat*Eureka                                                   28.31
5 Maffra Community Sports Club                                      33.15
6 Coates Shorco Sykes                                               43.36
7 Fitzroy Cycles-Aust Abalone Exports                             1.03.09
8 City Of Melbourne                                               1.05.55
9 Pelaco                                                          1.21.11
10 Carlton Midstrength                                            1.22.07
11 Latrobe City                                                   1.23.51
12 Rio Coffee                                                     2.05.17
13 Vicroads                                                       2.35.44
14 Bicycle S/Store-Vic State Home Loans                           2.55.10
 
Don Porter regional challenge
 
1 Ballarat*Eureka                                                67.21.29
2 City Of Melbourne                                                 37.24
3 Latrobe City                                                      55.20
 
Shimano Sprint Championship
 
1 Scott Guyton (NZl) Pelaco                                            77
2 Baden Cooke (Aus) Jayco                                              54
3 Lee Vertongen (NZl) Pelaco                                           32
4 Michal Precechtel (Cze) Latrobe City                                 26
5 Eric Wohlberg (Can) Ballarat*Eureka                                  23
6 David McPartland (Aus) Coates Shorco Sykes                           22
7 Phillip Thuaux (Aus) Frf Couriers                                    17
8 Bart Heirewegh (Bel) Carlton Midstrength                             16
9 Andrew Torney (Aus) Fitzroy Cycles-Aust Abalone Exports              16
10 Kevin Monahan (USA) Ballarat*Eureka                                 13
11 Henk Vogels (Aus) Bicycle S/Store-Vic State Home Loans              13
12 David Betts (Aus) Fitzroy Cycles-Aust Abalone Exports               12
13 Jamie Drew (Aus) Active For Life                                    11
14 Christian Lademann (Ger) Latrobe City                               10
15 Jaarod Poad (NZl) Rio Coffee                                        10
16 Alan Iacuone (Aus) Active For Life                                   8
17 Trent Wilson (Aus) Active For Life                                   8
18 Kjell Carlström (Fin) Malaysia Airlines                              7
19 David McKenzie (Aus) Active For Life                                 7
20 Jonas Ljungblad (Swe) Malaysia Airlines                              7
21 Ryan Russell (NZl) Pelaco                                            6
22 James Perry (RSA) Malaysia Airlines                                  6
23 Danny In't Ven (Bel) Carlton Midstrength                             6
24 Tiaan Kannemeyer (RSA) Maffra Community Sports Club                  6
25 Steve Cunningham (Aus) Rio Coffee                                    6
26 Ryan Cox (RSA) Maffra Community Sports Club                          6
27 Christopher Carr (Aus) Fitzroy Cycles-Aust Abalone Exports           5
28 Thomas Grönqvist (Swe) Malaysia Airlines                             5
29 Mark Renshaw (Aus) Jayco                                             4
30 Peter Rogers (Aus) Rio Coffee                                        4
31 Klayten Smith (Aus) Coates Shorco Sykes                              4
32 Matthew Wilson (Aus) Jayco                                           4
33 Jonothan Cantwell (Aus) Vicroads                                     4
34 Heiko Szonn (Ger) City Of Melbourne                                  3
35 Tomas Buchacek (Cze) Coates Shorco Sykes                             3
36 Simon Gerrans (Aus) Ballarat*Eureka                                  3
37 Joel Pearson (Aus) City Of Melbourne                                 3
38 Rodney McGee (Aus) Jayco                                             2
39 Sean Sullivan (Aus) Carlton Midstrength                              2
40 Heath Blackgrove (NZl) Pelaco                                        2
41 Russel Van Hout (Aus) Rio Coffee                                     2
42 Lubomir Kejval (Cze) Latrobe City                                    2
43 Hilton Clarke (Aus) Ballarat*Eureka                                  1
44 Petr Bencik (Cze) Latrobe City                                       1
45 Jindlich Vana (Cze) Latrobe City                                     1
46 Nathan Clarke (Aus) Carlton Midstrength                              1
 
East Gippsland Shire King Of The Mountain Championship
 
1 Trent Wilson (Aus) Active For Life                                   36
2 Thomas Grönqvist (Swe) Malaysia Airlines                             26
3 Tiaan Kannemeyer (RSA) Maffra Community Sports Club                  24
4 Danny In't Ven (Bel) Carlton Midstrength                             20
5 Baden Cooke (Aus) Jayco                                              17
6 Phillip Thuaux (Aus) Frf Couriers                                    11
7 Scott Guyton (NZl) Pelaco                                             8
8 Ryan Cox (RSA) Maffra Community Sports Club                           8
9 David McKenzie (Aus) Active For Life                                  6
10 Heiko Szonn (Ger) City Of Melbourne                                  6
11 Matthew Wilson (Aus) Jayco                                           4
12 Kjell Carlström (Fin) Malaysia Airlines                              4
13 Jamie Drew (Aus) Active For Life                                     4
14 Klayten Smith (Aus) Coates Shorco Sykes                              4
15 Bart Heirewegh (Bel) Carlton Midstrength                             3
16 Henk Vogels (Aus) Bicycle S/Store-Vic State Home Loans               2
17 Eric Wohlberg (Can) Ballarat*Eureka                                  1
18 Jonas Ljungblad (Swe) Malaysia Airlines                              1
19 Alan Iacuone (Aus) Active For Life                                   1
 
Active For Life Criterium Championship
 
1 Baden Cooke (Aus) Jayco                                              33
2 Hilton Clarke (Aus) Ballarat*Eureka                                  32
3 Henk Vogels (Aus) Bicycle S/Store-Vic State Home Loans               22
4 David McKenzie (Aus) Active For Life                                 18
5 Kevin Monahan (USA) Ballarat*Eureka                                  13
6 Mark Renshaw (Aus) Jayco                                             11
7 Bart Heirewegh (Bel) Carlton Midstrength                             11
8 Jamie Drew (Aus) Active For Life                                      9
9 Christian Lademann (Ger) Latrobe City                                 8
10 Heiko Szonn (Ger) City Of Melbourne                                  7
11 Peter Rogers (Aus) Rio Coffee                                        7
12 Alan Iacuone (Aus) Active For Life                                   7
13 Joel Pearson (Aus) City Of Melbourne                                 6
14 David McPartland (Aus) Coates Shorco Sykes                           6
15 Jaarod Poad (NZl) Rio Coffee                                         5
16 Sean Sullivan (Aus) Carlton Midstrength                              5
17 Michal Precechtel (Cze) Latrobe City                                 5
18 Trent Wilson (Aus) Active For Life                                   4
19 Jonothan Cantwell (Aus) Vicroads                                     3
20 Eric Wohlberg (Can) Ballarat*Eureka                                  3
21 Phillip Thuaux (Aus) Frf Couriers                                    3
22 Caleb Manion (Aus) City Of Melbourne                                 1
23 Simon Gerrans (Aus) Ballarat*Eureka                                  1
24 Russel Van Hout (Aus) Rio Coffee                                     1
 
Herald Sun - Australian Based Rider Award
 
1 Phillip Thuaux (Aus) Frf Couriers                              22.27.50
2 Garry Parsons (Aus) Morey & Hurford                               16.03
3 Christopher Carr (Aus) Fitzroy Cycles-Aust Abalone Exports        19.42
4 Karl Menzies (Aus) City Of Melbourne                              23.06
5 Jonothan Cantwell (Aus) Vicroads                                  25.06
6 Glenn Stojanow (Aus) Coates Shorco Sykes                          26.49
7 Rodney McGee (Aus) Jayco                                          29.57
8 Andrew Torney (Aus) Fitzroy Cycles-Aust Abalone Exports           32.45
9 Joel Pearson (Aus) City Of Melbourne                              32.58
10 Nathan Russell (Aus) Coates Shorco Sykes                         34.30
11 Bernard Sulzberger (Aus) Vicroads                                47.09
12 Aaron Kemps (Aus) Vicroads                                       52.57
13 James Hannam (Aus) Rio Coffee                                    58.47
14 Andrew Graham (Aus) Bicycle S/Store-Vic State Home Loans       1.22.39
15 Bruce McIntosh (Aus) Carlton Midstrength                       1.25.13
16 Simon Walker (Aus) Bicycle S/Store-Vic State Home Loans        2.12.19