Tour of Southland - 2.5
New Zealand, November 4th-9th, 2002
Main Page Results Previous Stage Next Stage
Stage 7 - November 7: Gore - Invercargill, 104 km
Hilton Clarke hangs on for gritty stage win
Lieswyn remains in yellow
McCauley and Clarke
Photo: © Tom Balks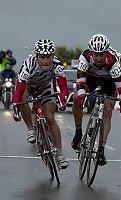 By Alan Messenger in Invercargill
It was a day for the overseas riders in the Tour of Southland with John Lieswyn (USA) regaining the Yellow Jersey in the morning time trial and Aussie Hilton Clarke taking out stage seven in the afternoon. Clarke won the 104 km ride from Gore to Invercargill, beating New Zealand Road Champion Gordon McCauley by inches. Initially judges gave the win to the Kiwi but reversed the decision after looking at the video.
The pair had been away in a break for 98 kilometres with Robin Reid (Blenheim) and Australian Tom Leaper. Reid took the third placing from Leaper who celebrated his birthday today. The stage made no difference to the General Classification.
McCauley was the driver in the break and he was disappointed at being beaten but he was philosophical. "I came here with high hopes of winning a stage but everywhere I go I've got forty passengers on my wheel. That's what comes of winning the National Championship so I've got to expect it."
Photography
Images by Tom Balks/www.tombalks.com
Results
1 Hilton Clarke (Aus) Calder Stewart                 2.41.46
2 Gordon McCauley (NZl) Zookeepers Cafe
3 Robin Reid (NZl) Meadow Fresh
4 Tom Leaper (Aus) Rabobank
5 Peter Latham (NZl) SouthRoads                         0.35
6 Craig Thomson (NZl) Cycle Surgery
7 Alasdair Duncan (NZl) Mercury TV
8 Logan Hutchings (NZl) Cycle Surgery
9 Matthew Yates (NZl) Zookeepers Cafe
10 Scott Allen (NZl) SouthRoads
11 John Lieswyn (USA) Winton's Middle Pub
11 Scott Guyton (NZl) Southland Times
11 Chris Horner (USA) Calder Stewart
11 Heath Blackgrove (NZl) Zookeepers Cafe
11 Jeremy Yates (NZl) Zookeepers Cafe
11 Russell Vanhout (Aus) Sycamore Print
11 Lee Vertongen (NZl) Southland Times
11 Kevin Monahan (USA) Winton's Middle Pub
11 Ryan Russell (NZl) Rabobank
11 Phillip Schnyder (Swi) Meadow Fresh
11 Brian Fowler (NZl) Winton's Middle Pub
11 Ryan Cox (RSA) Ascot Park Hotel
11 Phillip Thuaux (Aus) Southland Times
11 Ryan Cull (NZl) Sycamore Print
11 Aaron Strong (NZl) Share The Road
11 Tiaan Kannemeyer (RSA) Ascot Park Hotel
11 Tim Gudsell (NZl) SouthRoads
11 Danny Hillary (NZl) Cycle Surgery
11 Peter Rogers (Aus) Calder Stewart
11 Eric Wohlberg (Can) Calder Stewart
11 Stephen Collins (NZl) Hilo Decorating
11 Chris Boersen (NZl) Sycamore Print
11 Joseph Chapman (NZl) Creation Signs
11 Jeremy Vennell (NZl) Jackson-Wills
11 Karl Moore (NZl) Rabobank
11 Michael Leaf (NZl) SouthRoads
11 Johan Van Der Berg (RSA) Ascot Park Hotel
11 Rodney Green (RSA) Ascot Park Hotel
11 David McKenzie (Aus) Southland Times
11 Bevan Mason (NZl) SBS
11 Andrew Eagles (NZl) Riverside Rentals
11 Morne Bester (NZl) Ascot Park Hotel
11 Hayden Godfrey (NZl) Winton's Middle Pub
11 Ashley Whitehead (NZl) SBS
11 Anthony Chapman (NZl) Creation Signs
11 Brad Mcfarlane (NZl) Hilo Decorating
11 Karl Murray (NZl) Zookeepers Cafe
11 Travis Kane (NZl) SBS
11 Marc Ryan (NZl) Rabobank
11 Stuart Lowe (NZl) Meadow Fresh
11 James Stephenson (NZl) SouthRoads
11 Andrew Reid (NZl) Meadow Fresh
11 Ben Robson (NZl) Winton's Middle Pub
11 Dallas Williams (NZl) Creation Signs
11 Tim Paviell (NZl) Jackson-Wills
11 Jack Swart (NZl) Share The Road
11 Leigh Chapman (NZl) SBS
11 Jaarod Poad (NZl) Sycamore Print
11 Michael Johnson (Aus) Calder Stewart
11 Scott Strong (NZl) Mercury TV
11 Ben Lowe (NZl) Creation Signs
11 Dan Warren (NZl) Jackson-Wills
11 John Alabaster (NZl) SBS
11 James Hannam (Aus) Sycamore Print
11 Peter Blake (NZl) Riverside Rentals
66 David Thomson (NZl) Cycle Surgery                    0.55
67 Nick Eliadis (NZl) Hilo Decorating                   6.15
67 Callum Henderson (NZl) Riverside Rentals
67 Paul Sumich (NZl) Share The Road
67 John Laidlaw (NZl) Cycle Surgery
71 Marc Mackay (NZl) Southland Times                    6.22
71 Antoinne De Haan (NZl) Hilo Decorating
71 Matthew Webber (NZl) Riverside Rentals
74 Andrew Widdup (NZl) Mercury TV                       6.43
75 Tony Fowler (NZl) Jackson-Wills                     13.26
75 Marc Watson (NZl) Share The Road
77 Jason Clement (NZl) Riverside Rentals               14.40
78 Matt Gilbert (NZl) Share The Road                   18.58
DQ Johnathon Atkinson (NZl) Mercury TV
DNF Jason Allen (NZl) Meadow Fresh
DNF Nick Atkinson (NZl) Hilo Decorating
DNF Paul Whitley (NZl) Creation Signs
DNF Mark Bailey (NZl) Mercury TV
DNF Andrew Bott (NZl) Jackson-Wills
DNS Glenn Mitchell (NZl) Rabobank
 
General classification after stage 7
 
1 John Lieswyn (USA) Winton's Middle Pub            12.55.59
2 Scott Guyton (NZl) Southland Times                    0.30
3 Chris Horner (USA) Calder Stewart                     0.44
4 Heath Blackgrove (NZl) Zookeepers Cafe                1.22
5 Jeremy Yates (NZl) Zookeepers Cafe                    2.43
6 Russell Vanhout (Aus) Sycamore Print                  3.08
7 Lee Vertongen (NZl) Southland Times                   3.18
8 Gordon McCauley (NZl) Zookeepers Cafe                 3.19
9 Kevin Monahan (USA) Winton's Middle Pub               3.25
10 Ryan Russell (NZl) Rabobank                          3.33
11 Phillip Schnyder (Swi) Meadow Fresh                  3.35
12 Brian Fowler (NZl) Winton's Middle Pub               3.54
13 Ryan Cox (RSA) Ascot Park Hotel                      4.12
14 Phillip Thuaux (Aus) Southland Times                 4.57
15 Tom Leaper (Aus) Rabobank                            5.09
16 Ryan Cull (NZl) Sycamore Print                       5.26
17 Aaron Strong (NZl) Share The Road                    5.30
18 Tiaan Kannemeyer (RSA) Ascot Park Hotel              6.32
19 Alasdair Duncan (NZl) Mercury TV                     7.58
20 Robin Reid (NZl) Meadow Fresh                        8.34
21 Tim Gudsell (NZl) SouthRoads                         8.55
22 Danny Hillary (NZl) Cycle Surgery                    9.09
23 Peter Rogers (Aus) Calder Stewart                    9.53
24 Eric Wohlberg (Can) Calder Stewart                  10.01
25 Stephen Collins (NZl) Hilo Decorating               10.14
26 Chris Boersen (NZl) Sycamore Print                  10.24
27 Joseph Chapman (NZl) Creation Signs                 10.39
28 Jeremy Vennell (NZl) Jackson-Wills                  11.34
29 Karl Moore (NZl) Rabobank                           11.45
29 Michael Leaf (NZl) SouthRoads
31 Johan Van Der Berg (RSA) Ascot Park Hotel           12.06
32 Peter Latham (NZl) SouthRoads                       12.21
33 Rodney Green (RSA) Ascot Park Hotel                 13.28
34 David McKenzie (Aus) Southland Times                14.32
35 Bevan Mason (NZl) SBS                               15.08
36 Andrew Eagles (NZl) Riverside Rentals               15.18
37 Morne Bester (NZl) Ascot Park Hotel                 16.09
38 Hayden Godfrey (NZl) Winton's Middle Pub            16.31
39 Ashley Whitehead (NZl) SBS                          17.26
40 Scott Allen (NZl) SouthRoads                        17.42
41 Anthony Chapman (NZl) Creation Signs                18.08
42 Brad Mcfarlane (NZl) Hilo Decorating                18.25
43 Craig Thomson (NZl) Cycle Surgery                   18.29
44 Karl Murray (NZl) Zookeepers Cafe                   18.38
45 Travis Kane (NZl) SBS                               18.43
46 Logan Hutchings (NZl) Cycle Surgery                 18.46
47 Marc Ryan (NZl) Rabobank                            19.21
48 Stuart Lowe (NZl) Meadow Fresh                      20.49
49 James Stephenson (NZl) SouthRoads                   25.23
50 Andrew Reid (NZl) Meadow Fresh                      26.20
51 Ben Robson (NZl) Winton's Middle Pub                26.23
52 Matthew Yates (NZl) Zookeepers Cafe                 26.33
53 Jason Clement (NZl) Riverside Rentals               26.49
54 David Thomson (NZl) Cycle Surgery                   29.53
55 Dallas Williams (NZl) Creation Signs                30.09
56 Tim Paviell (NZl) Jackson-Wills                     30.48
57 Jack Swart (NZl) Share The Road                     31.30
58 Leigh Chapman (NZl) SBS                             31.42
59 Jaarod Poad (NZl) Sycamore Print                    32.34
60 Hilton Clarke (Aus) Calder Stewart                  33.43
61 Marc Mackay (NZl) Southland Times                   33.54
62 Michael Johnson (Aus) Calder Stewart                34.51
63 Scott Strong (NZl) Mercury TV                       35.19
64 Ben Lowe (NZl) Creation Signs                       36.05
65 Dan Warren (NZl) Jackson-Wills                      36.55
66 Matt Gilbert (NZl) Share The Road                   40.11
67 John Alabaster (NZl) SBS                            40.59
68 Nick Eliadis (NZl) Hilo Decorating                  43.46
69 James Hannam (Aus) Sycamore Print                   45.35
70 Callum Henderson (NZl) Riverside Rentals            46.29
71 Peter Blake (NZl) Riverside Rentals                 47.26
72 Paul Sumich (NZl) Share The Road                    48.17
73 Antoinne De Haan (NZl) Hilo Decorating            1.00.02
74 Matthew Webber (NZl) Riverside Rentals            1.05.48
75 Tony Fowler (NZl) Jackson-Wills                   1.12.41
76 Andrew Widdup (NZl) Mercury TV                    1.13.57
77 Marc Watson (NZl) Share The Road                  1.17.20
78 John Laidlaw (NZl) Cycle Surgery                  1.19.41
 
Sprints classification
 
1 Hayden Godfrey (NZl) Winton's Middle Pub                79 pts
2 Tom Leaper (Aus) Rabobank                               75
3 Gordon McCauley (NZl) Zookeepers Cafe                   45
4 Kevin Monahan (USA) Winton's Middle Pub                 44
5 Scott Guyton (NZl) Southland Times                      35
6 Matthew Yates (NZl) Zookeepers Cafe                     28
7 Lee Vertongen (NZl) Southland Times                     27
8 Phillip Schnyder (Swi) Meadow Fresh                     20
9 Russell Vanhout (Aus) Sycamore Print                    20
10 Robin Reid (NZl) Meadow Fresh                          18
11 Ryan Cull (NZl) Sycamore Print                         18
12 Brian Fowler (NZl) Winton's Middle Pub                 17
13 Michael Johnson (Aus) Calder Stewart                   17
14 Hilton Clarke (Aus) Calder Stewart                     16
15 Jeremy Yates (NZl) Zookeepers Cafe                     15
16 Peter Rogers (Aus) Calder Stewart                      15
17 David Thomson (NZl) Cycle Surgery                      13
18 Tim Gudsell (NZl) SouthRoads                           12
19 Marc Mackay (NZl) Southland Times                      12
20 Ryan Cox (RSA) Ascot Park Hotel                        11
21 Karl Murray (NZl) Zookeepers Cafe                      11
22 Jason Allen (NZl) Meadow Fresh                         10
23 Jaarod Poad (NZl) Sycamore Print                       10
24 Heath Blackgrove (NZl) Zookeepers Cafe                  8
25 David McKenzie (Aus) Southland Times                    8
26 Ryan Russell (NZl) Rabobank                             7
27 John Lieswyn (USA) Winton's Middle Pub                  7
28 Glenn Mitchell (NZl) Rabobank                           6
29 Ben Robson (NZl) Winton's Middle Pub                    6
30 Alasdair Duncan (NZl) Mercury TV                        4
31 Chris Boersen (NZl) Sycamore Print                      4
32 Matt Gilbert (NZl) Share The Road                       4
33 Joseph Chapman (NZl) Creation Signs                     3
34 Dan Warren (NZl) Jackson-Wills                          3
35 Morne Bester (NZl) Ascot Park Hotel                     3
36 Karl Moore (NZl) Rabobank                               3
37 Eric Wohlberg (Can) Calder Stewart                      2
38 Anthony Chapman (NZl) Creation Signs                    1
39 Chris Horner (USA) Calder Stewart                       1
40 Michael Leaf (NZl) SouthRoads                           1
 
KOM classification
 
1 Tom Leaper (Aus) Rabobank                               54 pts
2 Gordon McCauley (NZl) Zookeepers Cafe                   27
3 Hayden Godfrey (NZl) Winton's Middle Pub                18
4 Jeremy Yates (NZl) Zookeepers Cafe                      17
5 Ryan Cox (RSA) Ascot Park Hotel                         16
6 Ryan Russell (NZl) Rabobank                             14
7 Phillip Schnyder (Swi) Meadow Fresh                     13
8 Peter Rogers (Aus) Calder Stewart                       13
9 Kevin Monahan (USA) Winton's Middle Pub                  9
10 Anthony Chapman (NZl) Creation Signs                    8
11 Ben Robson (NZl) Winton's Middle Pub                    8
12 Russell Vanhout (Aus) Sycamore Print                    8
13 Aaron Strong (NZl) Share The Road                       6
14 Andrew Reid (NZl) Meadow Fresh                          5
15 Matthew Yates (NZl) Zookeepers Cafe                     5
16 Brian Fowler (NZl) Winton's Middle Pub                  5
17 Heath Blackgrove (NZl) Zookeepers Cafe                  4
18 Lee Vertongen (NZl) Southland Times                     3
19 Eric Wohlberg (Can) Calder Stewart                      3
20 Ryan Cull (NZl) Sycamore Print                          2
21 John Lieswyn (USA) Winton's Middle Pub                  2
 
Teams classification
 
1 Zookeepers Cafe                                   38.52.10
2 Winton's Middle Pub                                   2.26
3 Southland Times                                       2.55
4 Ascot Park Hotel                                     13.38
5 Rabobank                                             14.16
6 Sycamore Print                                       14.37
7 Calder Stewart                                       15.15
8 Meadow Fresh                                         25.51
9 SouthRoads                                           28.48
10 Cycle Surgery                                       40.39
11 Share The Road                                      43.14
12 SBS                                                 43.39
13 Creation Signs                                      52.24
14 Hilo Decorating                                   1.04.04
15 Riverside Rentals                                 1.06.32
16 Jackson::Wills                                    1.09.58
17 Mercury TV                                        1.53.01