Recently on Cyclingnews.com
Green Mountain Stage Race
Vermont, August 30-September 2, 2002
Main Page Results Previous Stage
Stage 3 - Burlington Criterium
Team Rona report
Top 4 for Rona
Photo: ©Rona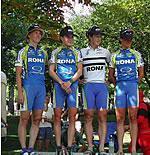 Canadian Geneviève Jeanson and her Rona teammates finished the Green Mountain Stage Race today by reaping the top four spots of the last stage and of General Classification. Jeanson signed her fourth stage win in as many days, followed by her three teammates, New Zealander Meshy Holt and Canadians Amy Jarvis of Mississauga and Manon Jutras of Montreal. Sophie St. Jacques (CAN, Trek Plus) finished fifth of the stage.
General Classification of the Green Mountain Stage Race follows a points system rather than the compilation of cumulative times. In final General Classification, Geneviève Jeanson led Holt by 70 points, as Holt led Jarvis and Jutras by 2 and 10 points respectively. American Kristen Lasasso (CRCA/RLX Polo) finished fifth in GC, 57 points behind Manon Jutras.
The crowd appreciated team Rona's show in today's stage, a 32-lap criterium around a 1-km course in downtown Burlington. Jeanson attacked from the gun. After four laps she had a 22-second lead over Sophie St. Jacques. It was not long before Holt and Jarvis broke away from the pack, caught St. Jacques and left her behind, as the main field reeled her in. Lap after lap, Jeanson increased her lead over her two teammates, as they were distancing the peloton. A third into the race, after lapping a few dropped racers, Jeanson caught up with the main field. She slowed down to the group's pace for a little more than three laps - the time required for Manon Jutras to leave the pack behind and catch Holt and Jarvis in the front. When her three teammates were reunited, Jeanson accelerated and said farewell to the peloton, lapping it definitively. With ten laps to go Jeanson caught her three accomplices, who had slowed their paced to wait for her. The four Rona's kept a steady pace and crossed the finish line together, hand in hand, in front of an enthusiastic crowd.
"I hadn't planned to lap everybody this way", said Jeanson after the race. "Actually the plan was for the others to break away with me very early so we could finish together. But when that didn't work we went for plan B and I had to ride very hard to catch everybody!" added Jeanson who was obviously thrilled with an all-Rona podium after four days of racing in Vermont.
Overall Results after Stage 3
Men Pro/1/2  50 kms
                                                     Time     Points 
1 Jon Page (Wheelworks/Cannondale)                  1.08.52    60   22 Bonus points
2 Alexandre Lavallee (Trek/Volkswagon)                         60   16
3 Eneas Freyre (Kissena)                                       60   12
4 Tim Johnson (Saturn)                                         60    9
5 Nat Faulkner (Kissena Cycling Team)                  0.05    52    6
6 Charles Dionne (Quebec Cycling Team)                 0.22    50    5
7 Mark McCormack (Saturn)                                      50    4
8 Jean-Francois Laroche (Quebec Cycling Team)                  50    3
9 Will Letendre Jr. (Boston Road Club)                         50    2
10 Christophe Chezeau (Espoirs de Laval)                       50    1
11 Martin St-laurent (Quebec Cycling Team)                     50
12 Chris Benoit (Essex County Velo)                            50
13 Eugene Ruiter (Trek/VW Goodales)                            50
14 Peter Sanowar (Team Ontario/Gears)                          50
15 Warren Tilbrook (Team Ontario/Gears)                        50
16 William Innes (Kissena/Casati)                              50
17 Todd Herriott (Think Racing/CRCA)                           50
18 Maxime Vives (Quebec cycling team)                          50
19 Bobby Bailey (Hawley-Racksmith.com)                         50
20 Matthew Svatek (Wheelworks/Cannondale)                      50
21 Martin Gilbert (Quebec cycling team)                        50
22 Jean-Sabastien Maheu (Quebec Cycling Team)                  50
23 Eugene A. Boronow (Century- SBCG)                           50
24 Chris Isaac (Team Ontario/Gears)                            50
25 Shawn McCormack (Trek/VW Goodales)                          50
26 Josh Anthony (Saturn Development Cycling Team)              50
27 Philippe Viau-Dupuis (Quebec cycling team)                  50
28 Jason Baer (GS Mengoni)                                     50
29 Oliver Stiler-cote (Saturn Development)                     50
30 Bruno Langlois (Trek/Volkswagon)                            50
31 Frank McCormack (Saturn)                                    50
32 Isaac St. martin (New Hampshire Cycling Club)               50
33 Mathieu Roy (Espoirs de Laval)                              50
34 Jean Francois Racine (Espoirs de Laval)                     50
35 Tyler Wren (GS Mengoni USA)                                 50
36 Toby Strom (Laurel Street Racing)                           50
37 Kevin Bouchard-Hall (GS Mengoni)                            50
38 Kurt Hackler (CCB/Volkswagen)                               50
39 Benjamin Peters (NECSA)                                     50
40 Jonathan Husk (NECSA/Coyote Hill MTB Camps)                 50
41 Jon Hamblen (Wheelworks/Cannondale)                         50
42 Allen Horton (Pro Cycles/Giant)                             50
43 Sean Cahill (Procycles-Giant/Boston Road Club)              50
44 Jesse Anthony (Saturn Development Cycling Team)             50
45 Pascal Choquette (Trek/Volkswagon)                          50
46 Patrick Sullivan (GS Ciao)                                  50
47 David Young (NCC / BikeReg.com)                             50
48 Don Mills (Wheelworks/Cannondale)                           50
49 Timothy Unkert (Capital Velo Club)                          50
50 Alain Guimont (Espoirs de Laval)                            50
51 Mike Jones (Wheelworks/Cannondale)                          50
52 Jeff Courter (Hind/Al's/Bianchi)                            50
53 David Sandifer (Capital Velo Club- Pig Iron Sports)         50
54 Steve Roszko (NCC / BikeReg.com)                            50
55 Kirt Fitzpatrick (Trek VW Goodales York HVAC)               50
56 Lincoln Brown (Hawley-Racksmith.com)                        50
57 Mike Barton (Sunapee Banagans)                              50
58 Chris Peck (Wheelworks/Cannondale)                          50
59 Andrew Mills (Trek Volkswagen)
 
Women 1/2/3  32 kms
                                                     Time     Points 
1 Genevieve Jeanson (Rona)                          47.42.00   60   22 Bonus points
2 Melissa Holt (Rona)                                          58   16
3 Amy Jarvis (Rona)                                            58   12
4 Maron Jutras (Rona)                                          58    9
5 Sophie St-Jacques (Quebec cycling team)                      52    6
6 Catherine Bearce (CCB/Volkswagen)                            52    5
7 Andrea Cox (CCB/Volkswagen)                                  52    4
8 Caryl Gale (San Diego Cyclo Vets)                            52    3
9 Kathryn Roszko (Dansko/Wheelworks/IF)                        52    2
10 Magalie Boulay (Quebec cycling team)                        52    1
11 Joanne Ross (VerizonWireless-cervelo)                       52
12 Katheryn Curi (Dansko/Wheelworks/IF)                        52
13 Zoe Owers (NHCC)                                            52
14 Audrey Lemieux (Quebec cycling team)                        52
15 Laura Summers (WebEvent.com)                                52
16 Susan Maclean (BOB)                                         52
17 Ann Marie Miller (Verizon)                                  52
18 Hiroko Shimada (verizon wireless-cervelo)                   52
19 Amanda Lawrence (Yale University)                           52
20 Cassie White (NEBC/Cycleloft)                               52
21 Anna Milkowski (Gearworks-SRP)                              52
22 Amanda See (Verizon Wireless - Cervelo)                     52
23 Stephanie Bourbeau (Quebec cycling team)                    52
24 Kristen Lasasso (CRCA/RLX POLO SPORT)                       52
25 Genevive Leblanc (Quebec cycling team)                      52
26 Julie Monagle (Verizon Wireless-Cervelo)                    52
27 Becky Broeder (ICO)                                         52
28 Sue Trimble (Team Ontario/Gears)                            52
29 Shauna Gillies-Smith (Gearworks/SRP)                        52
30 Hanna Vazquez (Womens Sports and Fitness/Setanta)           52
31 Frances Harrison (Setanta/CRCA)                             52
32 Lisa Maxwell (Dansko/Wheelworks/IF)                         52
33 Karen Nash (Verizon Wireless - Cervelo)                     52
34 Penny Buchar (WebEvent.com)                                 52
35 Mary Kneeland (Pro Peloton Velo)                            52
36 Sara Cushman (Gearworks/SRP)                                52
37 Suz Weldon (Ashmead College / Union Bay)
38 Elizabeth Renaud (CRCA/Women's Sports & Fitness)
 
Men Pro/1/2 Overall results
 
1 Jon Page (Wheelworks/Cannondale)                               260 points 
2 Jean Francois Racine (Espoirs de Laval)                        197
3 Eneas Freyre (Kissena)                                         191
4 Alexandre Lavallee (Trek/Volkswagon)                           184
5 Mark McCormack (Saturn)                                        173
6 Frank McCormack (Saturn)                                       167
7 Tim Johnson (Saturn)                                           163
8 Christophe Chezeau (Espoirs de Laval)                          163
9 Eugene Ruiter (Trek/VW Goodales)                               163
10 Todd Herriott (Think Racing/CRCA)                             163
11 Mike Jones (Wheelworks/Cannondale)                            158
12 Isaac St Martin (New Hampshire Cycling Club)                  156
13 Don Mills (Wheelworks/Cannondale)                             149
14 Charles Dionne (Quebec Cycling Team)                          148
15 Jean-Francois Laroche (Quebec Cycling Team)                   148
16 Jon Hamblen (Wheelworks/Cannondale)                           148
17 Philippe Viau-Dupuis (Quebec cycling team)                    145
18 Oliver Stiler-Cote (Saturn Development)                       143
19 Chris Peck (Wheelworks/Cannondale)                            140
20 Martin St-Laurent (Quebec Cycling Team)                       136
21 William Innes (Kissena/Casati)                                134
22 Patrick Sullivan (GS Ciao)                                    134
23 Jean-Sabastien Maheu (Quebec Cycling Team)                    132
24 Peter Sanowar (Team Ontario/Gears)                            131
25 Bruno Langlois (Trek/Volkswagon)                              131
26 Jesse Anthony (Saturn Development Cycling Team)               130
27 Nat Faulkner (Kissena Cycling Team)                           128
28 Kevin Bouchard-Hall (GS Mengoni)                              127
29 Alain Guimont (Espoirs de Laval)                              126
30 David Sandifer (Capital Velo Club- Pig Iron Sports)           124
31 Will Letendre Jr. (Boston Road Club)                          122
32 Josh Anthony (Saturn Development Cycling Team)                122
33 Allen Horton (Pro Cycles/Giant)                               122
34 Martin Gilbert (Quebec cycling team)                          120
35 Tyler Wren (GS Mengoni USA)                                   120
36 Kurt Hackler (CCB/Volkswagen)                                 118
37 Shawn Mccormack (Trek/VW Goodales)                            113
38 Mathieu Roy (Espoirs de Laval)                                112
39 David Young (NCC / BikeReg.com)                               111
40 Warren Tilbrook (Team Ontario/Gears)                          108
41 Chris Benoit (Essex County Velo)                              104
42 Eugene A. Boronow (Century- SBCG)                             104
43 Jeff Courter (Hind/Al's/Bianchi)                              104
44 Kirt Fitzpatrick (Trek VW Goodales York HVAC)                 104
45 Mike Barton (Sunapee Banagans)                                104
46 Sean Cahill (Procycles-Giant/Boston Road Club)                 91
47 Matthew Svatek (Wheelworks/Cannondale)                         90
48 Chris Isaac (Team Ontario/Gears)                               89
49 Bobby Bailey (Hawley-Racksmith.com)                            60
50 Jason Baer (GS Mengoni)                                        58
51 Lincoln Brown (Hawley-Racksmith.com)                           55
52 Toby Strom (Laurel Street Racing)                              50
53 Benjamin Peters (NECSA)                                        50
54 Jonathan Husk (NECSA/Coyote Hill MTB Camps)                    50
55 Pascal Choquette (Trek/Volkswagon)                             50
56 Timothy Unkert (Capital Velo Club)                             50
57 Steve Roszko (NCC / BikeReg.com)                               50
58 Maxime Vives (Quebec cycling team)                             35
59 Andrew Mills (Trek Volkswagen )
 
Women 1/2/3 Overall results
&nbsp 
1 Genevieve Jeanson (Rona)                                       328
2 Melissa Holt (Rona)                                            258
3 Amy Jarvis (Rona)                                              256
4 Maron Jutras (Rona)                                            248
5 Kristen Lasasso (CRCA/RLX POLO SPORT)                          191
6 Sophie St-Jacques (Quebec cycling team)                        188
7 Andrea Cox (CCB/Volkswagen)                                    185
8 Stephanie Bourbeau (Quebec cycling team)                       173
9 Anna Milkowski (Gearworks-SRP)                                 166
10 Becky Broeder (ICO)                                           161
11 Magalie Boulay (Quebec cycling team)                          159
12 Zoe Owers (NHCC)                                              157
13 Hiroko Shimada (verizon wireless-cervelo)                     152
14 Ann Marie Miller (Verizon)                                    149
15 Katheryn Curi (Dansko/Wheelworks/IF)                          147
16 Genevive Leblanc (Quebec cycling team)                        147
17 Hanna Vazquez (Womens Sports and Fitness/Setanta)             141
18 Amanda Lawrence (Yale University)                             138
19 Penny Buchar (WebEvent.com)                                   132
20 Joanne Ross (VerizonWireless-cervelo)                         128
21 Shauna Gillies-Smith (Gearworks/SRP)                          126
22 Caryl Gale (San Diego Cyclo Vets)                             122
23 Frances Harrison (Setanta/CRCA)                               113
24 Kathryn Roszko (Dansko/Wheelworks/IF)                         108
25 Amanda See (Verizon Wireless - Cervelo)                       104
26 Julie Monagle (Verizon Wireless-Cervelo)                      104
27 Sue Trimble (Team Ontario/Gears)                              104
28 Catherine Bearce (CCB/Volkswagen)                              98
29 Audrey Lemieux (Quebec cycling team)                           92
30 Suz Weldon (Ashmead College / Union Bay )                      85
31 Elizabeth Renaud (CRCA/Women's Sports & Fitness)               64
32 Mary Kneeland (Pro Peloton Velo)                               57
33 Laura Summers (WebEvent.com)                                   52
34 Susan Maclean (BOB)                                            52
35 Cassie White (NEBC/Cycleloft)                                  52
36 Lisa Maxwell (Dansko/Wheelworks/IF)                            52
37 Karen Nash (Verizon Wireless - Cervelo)                        52
38 Sara Cushman (Gearworks/SRP)                                   52
 
Men 3
 
1 Stuart Gillespie (CRCA)                                        242
2 Phillipe Lepeurien (Perpignan)                                 236
3 Philip Wong (Essex County Velo)                                231
4 Geordie Probert (Avranches)                                    214
5 Joshua F. Dillon (GMBC/Invensys)                               203
6 Rob Rigg (CRCA Dash/Renaissance)                               203
7 Andrew Knight (GMBC/Invensys)                                  202
8 Peter Hult (ONeil's)                                           198
9 Richer Alexi (Barilla)                                         196
10 Jonathan Bruno (B2C/Comunity)                                 191
11 Karl Strauss (Capital Velo Club)                              174
12 Nathan Rice (Catamount Cycling Club)                          165
13 Art Rand (CCB International)                                  164
14 Thomas Pennell (CRCA - Think Racing)                          154
15 Xavier Melendez (Miya Shoji)                                  148
16 Stephen Jamison (CRCA - Miya Shoji)                           148
17 Trenton Ashburn (Bikeworks/Festina)                           138
18 Christopher Fisher (Savage Hill Cycling Team)                 134
19 David Cavallo (CRCA/Axis-Furniture Co)                        133
20 Paul Albert (CRCA/ThinkRacing)                                125
21 Craig Ross (Stage 1 / Cannondale)                             119
22 Roger Nichols (Providence Velo Club)                          117
23 Jeff Gauthier (GMBC/Invensys)                                 115
24 Dachs Sachs (Alberto's Sport)                                 109
25 Jorge Ortiz (Tarrytown)                                       105
26 Logan Hodson (BRC/ATA cycles)                                  99
27 Robert Schrank (Albertos Sport)                                76
28 Michael Parr (CycleLoft/NEBC)                                  61
29 Oscar Purwin (NHCC/ S&W Sports)                                58
30 Marc Mauceri (CRCA-Axis/Furniture CO.)                         50
31 Rob Rhodes (Savage Hill Cycling Team)                          20
32 Alec Stall (HVVC/WebEvent.Com)                                  1
 
Women 4
 
1 Sarah Schreib                                                  317
2 Terri Wentzel (BOB)                                            275
3 Jen Bailey                                                     236
4 Rhonda Morin (Portland Velo Club)                              226
5 Darcy Cornell (Team Bicycle Alley)                             209
6 Christina Malin (GMBC/Invensys)                                202
7 Heather Mckendry                                               202
8 Cindy Ma (Metro Sanchez/CRCA)                                  186
9 Tami Buhr (NEBC)                                               179
10 Aimee Motta (GMBC)                                            177
11 Kate Stewart (Onondaga Cycling Club)                          153
12 Erin Diehm (DreamBikes Cycling Club)                          145
13 Reem Jishi (Century Road Club Association)                    139
14 Stephanie White (NHJCA)                                       133
15 Leigh Weiss (NEBC)                                            133
16 Elizabeth Carroll (Northeast Bicycle Club/Cycle Loft)         122
17 Rebecca Koh (CRCA/Renaissance)                                120
18 Marie-Pier Bedard (Espoirs de Laval)                           94
19 Pamela Bonin (Exposition Wheelmen)                             79
20 Cheryl Smith (Bethel Cycle Sport Club)                         74
21 Teresa Holmgren (Rapid Wheelmen)                               70
22 Jane Hayes (Dansko/Wheelworks/I.F.)                            48
23 Karine Chenard (Espoirs de Laval)                              47
24 Martha Wilson (Dansko/Wheelworks/IF)                           43
25 Linda Luther (NHCC/Team NH)                                    42
26 Amanda Moore                                                   40
 
Men 4/5 (u32)
 
1 Michael Root (NCC / BikeReg.com)                               251
2 Eric Kenney (Boston Bicycling Club)                            227
3 Matthew Gilman (CRCA)                                          220
4 Mark Nathe                                                     211
5 Dan Cassidy                                                    210
6 Jake Hollenbach                                                200
7 Marc Norwick                                                   197
8 Cory Burns                                                     190
9 Scott Cole                                                     189
10 Eric Tremble                                                  175
11 Brad Sheehan (NHCC)                                           174
12 Damon Parke                                                   173
13 Petr Huppert (CRCA/Metro Sanchez)                             171
14 Chris Hrenko (Onion River Sports)                             165
15 Edward C. King (Bath Bikeman)                                 156
16 David Donnelly (Bowdoin College)                              153
17 Ryan Eckel (Century Road Club Association)                    153
18 William Dillon (GMBC)                                         150
19 Dan Vaillancourt (SMCC)                                       146
20 Pj Telep (Mad River Riders)                                   140
21 Nick Hight-Huf                                                139
22 Edgardo Torres                                                138
23 Christopher Mina (NECSA)                                      138
24 Charles Mccarthy (Independent Fabrication)                    135
25 Lucas Jenson (Catamount Cycling Club)                         134
26 Tom Gosselin (Maine Cycling Club)                             134
27 Justin Brown                                                  131
28 Ian Everard (Velocity Racing)                                 130
29 Chris Curven (Killington Pico Cycling Club)                   125
30 Aaron Molloy (New England Trek MTB Team)                      124
31 Ian Strever (Bethel Cycling Team)                             123
32 James Thomas (Gear Works Cyclery/MSCC)                        122
33 Jamie Belchak (KPCC/True Wheels)                              122
34 William Ross (Colavita)                                       120
35 David Smith (Team Run Media/CRCA)                             118
36 Josh Nothwang                                                 118
37 Samuel Pickman (Team Castarama)                               118
38 Ryan Themig (B2C/Community)                                   118
39 Chris Gagne (Belmont Wheelworks)                              118
40 Brett Durham (DreamBikes Cycling Club)                        118
41 Bill Bronk (Catamount Family Center)                          118
42 Joseph Brazil (CRCA)                                          118
43 Christopher Green                                             118
44 Anthony Santamaria                                             93
45 Travis Voyer (Catamount)                                       72
46 Istvan Benyei (Tarrytown Cycle Club)                           58
47 Charles Goldman (Portland Velo Club)                           58
48 Matt Wilson (The Bicycle Link)
 
Men 4/5 (32+) 
 
1 Stewart Campbell (New Hampshire Cycling Club)                  252
2 David Taylor (CRCA - Renaissance)                              230
3 Mark Gosselin (Northeast Bicycle Club)                         226
4 Paul Mcdonnell (CBRC)                                          221
5 Massimiliano Accaputo (Exposition Wheelmen)                    202
6 Paul Oram                                                      202
7 Michael Allaire (Kissena)                                      195
8 John Vickery (Mad River Bike Club)                             192
9 Pascal Sauvayre (CRCA/Setanta)                                 185
10 David Connery (Boston Bicycle Club)                           183
11 David F. Keefe (Boston Bicycle Club)                          183
12 Giovanni Marzot (NEBC/Cycle Loft)                             183
13 Mark Sumner (Capital Bicycle Racing Club)                     183
14 Rich Marquardt (NHCC/Team NH)                                 174
15 Mark Dakoulas (Killington/Pico)                               170
16 Paul Nyberg (Eastern Bloc/ Benidorm Bike)                     169
17 Todd Cassan (Unatttached)                                     167
18 Thomas Butler (CBRC)                                          161
19 Eric Tanner (NHCC/TEAM NH)                                    156
20 Michael Tucker (BCA/TOSK)                                     152
21 Mike Kavanaugh (Mad River Riders)                             150
22 Brad Ek (NH Cycling Club)                                     149
23 Jeffrey Lafrance (Bethel Cycle Sport)                         146
24 Walter Conley (CCB/Volkswagen)                                137
25 Jeffrey Payton (Century Road Club of America)                 132
26 John Joseph Freitas (GMBC/Invensys)                           127
27 Derck Sturgeon                                                125
28 John Schwarz                                                  124
29 Greg Fiore (CRCA/Kaplan)                                      121
30 Noah Greenhill (Kissena)                                      120
31 Scott Relihan (CCB/Volkswagon)                                120
32 Andrew Parsons (BRC/Vintage)                                  120
33 Tom Luther (NHCC/Team NH)                                     120
34 Matt Spence (GMBC/Invensys)                                   120
35 Edward Lis (Team ROAR)                                        120
36 Steven Bonadio (NEBC/Cycle Loft)                               62
37 Alan Lesage (GMBC)
 
Junior Men U19 
 
1 Jamey Driscoll (GMBC/Invensys)                                 260
2 Jean-Luc Pilote (Espoirs de Laval)                             258
3 Jeff Buckles (Northeast Regional Team)                         240
4 Frantois Sztuke (Quebec cycling team)                          229
5 Keith Jennings (Northeast Regional Team)                       224
6 Xavier Nadeau (Espoirs de Laval)                               187
7 Scott Maislin (Northeast Regional Team)                        186
8 Sam Silver (Northeast Regional Team)                           185
9 Charly Vives (Espoirs de Laval)                                176
10 Benjamin Zawacki (NH Junior Cycling Academy)                  176
11 Noah Harwood (NHJCA/Managed ops.com)                          162
12 Dan Clarke (Newmarket Eagles)                                 155
13 Adam Synder (Team BalanceBar Devo)                            149
14 Maxime Desrochers (Espoirs de Laval)                          148
15 Raphael Tremblay (Espoirs de Laval)                           142
16 Sam Benson (team BalanceBar Devo)                             133
17 David Roy (Espoirs de Laval)                                  121
18 Alex Ferrero (NHJCA Team Managed Ops)                         115
19 Merlin Poutre (Northeast Regional Team)                       114
20 Kyle Drennen (Team Grimace)                                   107
21 Geoff Curfman (Northeast Regional Team)                       103
22 Christian Nooney (GMBC/Invensys)                               41
 
Men Master 30+ 
 
1 Ian Beilby (GMBC/Invensys)                                     251
2 Bill Yabroudy (AFD/OSVC)                                       231
3 Kevin Dutt (ProCycles)                                         225
4 Roger Aspholm (ThinkRacing)                                    216
5 Troy Kimball (Westwood Velo Cycling Team)                      209
6 Stefan Bumbeck (Onion River Sports)                            203
7 Jason Rossi (AFD/OSVC)                                         197
8 William Crecelius                                              194
9 Joseph P. Regan (Laurel Bicycle Club)                          184
10 David Ricklefs (Onion River Sports)                           181
11 Eric Juzysta (GMBC/Invensys)                                  180
12 Michael Shore (BOB)                                           178
13 Robert Mann (KHS CANADA)                                      175
14 Michael M. Moore (Gears Racing.Com)                           170
15 Brian Rabuse (BCA/Tosk)                                       167
16 Paul Migner (Medicosportif-Cyc.GervaisRioux-RP)               161
17 Andrew Brewer (Onion River Sports)                            158
18 Ed Makarchuk (HRT)                                            156
19 Anthony Weller (GMBC)                                         150
20 Stephen Spanbauer (LOUISVILLE)                                149
21 Tobi Schultze (IBC)                                           148
22 Philip Coldrey Lo (Sportable)                                 146
23 Abdul H Kabia (CTS/Cranford)                                  145
24 Wade Summers (WebEvent.com / HVVC)                            136
25 Dave Ebeling (WebEvent.com)                                   136
26 John Stonebarger (DreamBikes)                                 126
27 Chris Cover (Onion River Sports)                              126
28 Stephen Kocik (Flying Rhino Cycling Club)                     120
29 Kurt Gustafsson (CRCA-SBCG)                                   119
30 Eric Menard (M?dico Sportif/Argon 18)                         117
31 Jonathan Babington (AFD/OSVC)                                 116
32 Craig Schaepe (NHCC)                                          116
33 Michael Cavros (AFD/OSVC)                                     116
34 John Tomlinson (Century-SBCG)                                 116
35 Jay Provencher (Onion River Sports)                           116
36 Alan Potter (AFD/OSVC)                                         64
37 Byron Holt (GMBC/Invensys)                                     56
38 Matthew King (GMBC/Invensys)                                   56
39 Chris Lussier (GMBC/Invensys)                                  56
40 Shawn Standen (Onion River Sports)                             56
41 Derek Zisk (AFD/OSVC)                                          56
 
Men Master 40+ 
 
1 John Mckone (GMBC/Invensys)                                    232
2 Todd Buckley (Arc-En-Ceil)                                     231
3 Jeffrey Fisher (Rainbow Bikes / MCC)                           231
4 Doug O'Neill (CTS)                                             220
5 David Kellogg (Arc-En-Ceil)                                    219
6 Colman O'Connor (NEBC/Cycle Loft)                              214
7 William Caligari (Berkshire Cycling Association)               210
8 Randy Rusk (Arc-En-Ciel)                                       202
9 Rick Sorenson (E-Caps/Hammergel)                               199
10 Hank Pfeifle (So. Maine Cycling Club)                         193
11 Glenn Swan (Cranford Bike Club/CTS)                           189
12 Bill Emerson                                                  169
13 Mark Luzio (Arc-En-Ceil)                                      147
14 Geoffrey House (bca/tosk)                                     132
15 Philip Beliveau (GMBC/Invensys)                               128
16 Mark Wolowiec (Flying Rhino Cycling Club)                     123
17 John Macleod (Arc en Ciel)                                    123
18 Tim Lung (Power/MAMA)                                         116
19 Tim Huneck (CK Cycles/CBRC)                                   112
20 Brett Rutledge (Arc-En-Ceil)                                  108
21 Carl White (GMBC)                                             107
22 Robin Bolduc (V?lo Sommet Cycling Club)                       103
23 Jody Dean (Minuteman Road Club)                               102
24 Benjamin W. Haydock (GMBC/Invensys)                            64
25 John Grenier (Rainbow Bike/Maine Cycling Club)                 49
 
Men Master 50+ 
 
1 David Rath (Team GMBC/Invensys)                                271
2 Timothy G. Rollings (ERA Cycyling)                             248
3 James Fraser (Zephyr Cycling Club)                             237
4 Reb Cole (CTS/Cranford)                                        232
5 Gord Clarke (Newmarket Eagles Cycling Club)                    222
6 Dave Viney (Team Hardwood)                                     192
7 Stephen Simpson (CTS)                                          186
8 Doug Corner (West Of Quebec Wheelers)                          174
9 Michael Goodrich (Catamount Cycling Club)                      171
10 James Rosen (GMBC/Invensys)                                   171
11 Richard Martin (Masters Velo)                                 169
12 Arthur Leblanc (Sunapee-Banagans Bike Club)                   167
13 James Boudreau (Masters Velo Club)                            166
14 Chip Berezny (Bike Line/LWA)                                  157
15 Eddie Luban (Onondaga Cycling Club)                           154
16 Attilio Nicosia (Buffalo Bicycling Club)                      152
17 Allan Bates (BCA/Tosk)                                        146
18 James Themig (Mystic Velo Club)                               141
19 Grant Strahl (Newmarket Cycling Club)                         133
20 Steven Heath (Masters Velo Club)                              125
21 Robert Clifford (Global Locate / Sony Music)                  108
22 Clive Woakes (Competitive Edge/Amherst Racing)                 71
23 Arthur Berger (CRCA/Mya Shoji)                                 55
24 Ted Cronin (Unattached)                                        35
25 Justin Crocker (GMBC)                                          25