Trofeo Alfredo Binda - Comune di Cittiglio - CDM
Italy, March 29, 2009
Vos wins World Cup opener
By Peter Hymas
Marianne Vos (Netherlands National Team) was fresh enough to claim victory
Photo ©: Davide Tricarico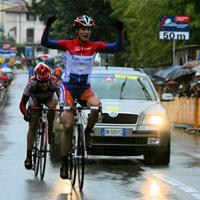 Marianne Vos, the versatile, multi-world champion Dutch rider, has won the Trofeo Alfredo Binda in Cittiglio, Italy, the first round of the Women's World Cup . Vos outsprinted breakaway companion Emma Johansson (Red Sun Cycling Team) in miserable, rainy conditions, finishing more than three and a half minutes ahead of Beijing Olympic time trial champion Kristin Armstrong (Cervelo TestTeam), who outsprinted Eva Lutz (Equipe Nürnberger Versicherung) to round out the final podium position.
A much depleted field of 49 women crossed the finish line a further 41 seconds after Armstrong and Lutz on a day which saw 81 riders abandon.
Defending champion Emma Pooley (Cervelo TestTeam) attacked 11 kilometres into the race on the first ascent of the climb to Brinzio and would reach a maximum advantage of 1:30 to the field. After riding solo in the treacherous conditions for more than 80 kilometres, Pooley would be caught by a select chase group of approximately 30 riders after 92 kilometers of racing.
Only one kilometer after Pooley was brought back, Vos and Johansson attacked and would never be seen again by the field. Armstrong responded on her own and would close to within eight seconds of the leading duo with 20 kilometres remaining, but was unable to make contact. Lutz escaped from the field and would bridge to Armstrong with approximately 10 kilometres left in the race, but the leading pair's margin had extended out to 1:22 when Lutz made contact.
Vos and Johansson would further extend their lead to the chasing duo over the difficult climb and descent in the closing five kilometres while Armstrong and Lutz were able to maintain their lead over the field and sprint for third place.
Photography
For a thumbnail gallery of these images, click here
Images by Davide Tricarico/ladiescycling.net
Results
1 Marianne Vos (Ned) Netherlands National Team               3.18.02  (36.350 km/h)
2 Emma Johansson (Swe) Red Sun Cycling Team                         
3 Kristin Armstrong (USA) Cervelo TestTeam                      3.34
4 Eva Lutz (Ger) Equipe Nürnberger Versicherung                     
5 Kirsten Wild (Ned) Cervelo TestTeam                           4.15
6 Loes Gunnewijk (Ned) Team Flexpoint                               
7 Suzanne De Goede (Ned) Equipe Nürnberger Versicherung             
8 Chantal Blaak (Ned) Netherlands National Team                     
9 Marina Jaunatre (Fra) French National Team                        
10 Martine Bras (Ned) Selle Italia Ghezzi                           
11 Cathrine Delfosse (Bel) Lotto-Belisol Ladiesteam                 
12 Andrea Bosman (Ned) Netherlands National Team                    
13 Sophie Creux (Fra) ESGL 93 - GSD Gestion                         
14 Linda Villumsen (Den) Team Columbia-Highroad Women               
15 Julia Martisova (Rus) Gauss RDZ Ormu - Colnago                   
16 Alona Andruk (Ukr) Safi -Pasta Zara Titanedi                     
17 Grace Verbeke (Bel) Lotto-Belisol Ladiesteam                     
18 Sarah Düster (Ger) Cervelo TestTeam                              
19 Annemiek Van Vleuten (Ned) Netherlands National Team             
20 Alice Marmorini (Ita) Fenixs                                     
21 Vicki Whitelaw (Aus) Vision 1 Racing                             
22 Tania Belvederesi (Ita) Gauss RDZ Ormu - Colnago                 
23 Marta Vila Josana Andreu (Spa) Team Dila' Kuota                  
24 Ludivine Henrion (Bel) Red Sun Cycling Team                      
25 Nicole Brändli (Swi) Bigla Cycling Team                          
26 Kristin McGrath (USA) US National Team                           
27 Christel Ferrier-Bruneau (Fra) Vision 1 Racing                   
28 Susanne Ljungskog (Swe) Team Flexpoint                           
29 Evelyn Arys (Bel) Lotto-Belisol Ladiesteam                       
30 Martina Ruzickova (Cze) Team Uniqa - ELK                         
31 Noemi Cantele (Ita) Bigla Cycling Team                           
32 Jennifer Hohl (Swi) Bigla Cycling Team                           
33 Elena Berlato (Ita) Safi -Pasta Zara Titanedi                    
34 Rosane Kirk (Bra) S.C. Michela Fanini Record Rox                 
35 Christiane Soeder (Aut) Cervelo Testteam                         
36 Claudia Häusler (Ger) Cervelo TestTeam                           
37 Inga Cilvinaite (Ltu) Safi -Pasta Zara Titanedi                  
38 Eleonora Patuzzo (Ita) Safi -Pasta Zara Titanedi                 
39 Trixi Worrack (Ger) Equipe Nürnberger Versicherung               
40 Anne Karin (Swe) Fenixs                                          
41 Daniela Pintarelli (Aut) Team Uniqa - ELK                        
42 Chantal Beltman (Ned) Team Columbia-Highroad Women               
43 Fabiana Luperini (Ita) Selle Italia Ghezzi                       
44 Lea Davison (USA) US National Team                               
45 Modesta Vzesniauskaite (Ltu) Bigla Cycling Team                  
46 Martina Corazza (Ita) Gauss RDZ Ormu - Colnago                   
47 Bianca Knopfle (Ger) Equipe Nürnberger Versicherung              
48 Luise Keller (Ger) Team Columbia-Highroad Women                  
49 Edita Unguryte (Ltu) USC Chirio Forno d'Asolo                    
50 Oxana Kozonchuk (Rus) Selle Italia Ghezzi                        
51 Sigrid Corneo (Slo) Selle Italia Ghezzi                          
52 Petra Dijkman (Ned) Red Sun Cycling Team                         
53 Emma Pooley (GBr) Cervelo Testteam                               
DNF Nicole Cooke (GBr) Vision 1 Racing                              
DNF Katherine Bates (Aus) Team Columbia-Highroad Women              
DNF Marlen Johrend (Ger) Equipe Nürnberger Versicherung             
DNF Bettina Kuhn (Swi) Bigla Cycling Team                           
DNF Karin Thürig (Swi) Bigla Cycling Team                           
DNF Gloria Presti (Ita) Selle Italia Ghezzi                         
DNF Marina Romoli (Ita) Selle Italia Ghezzi                         
DNF Emanuela Azzini (Ita) Gauss RDZ Ormu - Colnago                  
DNF Eleonora Suelotto (Ita) Gauss RDZ Ormu - Colnago                
DNF Trine Schmidt (Den) Team Flexpoint                              
DNF Iris Slappendel (Ned) Team Flexpoint                            
DNF Paulina Brzezna (Pol) Red Sun Cycling Team                      
DNF Mascha Pijnenborg (Ned) Red Sun Cycling Team                    
DNF Laure Werner (Bel) Red Sun Cycling Team                         
DNF Iturriagaechevarria Eneritz Mazaga                              
DNF Diana Ziliute (Ltu) Safi -Pasta Zara Titanedi                   
DNF Debby Van den Berg (Ned) Vision 1 Racing                        
DNF Gabriella Day (GBr) Vision 1 Racing                             
DNF Aurore Verhoeven (Fra) Vision 1 Racing                          
DNF Elise Depoorter (Bel) Lotto-Belisol Ladiesteam                  
DNF Rochelle Gilmore (Aus) Lotto-Belisol Ladiesteam                 
DNF Kim Schoonbaert (Bel) Lotto-Belisol Ladiesteam                  
DNF Edita Pucinskaite (Ltu) Team Dila' Kuota                        
DNF Alice Donadoni (Ita) Team Dila' Kuota                           
DNF Saneila Biagi (Ita) Team Dila' Kuota                            
DNF Francesca Faustini (Ita) Team Dila' Kuota                       
DNF Silvia Tirado Marquez (Spa) Team Dila' Kuota                    
DNF Daiva Tuslaite (Ltu) USC Chirio Forno d'Asolo                   
DNF Egle Zablockyte (Ltu) USC Chirio Forno d'Asolo                  
DNF Clemilda Fernandes (Bra) USC Chirio Forno d'Asolo               
DNF Venia Fernandes (Bra) USC Chirio Forno d'Asolo                  
DNF Edita Janeliunaite (Ltu) USC Chirio Forno d'Asolo               
DNF Natalia Boyarskaya (Rus) Fenixs                                 
DNF Urte Juodvalkyte (Ltu) Fenixs                                   
DNF Catherine Williamson (GBr) Fenixs                               
DNF Nadejda Vlasova (Rus) Fenixs                                    
DNF Erika Vilunaite (Ltu) S.C. Michela Fanini Record Rox            
DNF Flavia Oliveira (USA) S.C. Michela Fanini Record Rox            
DNF Carmen Mc Nellis (USA) S.C. Michela Fanini Record Rox           
DNF Carly Hibberd (Aus) S.C. Michela Fanini Record Rox              
DNF Giulia Lazzerini (Ita) S.C. Michela Fanini Record Rox           
DNF Bernadette Schober (Aut) Team Uniqa - ELK                       
DNF Manuela Grunzweil (Aut) Team Uniqa - ELK                        
DNF Stefanie Degle (Ger) Team Uniqa - ELK                           
DNF Valentina Carretta (Ita) Top Girls Fassa Bortolo Raxy Line      
DNF Chiara Rozzini (Ita) Top Girls Fassa Bortolo Raxy Line          
DNF Alessandra d'Ettorre (Ita) Top Girls Fassa Bortolo Raxy Line    
DNF Jennifer Fiori (Ita) Top Girls Fassa Bortolo Raxy Line          
DNF Laura Pisaneschi (Ita) Top Girls Fassa Bortolo Raxy Line        
DNF Francesca Tognali (Ita) Top Girls Fassa Bortolo Raxy Line       
DNF Hanna Amend (Ger) German National Team                          
DNF Virginia Hennig (Ger) German National Team                      
DNF Jana Schemmer (Ger) German National Team                        
DNF Anna Bianca Schnitzmeier (Ger) German National Team             
DNF Denise Zuckermandel (Ger) German National Team                  
DNF Adrie Visser (Ned) Netherlands National Team                    
DNF Monique Van De Ree (Ned) Leontien.nl                            
DNF Ally Stacher (USA) US National Team                             
DNF Jessica Phillips (USA) US National Team                         
DNF Emmanuelle Merlot (Fra) French National Team                    
DNF Béatrice Thomas (Fra) French National Team                      
DNF Melanie Bravard (Fra) French National Team                      
DNF Audrey Cordon (Fra) French National Team                        
DNF Sophie Creux (Fra) French National Team                         
DNF Ine Beyen (Bel) Belgian National Team                           
DNF Sjoukje Dufoer (Bel) Belgian National Team                      
DNF Maaike Polspoel (Bel) Belgian National Team                     
DNF Tine Ghyselinck (Bel) Belgian National Team                     
DNF Loes Sels (Bel) Belgian National Team                           
DNF Katrien Van Looy (Bel) Belgian National Team                    
DNF Polona Batagelj (Slo) Slovenian National Team                   
DNF Ziva Verbic (Slo) Slovenian National Team                       
DNF Andreja Godec (Slo) Slovenian National Team                     
DNF Tjasa Rutar (Slo) Slovenian National Team                       
DNF Alenka Novak (Slo) Slovenian National Team                      
DNF Ajda Opeka (Slo) Slovenian National Team                        
DNF Monika Kiraly (Hun) Hungarian National Team                     
DNF Anita Kenyo (Hun) Hungarian National Team                       
DNF Simon Veronika Katonane (Hun) Hungarian National Team           
DNF Sara Vidakovich (Hun) Hungarian National Team                   
DNF Adrienn Gyurjan (Hun) Hungarian National Team