24th Tour de Beauce - 2.2
Canada, June 9-14, 2009
Main Page Results Overall standings Previous Stage Next Stage
Stage 2 - June 10: Thetford Mines - Thetford Mines, 161 km
Lapthorne takes comeback victory
By Greg Johnson
Darren Lapthorne (Rapha Condor) wins stage
Photo ©: Jerome Lessard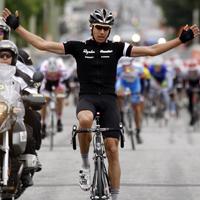 Darren Lapthorne (Rapha Condor) has claimed his first victory since returning to the sport at Canada's Tour de Beauce, resisting attempts by a surging peloton to recapture him. The Australian rider lifted the pace with two kilometres remaining and held a mere one hundred metre gap to the finish line.
The Victorian broke away 31.5 kilometres into the 161 kilometre stage, which was made all the more challenging by fog and damp conditions. Peter Stetina (Felt-Holowesko Partners-Garmin) was allowed off the front of the peloton with Lapthorne as he attacked.
The two men stayed ahead alone for 10 kilometres, until Canadian rider Phillip Cortes (Garneau-Club Chaussure) successfully bridged across to what become a lasting move.
Rider one: 'Has a break gone away yet mate?', rider two responds: 'I wouldn't have the foggiest idea mate'.
Photo ©: Jerome Lessard

Racing was brought to a stand still for nearly six minutes following the day's third climb. A wooden bridge following the descent was deemed too slippery to race across, so officials stopped the leaders while the peloton caught up and crossed the bridge. The three riders were then sent ahead by the same margin they'd started with as racing re-commenced.
His Beauce victory is Lapthorne's first at an International Cycling Union-ranked event since returning at January's Jayco Bay Series. Lapthorne, a former Australian Open Road Champion, had considered leaving the sport permanently after putting his career on hold to join father Dale search for sister Britt in Croatia after she went missing last September. Britt's body was later recovered floating off a resort in Croatia, but mystery continues to surround the circumstances of her death.
Swiss rider Danilo Wyss (BMC Racing Team) continues to lead the race overall.
Photography
For a thumbnail gallery of these images, click here
Images by Jerome Lessard
Results
1 Darren Lapthorne (Aus) Rapha Condor                 4.01.22 (40.022 km/h)
2 Phillip Cortes (Can) Garneau-Club Chat                 0.03
3 Peter Stetina (USA) Felt-Holowesko Partners                
4 Dionne Charles (Can) Fly V Australia                       
5 Danilo Wyss (Swi) BMC Racing Team                          
6 Alex Candelario (USA) Kelly Benefit Strategies             
7 Bernard Sulzberger (Aus) Fly V Australia                   
8 Martin Gilbert (Can) Planet Energy                         
9 William Munoz (Col) Colombian National Team                
10 Darren Lill (RSA) Team Type 1                             
11 Raymond Kreder (Ned) Felt-Holowesko Partners              
12 Mathew Cronshaw (GBr) Rapha Condor                        
13 Antonio Cruz (USA) BMC Racing Team                        
14 Steve Bovay (Swi) BMC Racing Team                         
15 Chad Beyer (USA) BMC Racing Team                          
16 Simon Lambert-Lemay (Can) Team Quebec                     
17 Martin Kohler (Swi) BMC Racing Team                       
18 James Stewart (GBr) Kuk-Kinesis                           
19 Timothy Henry (USA) DLP Racing                            
20 James Moss (GBr) Kuk-Kinesis                              
21 Janis Rezins (Lat) Latvian National Team                  
22 Alex Howes (USA) Felt-Holowesko Partners                  
23 Benjamin Day (Aus) Fly V Australia                        
24 Benjamin King (USA) Trek Livestrong                       
25 Tom Southam (GBr) Rapha Condor                            
26 Jarlinson Pantano (Col) Colombian National Team           
27 Camilo Suarez (Col) Colombian National Team               
28 Otavio Bougarelli (Bra) Garneau-Club Chat                 
29 Derrick St-John (Can) Garneau-Club Chat                   
30 Ugo Lapierre (Can) Team Quebec                            
31 William Rodriguez (Col) Colombian National Team           
32 Christopher Jones (USA) Team Type 1                       
33 Ryan Roth (Can) Planet Energy                             
34 Bjorn Selanler (USA) Trek Livestrong                      
35 Simon Richardson (GBr) Rapha Condor                       
36 Neil Shirley (USA) Kelly Benefit Strategies               
37 Steve Lampier (GBr) Kuk-Kinesis                           
38 Dan Craven (GBr) Rapha Condor                             
39 Raphael Gagne (Can) Team Quebec                           
40 San Bewley (NZl) Trek Livestrong                          
41 Valeriy Kobzarenko (Ukr) Team Type 1                      
42 Darwin Atapuma (Col) Colombian National Team              
43 Moises Aldape Chavez (Mex) Team Type 1                    
44 Keven Lacombe (Can) Planet Energy                         
45 Aroussen Laflamme (Can) Garneau-Club Chat                 
46 Sergio Luis Henao (Col) Colombian National Team           
47 William Goodfellow (Can) Team Quebec                      
48 Scott Davis (Aus) Fly V Australia                         
49 Charlie Bryer (Can) Canada National Team                  
50 Jonathan Garcia (USA) BMC Racing Team                     
51 Guy East (USA) Trek Livestrong                            
52 Clay Murfet (Aus) Kelly Benefit Strategies                
53 David Veilleux (Can) Kelly Benefit Strategies             
54 Andris Smirnovs (Lat) Latvian National Team               
55 Phillip Zajicek (USA) Fly V Australia                     
56 Robert Wardell (GBr) Kuk-Kinesis                          
57 Caleb Fairly (USA) Felt-Holowesko Partners                
58 Jesse Sergent (NZl) Trek Livestrong                       
59 Ian Macgregor (USA) Team Type 1                           
60 Ryan Belliveau (Can) Canada National Team                 
61 Cody Campbell (Can) Trek Livestrong                       
62 Jacob Erker (Can) Kelly Benefit Strategies                
63 Peter Salon (USA) Felt-Holowesko Partners                 
64 Jackson Stewart (USA) BMC Racing Team                     
65 Hayden Brooks (Aus) Fly V Australia                       
66 Casey Munro (Aus) Kuk-Kinesis                             
67 Bruno Langlois (Can) Planet Energy                        
68 Scott Zwizanski (USA) Kelly Benefit Strategies            
69 Jamie Riggs (Can) Canada National Team                    
70 Andre Tremblay (Can) Team Quebec                          
71 Ben Greenwood (GBr) Rapha Condor                          
72 Jonathan Mumford (USA) Kelly Benefit Strategies           
73 Bryson Bowers (Can) Canada National Team                  
74 Bazzanna Alesandro (Ita) Fly V Australia                  
75 Matthew Bell (Can) Canada National Team                   
76 Ryan Baumann (USA) Trek Livestrong                        
77 Matt Wilson (Aus) Team Type 1                             
78 Guillaume Boivin (Can) Team Quebec                        
79 Jean-Francois Racine (Can) Garneau-Club Chat              
80 Jean-Sebastien Perron (Can) Team Quebec                   
81 Walker Savidge (USA) Felt-Holowesko Partners              
82 Steven Gordon (USA) DLP Racing                        2.44
83 Eric Boily (Can) Planet Energy                        3.03
84 Mark Bathy (Can) Planet Energy                            
85 Francois Parisien (Can) Planet Energy                     
86 Cameron Evans (Can) Canada National Team              0.03
87 Jeffery Schiller (Can) Garneau-Club Chat              4.32
88 Kristian House (GBr) Rapha Condor                     5.16
89 Daniel Summerhill (USA) Felt-Holowesko Partners       6.01
90 Gatis Smukulis (Lat) Latvian National Team                
DNF Scott Tietzel (USA) DLP Racing                           
DNF Phillip Martz (USA) DLP Racing                           
DNS Indulis Bekmanis (Lat) Latvian National Team             
 
Teams
 
1 Rapha Condor                                       12.04.12
2 BMC Racing Team                                        0.03
3 Fly V Australia                                            
4 Felt-Holowesko Partners-Garmin U                           
5 Garneau-Club Chaussure                                     
6 Colombia National Team                                     
7 Kuk-Kinesis                                                
8 Team Type 1                                                
9 Planet Energy                                              
10 Team Quebec                                               
11 Kelly Benefit Strategies                                  
12 Trek Livestrong                                           
13 Canadian National Team                                    
14 Latvian National Team                                 6.01
 
General Classification after Stage 2
 
1 Danilo Wyss (Swi) BMC Racing Team                   7.58.15
2 Darren Lill (RSA) Team Type 1                          0.07
3 Ryan Roth (Can) Planet Energy                          0.09
4 Benjamin Day (Aus) Fly V Australia                     0.13
5 Scott Zwizanski (USA) Kelly Benefit Strategies             
6 Tom Southam (GBr) Rapha Condor                         0.16
7 Chad Beyer (USA) BMC Racing Team                       0.59
8 Guy East (USA) Trek Livestrong                         1.01
9 Bernard Sulzberger (Aus) Fly V Australia               1.20
10 Derrick St-John (Can) Garneau-Club Chat               1.33
11 Christopher Jones (USA) Team Type 1                       
12 Darwin Atapuma (Col) Colombian National Team          1.34
13 Sergio Luis Henao (Col) Colombian National Team           
14 Darren Lapthorne (Aus) Rapha Condor                   4.29
15 Peter Stetina (USA) Felt-Holowesko Partners           4.35
16 Dionne Charles (Can) Fly V Australia                  4.45
17 Alex Candelario (USA) Kelly Benefit Strategies            
18 Antonio Cruz (USA) BMC Racing Team                        
19 Steve Bovay (Swi) BMC Racing Team                         
20 Jarlinson Pantano (Col) Colombian National Team           
21 Alex Howes (USA) Felt-Holowesko Partners                  
22 Martin Kohler (Swi) BMC Racing Team                       
23 Otavio Bougarelli (Bra) Garneau-Club Chat                 
24 Benjamin King (USA) Trek Livestrong                       
25 Martin Gilbert (Can) Planet Energy                        
26 Timothy Henry (USA) DLP Racing                            
27 William Rodriguez (Col) Colombian National Team           
28 Simon Richardson (GBr) Rapha Condor                       
29 Neil Shirley (USA) Kelly Benefit Strategies               
30 Jonathan Garcia (USA) BMC Racing Team                     
31 Valeriy Kobzarenko (Ukr) Team Type 1                      
32 Bjorn Selanler (USA) Trek Livestrong                      
33 Andris Smirnovs (Lat) Latvian National Team               
34 Scott Davis (Aus) Fly V Australia                         
35 Moises Aldape Chavez (Mex) Team Type 1                    
36 Dan Craven (GBr) Rapha Condor                             
37 Keven Lacombe (Can) Planet Energy                         
38 Jackson Stewart (USA) BMC Racing Team                     
39 Casey Munro (Aus) Kuk-Kinesis                             
40 Jacob Erker (Can) Kelly Benefit Strategies                
41 Phillip Zajicek (USA) Fly V Australia                     
42 David Veilleux (Can) Kelly Benefit Strategies             
43 Bruno Langlois (Can) Planet Energy                        
44 Caleb Fairly (USA) Felt-Holowesko Partners                
45 Ian Macgregor (USA) Team Type 1                           
46 Matthew Bell (Can) Canada National Team                   
47 Bazzanna Alesandro (Ita) Fly V Australia                  
48 Jamie Riggs (Can) Canada National Team                    
49 Cameron Evans (Can) Canada National Team                  
50 Matt Wilson (Aus) Team Type 1                             
51 Ben Greenwood (GBr) Rapha Condor                      6.48
52 Peter Salon (USA) Felt-Holowesko Partners             7.36
53 Jean-Sebastien Perron (Can) Team Quebec                   
54 Francois Parisien (Can) Planet Energy                 7.45
55 William Munoz (Col) Colombian National Team           8.18
56 Kristian House (GBr) Rapha Condor                     9.58
57 Gatis Smukulis (Lat) Latvian National Team           10.43
58 James Moss (GBr) Kuk-Kinesis                         13.52
59 James Stewart (GBr) Kuk-Kinesis                           
60 Janis Rezins (Lat) Latvian National Team                  
61 Ryan Belliveau (Can) Canada National Team                 
62 Jonathan Mumford (USA) Kelly Benefit Strategies           
63 Phillip Cortes (Can) Garneau-Club Chat               17.41
64 Mathew Cronshaw (GBr) Rapha Condor                   17.50
65 Ugo Lapierre (Can) Team Quebec                            
66 Raphael Gagne (Can) Team Quebec                           
67 Aroussen Laflamme (Can) Garneau-Club Chat                 
68 Steve Lampier (GBr) Kuk-Kinesis                           
69 William Goodfellow (Can) Team Quebec                      
70 Charlie Bryer (Can) Canada National Team                  
71 San Bewley (NZl) Trek Livestrong                          
72 Clay Murfet (Aus) Kelly Benefit Strategies                
73 Hayden Brooks (Aus) Fly V Australia                       
74 Andre Tremblay (Can) Team Quebec                          
75 Cody Campbell (Can) Trek Livestrong                       
76 Jesse Sergent (NZl) Trek Livestrong                       
77 Bryson Bowers (Can) Canada National Team                  
78 Jean-Francois Racine (Can) Garneau-Club Chat              
79 Guillaume Boivin (Can) Team Quebec                        
80 Daniel Summerhill (USA) Felt-Holowesko Partners      19.50
81 Mark Bathy (Can) Planet Energy                       20.50
82 Eric Boily (Can) Planet Energy                            
83 Simon Lambert-Lemay (Can) Team Quebec                26.31
84 Raymond Kreder (Ned) Felt-Holowesko Partners         30.36
85 Camilo Suarez (Col) Colombian National Team               
86 Robert Wardell (GBr) Kuk-Kinesis                          
87 Walker Savidge (USA) Felt-Holowesko Partners              
88 Steven Gordon (USA) DLP Racing                       33.17
89 Jeffery Schiller (Can) Garneau-Club Chat             35.05
90 Ryan Baumann (USA) Trek Livestrong                   38.21
 
Points classification
 
1 Danilo Wyss (Swi) BMC Racing Team                        29 pts
2 Bernard Sulzberger (Aus) Fly V Australia                 21
3 Darren Lill (RSA) Team Type 1                            30
4 Peter Stetina (USA) Felt-Holowesko Partners              19
5 Darren Lapthorne (Aus) Rapha Condor                      18
6 Phillip Cortes (Can) Garneau-Club Chat                   17
7 Ryan Roth (Can) Planet Energy                            13
8 Benjamin Day (Aus) Fly V Australia                       12
9 Chad Beyer (USA) BMC Racing Team                         12
10 Dionne Charles (Can) Fly V Australia                    12
11 Scott Zwizanski (USA) Kelly Benefit Strategies          11
12 Alex Candelario (USA) Kelly Benefit Strategies          11
13 Tom Southam (GBr) Rapha Condor                          10
14 Guy East (USA) Trek Livestrong                           8
15 Martin Gilbert (Can) Planet Energy                       8
16 William Munoz (Col) Colombian National Team              7
17 Sergio Luis Henao (Col) Colombian National Team          6
18 Derrick St-John (Can) Garneau-Club Chat                  6
19 Raymond Kreder (Ned) Felt-Holowesko Partners             5
20 Darwin Atapuma (Col) Colombian National Team             4
21 Christopher Jones (USA) Team Type 1                      4
22 Mathew Cronshaw (GBr) Rapha Condor                       4
23 Antonio Cruz (USA) BMC Racing Team                       3
24 Jarlinson Pantano (Col) Colombian National Team          2
25 Steve Bovay (Swi) BMC Racing Team                        2
 
Mountains classification
 
1 Chad Beyer (USA) BMC Racing Team                         31 pts
2 Scott Zwizanski (USA) Kelly Benefit Strategies           16
3 Raymond Kreder (Ned) Felt-Holowesko Partners             14
4 Benjamin Day (Aus) Fly V Australia                       12
5 Darren Lapthorne (Aus) Rapha Condor                      10
6 Phillip Cortes (Can) Garneau-Club Chat                   10
7 Peter Stetina (USA) Felt-Holowesko Partners              10
8 Christopher Jones (USA) Team Type 1                       8
9 Guy East (USA) Trek Livestrong                            8
10 Danilo Wyss (Swi) BMC Racing Team                        5
11 Darwin Atapuma (Col) Colombian National Team             5
12 Tom Southam (GBr) Rapha Condor                           4
13 Derrick St-John (Can) Garneau-Club Chat                  4
14 Steve Bovay (Swi) BMC Racing Team                        3
15 Darren Lill (RSA) Team Type 1                            2
16 Martin Kohler (Swi) BMC Racing Team                      2
17 Phillip Zajicek (USA) Fly V Australia                    2
18 Bernard Sulzberger (Aus) Fly V Australia                 1
19 Ryan Roth (Can) Planet Energy                            1
20 Neil Shirley (USA) Kelly Benefit Strategies              1
21 Jackson Stewart (USA) BMC Racing Team                    1
 
Teams classification
 
1 BMC Racing Team                                    24.00.44
2 Fly V Australia                                        0.24
3 Team Type 1                                            0.33
4 Colombia National Team                                 1.54
5 Rapha Condor                                           3.44
6 Planet Energy                                              
7 Kelly Benefit Strategies                                   
8 Trek Livestrong                                        4.32
9 Felt-Holowesko Partners-Garmin U23                     8.16
10 Canadian National Team                                    
11 Garneau-Club Chaussure                               18.10
12 Kuk-Kinesis                                          26.30
13 Latvian National Team                                32.28
14 Team Quebec                                          37.17