24th Tour de Beauce - 2.2
Canada, June 9-14, 2009
Main Page Results Overall standings Next Stage
Stage 1 - June 9: Lac-Etchemin - Lac-Etchemin, 165 km
BMC dominates Beauce's opening day
Stage one winner Danilo Wyss (BMC Racing Team)
Photo ©: Jerome Lessard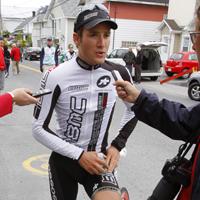 BMC Racing Team has enjoyed a strong start to its Tour de Beauce campaign, with the opening stage victory capping a successful day of racing for the squad. Swiss rider Danilo Wyss claimed BMC Racing Team its stage victory at the North American race, after out sprinting his four breakaway partners in the final sprint.
South Africa's Darren Lill (Team Type 1) took second place while Ryan Roth (Planet Energy) took a solid third place and was the highest finishing Canadian rider. Benjamin Day (Fly V Australia) and Scott Zwizanski (Kelly Benefit Strategies) filled the top five spots, while Great Britain's Tom Southam (Rapha Condor) fell off the group's rear over the closing kilometre to finish three seconds behind.
Wyss fought hard for his stage victory. The rider had missed the day's defining break, but together with a few other riders bridged across to the 10-strong lead group which included his team-mate Chad Beyer.
"With over 100 km to go, Chad had escaped with nine or 10 other riders," Wyss said. "Soon after that, Darren Lill counter-attacked and I made sure to follow his wheel since I knew he was the type of rider who could very well bridge up to the leaders."
After initiating the original breakaway 40 kilometres into the race, Beyer started collecting mountains points over the day's three climbs. Claiming the mountains classification lead wasn't a planned effort by American, but something he willingly took nonetheless.
Fly V Australia showed its cards early
Photo ©: Jerome Lessard

"I wasn't really planning on going for the mountain points, the opportunity just presented itself and I took it," Beyer said. "There were three climbs today and I was first over two and second over the other."
BMC Racing Team also leads the teams classification, with a 23 second margin over Fly V Australia. Wyss holds the points classification lead over Lill.
BMC Racing Team director Mike Sayers isn't getting ahead of himself with his outfit's success. Sayers says there's plenty of challenges ahead over the remaining six stages.
"The crit is hard, the time trial is hard and the stages are always going up and down," Sayers said. "But the guys are obviously strong so we have a lot of options to play."
With the majority of the peloton now 4:32 minutes behind, Wyss is hopeful of defending the jersey. Just 13 riders are within 1:21 minutes of Wyss.
"For the rest of the race, we'll have to see how we go about defending the jerseys," Wyss said. "We certainly promise to make it as good of a race as possible, that's for sure."
Photography
For a thumbnail gallery of these images, click here
Images by Jerome Lessard
Results
1 Danilo Wyss (Swi) BMC Racing Team                                 3.57.03
2 Darren Lill (RSA) Team Type 1                                            
3 Ryan Roth (Can) Planet Energy                                            
4 Benjamin Day (Aus) Fly V Australia                                       
5 Scott Zwizanski (USA) Kelly Benefit Strategies                           
6 Tom Southam (GBr) Rapha Condor                                       0.03
7 Chad Beyer (USA) BMC Racing Team                                     0.48
8 Guy East (USA) Trek Livestrong                                           
9 Bernard Sulzberger (Aus) Fly V Australia                             1.12
10 Sergio Luis Henao (Col) Colombian National Team                     1.21
11 Derrick St-John (Can) Garneau-Club Chat                                 
12 Darwin Atapuma (Col) Colombian National Team                            
13 Christopher Jones (USA) Team Type 1                                     
14 Jarlinson Pantano (Col) Colombian National Team                     4.32
15 Alex Candelario (USA) Kelly Benefit Strategies                          
16 Dionne Charles (Can) Fly V Australia                                    
17 Francois Parisien (Can) Planet Energy                                   
18 Otavio Bougarelli (Bra) Garneau-Club Chat                               
19 Antonio Cruz (USA) BMC Racing Team                                      
20 William Rodriguez (Col) Colombian National Team                         
21 Alex Howes (USA) Felt-Holowesko Partners                                
22 Jonathan Garcia (USA) BMC Racing Team                                   
23 Benjamin King (USA) Trek Livestrong                                     
24 Steve Bovay (Swi) BMC Racing Team                                       
25 Jackson Stewart (USA) BMC Racing Team                                   
26 Casey Munro (Aus) Kuk-Kinesis                                           
27 Martin Kohler (Swi) BMC Racing Team                                     
28 Darren Lapthorne (Aus) Rapha Condor                                     
29 Andris Smirnovs (Lat) Latvian National Team                             
30 Timothy Henry (USA) DLP Racing                                          
31 Jacob Erker (Can) Kelly Benefit Strategies                              
32 Valeriy Kobzarenko (Ukr) Team Type 1                                    
33 Kristian House (GBr) Rapha Condor                                       
34 Simon Richardson (GBr) Rapha Condor                                     
35 Neil Shirley (USA) Kelly Benefit Strategies                             
36 Scott Davis (Aus) Fly V Australia                                       
37 Matthew Bell (Can) Canada National Team                                 
38 Bruno Langlois (Can) Planet Energy                                      
39 Martin Gilbert (Can) Planet Energy                                      
40 Peter Stetina (USA) Felt-Holowesko Partners                             
41 Moises Aldape Chavez (Mex) Team Type 1                                  
42 Keven Lacombe (Can) Planet Energy                                       
43 Bazzanna Alesandro (Ita) Fly V Australia                                
44 Cameron Evans (Can) Canada National Team                                
45 Bjorn Selanler (USA) Trek Livestrong                                    
46 Dan Craven (GBr) Rapha Condor                                           
47 Phillip Zajicek (USA) Fly V Australia                                   
48 Ian Macgregor (USA) Team Type 1                                         
49 Gatis Smukulis (Lat) Latvian National Team                              
50 Caleb Fairly (USA) Felt-Holowesko Partners                              
51 David Veilleux (Can) Kelly Benefit Strategies                           
52 Jamie Riggs (Can) Canada National Team                                  
53 Matt Wilson (Aus) Team Type 1                                           
54 Ben Greenwood (GBr) Rapha Condor                                    6.35
55 Jean-Sebastien Perron (Can) Team Quebec                             7.23
56 Peter Salon (USA) Felt-Holowesko Partners                               
57 William Munoz (Col) Colombian National Team                         8.05
58 James Moss (GBr) Kuk-Kinesis                                       13.39
59 Ryan Belliveau (Can) Canada National Team                               
60 James Stewart (GBr) Kuk-Kinesis                                         
61 Daniel Summerhill (USA) Felt-Holowesko Partners                         
62 Janis Rezins (Lat) Latvian National Team                                
63 Jonathan Mumford (USA) Kelly Benefit Strategies                         
64 Aroussen Laflamme (Can) Garneau-Club Chat                          17.37
65 Ugo Lapierre (Can) Team Quebec                                          
66 William Goodfellow (Can) Team Quebec                                    
67 Andre Tremblay (Can) Team Quebec                                        
68 Jean-Francois Racine (Can) Garneau-Club Chat                            
69 Raphael Gagne (Can) Team Quebec                                         
70 Bryson Bowers (Can) Canada National Team                                
71 Hayden Brooks (Aus) Fly V Australia                                     
72 Charlie Bryer (Can) Canada National Team                                
73 Phillip Cortes (Can) Garneau-Club Chat                                  
74 Steve Lampier (GBr) Kuk-Kinesis                                         
75 Mark Bathy (Can) Planet Energy                                          
76 Cody Campbell (Can) Trek Livestrong                                     
77 Mathew Cronshaw (GBr) Rapha Condor                                      
78 Guillaume Boivin (Can) Team Quebec                                      
79 Eric Boily (Can) Planet Energy                                          
80 Jesse Sergent (NZl) Trek Livestrong                                     
81 Indulis Bekmanis (Lat) Latvian National Team                            
82 Clay Murfet (Aus) Kelly Benefit Strategies                              
83 San Bewley (NZl) Trek Livestrong                                        
84 Simon Lambert-Lemay (Can) Team Quebec                              26.18
85 Jeffery Schiller (Can) Garneau-Club Chat                           30.23
86 Scott Tietzel (USA) DLP Racing                                          
87 Phillip Martz (USA) DLP Racing                                          
88 Steven Gordon (USA) DLP Racing                                          
89 Robert Wardell (GBr) Kuk-Kinesis                                        
90 Walker Savidge (USA) Felt-Holowesko Partners                            
91 Raymond Kreder (Ned) Felt-Holowesko Partners                            
92 Camilo Suarez (Col) Colombian National Team                             
93 Ryan Baumann (USA) Trek Livestrong                                 38.08
DNF Shawn Kane (USA) DLP Racing                                            
DNF Martins Trautmanis (Lat) Latvian National Team                         
DNF Antoine Matteau (Can) Garneau-Club Chat                                
DNS Owen Harrison (Can) Canada National Team                               
DNS James Duncan (USA) DLP Racing                                          
 
General Classification after Stage 1
 
1 Danilo Wyss (Swi) BMC Racing Team                                 3.56.50
2 Darren Lill (RSA) Team Type 1                                        0.07
3 Ryan Roth (Can) Planet Energy                                        0.09
4 Benjamin Day (Aus) Fly V Australia                                   0.13
5 Scott Zwizanski (USA) Kelly Benefit Strategies                           
6 Tom Southam (GBr) Rapha Condor                                       0.16
7 Chad Beyer (USA) BMC Racing Team                                     0.59
8 Guy East (USA) Trek Livestrong                                       1.01
9 Bernard Sulzberger (Aus) Fly V Australia                             1.20
10 Christopher Jones (USA) Team Type 1                                 1.33
11 Sergio Luis Henao (Col) Colombian National Team                     1.34
12 Derrick St-John (Can) Garneau-Club Chat                                 
13 Darwin Atapuma (Col) Colombian National Team                            
14 Caleb Fairly (USA) Felt-Holowesko Partners                          4.44
15 Jarlinson Pantano (Col) Colombian National Team                     4.45
16 Alex Candelario (USA) Kelly Benefit Strategies                          
17 Dionne Charles (Can) Fly V Australia                                    
18 Francois Parisien (Can) Planet Energy                                   
19 Otavio Bougarelli (Bra) Garneau-Club Chat                               
20 Antonio Cruz (USA) BMC Racing Team                                      
21 William Rodriguez (Col) Colombian National Team                         
22 Alex Howes (USA) Felt-Holowesko Partners                                
23 Jonathan Garcia (USA) BMC Racing Team                                   
24 Benjamin King (USA) Trek Livestrong                                     
25 Steve Bovay (Swi) BMC Racing Team                                       
26 Jackson Stewart (USA) BMC Racing Team                                   
27 Casey Munro (Aus) Kuk-Kinesis                                           
28 Martin Kohler (Swi) BMC Racing Team                                     
29 Darren Lapthorne (Aus) Rapha Condor                                     
30 Andris Smirnovs (Lat) Latvian National Team                             
31 Timothy Henry (USA) DLP Racing                                          
32 Jacob Erker (Can) Kelly Benefit Strategies                              
33 Valeriy Kobzarenko (Ukr) Team Type 1                                    
34 Kristian House (GBr) Rapha Condor                                       
35 Simon Richardson (GBr) Rapha Condor                                     
36 Neil Shirley (USA) Kelly Benefit Strategies                             
37 Scott Davis (Aus) Fly V Australia                                       
38 Matthew Bell (Can) Canada National Team                                 
39 Bruno Langlois (Can) Planet Energy                                      
40 Martin Gilbert (Can) Planet Energy                                      
41 Peter Stetina (USA) Felt-Holowesko Partners                             
42 Moises Aldape Chavez (Mex) Team Type 1                                  
43 Keven Lacombe (Can) Planet Energy                                       
44 Bazzanna Alesandro (Ita) Fly V Australia                                
45 Cameron Evans (Can) Canada National Team                                
46 Bjorn Selanler (USA) Trek Livestrong                                    
47 Dan Craven (GBr) Rapha Condor                                           
48 Phillip Zajicek (USA) Fly V Australia                                   
49 Ian Macgregor (USA) Team Type 1                                         
50 Gatis Smukulis (Lat) Latvian National Team                              
51 David Veilleux (Can) Kelly Benefit Strategies                           
52 Jamie Riggs (Can) Canada National Team                                  
53 Matt Wilson (Aus) Team Type 1                                           
54 Ben Greenwood (GBr) Rapha Condor                                    6.48
55 Jean-Sebastien Perron (Can) Team Quebec                             7.36
56 Peter Salon (USA) Felt-Holowesko Partners                               
57 William Munoz (Col) Colombian National Team                         8.18
58 James Moss (GBr) Kuk-Kinesis                                       13.52
59 Ryan Belliveau (Can) Canada National Team                               
60 James Stewart (GBr) Kuk-Kinesis                                         
61 Daniel Summerhill (USA) Felt-Holowesko Partners                         
62 Janis Rezins (Lat) Latvian National Team                                
63 Jonathan Mumford (USA) Kelly Benefit Strategies                         
64 Aroussen Laflamme (Can) Garneau-Club Chat                          17.50
65 Ugo Lapierre (Can) Team Quebec                                          
66 William Goodfellow (Can) Team Quebec                                    
67 Andre Tremblay (Can) Team Quebec                                        
68 Jean-Francois Racine (Can) Garneau-Club Chat                            
69 Raphael Gagne (Can) Team Quebec                                         
70 Bryson Bowers (Can) Canada National Team                                
71 Hayden Brooks (Aus) Fly V Australia                                     
72 Charlie Bryer (Can) Canada National Team                                
73 Phillip Cortes (Can) Garneau-Club Chat                                  
74 Steve Lampier (GBr) Kuk-Kinesis                                         
75 Mark Bathy (Can) Planet Energy                                          
76 Cody Campbell (Can) Trek Livestrong                                     
77 Mathew Cronshaw (GBr) Rapha Condor                                      
78 Mathew Cronshaw (GBr) Rapha Condor                                      
79 Guillaume Boivin (Can) Team Quebec                                      
80 Eric Boily (Can) Planet Energy                                          
81 Jesse Sergent (NZl) Trek Livestrong                                     
82 Indulis Bekmanis (Lat) Latvian National Team                            
83 Clay Murfet (Aus) Kelly Benefit Strategies                              
84 San Bewley (NZl) Trek Livestrong                                        
85 Simon Lambert-Lemay (Can) Team Quebec                              26.31
86 Jeffery Schiller (Can) Garneau-Club Chat                           30.36
87 Scott Tietzel (USA) DLP Racing                                          
88 Phillip Martz (USA) DLP Racing                                          
89 Steven Gordon (USA) DLP Racing                                          
90 Robert Wardell (GBr) Kuk-Kinesis                                        
91 Walker Savidge (USA) Felt-Holowesko Partners                            
92 Raymond Kreder (Ned) Felt-Holowesko Partners                            
93 Ryan Baumann (USA) Trek Livestrong                                 38.21
 
Points classification
 
1 Danilo Wyss (Swi) BMC Racing Team                                      18 pts
2 Darren Lill (RSA) Team Type 1                                          14
3 Ryan Roth (Can) Planet Energy                                          13
4 Benjamin Day (Aus) Fly V Australia                                     12
5 Bernard Sulzberger (Aus) Fly V Australia                               12
6 Scott Zwizanski (USA) Kelly Benefit Strategies                         11
7 Chad Beyer (USA) BMC Racing Team                                       11
8 Tom Southam (GBr) Rapha Condor                                         10
9 Guy East (USA) Trek Livestrong                                          8
10 Sergio Luis Henao (Col) Colombian National Team                        6
11 Derrick St-John (Can) Garneau-Club Chat                                5
12 Christopher Jones (USA) Team Type 1                                    4
13 Darwin Atapuma (Col) Colombian National Team                           4
14 Jarlinson Pantano (Col) Colombian National Team                        2
15 Caleb Fairly (USA) Felt-Holowesko Partners                             1
16 Alex Candelario (USA) Kelly Benefit Strategies                         1
 
Mountains classification
 
1 Chad Beyer (USA) BMC Racing Team                                       25 pts
2 Scott Zwizanski (USA) Kelly Benefit Strategies                         16
3 Benjamin Day (Aus) Fly V Australia                                     12
4 Christopher Jones (USA) Team Type 1                                     8
5 Guy East (USA) Trek Livestrong                                          8
6 Raymond Kreder (Ned) Felt-Holowesko Partners                            7
7 Danilo Wyss (Swi) BMC Racing Team                                       5
8 Tom Southam (GBr) Rapha Condor                                          4
9 Derrick St-John (Can) Garneau-Club Chat                                 4
10 Darwin Atapuma (Col) Colombian National Team                           3
11 Darren Lill (RSA) Team Type 1                                          2
12 Bernard Sulzberger (Aus) Fly V Australia                               1
13 Ryan Roth (Can) Planet Energy                                          1
 
Teams classification
 
1 BMC Racing Team                                                  11.56.29
2 Fly V Australia                                                      0.24
3 Team Type 1                                                          0.33
4 Colombian National Team                                              1.54
5 Kelly Benefit Strategies                                             3.44
6 Planet Energy                                                            
7 Rapha Condor                                                         3.47
8 Trek Livestrong                                                      4.32
9 Felt-Holowesko Partners-Garmin U23                                   8.16
10 Canada National Team                                                    
11 Garneau-Club Chaussure                                             18.10
12 Kuk-Kinesis                                                        26.30
13 Latvian National Team                                                   
14 Team Québec                                                        37.17
15 DLP Racing                                                         59.58