11th Tour Down Under - ProT
Adelaide, South Australia, Australia, January 18-25, 2009
Preview
Lance is the word... but not the favourite
By Greg Johnson and Les Clarke
Lance Armstrong makes his first visit
Photo ©: AFP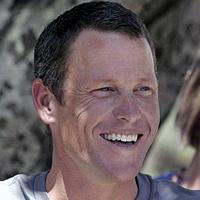 Australian cycling fans have only got one man on their mind this week: Lance Armstrong. The American is making his return to professional cycling at next week's Tour Down Under, but the seven-time Tour de France winner's early arrival in Australia's fifth largest city - Adelaide, South Australia – has local media and race fans alike in a flutter.
Despite tough talk from local authorities of a four-vehicle Police escort for training rides, on Armstrong's first training ride he was flanked only by other big-name riders like Stuart O'Grady and Pat Jonker. It's something that has proven a pleasant surprise amongst local enthusiasts, who have found themselves riding in a bunch with the cycling legend on their morning ride.
While the first test of Armstrong's fitness is a topic of interest, there's also a race to be had and chances are Armstrong is not going to be in the running for that title. After becoming the discovery of last year's event and cycling season, Team Columbia's André Greipel will return to defend his title.
Greipel has the support of a strong Team Columbia which includes George Hincapie, Adam Hansen and Australian time trial champion Michael Rogers. While Hansen helped control the action on last year's race-deciding Willunga climb, the former Crocodile Trophy winner will be challenged by having to complete another lap of the climb in this year's course.
Garmin-Slipstream Directeur Sportif Matt White spoke to Cyclingnews about the changes to the Willunga stage, and is confident it will provide great racing, in contrast to some previous years. With two strong customers in a bunch kick within his squad - Julian Dean and Chris Sutton - he was was quick to point that the amendments don't rule out the sprinters, however. "Even in the last couple of years, time bonuses have become more important. I still think a very fit sprinter could get round here but they'd want to be someone who climbs pretty well," said White.
Columbia's Andre Greipel returns
Photo ©: Shane Goss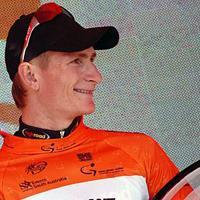 "Gone are the days at the Tour Down Under where after 15km there's a group of 15 in a breakaway and that's the race. When there used to be 13 teams here, once there were 10 guys up the road that was pretty much the bike race," he added.
Despite the course changes, Greipel is definitely a favourite to defend his title because he fits the type of rider Baden Cooke believes will feature in the overall classification.
Cooke, who won the third stage to Victor Harbor in the 2007 edition of the race, told Cyclingnews, "Even though it's going to be more difficult, I still believe it's going to be a sprinter who wins. It's going to be a sprinter along the lines of Stuey [O'Grady] - someone who can also climb. I don't know if Stuey's in the right condition, but it's definitely going to have to be a strong sprinter, and one who can climb."
The Vancasoleil rider, who will be turning out for the UniSA-Australia outfit, also fits the bill of contender. Despite a crash during the Jayco Bay Criterium Series, the Victorian said, "I intend to ride well. The form's ok - I got around the nationals. I'm going to train hard this week with the intention of trying to win a stage and be up there for the overall."
Cooke enjoys riding the event, and believes its status as Australia's premier stage race will only be enhanced with the presence of Armstrong. "Because he [Armstrong] is there, I don't think it's going to be any smaller [than European races]," Cooke explained. "The amount of hype around at the moment, I think it's going to seem like you're at the Tour. It's going to make the Tour Down Under more important."
Tough Tasmanian Matt Goss (Saxo Bank)
Photo ©: Gerry McManus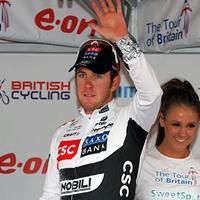 Team Columbia directeur sportif Allan Peiper welcomed Armstrong's presence at the race, and joked that the billboards and posters depicting the American's image around Adelaide could have been a not-so-subliminal 'psyche out' technique before the race had even begun. "It's creating a hell of a lot of interest," said Peiper. "I was out in the car following the boys and it's Lance Armstrong on Triple M [an Australian syndicated radio network] – they're even playing songs from his iPod on the radio! They're playing 'Lance's favourite 500 hits' from his iPod."
They might not be playing his tunes on the radio, but another rider returning to Adelaide, albeit competing with a different squad, is Tasmanian Wesley Sulzberger. He possess the qualitites Cooke described and has proven in the past that he's more than capable on tough courses. He joined Marc Madiot's Française des Jeux team late last year and may well prove the dark horse of the field, despite the team's all-white kit.
His brother, Bernard, is the reigning national criterium champion while Wes took silver in the 2007 U23 world championship road race. The younger Sulzberger has a couple more years of tough racing in his legs which should complement his immense natural talent nicely.
Just as former overall winner Stuart O'Grady is the type of rider this year's race favours, the experienced South Australian's teammate, Matt Goss, is another potential winner. He's strong in a sprint, can last on a climb and rose to prominence in stage racing terms with great performances in the Tour of Britain in 2007 whilst riding for the SouthAustralia.com-AIS team. He returned last year with CSC Saxo Bank and won the second stage, impressing throughout the week-long event. This length and style of race suits him, and he's due for a big overall victory - there's no better place than home soil for that to take place.
One thing's for certain - whoever is in the hunt for the title may have to shoulder less pressure and attention than previous years thanks to the 'Lance Factor', leaving the door open for a surprise result or a big breakthrough win for an ambitious youngster.
Related articles:
January 13 First Edition News
January 14 First Edition News
January 14 Latest Edition News
January 9 First Edition News