92nd Giro d'Italia - GT
Italy, May 9-31, 2009
A century after Ganna
Cycling icon Fausto Coppi (centre)
Photo ©: Roger-Viollet/AFP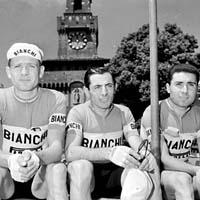 A century after his triumph in the first Giro d'Italia, Luigi Ganna would be proud to see this year's Giro champion don the maglia rosa if he were alive to witness it. The race he won in 1909 has come a long way since his victory; it plays an integral role in the makeup of professional cycling, giving rise to generations of heroes who have etched an indelible mark in the sport. Cyclingnews' Gregor Brown looks at what's in store for the Giro's centenary.
Ganna was one of the early pioneers of cycling when he won the eight-stage, 2408.3km premier edition of the Giro d'Italia. He won three stages of the 1910 Giro before retiring in 1914, although Italy's fledgling national tour continued at full speed.
The only interruptions to that progress have been two world wars between the years 1915-1918 and 1941-1945, which truncated the careers of several men who fought for the maglia rosa. Notwithstanding these unfortunate periods in history, many men – such as Giovanni Brunero – have become national figures thanks to the Giro's importance in the Italian sporting consciousness.
In the 100 years since that first Giro, men and women have sat at bar tables arguing the merits of Bartali's bravado or Coppi's charisma, taking their cues from the morning's La Gazzetta dello Sport newspaper, the publication behind the race. As the decades progressed those conversations became examinations of Merckx's mercurial performances or Gimondi's gallantry, although two aspects remained constant: Italy's love of cycling, in particular her national tour, and La Gazzetta's involvement with the race.
Un bel percorso
'Tutto il rosa della vita'...
Photo ©: Roberto Bettini

The 2009 Giro d'Italia celebrates those 100 years – from Ganna to Contador – with a spectacular and surprising route. It lacks the massive, mythical mountain passes and its final stage ends in the south for the first time in many years. It visits all of Italy's great cities – Venezia, Trieste, Milano, Torino, Firenze, Bologna, Napoli and Roma – and delivers deceptively difficult stages in the second half of the event.
The 21 stages and 3455.6 kilometres feature six mountaintop finishes and three time trials. There's a 20.5km team time trial that skirts Venice's Lido to open proceedings, a 60.6km time trial in Liguria mid-race and the finale is a 14.4km time trial around Rome's historical monuments.
The Dolomiti Mountains appear after only three days of racing, with mountaintop finishes at San Martino di Castrozza and Alpe di Siusi providing the first gaps in the overall classification. Besides these two stages, there are four other summit finishes: San Luca (stage 14), Monte Petrano (stage 16), Block Haus (stage 17) and Vesuvio (stage 19).
"I won't follow the philosophy that the selection of climbs has to be determined by their names," said race director Angelo Zomegnan, responding to critics' observations that the route lacks famed and feared climbs such as the Mortirolo or Zoncolan.
A brief visit to the Dolomiti and Alpi in the Giro's first half act as decoy – many may believe that the tricky mountain stages have passed but the days to Faenza and Monte Pertrano are two that will allow the studious classification riders to gain valuable time in the Appennini mountain range before the race's finale through Napoli and on to Roma.
"Monte Petrano will not give any favours. The day contains 4825 metres of climbing. That says a lot when none of the climbs top 1300 metres."
Ganna's men
Felice Gimondi was another Italian national hero
Photo ©: AFP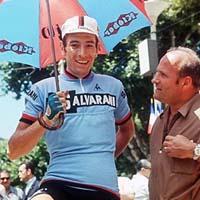 Lance Armstrong will benefit from the number of time trialling kilometres [95.5km] in this years Giro d'Italia. The American broke his collarbone in a crash in the Vuelta a Castilla y León, ruling him out as a serious contender, although the debut of the seven-time Tour de France champion in Italy's Grand Tour will increase the attention it normally receives.
"It was a regret I had and one that fortunately I can reconcile – to go experience and ride around a great country for three weeks," said Armstrong of his decision to ride the Giro.
The 2006 Giro champion Ivan Basso (Liquigas) and '04 victor Damiano Cunego (Lampre-NGC) plus dual Vuelta a España winner Denis Menchov (Rabobank) are the over-riding favourites to win the Giro's centenary edition. Basso, who is approaching his best form since returning from a two-year enforced hiatus, is eager to prove himself capable of dominating his beloved race in the manner he did three years ago.
Cunego, who chose to race his home Grand Tour over the Tour de France, is desperate to prove he is still a stage race contender. Meanwhile, Menchov may slip under the radar of many pundits but he's a dangerous rider if he gets a little momentum going.
Armstrong's Astana teammate Levi Leipheimer shouldn't be ruled out as a contender. The American supported Alberto Contador last year, and with the Spaniard focusing on the Tour de France, Leipheimer will captain Johan Bruyneel's squad this year. He'll be up against the likes of countryman Christian Vande Velde, who led Garmin-Slipstream to victory in the stage one team time trial in the 2008 edition, resulting in a taste of the maglia rosa for a day.
The affable American will also be heading his team's charge, and although his success in Italy and a fourth place in last year's Tour de France has bolstered his confidence he'll surely be a marked man throughout the '09 Giro. The same can be said for 2008 Tour de France champion Carlos Sastre (Cervélo TestTeam), who will make an appearance in Italy, mainly as preparation for his Tour defence.
Add to the mix a host of Italian riders such as 2007 Giro champion Danilo Di Luca (LPR Brakes), Basso's teammate Franco Pellizotti (fourth in 2008), dual Giro winner Gilberto Simoni (Diquigiovanni) and 2000 victor Stefano Garzelli (Acqua & Sapone-Caffè Mokambo) and the stage is set for a centenary with fireworks galore, a celebration worthy of Ganna's legacy.
Related articles:
Andy Hampsten's day on the Gavia
Astana versus Italy