Tales from the peloton, May 31, 2009
The original Swedish sensation
Gösta Pettersson was the first cyclist born north of the Rhine to win the Giro d'Italia when he passed the finish line on the Swedish pine boards of the Vigorello velodrome in Milan on June 10, 1971. It was and is Sweden's first and only Grand Tour victory. Cyclingnews' Tomas Nilsson brings Pettersson's story to the internet age.
1974 was Pettersson's last year
Photo ©: Magniflex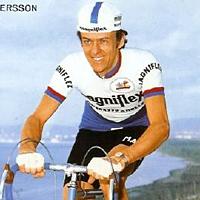 Swedish riders have enjoyed plenty of success in recent years. From Magnus Backstedt's Paris-Roubaix win to Gustav Eric Larsson's silver medal in the Beijing Olympics and Thomas Lövkvist's stint in the Giro's best young rider jersey. These riders were not even born when Gösta Pettersson took his Giro win and when, the year before, he was the first northerner on the Tour podium when he finished third behind Eddy Merckx and Joop Zoetemelk.
Pettersson's career did not follow the normal path of a professional cyclist. He waited until the ripe old age of 29 to join the professional ranks.
In the late 60's Gösta Pettersson was the dominating rider on the amateur level in Europe. Known for his three successive team time trial world championship titles, he was also a formidable stage racer. Among other feats, he managed to lead the British Milk Race from start to finish for 14 days.
His reasons for remaining an amateur for so long?
"Well, I got my first offers around '65-'66 but those days there were no doping controls at all. They didn't come until Tom Simpson died in the Tour of 1967. I didn't want to be part of that, I had seen enough among the riders from east Europe that we had to deal with. And also I wanted to see how my brothers developed," Gösta Pettersson explained from his home in his native town of Vårgårda.
Yes, the brothers. In the 1960s Gösta, Sture, Erik and Thomas Pettersson formed the Swedish national team with three world team time trial titles.
" I got my first offers around '65-'66 but those days there were no doping controls at all ... I didn't want to be part of that."
-Gösta Pettersson explains why he stayed an amateur until the age of 29.
Further motivation to remain amateur was the 1968 Olympic Games. The three oldest brothers, Gösta, Sture and Erik had won the bronze in Tokyo in 1964 with Sven Hamrin as fourth man.
In Mexico 1968 they were the favourites, now with youngster Thomas filling up the team. But an untimely puncture and a Dutch squad containing among others Joop Zoetemelk and Fedor den Hertog came in the way. Silver was a loss, at least in the eyes of the Swedish public. Gösta then took the bronze in the Olympic road race. Some weeks later, the brothers won their second world team time trial title.
"We got an offer from the Ferretti team for the 1969 season but turned it down," Pettersson recalled.
A year and another world title later, the four Ferretti brothers came back and managed to sign the four Pettersson brothers.
"Ferretti was a kitchen equipment manufacturer just like Salvarani and SCIC that also had successful cycling teams. The had launched a four year project from 1969 so we came in in the second year. It was a pretty big team, some 20 riders. Apart from us four brothers they also had the Belgian Albert van Vlierberghe which filled their quota of foreigners. The rest were Italian neo-pros almost all of them."
The first season was a success for a beginner. Gösta shocked the experienced pros by winning the final stage of the Tour de Romandie, a 43 km time trial, which lifted him from fourth place to the top of the podium.
"All the best Italians were there so I think I surprised them a bit."
In the following Giro he came in sixth, 9:20 after the winner, Eddy Merckx.
Gösta Pettersson
Photo ©: Ferretti

Then followed the Tour de France. A gruelling 23 stages long plus a prologue, and five of the stages were split days to make 29 races in 24 days. Pettersson hung in there while others cracked. In the end he was third after Merckx and Zoetemelk. A third on the final day's 54 km individual time trial from Versailles to Paris was his best stage result. His 23-year-old brother Thomas also did well with a second place, beaten only by Merckx, in one of the shorter time trials.
The following year started even better. Gösta Pettersson was second in Paris-Nice behind Merckx, with brother Erik in fifth.
The Giro d'Italia was the main target of the season, especially since a certain Belgian wasn't riding.
"It was a tough parcours. It started down in the south with a sort of relay if I remember correctly. But the the real competition started immediately. The race followed the Apennines northwards and there were some really tough mountain stages early on. Felice Gimondi cracked on one of these," Pettersson recalls.
"When we came in to Austria, on the stage to Grossglockner, I was in a good position. Claudio Michelotto led the race but we managed to crack him going up to Franz Jozefs Höhe. But he hung on to a car and finished only one and a half minute down. They gave him a one minute penalty and a fine but it should have been more. Luckily for me there were a couple of more mountains stages so we got rid of him the day after.
"It was hard though. The team was quite inexperienced so I was mostly left alone in the high mountains."
Pettersson's tactic was to hang in there and wait for the others to crack. He was not a man of frequent attacks and also seldom had any fancy winner's gestures. The final stage was a 20 km time trial ending in the Vigorello velodrome in Milan. Even with his first Grand Tour victory just completed, his finish was typical Gösta Pettersson. He just rode over the line, unclipped his pedal and that was it.
In his second season, Gösta Pettersson reached the peak of his career with his Tour de France podium finish. Or had he?
"No, actually I think I did better in the Tour de Suisse in 1974. I was second to Merckx again, but this time he only beat me in the time trials, he didn't manage to get rid of me in the mountains. And for us that raced in those days being second to Merckx was like winning at any other time. We were up against the best rider ever, that's for sure."
Pettersson's year with Magniflex
Photo ©: Magniflex

Nevertheless, the 1974 season was Gösta's final year as a pro. The Ferretti project ended according to plan in 1973. Erik Pettersson had returned to Sweden in 1972, Sture went home after the 1973 season while Gösta and Thomas signed for SCIC where Gösta was one of three leaders. Due to illnesses his results never came up to the standard of 1971. In 1974 he did better with Magniflex than with SCIC but still decided to quit.
"It was time to think about the future. I got an offer from my bike sponsor Monark to take over their bike shop. And the kids were about to start school so I moved back to Sweden. It was a decision that I regretted already after a year. I could have done another five good years."
What was done was done, however, and Gösta went back to being an amateur and did some minor races in Sweden, but just time trials.
"We were really treated badly by the federation when we came home. We were not allowed to start in any major races and there was a five year quarantine for the national championships. We could have done Swedish cycling some favors. If nothing else, [we could have] made the national races harder. But the federation had a president with international ambitions. To keep the amateurism clean was the most important task for the Olympic movement those days. So we were treated harder than any other athletes and the federation president got his seat in the International Olympic Committee."
So how was racing those days compared to what the riders experience today?
"Well, the races were pretty much the same. An early breakaway and then some hard work to bring it down. But all races were longer. Almost all were way more than 200 kilometres long. There weren't that many crashes either. I only crashed once so badly that I had to abandon."
"One big difference though is that riders nowadays split their seasons and have rest or training periods. We had our training in the winter and then in February the racing season started and went on until October. I really didn't do any proper training during the season. I just raced. Most riders get worn by the long stage races but then some, and I was lucky to be one of them, gets stronger from hard racing.
Pettersson inspired young Swedes, here with Tomas Nilsson at a local race in Vårgårda in 1969.
Photo ©: Göte Nilsson

"We did most of our racing in Italy since that was where our sponsor had its market. I did Roubaix and Flanders one year, but mostly we raced in Italy plus the Tour and Paris-Nice."
So what does the all-time greatest team time trialist think about team time trials that seem to be the fashion in the stage races today?
"These are no real team time trials. Team time trial is a four man sport. With those nine men teams you cannot get the right rhythm especially since the teams have riders of all sorts, sprinters, climbers and time triallists. It's pretty odd that they started with team time trials among the pros after they took it away from the World's programme. Team time trialling is really the essence of cycling since the drafting is the most important factor and something you don't have in other sports."
Photography
For a thumbnail gallery of these images, click here
Images by Ferretti
Images by Magniflex
Images by Göte Nilsson