12th Women's Flèche Wallonne - CDM
Belgium, April 22, 2009
Main Page Results Live report World Cup Standings
Vos rules Mur de Huy
By Gregor Brown in Huy, Belgium
Marianne Vos (DSB Bank)
Photo ©: AFP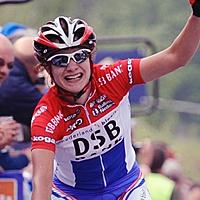 Marianne Vos won her third successive women's Flèche Wallonne title on Wednesday in Huy, Belgium. The Dutch champion used her abundant and oft-displayed strength on the difficult 1300-metre long Mur de Huy and beat Emma Johansson (Red Sun) and Claudia Häusler (Cervélo TestTeam).
"The Mur is always hard, but last year it was a hard sprint to the line. This year was just better," said Vos.
Vos won the race in 2008 and 2007. It is the 12th year of the one-day classic that takes in many of the same climbs used in the men's course, also run on Wednesday.
While Vos was able to achieve that third win, Johansson held on to the overall World Cup leader's jersey. The Ronde van Drenthe champion also took second in Trofeo Alfredo Binda and third in the Ronde van Vlaanderen to lead the standings by 18 points over Vos.
With good form thus far during the season, Claudia Häusler made her first appearance on a World Cup podium. The 24-year-old climber tried to get the jump on Vos, but couldn't match the Dutchwoman's speed.
"I attacked at the steepest section, trying to hurt the sprinters," said Häusler. "In the end it didn't quite work out, but I am happy to be on the podium."
USA's Amber Neben (Nürnberger) finished fourth at 15 seconds.
Escapes come to nothing
Multiple escapes dominated the early moments of the race in Belgium's Walloon region. The first attack came at the foot of Peu d'Eau (km 38.5) by Trixi Worrack (Equipe Nürnberger). Ina Teutenberg (Team Columbia-Highroad), Noemi Cantele (Bigla) and Christel Ferrier-Bruneau (Vision 1) joined her to make four. The peloton re-grouped by the top of Côte de Haut-Bois (km 44).
Immediately after a promising move of 13 went free, but it too came under control by the peloton by 15 kilometres to go. Luise Keller (Columbia) and Häusler launched a move at kilometre 60, with the latter going solo on the Côte de Bohisseau (km 74.5). She kept 30 seconds over the peloton on the Côte de Bousalle (km 76).
Häusler was back with the peloton for the last blast on up the Mur de Huy, but she made the new move of five riders: Häusler, Vos, Neben, Johansson and Cantele. Häusler accelerated again with only Vos and Johansson in tow. Vos had the final word, though, at 500 metres. She left her rivals and rode solo to her third victory in Huy.
Photography
For a thumbnail gallery of these images, click here
Images by AFP Photo
Images by ISPA/www.ispaphoto.be
Results - 98km
1 Marianne Vos (Ned) DSB Bank - LTO                                   2.35.40 (37.77 km/h)
2 Emma Johansson (Swe) Red Sun Cycling Team                              0.06
3 Claudia Häusler (Ger) Cervelo TestTeam                                 0.10
4 Amber Neben (USA) Equipe Nürnberger Versicherung                       0.15
5 Noemi Cantele (Ita) Bigla Cycling Team                                 0.20
6 Nicole Cooke WAL Vision 1 Racing                                       0.21
7 Mara Abbott (USA) Team Columbia Highroad Women                         0.22
8 Christiane Soeder (Aut) Cervelo TestTeam                               0.28
9 Loes Gunnewijk (Ned) Team Flexpoint                                    0.31
10 Marta Vila Josana Andreu (Spa) Team Cmax Dila'                        0.33
11 Modesta Vzesniauskaite (Ltu) Bigla Cycling Team                           
12 Alexandra Wrubleski (Can) Team Columbia Highroad Women                    
13 Andrea Bosman (Ned) Leontien.nl                                       0.38
14 Grace Verbeke (Bel) Lotto-Belisol Ladiesteam                          0.39
15 Fabiana Luperini (Ita) Selle Italia Ghezzi                                
16 Natalia Boyarskaya (Rus) Fenixs                                       0.45
17 Christel Ferrier-Bruneau (Fra) Vision 1 Racing                        0.48
18 Catherine Hare Willianson (GBr) Fenixs                                    
19 Janel Holcomb (USA) US National Team                                      
20 Alexandra Burchenkova (Rus) Russian Federation                        0.59
21 Julia Martisova (Rus) Gauss RDZ Ormu - Colnago                        1.02
22 Elizabeth Armitstead (GBr) Lotto-Belisol Ladiesteam                   1.05
23 Vicki Whitelaw (Aus) Vision 1 Racing                                  1.08
24 Julie Krasniak (Fra) French National Team                             1.11
25 Eva Lutz (Ger) Equipe Nürnberger Versicherung                         1.13
26 Luise Keller (Ger) Team Columbia Highroad Women                           
27 Trixi Worrack (Ger) Equipe Nürnberger Versicherung                        
28 Liesbeth De Vocht (Bel) DSB Bank - LTO                                1.21
29 Kimberly Anderson (USA) Team Columbia Highroad Women                  1.30
30 Tania Belvederesi (Ita) Gauss RDZ Ormu - Colnago                      1.37
31 Sarah Düster (Ger) Cervelo TestTeam                                   1.57
32 Angela Hennig (Ger) DSB Bank - LTO                                    2.00
33 Paulina Brzezna (Pol) Red Sun Cycling Team                                
34 Edita Pucinskaite (Ltu) Team Cmax Dila'                               2.02
35 Elena Berlato (Ita) Safi -Pasta Zara Titanedi                         2.05
36 Daniela Pintarelli (Aut) Austrian National Team                       2.09
37 Inga Cilvinaite (Ltu) Safi -Pasta Zara Titanedi                       2.11
38 Alona Andruk (Ukr) Safi -Pasta Zara Titanedi                          2.12
39 Mascha Pijnenborg (Ned) Red Sun Cycling Team                              
40 Sjoukje Dufoer (Bel) Topsport Vlaanderen Thompson Ladies Team             
41 Ludivine Henrion (Bel) Red Sun Cycling Team                               
42 Iris Slappendel (Ned) Team Flexpoint                                  2.15
43 Chantal Blaak (Ned) Leontien.nl                                           
44 Lucinda Brand (Ned) Leontien.nl                                           
45 Tatiana Antoshina (Rus) Gauss RDZ Ormu - Colnago                      2.17
46 Karin Aune (Swe) Fenixs                                                   
47 Diana Ziliute (Ltu) Safi -Pasta Zara Titanedi                         2.21
48 Josien Van Den Heerik (Ned) Leontien.nl                               2.22
49 Marlijn Binnendijk (Ned) Leontien.nl                                  2.25
50 Noortje Tabak (Ned) DSB Bank - LTO                                    2.28
51 Bianca Knoepfle (Ger) Equipe Nürnberger Versicherung                      
52 Catherine Delfosse (Bel) Lotto-Belisol Ladiesteam                     2.30
53 Mirjam Melchers-Van Poppel (Ned) Team Flexpoint                       2.31
54 Kristin Sanders (USA) US National Team                                    
55 Lieselot Decroix (Bel) Cervelo TestTeam                                   
56 Alice Donadoni (Ita) Team Cmax Dila'                                  2.34
57 Oxana Kozonchuk (Rus) Selle Italia Ghezzi                                 
58 Ekaterina Novozhilova (Rus) Russian Federation                        2.36
59 Marieke Van Wanroij (Ned) DSB Bank - LTO                                  
60 Martine Bras (Ned) Selle Italia Ghezzi                                2.40
61 Suzanne Van Veen (Ned) Leontien.nl                                        
62 Loes Sels (Bel) Topsport Vlaanderen Thompson Ladies Team              2.47
63 Irina Molicheva (Rus) Russian Federation                              2.50
64 Tina Liebig (Ger) DSB Bank - LTO                                          
65 Corine Hierckens (Bel) Fenixs                                             
66 Petra Dijkman (Ned) Red Sun Cycling Team                                  
67 Anna Van Der Breggen (Ned) Team Flexpoint                             3.14
68 Edita Unguryte (Ltu) USC Chirio Forno d'Asolo                         3.40
69 Emanuela Azzini (Ita) Gauss RDZ Ormu - Colnago                        3.55
70 Saskia Elemans (Ned) Team Flexpoint                                   4.32
71 Suzanne De Goede (Ned) Equipe Nürnberger Versicherung                 4.57
72 Sigrid Corneo (Slo) Selle Italia Ghezzi                               5.19
73 Yulia Blindyuk (Rus) Russian Federation                               5.43
74 Audrey Cordon (Fra) Vienne Futuroscope                                6.50
75 Clemilda Fernandes Silva (Bra) USC Chirio Forno d'Asolo               6.53
76 Eugenie Mermillod (Fra) French National Team                              
77 Jennifer Hohl (Swi) Bigla Cycling Team                                7.01
78 Emmanuelle Merlot (Fra) Vienne Futuroscope                            7.16
79 Luisa Tamanini (Ita) Selle Italia Ghezzi                                  
80 Eneritz Iturriagaechevarria Mazaga (Spa) Safi -Pasta Zara Titanedi    7.23
81 Marina Jaunatre (Fra) Vienne Futuroscope                              7.39
OTL  Katharine Carroll (USA) US National Team                           16.16
DNF  Kacey Mandefield (USA) US National Team                            16.22
DNF  Laure Werner (Bel) Red Sun Cycling Team                                 
DNF  Ina Teutenberg (Ger) Team Columbia Highroad Women                       
DNF  Gabriella Day (GBr) Vision 1 Racing                                     
DNF  Aurore Verhoeven (Fra) Vision 1 Racing                                  
DNF  Helen Wyman (GBr) Vision 1 Racing                                       
DNF  Emma Pooley ENG Cervelo TestTeam                                        
DNF  Kirsten Wild (Ned) Cervelo TestTeam                                     
DNF  Marieke Den Otter (Ned) Netherlands                                     
DNF  Esra Tromp (Ned) Netherlands                                            
DNF  Laura Turpijn (Ned) Netherlands                                         
DNF  Monique Zeldenrust (Ned) Netherlands                                    
DNF  Suzanne Kuiper (Ned) Netherlands                                        
DNF  Trine Schmidt (Den) Team Flexpoint                                      
DNF  Charlotte Becker (Ger) Equipe Nürnberger Versicherung                   
DNF  Rochelle Gilmore (Aus) Lotto-Belisol Ladiesteam                         
DNF  Emma Mackie (Aus) Lotto-Belisol Ladiesteam                              
DNF  Kim Schoonbaert (Bel) Lotto-Belisol Ladiesteam                          
DNF  Kaytee Boyd (NZl) Selle Italia Ghezzi                                   
DNF  Laura Dittmann (Ger) German National Team                               
DNF  Virginia Hennig (Ger) German National Team                              
DNF  Jana Schemmer (Ger) German National Team                                
DNF  Ana Bianca Schnitzmeier (Ger) German National Team                      
DNF  Martina Corazza (Ita) Gauss RDZ Ormu - Colnago                          
DNF  Eleonora Suelotto (Ita) Gauss RDZ Ormu - Colnago                        
DNF  Mélanie Bravard (Fra) French National Team                              
DNF  Margot Ortega (Fra) French National Team                                
DNF  Amélie Rivat (Fra) French National Team                                 
DNF  Béatrice Thomas (Fra) French National Team                              
DNF  Nicole Brändli (Swi) Bigla Cycling Team                                 
DNF  Veronica Andreasson (Swe) Bigla Cycling Team                            
DNF  Monica Holler (Swe) Bigla Cycling Team                                  
DNF  Eleonora Patuzzo (Ita) Safi -Pasta Zara Titanedi                        
DNF  Jennifer Fischer (Fra) Vienne Futuroscope                               
DNF  Nathalie Jeuland (Fra) Vienne Futuroscope                               
DNF  Fiona Dutriaux (Fra) Vienne Futuroscope                                 
DNF  Uenia Fernandes Da Souza (Bra) USC Chirio Forno d'Asolo                 
DNF  Edita Janeliunaite (Ltu) USC Chirio Forno d'Asolo                       
DNF   Egle Zablotskyte (Ltu) USC Chirio Forno d'Asolo                        
DNF  Simona Frapporti (Ita) USC Chirio Forno d'Asolo                         
OTL  Jessica Phillips (USA) US National Team                                 
DNF  Yulia Iliynikh (Rus) Russian Federation                                 
DNF  Elena Novikova (Rus) Russian Federation                                 
DNF  Suzie Godart (Lux) Fenixs                                               
DNF  Urte Juodvalkyte (Ltu) Fenixs                                           
DNF  Jessie Daams (Bel) Topsport Vlaanderen Thompson Ladies Team             
DNF  Katrien Van Looy (Bel) Topsport Vlaanderen Thompson Ladies Team         
DNF  Ine Beyen (Bel) Topsport Vlaanderen Thompson Ladies Team                
DNF  Saneila Biagi (Ita) Team Cmax Dila'                                     
DNF  Francesca Faustini (Ita) Team Cmax Dila'                                
DNF  Arien Torsius (RSA) Team Cmax Dila'                                     
DNF  Karin Ruso (Aut) Austrian National Team                                 
DNS  Monika Schachl (Aut) Austrian National Team                             
DNF  Bernadette Schober (Aut) Austrian National Team                         
DNF  Pelin Cizgin (Aut) Austrian National Team                               
DNF  Catherine Langer (Aut) Austrian National Team      

World Cup standings
1 Emma Johansson  (Swe) Red Sun Cycling Team                     210 pts
2 Marianne Vos (Ned) DSB Bank - LTO                              192
3 Loes Gunnewijk (Ned) Team Flexpoint                            104
4 Ina Teutenberg (Ger) Team Columbia Highroad Women               96
5 Kirsten Wild (Ned) Cervelo TestTeam                             88
6 Eva Lutz (Ger) Equipe Nürnberger Versicherung                   61
7 Nicole Cooke (GBr) Vision 1 Racing                              54
8 Chantal Blaak (Ned) Leontien.nl                                 53
9 Martine Bras (Ned) Selle Italia Ghezzi                          53
10 Grace Verbeke (Bel) Lotto-Belisol Ladiesteam                   49
11 Noemi Cantele (Ita) Bigla Cycling Team                         45
12 Kristin Armstrong (USA) Cervelo TestTeam                       38
13 Sarah Düster (Ger) Cervelo TestTeam                            37
14 Julia Martisova (Rus) Gauss RDZ Ormu - Colnago                 37
15 Claudia Häusler (Ger) Cervelo TestTeam                         35
16 Amber Neben (USA) Equipe Nürnberger Versicherung               30
17 Suzanne De Goede (Ned) Equipe Nürnberger Versicherung          27
18 Christiane Soeder (Aut) Cervelo TestTeam                       26
19 Andrea Bosman (Ned) Leontien.nl                                25
20 Mara Abbott (USA) Team Columbia Highroad Women                 21
21 Marina Jaunatre (Fra) Vienne Futuroscope                       15
22 Marta Vila Josana Andreu (Spa) Team Cmax Dila'                 11
23 Modesta Vzesniauskaite (Ltu) Bigla Cycling Team                10
24 Trixi Worrack (Ger) Equipe Nürnberger Versicherung             10
25 Catherine Delfosse (Bel) Lotto-Belisol Ladiesteam              10
26 Tania Belvederesi (Ita) Gauss RDZ Ormu - Colnago               10
27 Alexandra Wrubleski (Can) Team Columbia Highroad Women          9
28 Rochelle Gilmore (Aus) Lotto-Belisol Ladiesteam                 9
29 Susanne Ljungskog (Swe) Team Flexpoint                          9
30 Giorgia Bronzini (Ita) Safi -Pasta Zara Titanedi                9
31 Sophie Creux (Fra) ESGL 93 - GSD Gestion                        8
32 Linda Melanie Villumsen (Den) Team Columbia Highroad Women      7
33 Fabiana Luperini (Ita) Selle Italia Ghezzi                      6
34 Catherine Hare Willianson (GBr) Fenixs                          6
35 Natalia Boyarskaya (Rus) Fenixs                                 5
36 Alessandra D'ettorre (Ita) Top Girls Fassa Bortolo Raxy Line    5
37 Vicki Whitelaw (Aus) Vision 1 Racing                            5
38 Alona Andruk (Ukr) Safi -Pasta Zara Titanedi                    5
39 Christel Ferrier-Bruneau (Fra) Vision 1 Racing                  4
40 Janel Holcomb (USA) US National Team                            2
41 Alexandra Greenfield (GBr) Great Britain                        2
42 Annemiek Van Vleuten (Ned) DSB Bank - LTO                       2
43 Alexandra Burchenkova (Rus) Petrogradets                        1
44 Lucinda Brand (Ned) Leontien.nl                                 1
45 Liesbeth De Vocht (Bel) DSB Bank - LTO                          1
46 Alice Marmorini (Ita) Fenixs                                    1

Teams
 
1 Cervélo TestTeam                                               224 pts
2 Red Sun Cycling Team                                           210
3 Team Columbia Highroad Women                                   133
4 Equipe Nürnberger Versicherung                                 128
5 Dsb Bank - Lto                                                 118
6 Team Flexpoint                                                 113
7 Netherlands                                                    104
8 Lotto-Belisol Ladiesteam                                        68
9 Vision 1 Racing                                                 63
10 Selle Italia Ghezzi                                            59
11 Bigla Cycling Team                                             55
12 Leontien.Nl                                                    52
13 Gauss Rdz Ormu - Colnago                                       47
14 France                                                         23
15 Fenixs                                                         12
16 Team Cmax Dila'                                                11
17 Italy                                                           7
17 Safi Pasta                                                      7
19 Top Girls Fassa Bortolo Raxy Line                               5
20 Great Britain                                                   2
20 United States                                                   2
22 Russia                                                          1