12th Women's Flèche Wallonne - CDM
Belgium, April 22, 2009
Quality field ensures murder on the Huy
By Les Clarke
Marianne Vos (DSB Bank)
Photo ©: AFP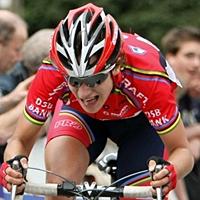 Admittedly the Flèche Wallonne Feminine with its 97.5 kilometres is almost half the distance of the men's race but with plenty of climbing and a field full of talent, there's no question as to the quality of the racing on offer as the women's World Cup continues in Belgium mid-week.
Defending champion Marianne Vos returns in '09 to try to match Nicole Cooke and Fabiana Luperini and win for a third time. Vos already won the first round of the World Cup and is strong enough to climb the eight Côtes on offer, which will become increasingly attritional as the race progresses.
Cooke contributes to that attrition and will be looking to become the sole record holder with four wins. The Vision 1 Racing's World and Olympic champion thrives on the hard miles of the Ardennes. Look out for her teammates Vicki Whitelaw and Helen Wyman, both of whom are very strong riders who will be helping Cooke organise a launching pad for one of her vicious attacks.
And not to be forgotten is current World Cup leader Emma Johansson. Red Sun's Swede performed admirably in the Ronde van Drenthe World Cup round and took home the leader's jersey for her effort. She has a smaller support crew around her, which could be a problem if she's isolated later in the race. She has shown herself to be a smart racer though, and the leaner operation may not hinder her chances.
While the Cervélo TestTeam has made most of the running in the women's peloton thus far this season, it has fallen short of taking a World Cup round victory. Could the women's Flèche Wallonne be the chance the ladies in black have been looking for, or will the evergreen Ina Teutenberg and Judith Arndt spoil the party and do what they've been able to do so many times in the past - win?
Boasting the likes of Kirsten Wild, Emma Pooley, Christiane Soeder, Sarah Düster and Kristin Armstrong, the Cervélo squad looks unmatched. The hilly terrain of La Flèche is well suited to the team's strengths, and they've got a rider for every occasion.
Arndt has finished on the podium for four years in a row and Teutenberg has already 11 season wins. The stability they bring to the Columbia-Highroad outfit is vital to its success. Teutenberg in particular has shown she's in a rich vein of form with victory in the women's Ronde Van Vlaanderen earlier this month.
With the two German stars backed by riders such as countrywoman Luise Keller, Dane Linda Villumsen and Dutchwoman Chantal Beltman, the smart money would bet on a showdown between Cervélo and Columbia-Highroad.
The climbs

  km 38.5, Côte de Peu d'Eau (2.7km @ 3.9%)
km 44, Côte de Haut-Bois  (1.6km @ 4.8%)
km 53.5, Côte de Thon  (1km @ 8.5%)
km 61.5, Côte de Bonneville  (0.9km @ 9.7%)
km 73, Côte de Bohisseau  (1.3km @ 7.6%)
km 76, Côte de Bousalle  (1.7km @ 4.9%)
km 87, Côte de Ahin  (2.3km @6.5%)
km 97.5, Mur de Huy (Finish)  (1.3km @ 9.3% plus 900m @ 11.6%)