Tour of Missouri - 2.1
USA, September 8-14, 2008
Main Page Results Overall standings Stage Details Live report Previous Stage Next Stage
Stage 6 - September 13: Hermann - St. Charles, 96 miles
Cavendish back to winning ways in Missouri
Vande Velde heads into finale with GC lead
By Mark Zalewski, North American Editor with Kirsten Robbins in St. Charles, Missouri
Mark Cavendish (Columbia)
Photo ©: Jon Devich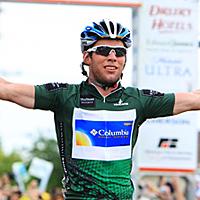 Mark Cavendish (Columbia) was disappointed with his fourth place finish in yesterday's stage from St. James to Jefferson City, saying it was the first time he has lost a field sprint since the Giro d'Italia. So an even more motivated Cavendish came screaming into the finish in St. Charles today and took out his third stage win of the tour in very convincing fashion. Race leader Christian Vande Velde and his Garmin-Chipotle squad successfully defended his 18-second lead over Michael Rogers (Columbia) on the last road race stage of the tour.
"We studied the last kilometre this morning - in the book the corners didn't look so sharp," said Cavendish about the downhill sharp turn at 800 metres. "There were some guys skidding toward us and I thought maybe I should just stay up right. But George [Hincapie] went 'Bam!' and when he goes there is no one who can challenge him. It was a headwind so maybe I told him to go a little too early. Health Net tried to go on the right and I started my sprint with 200 meters to do what I normally do."
Cavendish said the final turn made things interesting, with some riders past their comfort zones. "When you've got guys with their back wheels locked up, you've got to have good bike handling skills - and, more importantly, the balls to keep it upright! I was scared for a minute but I was following George and he gets me around the corners safely."
Coming 'close' to challenging Cavendish for the first time this week, at least compared to previous stages, was Ivan Dominguez (Toyota-United). The Cuban sprinter has been a little off in his sprint, since he has raced less recently with the birth of his son Maximilliano. But as the race has wore on his speed has returned.
"I was trying to stay there and [Rollin] tried to keep me up front," he said. "Once we got to Cavendish's wheel I asked him to keep me there. George went with 500 meters to go - I was behind them but he swung off. With 200 metres to go Cavendish sat down for a second so I did too. That was my mistake right there; I should have gone around him."
"That's the thing about sprinting you can lose the race in just a second mistake," said Dominguez. "If you wait one second it's game over."
"That sprint is crazy and everyone was trying to get behind the Columbia train," said third-place Brad Huff. "It's just full-horsepower and once they set up shop everyone is scrambling behind. It was dangerous with two corners to go and Garmin was trying to get Vande Velde up there to keep him safe."
Water was high in some places from the recent heavy rains.
Photo ©: Jon Devich

Huff has also been inching his way closer to a win, which is doubly important as he is the only Missouri-native in the race. "Every day is motivation for me to get on the podium. I think Missouri has been waiting for me to get up there. I also think the fans like seeing Cavendish up there, he's a great rider. But just being on the podium is never enough. I've had all kinds of supporters, friends, family and loved ones. I've seen people on the course that I would never expect!"
Race leader Vande Velde seemed to get a nod to an overall win as defending champion George Hincapie (Columbia) congratulated him after the stage. "I knew that Columbia would throw everything at us as usual - we just had to wait until there was a correct combination up front and then let the gap open," he said. "I think we got better at doing that and today was a great day for that."
Like Huff, Vande Velde is a Midwest boy, growing up and still living near Chicago. His family is down to watch the finish of the race and he is happy to be in the lead. "This is a perfect way to end my season. I'm close to home, it's in the Midwest. It's been a long season and I've spent so many of my years away from home. I never imagined I'd get to end my season at a nice big stage race with in a five hours drive to my home town."
Trying to take back the sprinter's jersey from Mark Cavendish was his former teammate Eric Baumann (Sparkasse). Baumann attacked to get a break going for the first sprint, and that ended up making the main break of the day. "It was not the plan but then I saw that Mark was not going for the sprints so I attacked and got away with a group. We were only one minute for a while. Eisel tried to sprint me and he is a really good sprinter but he has been working a lot this week. I also told him I wanted to only keep my second place in the jersey because I knew they would catch us! I'm a bit tired today and I had a flat with 1km to go."
Though Baumann took nine points on the road, Cavendish took fifteen for the win, extending his lead. His Columbia teammate in the break Bernhard Eisel also took most aggressive honors for the day for a valiant solo attack for 8 of the final 11km.
"It was a perfect situation for me and for the team really," he told Cyclingnews. "I had 600 excuses out there! First I said I could not ride because Baumann was there. Then Louder was there so I said I could not ride. When it was down to 3 minutes I did ride a little. But then I said no because my team was coming! I went with 11km to go and they got me with 3km to go. Then I was done, cooked and it was like I was standing still."
Eisel said that Cavendish was determined to better his fourth place finish from stage five. "Yesterday fourth place was a new impression for Cavendish so he fought it back today, so good for him!"
The final stage is an urban circuit in St. Louis, almost identical to last year's course. Expectations are for another field sprint, but the remnants of Hurricane Ike could dump on the race.
How it unfolded
Davide Frattini (Colovita-Sutter Home)
Photo ©: Jon Devich

As has been the story of every stage (save for the time trial) attacks came as soon as they were allowed by the race referees - and as before Columbia was one of the main instigators. Hoping to be the beneficiaries of Columbia's work to unseat Vande Velde, many smaller teams joined the efforts.
One of the other 'themes' of the week has been the amount of crashes - and again the bad luck struck just 25km into the race. This sent riders off into the fields to avoid the wrecks, but others were not so lucky, including Cesar Grajales (Rock Racing) and Henk Vogels (Toyota-United).
Soon after this Eric Baumann (Sparkasse) put in an attack as he saw the first intermediate sprint of the day looming, and a chance to secure his second place on the competition. This actually launched the main break of the day with Bernhard Eisel (Columbia) following him. Going with those two were: Francesco Chicchi (Liquigas), Steven Kruijswijk(Rabobank Continental), Jeff Louder (BMC Racing Team), Scott Zwizanski (Bissell), Michael Creed (Rock Racing), Caleb Manion (Toyota - United), Rory Sutherland (Health Net) and Davide Frattini (Colavita).
This break was interesting as Louder was only 2'42" behind Vande Velde in the overall. But Garmin-Chipotle either oozed confidence or showed their tiredness after a long week of hard racing, as they let the gap reach nearly five minutes with 100km to go in the race. But it turned out to be the former as the team then assembled on the front to bring the gap down. Fortunately for them a few other interested parties pitched in with Symmetrics looking to protect Svein Tuft in third place overall.
The gap began to fall as Baumann pulled in the sprint points for the second and third sprints, despite Eisel's best efforts. The KOM competition was not an issue as the leader Dominique Rollin (Toyota-United) was not threatened by any of the break riders.
Garmin-Chipotle slowly chipped away at the lead and with less the 40km to go the gap was well under 2 minutes. But another crash struck the tired field, allowing the gap to go back to 2'15". Louder was clearly trying to motivate his break mates, but that was not enough to make it work. The field had the break in sight with 20km to go, and the attacks started flying.
Eventually a chase group split off the peloton as crosswinds shattered the field. With less than a minute gap the break felt the effects of the crosswinds more, and sat-up to wait for the field. Only Eisel remained vigilant, having had an easier ride for the day, and tried a solo move for the final 10km.
He hung tough until about 3km to go when he was finally reeled in. But his Columbia team took over moving sprinter Mark Cavendish into position. Down the final kilometre the team had control, and with the final downhill turn at 800 metres safely negotiated it was a sprinter's dream. Out of the fray it was again George Hincapie leading out Cavendish, and again there was no one able to come around him as he took his third stage win of the race.
Photography
For a thumbnail gallery of these images, click here
Images by Jonathan Devich/

Images by Mitch Clinton/www.clintonphoto.com
Images by Phoenix Timing Systems
Images by Greg Chang/Photosport International
Results
1 Mark Cavendish (GBr) Team Columbia                                                     3.32.25
2 Ivan Dominguez (Cub) Toyota - United Pro Cycling Team                                         
3 Bradley Huff (USA) Jelly Belly Cycling Team                                                   
4 Michael Van Stayen (Bel) Rabobank Continental                                                 
5 Luis Fernando Macias Hernandez (Mex) Tecos de la Universidad Autonoma de Guadalajara          
6 Tyler Farrar (USA) Team Garmin-Chipotle p/b H30                                               
7 John Murphy (USA) Health Net p/b Maxxis                                                       
8 Boy Van Poppel (Ned) Rabobank Continental                                                     
9 Richard England (Aus) Bissell Pro Cycling                                                     
10 Christian Vande Velde (USA) Team Garmin-Chipotle p/b H30                                     
11 Vincenzo Nibali (Ita) Liquigas                                                               
12 Alejandro Alberto Borrajo (Arg) Colavita Sutter Home p/b CookingLight                        
13 Richard Faltus (Cze) Team Sparkasse                                                          
14 Rob Ruygh (Ned) Team Sparkasse                                                               
15 Svein Tuft (Can) Symmetrics Cycling Team                                                     
16 Kyle Gritters (USA) Health Net p/b Maxxis                                                    
17 Antonio Cruz (USA) BMC Racing Team                                                           
18 George Hincapie (USA) Team Columbia                                                          
19 Michael Rogers (Aus) Team Columbia                                                           
20 Dirk Müller (Ger) Team Sparkasse                                                             
21 Nicholas Sanderson (Aus) Jelly Belly Cycling Team                                            
22 Michael Barry (Can) Team Columbia                                                            
23 Thomas Danielson (USA) Team Garmin-Chipotle p/b H30                                          
24 Juan Pablo Magallanes Aranda (Mex) Tecos de la Universidad Autonoma de Guadalajara           
25 Danilo Wyss (Swi) BMC Racing Team                                                            
26 Andreas Schillinger (Ger) Team Sparkasse                                                     
27 Dominique Rollin (Can) Toyota - United Pro Cycling Team                                      
28 Ben Day (Aus) Toyota - United Pro Cycling Team                                               
29 Davide Frattini (Ita) Colavita Sutter Home p/b CookingLight                                  
30 Darren Lill (RSA) BMC Racing Team                                                            
31 Dan Bowman (USA) Kelly Benefit Strategies - Medifast                                         
32 Roman Kreuziger (Cze) Liquigas                                                               
33 Brent Bookwalter (USA) BMC Racing Team                                                       
34 Gianni Da Ros (Ita) Liquigas                                                                 
35 Jeremiah Wiscovitch (USA) Rock Racing                                                        
36 Jeffry Louder (USA) BMC Racing Team                                                          
37 Martin Kohler (Swi) BMC Racing Team                                                          
38 Kari Menzies (Aus) Health Net p/b Maxxis                                                     
39 Marco Pinotti (Ita) Team Columbia                                                            
40 Andy Guptill (USA) Colavita Sutter Home p/b CookingLight                                 0.08
41 Thomas Rabou (Ned) Rabobank Continental                                                      
42 Carlos Oyarzun (Chi) Tecos de la Universidad Autonoma de Guadalajara                         
43 Matej Mugerli (Slo) Liquigas                                                                 
44 Edward King (USA) Bissell Pro Cycling                                                        
45 Luis Amaran (Cub) Colavita Sutter Home p/b CookingLight                                      
46 Gustavo Artacho (Arg) Colavita Sutter Home p/b CookingLight                                  
47 Chris Wherry (USA) Toyota - United Pro Cycling Team                                          
48 Marcel Beima (Ned) Rabobank Continental                                                      
49 Thomas Berkhout (Ned) Rabobank Continental                                                   
50 Kai Reus (Ned) Rabobank Continental                                                          
51 Steven Kruijswijk (Ned) Rabobank Continental                                             0.13
52 Nicholas Reistad (USA) Jelly Belly Cycling Team                                          0.16
53 Tim Johnson (USA) Health Net p/b Maxxis                                                      
54 Matt Rice (Aus) Jelly Belly Cycling Team                                                     
55 Darren Lapthorne (Aus) Team Sparkasse                                                    0.24
56 Lars Wackernagel (Ger) Team Sparkasse                                                        
57 Kirk O'Bee (USA) Health Net p/b Maxxis                                                   0.29
58 Michael Creed (USA) Rock Racing                                                              
59 Bernard Van Ulden (USA) Jelly Belly Cycling Team                                             
60 Rory Sutherland (Aus) Health Net p/b Maxxis                                                  
61 Eric Baumann (Ger) Team Sparkasse                                                            
62 Danny Pate (USA) Team Garmin-Chipotle p/b H30                                            1.52
63 Steven Cozza (USA) Team Garmin-Chipotle p/b H30                                              
64 Andy Bajadali (USA) Kelly Benefit Strategies - Medifast                                  2.08
65 Tom Zirbel (USA) Bissell Pro Cycling                                                         
66 Frank Pipp (USA) Health Net p/b Maxxis                                                       
67 Garrett Peltonen (USA) Bissell Pro Cycling                                                   
68 Jetse Bol (Ned) Rabobank Continental                                                         
69 Anthony Colby (USA) Colavita Sutter Home p/b CookingLight                                    
70 Mike Sayers (USA) BMC Racing Team                                                            
71 Eric Wohlberg (Can) Symmetrics Cycling Team                                                  
72 Christopher Baldwin (USA) Toyota - United Pro Cycling Team                                   
73 Jeremy Powers (USA) Jelly Belly Cycling Team                                                 
74 Francesco Chicchi (Ita) Liquigas                                                             
75 Jacopo Guarnieri (Ita) Liquigas                                                              
76 Bernardo Colex Tepoz (Mex) Tecos de la Universidad Autonoma de Guadalajara                   
77 Jonathan Garcia (USA) BMC Racing Team                                                        
78 Kiel Reijnen (USA) Jelly Belly Cycling Team                                                  
79 Cameron Evans (Can) Symmetrics Cycling Team                                                  
80 Justin Spinelli (USA) Kelly Benefit Strategies - Medifast                                    
81 Reid Mumford (USA) Kelly Benefit Strategies - Medifast                                       
82 Omer Kem (USA) Bissell Pro Cycling                                                           
83 Ryan Andreson (Can) Symmetrics Cycling Team                                                  
84 Hilton Clarke (Aus) Toyota - United Pro Cycling Team                                     2.17
85 Sebastian Frey (Ger) Team Sparkasse                                                          
86 Andrew Randell (Can) Symmetrics Cycling Team                                                 
87 Alex Candelario (USA) Kelly Benefit Strategies - Medifast                                    
88 Ben Jacques-Maynes (USA) Bissell Pro Cycling                                             2.22
89 Bernhard Eisel (Aut) Team Columbia                                                       2.30
90 David Zabriskie (USA) Team Garmin-Chipotle p/b H30                                       3.53
91 Lui Alfredo Gutierrez Colunga (Mex) Tecos de la Universidad Autonoma de Guadalajara      6.38
92 Scott Zwizanski (USA) Bissell Pro Cycling                                               10.23
93 Caleb Manion (Aus) Toyota - United Pro Cycling Team                                          
94 Will Routley (Can) Symmetrics Cycling Team                                                   
95 Andrew Pinfold (Can) Symmetrics Cycling Team                                            12.15
DNF Daniel Holloway (USA) Team Garmin-Chipotle p/b H30                                          
DNF Omar Cervantes Diaz (Mex) Tecos de la Universidad Autonoma de Guadalajara                   
DNF Cesar Augusto Grajales (Col) Rock Racing                                                    
DNF Sergio Hernandez (USA) Rock Racing                                                          
DNF Henk Vogels (Aus) Toyota - United Pro Cycling Team                                          
DNF Lucas Sebastian Haedo (Arg) Colavita Sutter Home p/b CookingLight                           
DNF Luca Damiani (Ita) Colavita Sutter Home p/b CookingLight                                    
DNF Kevin Lacombe (Can) Kelly Benefit Strategies - Medifast                                     
DNF David Veilleux (Can) Kelly Benefit Strategies - Medifast                                    
DNF Bryce Mead (USA) Jelly Belly Cycling Team                                                   
DSQ Roman Kilun (USA) Health Net p/b Maxxis                                                     
 
Sprints
 
1
1 Eric Baumann (Ger) Team Sparkasse                                                            5 pts
2 Bernhard Eisel (Aut) Team Columbia                                                           3
3 Jeffry Louder (USA) BMC Racing Team                                                          1
 
2
1 Eric Baumann (Ger) Team Sparkasse                                                            5 pts
2 Bernhard Eisel (Aut) Team Columbia                                                           3
3 Steven Kruijswijk (Ned) Rabobank Continental                                                 1
 
3
1 Eric Baumann (Ger) Team Sparkasse                                                            5 pts
2 Jeffry Louder (USA) BMC Racing Team                                                          3
3 Steven Kruijswijk (Ned) Rabobank Continental                                                 1
 
Mountains
 
1
1 Carlos Oyarzun (Chi) Tecos de la Universidad Autonoma de Guadalajara                         6 pts
2 Matej Mugerli (Slo) Liquigas                                                                 5
3 Eric Baumann (Ger) Team Sparkasse                                                            4
4 Jeffry Louder (USA) BMC Racing Team                                                          3
5 Scott Zwizanski (USA) Bissell Pro Cycling                                                    1
 
2
1 Carlos Oyarzun (Chi) Tecos de la Universidad Autonoma de Guadalajara                         6 pts
2 Michael Creed (USA) Rock Racing                                                              5
3 Bernhard Eisel (Aut) Team Columbia                                                           4
4 Matej Mugerli (Slo) Liquigas                                                                 3
5 Jeffry Louder (USA) BMC Racing Team                                                          1
 
3
1 Carlos Oyarzun (Chi) Tecos de la Universidad Autonoma de Guadalajara                         6 pts
2 Matej Mugerli (Slo) Liquigas                                                                 5
3 Jeffry Louder (USA) BMC Racing Team                                                          4
4 Davide Frattini (Ita) Colavita Sutter Home p/b CookingLight                                  3
5 Bernhard Eisel (Aut) Team Columbia                                                           1
 
Teams
 
1 Team Columbia                                                                         10.37.15
2 Garmin/Chipotle Presented by H3O                                                              
3 Team Sparkasse                                                                                
4 Toyota-United Pro Cycling Team                                                                
5 Health Net Presented By Maxxis                                                                
6 BMC Racing Team                                                                               
7 Liquigas                                                                                      
8 Rabobank Continental                                                                      0.08
9 Tecos de la Universidad Autonoma de Guadalaiara                                               
10 Colavita/Sutter Home Presented By Cooking Light                                              
11 Jelly Belly Cycling Team                                                                 0.16
12 Bissell Pro Cycling                                                                      2.16
13 Symmetrics Cycling Team                                                                  4.16
14 Kelly Benefit Strategies-Medifast                                                            
 
General classification after stage 6
 
1 Christian Vande Velde (USA) Team Garmin-Chipotle p/b H30                              19.26.20
2 Michael Rogers (Aus) Team Columbia                                                        0.18
3 Svein Tuft (Can) Symmetrics Cycling Team                                                  0.48
4 George Hincapie (USA) Team Columbia                                                       1.03
5 Thomas Danielson (USA) Team Garmin-Chipotle p/b H30                                       1.32
6 Ben Day (Aus) Toyota - United Pro Cycling Team                                            1.33
7 Roman Kreuziger (Cze) Liquigas                                                            1.54
8 Jeffry Louder (USA) BMC Racing Team                                                       2.39
9 Dominique Rollin (Can) Toyota - United Pro Cycling Team                                   2.42
10 Michael Barry (Can) Team Columbia                                                        2.47
11 Dirk Müller (Ger) Team Sparkasse                                                         3.18
12 Antonio Cruz (USA) BMC Racing Team                                                       3.23
13 Danilo Wyss (Swi) BMC Racing Team                                                        3.42
14 Marco Pinotti (Ita) Team Columbia                                                        4.08
15 Eric Baumann (Ger) Team Sparkasse                                                        4.56
16 Tom Zirbel (USA) Bissell Pro Cycling                                                     5.19
17 Andy Bajadali (USA) Kelly Benefit Strategies - Medifast                                  6.48
18 Richard Faltus (Cze) Team Sparkasse                                                      7.28
19 Andreas Schillinger (Ger) Team Sparkasse                                                 7.30
20 Tim Johnson (USA) Health Net p/b Maxxis                                                  7.46
21 Thomas Rabou (Ned) Rabobank Continental                                                 10.54
22 Bernardo Colex Tepoz (Mex) Tecos de la Universidad Autonoma de Guadalajara              12.38
23 Omer Kem (USA) Bissell Pro Cycling                                                      16.31
24 Darren Lill (RSA) BMC Racing Team                                                       19.53
25 Rory Sutherland (Aus) Health Net p/b Maxxis                                             20.04
26 Vincenzo Nibali (Ita) Liquigas                                                          20.12
27 Brent Bookwalter (USA) BMC Racing Team                                                  20.34
28 Luis Amaran (Cub) Colavita Sutter Home p/b CookingLight                                 20.48
29 Martin Kohler (Swi) BMC Racing Team                                                     20.54
30 Tyler Farrar (USA) Team Garmin-Chipotle p/b H30                                         21.14
31 Chris Wherry (USA) Toyota - United Pro Cycling Team                                     21.16
32 Danny Pate (USA) Team Garmin-Chipotle p/b H30                                           21.20
33 Mark Cavendish (GBr) Team Columbia                                                      21.24
34 Edward King (USA) Bissell Pro Cycling                                                   21.40
35 Matej Mugerli (Slo) Liquigas                                                            21.53
36 Christopher Baldwin (USA) Toyota - United Pro Cycling Team                              22.13
37 Michael Creed (USA) Rock Racing                                                         22.24
38 Steven Cozza (USA) Team Garmin-Chipotle p/b H30                                         22.33
39 Jonathan Garcia (USA) BMC Racing Team                                                   22.42
40 Thomas Berkhout (Ned) Rabobank Continental                                              22.44
41 John Murphy (USA) Health Net p/b Maxxis                                                 22.45
42 Dan Bowman (USA) Kelly Benefit Strategies - Medifast                                    22.52
43 Bradley Huff (USA) Jelly Belly Cycling Team                                             23.19
44 Kari Menzies (Aus) Health Net p/b Maxxis                                                23.24
45 Davide Frattini (Ita) Colavita Sutter Home p/b CookingLight                             23.25
46 Ben Jacques-Maynes (USA) Bissell Pro Cycling                                            23.26
47 Marcel Beima (Ned) Rabobank Continental                                                 23.31
48 Carlos Oyarzun (Chi) Tecos de la Universidad Autonoma de Guadalajara                    23.42
49 Richard England (Aus) Bissell Pro Cycling                                               23.49
50 Boy Van Poppel (Ned) Rabobank Continental                                               23.50
51 Kai Reus (Ned) Rabobank Continental                                                     23.54
52 David Zabriskie (USA) Team Garmin-Chipotle p/b H30                                      24.01
53 Justin Spinelli (USA) Kelly Benefit Strategies - Medifast                               24.04
54 Juan Pablo Magallanes Aranda (Mex) Tecos de la Universidad Autonoma de Guadalajara      24.09
55 Matt Rice (Aus) Jelly Belly Cycling Team                                                24.36
56 Eric Wohlberg (Can) Symmetrics Cycling Team                                             24.41
57 Anthony Colby (USA) Colavita Sutter Home p/b CookingLight                               24.43
58 Nicholas Sanderson (Aus) Jelly Belly Cycling Team                                       24.47
59 Michael Van Stayen (Bel) Rabobank Continental                                           24.54
60 Steven Kruijswijk (Ned) Rabobank Continental                                            25.08
61 Hilton Clarke (Aus) Toyota - United Pro Cycling Team                                    25.17
62 Alejandro Alberto Borrajo (Arg) Colavita Sutter Home p/b CookingLight                   25.19
63 Jeremy Powers (USA) Jelly Belly Cycling Team                                            25.23
64 Luis Fernando Macias Hernandez (Mex) Tecos de la Universidad Autonoma de Guadalajara    25.25
65 Francesco Chicchi (Ita) Liquigas                                                        25.29
66 Kiel Reijnen (USA) Jelly Belly Cycling Team                                             25.34
67 Jacopo Guarnieri (Ita) Liquigas                                                         25.39
68 Cameron Evans (Can) Symmetrics Cycling Team                                             25.54
69 Gustavo Artacho (Arg) Colavita Sutter Home p/b CookingLight                             26.24
70 Ryan Andreson (Can) Symmetrics Cycling Team                                             26.40
71 Jeremiah Wiscovitch (USA) Rock Racing                                                   26.49
72 Gianni Da Ros (Ita) Liquigas                                                            26.57
73 Garrett Peltonen (USA) Bissell Pro Cycling                                              27.07
74 Bernard Van Ulden (USA) Jelly Belly Cycling Team                                        27.29
75 Andy Guptill (USA) Colavita Sutter Home p/b CookingLight                                27.41
76 Darren Lapthorne (Aus) Team Sparkasse                                                   27.47
77 Ivan Dominguez (Cub) Toyota - United Pro Cycling Team                                   28.00
78 Kirk O'Bee (USA) Health Net p/b Maxxis                                                  28.44
79 Andrew Randell (Can) Symmetrics Cycling Team                                            28.52
80 Rob Ruygh (Ned) Team Sparkasse                                                          28.55
81 Jetse Bol (Ned) Rabobank Continental                                                    29.08
82 Frank Pipp (USA) Health Net p/b Maxxis                                                  29.14
83 Mike Sayers (USA) BMC Racing Team                                                       30.00
84 Lars Wackernagel (Ger) Team Sparkasse                                                   30.30
85 Kyle Gritters (USA) Health Net p/b Maxxis                                               30.43
86 Reid Mumford (USA) Kelly Benefit Strategies - Medifast                                  30.52
87 Alex Candelario (USA) Kelly Benefit Strategies - Medifast                               31.06
88 Lui Alfredo Gutierrez Colunga (Mex) Tecos de la Universidad Autonoma de Guadalajara     32.45
89 Will Routley (Can) Symmetrics Cycling Team                                              33.03
90 Bernhard Eisel (Aut) Team Columbia                                                      34.00
91 Nicholas Reistad (USA) Jelly Belly Cycling Team                                         35.18
92 Caleb Manion (Aus) Toyota - United Pro Cycling Team                                     35.51
93 Sebastian Frey (Ger) Team Sparkasse                                                     36.57
94 Andrew Pinfold (Can) Symmetrics Cycling Team                                            37.56
95 Scott Zwizanski (USA) Bissell Pro Cycling                                               38.32
 
Points classification
 
1 Mark Cavendish (GBr) Team Columbia                                                          62 pts
2 Eric Baumann (Ger) Team Sparkasse                                                           48
3 Michael Van Stayen (Bel) Rabobank Continental                                               29
4 Tyler Farrar (USA) Team Garmin-Chipotle p/b H30                                             28
5 Bradley Huff (USA) Jelly Belly Cycling Team                                                 20
6 Francesco Chicchi (Ita) Liquigas                                                            20
7 Boy Van Poppel (Ned) Rabobank Continental                                                   18
8 Danilo Wyss (Swi) BMC Racing Team                                                           17
9 Michael Barry (Can) Team Columbia                                                           15
10 Andrew Pinfold (Can) Symmetrics Cycling Team                                               14
11 Ivan Dominguez (Cub) Toyota - United Pro Cycling Team                                      12
12 Andreas Schillinger (Ger) Team Sparkasse                                                   10
13 Michael Rogers (Aus) Team Columbia                                                         10
14 Martin Kohler (Swi) BMC Racing Team                                                         8
15 Christian Vande Velde (USA) Team Garmin-Chipotle p/b H30                                    8
16 Dominique Rollin (Can) Toyota - United Pro Cycling Team                                     8
17 John Murphy (USA) Health Net p/b Maxxis                                                     8
18 Luis Fernando Macias Hernandez (Mex) Tecos de la Universidad Autonoma de Guadalajara        7
19 Bernhard Eisel (Aut) Team Columbia                                                          6
20 Darren Lill (RSA) BMC Racing Team                                                           6
21 Mike Sayers (USA) BMC Racing Team                                                           6
22 Roman Kreuziger (Cze) Liquigas                                                              6
23 Svein Tuft (Can) Symmetrics Cycling Team                                                    5
24 Alex Candelario (USA) Kelly Benefit Strategies - Medifast                                   5
25 Jeffry Louder (USA) BMC Racing Team                                                         4
26 Tom Zirbel (USA) Bissell Pro Cycling                                                        4
27 Lui Alfredo Gutierrez Colunga (Mex) Tecos de la Universidad Autonoma de Guadalajara         3
28 Chris Wherry (USA) Toyota - United Pro Cycling Team                                         3
29 George Hincapie (USA) Team Columbia                                                         3
30 Steven Kruijswijk (Ned) Rabobank Continental                                                    2
31 Andy Guptill (USA) Colavita Sutter Home p/b CookingLight                                    2
32 Jetse Bol (Ned) Rabobank Continental                                                        2
33 Antonio Cruz (USA) BMC Racing Team                                                          2
34 Richard England (Aus) Bissell Pro Cycling                                                   2
35 Caleb Manion (Aus) Toyota - United Pro Cycling Team                                         1
36 Marco Pinotti (Ita) Team Columbia                                                           1
37 Ben Day (Aus) Toyota - United Pro Cycling Team                                              1
38 Alejandro Alberto Borrajo (Arg) Colavita Sutter Home p/b CookingLight                       1
 
Mountains classification
 
1 Dominique Rollin (Can) Toyota - United Pro Cycling Team                                     24 pts
2 Carlos Oyarzun (Chi) Tecos de la Universidad Autonoma de Guadalajara                        18
3 Frank Pipp (USA) Health Net p/b Maxxis                                                      15
4 Matej Mugerli (Slo) Liquigas                                                                13
5 Michael Creed (USA) Rock Racing                                                              8
6 Bernardo Colex Tepoz (Mex) Tecos de la Universidad Autonoma de Guadalajara                   8
7 Jeffry Louder (USA) BMC Racing Team                                                          8
8 Caleb Manion (Aus) Toyota - United Pro Cycling Team                                          6
9 Michael Barry (Can) Team Columbia                                                            5
10 Marco Pinotti (Ita) Team Columbia                                                           5
11 Chris Wherry (USA) Toyota - United Pro Cycling Team                                         5
12 Will Routley (Can) Symmetrics Cycling Team                                                  5
13 Darren Lill (RSA) BMC Racing Team                                                           5
14 Alex Candelario (USA) Kelly Benefit Strategies - Medifast                                   5
15 Bernhard Eisel (Aut) Team Columbia                                                          5
16 Kyle Gritters (USA) Health Net p/b Maxxis                                                   4
17 Tim Johnson (USA) Health Net p/b Maxxis                                                     4
18 Eric Baumann (Ger) Team Sparkasse                                                           4
19 George Hincapie (USA) Team Columbia                                                         4
20 Rob Ruygh (Ned) Team Sparkasse                                                              3
21 Dirk Müller (Ger) Team Sparkasse                                                            3
22 Davide Frattini (Ita) Colavita Sutter Home p/b CookingLight                                 3
23 Brent Bookwalter (USA) BMC Racing Team                                                      3
24 Christian Vande Velde (USA) Team Garmin-Chipotle p/b H30                                    1
25 Michael Rogers (Aus) Team Columbia                                                          1
26 Jonathan Garcia (USA) BMC Racing Team                                                       1
27 Scott Zwizanski (USA) Bissell Pro Cycling                                                   1
 
Young rider classification
 
1 Roman Kreuziger (Cze) Liquigas                                                        19.28.14
2 Danilo Wyss (Swi) BMC Racing Team                                                         1.48
3 Martin Kohler (Swi) BMC Racing Team                                                      19.00
4 Mark Cavendish (GBr) Team Columbia                                                       19.30
5 Steven Cozza (USA) Team Garmin-Chipotle p/b H30                                          20.39
6 Boy Van Poppel (Ned) Rabobank Continental                                                21.56
7 Kai Reus (Ned) Rabobank Continental                                                      22.00
8 Michael Van Stayen (Bel) Rabobank Continental                                            23.00
9 Steven Kruijswijk (Ned) Rabobank Continental                                             23.14
10 Kiel Reijnen (USA) Jelly Belly Cycling Team                                             23.40
11 Jacopo Guarnieri (Ita) Liquigas                                                         23.45
12 Ryan Andreson (Can) Symmetrics Cycling Team                                             24.46
13 Gianni Da Ros (Ita) Liquigas                                                            25.03
14 Rob Ruygh (Ned) Team Sparkasse                                                          27.01
15 Jetse Bol (Ned) Rabobank Continental                                                    27.14
 
Teams classification
 
1 Team Columbia                                                                         58.23.16
2 BMC Racing Team                                                                           2.18
3 Team Sparkasse                                                                            6.46
4 Garmin/Chipotle Presented by H3O                                                         16.17
5 Toyota-United Pro Cycling Team                                                           19.25
6 Bissell Pro Cycling                                                                      30.11
7 Liquigas                                                                                 38.34
8 Health Net Presented By Maxxis                                                           41.14
9 Symmetrics Cycling Team                                                                  45.12
10 Kelly Benefit Strategies-Medifast                                                       49.10
11 Rabobank (Continental)                                                                  52.15
12 Tecos de la Universidad Autonoma de Guadalaiara                                         53.25
13 Colavita/Sutter Home Presented By Cooking Light                                       1.02.08
14 Jelly Belly Cycling Team                                                              1.02.23