Olympic Cycling News & Round-up, July 9, 2008
Edited by Greg Johnson
Great Britain names strong Olympic squad
Bradley Wiggins leads the Great Britain team
Photo ©: John Pierce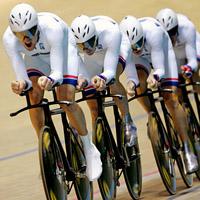 British Cycling has announced the riders that will lead it at August's Olympic Games in Beijing, China. The nation's roster is one of the strongest ever seen, placing the Britons as the team to beat in many cycling events, primarily on the track.
"The Great Britain Cycling team has continued to develop to such a point where it is clearly both the strongest and most professional Cycling team from Great Britain in living memory," said British Cycling Performance Director Dave Brailsford. "The very tough selection decisions which had to be made are a testament to the strength and depth of talent within our programme. In keeping with the overall philosophy of the Great Britain Cycling team this squad will leave no stone unturned in its quest for success."
The British track squad includes the likes of Victoria Pendleton, Mark Cavendish, Chris Hoy and Bradley Wiggins. The riders formed the backbone of Great Britain's squad dominated the most recent UCI Track World Championships held on their home turf in Manchester.
"I'm delighted to be named in the squad for the Beijing Olympics, particularly given the very high standard of competition for places," said Hoy. "I'm looking forward to getting out there and showing how good British cycling is and to having a successful Games."
Coming up on
Cyclingnews will cover the 60th edition of the Dauphiné Libéré live as of stage 4 on Wednesday, June 10, at approximately 15:00 local Europe time (CEST)/ 23:00 Australian time (CDT)/ 9:00 (USA East).

WAP-enabled mobile devices: http://live.cyclingnews.com/wap/

"I'm really pleased to be selected," added Pendleton. "It's an honour to be selected especially in such a strong squad. I'm looking forward to going to Beijing and building on my form from the Worlds in Manchester earlier this year."
The road squad will be led by top British road cyclists Roger Hammond and Steve Cummings in the men's road race, with Cummings the nation's only individual time trial rider for Beijing. Experienced road racer Nicole Cooke will lead the women's road squad with the young up and coming rider Emma Pooley also on the squad.
"I am delighted with the selections and convinced that this team will bring home the best ever set of results," said British Cycling President Brian Cookson. "Nothing can ever be guaranteed in elite sport, but British cycling fans can look forward to Beijing with confidence - there is no doubt that this is the best British Olympic cycling team of the modern era."
Shanaze Reade has opted to focus on BMX's debut at the Olympic Games, while British Cycling is yet to announce its men's BMX nomination. Oliver Beckingsale and Liam Killeen will represent the nation in the mountain biking events.
"It's great to be selected, and a relief," said Beckingsale. "This will be my third Olympic Games and I believe it will be my best by a long way. In the last few years I've been riding better than ever and I believe I will produce a personal best performance at these Games."
BMX: Shanaze Reade (Women's BMX) and Men's BMX - (One rider to be announced)
Mountain Bike: Oliver Beckingsale and Liam Killeen
Road: Jonny Bellis (Men's Road Race), Steve Cummings (Men's Road Race & Individual Time Trial), Roger Hammond (Men's Road Race), Ben Swift (Men's Road Race), Nicole Cooke (Women's Road Race), Sharon Laws (Women's Road Race) and Emma Pooley (Women's Road Race).
Track: Steven Burke (Team Pursuit), Mark Cavendish (Madison), Edward Clancy (Team Pursuit), Ross Edgar (Team Sprint and Keirin), Chris Hoy (Sprint, Team Sprint and Keirin), Jason Kenny (Sprint and Team Sprint), Paul Manning (Team Pursuit), Chris Newton (Points Race), Victoria Pendleton (Sprint), Rebecca Romero (Women's Pursuit and Points Race), Jamie Staff (Team Sprint), Geraint Thomas (Team Pursuit), Bradley Wiggins (Individual Pursuit, Team Pursuit and Madison) and Wendy Houvenaghel (Women's Individual Pursuit).
Graham withdraws Olympic appeal
By Greg Johnson
Australian cyclist Lorian Graham has withdrawn her appeal over non-selection for the national team heading to this year's Olympic Games in Beijing, China next month. Graham's was one of two appeals lodged after Cycling Australia announced its nominees for the August event a fortnight ago.
A Cycling Australia spokesperson confirmed to Cyclingnews that Graham withdrew her appeal on Monday, offering no reason for the retraction. Graham was one of the Australian National Team members injured in the 2005 training accident which claimed the life of team-mate Amy Gillett in Germany.
The withdrawal of Graham's appeal means Kate Bates' position on the Olympic squad is safe, with the deadline for appeals now passed.
The remaining appeal by mountain biker Chris Jongewaard will be heard by a selection appeals panel in Melbourne tomorrow. The panel will include a lawyer and an athletes' representative.
Jongewaard is Australia's highest ranked mountain biker, but has been left off the squad due to a pending court case hanging over the South Australian's head. The rider is due to answer charges later this year regarding a hit-and-run incident, in which Jongewaard stuck training partner Matthew Rex, leaving Rex with head injuries and in a medically-induced coma for 12 days.
While the incident took place in February 2007, and Rex has since recovered, court proceedings over the charges have been delayed on numerous occasions. The trial is scheduled to take place in December of this year.
"The committee believes it cannot in good faith nominate Chris Jongewaard," a Cycling Australia representative told media last week. "We acknowledge he met the performance criteria but nomination for selection in the Australian team for the Olympic Games is based on more than results."
Hunter: Olympic medal doesn't mean much
Robbie Hunter (Barloworld)
Photo ©: Shane Goss

South Africa's Robbie Hunter might ride for one of his national team-mates at August's Beijing Olympic Games in China. While the Barloworld rider didn't contest last year's Olympic test event, he believes the profile of the hilly course won't suit sprinters like himself. Hunter also believes the lack of financial reward for winning the Olympic Games makes it less appealing than Tour de France success.
"For me I want to try and get the best result possible," he told IAfrica.com. "The course might not be best suited to me it may be better suited to Jean Lee who is the younger rider. But obviously we also need to look at the next four weeks ahead of the Olympics and see what condition we are in when we arrive [in Beijing]."
Hunter, a Tour de France stage winner, admitted the Olympic Games don't have the same prestige as a Tour de France stage win. The rider said it was difficult to compare the two, given the Olympics only take place every four years.
"That's difficult to answer and you need to look at it from both aspects," admitted Hunter. "As far as cycling is concerned an Olympic medal does not mean much - a stage of the Tour de France means a lot more.
"Not that the Olympics means nothing it is just that it only comes around once every four years, there are other events in cycling such as the world champs that a mean a lot more," he added. "Cycling is sport that runs professionally from February to October every year, so obviously there are events than mean a lot more - for me at this stage of my cycling career a stage win in the Tour de France is a lot more sought after than the Olympics."
The South African added that the lack of financial return on winning the Olympic Games is one thing preventing it from equaling the Tour in his book. "The problem is that the financial reward between the two events is a big difference and being a professional athlete the Tour is what basically pays you bill... winning the Olympics the financial reward does not even factor into it," he said.
"As far as being a South African and the SA public obviously an Olympic medal means a hell of a lot," he added.
Hunter believes Beijing's course might be better suited to Team Barloworld and South African national team team-mate Jean Lee Augustyn.
Chadwick named to Olympic team
Glen Chadwick will go to the Olympic Games
Photo ©: Glen Chadwick

Earlier this season, the idea that Team Type 1's Glen Chadwick would be chosen to represent New Zealand at the 2008 Summer Olympic Games in Beijing, China would have seemed far-fetched. After all, in February, he was hospitalized with such a severe case of Epstein-Barr virus that his internal organs had begun shutting down and he questioned whether or not he would survive the illness.
Now, the 31 year-old has become the second rider from his Team Type 1 to earn a trip to Beijing. Moises Aldape learned last month that he will represent Mexico.
"It sure does feel awesome to become an Olympian," Chadwick said. "I have represented New Zealand at the world championships before, but this is a sportsman's dream. It comes once every four years, so there are fewer chances to go."
Joining Chadwick on the Kiwi road team will be Tim Gudsell (Franšaise des Jeux) and fast-finisher Julian Dean (Garmin-Chipotle presented by H30). Team Type 1 Sport Director Ed Beamon said Chadwick will work unselfishly for Dean, just as he has for the team-mates on his current squad.
"It's a tribute to Glen's individual ability and his teamwork ability that he got the selection," Beamon said. "I can't think of a guy who would be a better team-mate than Glen. From our perspective, he's been one of those guys who has done an incredible amount of work for the team."
Chadwick has experienced his own success this season, winning two stages and the overall title at the inaugural Tour of Arkansas in May. In 2007, he was New Zealand's national time trial champion. '
More countries announce Olympic teams
As the Beijing Olympic Games draw closer, countries are finalising their rosters for the cycling events. Tour of Austria stage three winner Chris Anker S°rensen was chosen to represent Denmark along with CSC-Saxo Bank team-mate Nicki S°rensen. Brian Vandborg will participate in both the road race and the time trial.
Slovenians Borut Bozic (Team Collstrop) and adej Valjavec (Lampre), Jure Golcer and Simon Spilak will contest the road race, with the latter racing the time trial as well.
Estonia will be represented by Rein Taaramńe and Tanel Kangert, while Algeria's sole participant will be 20 year-old Hichem Chabane.
Courtesy velo-club.net
Valverde, Contador and Freire to Beijing
By Antonio J. Salmerón
Alberto Contador
Photo ©: Roberto Bettini

Following the Spanish championships last weekend, national selector Francisco Antequera has already selected winner Alejandro Valverde (Caisse d'Epargne) along with Óscar Freire (Rabobank) and Alberto Contador (Astana) to form the core of Spain's road race contingent at the Olympic Games in Beijing.
However, Antequera has decided against the inclusion of national time trial champion Luis León Sánchez (Caisse d'Epargne) and also Oscar Sevilla (Rock Racing), who took silver behind Valverde on Sunday. Giro d'Italia champion Contador and Euskaltel-Euskadi leader Samuel Sánchez are likely to ride the time trial, along with José Iván Gutiérrez (Caisse d'Epargne).
The remaining candidates for the Spanish Olympic squad are Carlos Barredo (Quick Step) and Carlos Sastre (CSC-Saxo Bank), with Antequera waiting until after the Tour de France before making a final decision.
Anna Meares diary: Back to racing
Stairs the day after arriving

This is how we all spent the week passing time

That hug from Lutz.

Arriving in Cottbuss, Germany after travelling for nearly 40 hours, it's needless to say we were all very tired. When my head hit the pillow that night I slept for 10 hours straight. I awoke feeling wonderful, despite the cough!
Talk at breakfast was about the massive storm that hit last night...to my surprise I asked, 'what storm?' They were just as surprised I didn't know about it. They said it was so loud, wind, thunder, rain, trees bending and breaking...I looked outside at this point and queried. It rained? I was astonished. Something so loud for sure would wake me up - Marks snoring does it at the best of times let alone a big storm. I must have been dead to the world.
A few days in and it was the semi final for the European Cup (soccer) and Germany was in it. Well, that night no one got a good sleep...talk about loud. The Germans won and the noise from all the kids staying in this place. Wow. Screams, drumming on any surface they could find, water bombs out the windows. Our guys were yelling at them to shut up, but it only added to the noise. I think they were still going at like 1 AM.
On Wednesday the race organisers held a barbeque for all the teams racing, but the Aussies were the only ones to go. It was very good. Luts Heschlich (Germany) came and made me blush. If there was anyone that could be titled the greatest sprinter in history, it would be this man.
Luts hugged Ray and felt his waist and said 'Oh you in good shape. I no like men, but you feel good'. Then he did the same to me and said 'you're in much better shape then Ryan', it was very funny! I was blushing and everyone gave me shit for it too. Ah, it was a good laugh.
Race day came about fast. I qualified on 95" today. The biggest I have ever qualified on. But it felt good. The track at Cottbuss is so steep that you get a good run off of the banking. I qualified fastest in 11.41 seconds, only 0.06 off of the track record for women, so I was very pleased with that.
I had Maphusa of Malaysia first up and I felt it was not too much of a threat and moved through to the quarters easily. In the quarters I met Yvonne of the Netherlands, my good friend, and that was a good match up. I won, but I was lucky she was a bit off on her tactics and I had good legs. I made mistakes, but had legs to cover myself, so, phew on that part.
To read the full entry, click here. Also see new diaries D-Day and Olympic journey begins.
(All rights reserved/Copyright Future Publishing Limited 2008)