World and Olympic 500 metre Time Trial Champion Anna Meares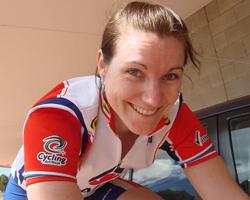 Anna Meares recovery and Olympic Games lead-up diary
At just 24 years of age Australia's Anna Meares is one of the world's top track cyclists. In addition to being the reigning World Champion in the 500 metre Time Trial, Meares is also the defending 500 metre Time Trial Olympic Games champion, after taking gold at the Athens Olympic Games in 2004.
Meares suffered a setback in her Beijing Olympic Games bid in January after a horrifying accident at the Los Angeles Track World Cup came close to ending more than her Olympic ambitions. Now back in Australia and riding again, Meares has joined Cyclingnews' list of diarist and will share her road to recovery and, if all goes well for the Queenslander, Beijing Olympic bid with our readers.
July 7, 2008
Back to racing
Stairs the day after arriving

This is how we all spent the week passing time

That hug from Lutz.

I hung out with Chris Hoy in Germany,

This is how I felt after the day of

Me with my friend and rival Miriam

Arriving in Cottbuss, Germany after travelling for nearly 40 hours, it's needless to say we were all very tired. When my head hit the pillow that night I slept for 10 hours straight. I awoke feeling wonderful, despite the cough!
Talk at breakfast was about the massive storm that hit last night...to my surprise I asked, 'what storm?' They were just as surprised I didn't know about it. They said it was so loud, wind, thunder, rain, trees bending and breaking...I looked outside at this point and queried. It rained? I was astonished. Something so loud for sure would wake me up - Marks snoring does it at the best of times let alone a big storm. I must have been dead to the world.
A few days in and it was the semi final for the European Cup (soccer) and Germany was in it. Well, that night no one got a good sleep...talk about loud. The Germans won and the noise from all the kids staying in this place. Wow. Screams, drumming on any surface they could find, water bombs out the windows. Our guys were yelling at them to shut up, but it only added to the noise. I think they were still going at like 1 AM.
On Wednesday the race organisers held a barbeque for all the teams racing, but the Aussies were the only ones to go. It was very good. Luts Heschlich (Germany) came and made me blush. If there was anyone that could be titled the greatest sprinter in history, it would be this man.
Luts hugged Ray and felt his waist and said 'Oh you in good shape. I no like men, but you feel good'. Then he did the same to me and said 'you're in much better shape then Ryan', it was very funny! I was blushing and everyone gave me shit for it too. Ah, it was a good laugh.
Race day came about fast. I qualified on 95" today. The biggest I have ever qualified on. But it felt good. The track at Cottbuss is so steep that you get a good run off of the banking. I qualified fastest in 11.41 seconds, only 0.06 off of the track record for women, so I was very pleased with that.
I had Maphusa of Malaysia first up and I felt it was not too much of a threat and moved through to the quarters easily. In the quarters I met Yvonne of the Netherlands, my good friend, and that was a good match up. I won, but I was lucky she was a bit off on her tactics and I had good legs. I made mistakes, but had legs to cover myself, so, phew on that part.
In the semi I had Gloss of Germany which I thought would be the hardest person to race, but I was wrong. She had a big jump, but no length, so I could cover her well.
Then came the final where I had Muche of Germany on her home track. It was now 8 PM and I started at 11 AM - I was tired, but felt good in the legs. Normally I feel really tired and struggle but I wasn't this time.
Marv and I picked the wrong tactic for the first round and she read it easily and rolled me up the home straight. Then in the second round I rode from the back and left too big a gap to close. I lost by half a wheel and I was angry with myself! I can never seem to get the back right! Frustrating.
Marv needed to remind me that for my first race back it was okay to make mistakes - that's why we came to this race. It was hard for me not to be frustrated/angry, but I warmed down, cooled off and began to see things from his perspective.
All in all it was a good first race meet back for me. I had eight efforts in the one day. I haven't had that many for a while! I have learnt a few things I can fix in Erfurt, should I get the chance, and I feel the race sharpened me up a bit as I haven't raced in five months.
I am now currently in Varese, Italy. It is so hot and humid so good preparation for Beijing. I will send another email soon on that leg of my journey.
Enjoy
Anna
Photography
For a thumbnail gallery of these images, click here
Images by Anna Meares