An interview with Moritz Milatz, November 7, 2007
From running to riding toward an Olympic dream
German mountain biker Moritz Milatz had a great 2006 season, highlighted by breaking the dominance of Lado Fumic at the German national championships. His 2007 campaign was marred by crashes and defects, but was saved through a bronze medal at the European marathon championships at the end of the season. He sat down with Cyclingnews' Bjorn Haake to talk about his start in the sport, review the last couple of seasons and outline his plan for 2008.
The German hopes
Photo ©: Robin Haake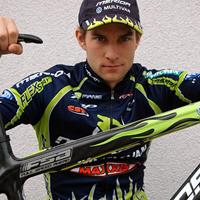 Moritz Milatz hails from Freiburg in southwestern Germany, an area where road cycling and mountain biking are very popular. But Milatz actually started out as a runner, doing both medium and long distances. A personal best of 14'49" over 5,000 metres and 31'31" over 10,000 metres as well as finishing second in the German junior national championships in cross-country running showed his abilities. But the constant pounding on his joints took its toll and after hip surgery he started to increase his participation in an alternative sport, which was the mountain biking that he had started in parallel to his running.
He eventually quit running for good, finding a mountain bike team for 2003 and never looked back. In his first World Cup race, he secured tenth place in the U23 category and received his first UCI point. In 2004 he joined Merida - Multivan for which he still rides today. Ironically, a broken finger in 2005 forced him back to running and he did his first ever mountain run, immediately becoming the regional champion of Baden. But it was a short intermezzo. "I couldn't ride, so I was looking for alternatives. It was nice, but it really didn't serve me much good," the German made clear that he didn't intend to go back to running. "I still run some, especially in the winter. It is good to relax as long as I take it easy. It only is a problem if I do full intensity. Then the pounding is too much for my hip and joints."
With the finger healed he was back on target for a professional career as a mountain biker, though he tried to not get too single-minded. "I started studying Information Technology and Systems Engineering in Freiburg, but it was too time consuming," he explained his first attempt to get an education. He took a break but realized that "just doing sports wasn't so good. It made me put a lot of pressure on my self – it was that need to succeed that got to me." So he decided to continue with remote studies in the field of electrical engineering.
In fact, this switch helped him with his results. "I had less pressure to succeed at the races as I knew I had something to fall back on. And with less pressure my results started to get better." This was clearly apparent in 2006, when he broke into the phalanx of the top riders, finishing sixth in Fort William, Scotland. He continued to build momentum and in June won the German national title with an impressive ride. He was beat Lado Fumic, who had won the championships a record six times between 2000 and 2005. He went on to win the marathons in Kirchzarten and Albstadt and ended the season in 14th of the World Cup ranking and 20th in the UCI ranking.
The reward at the end of the year was the possibility to extend his contract with Merida - Multivan. He may now have coaches from within the team, but it was Rolf Luxemburger who had discovered Milatz' athletic talent and had also coached him running. Luxemburger still gives advice today. "He knows me so well," Milatz confirmed his close relationship with the long time coach and friend.
Making the best of a challenging year
Moritz Milatz (Merida Multivan) with his 2006
Photo ©: Robin Haake

2007 was a bit of a year to forget, without too many outstanding results. It wasn't necessarily his physical ability that was running short, but "I had a lot of technical problems. Flats and the like. Or I would crash," he recalled the season that didn't start out too well. Technical problems started right in the first race in South Africa. He also recalled the first World Cup in Belgium, where "I was in the top 10 for a long time, but then had a flat." Not only did this prevent him from getting a good result, but also "it is not good for your motivation, if there is always something [going wrong]."
He did have a good World Cup race in Offenburg, fairly close to his home (about 70 kilometres), where he finished 14th. After that it was a "complete meltdown and I took some time off." The break helped and after narrowly missing the top ten in the last World Cup he saved the year with a great ride in the European Marathon championships in St. Wendel. He came in third behind two Christophs, Sauser from Switzerland and Soukup from Austria. The preparation for the marathon event is about the same, "maybe the odd long training session." In St.Wendel, the muddy conditions helped Milatz who says "I am doing OK in the cold conditions. It really seems like others have more problems with the cold and the wet." But he also admitted that while he is ok in the competitions "I don't like training when it's raining."
Talking to him in late October, there was no danger of a training ride in the wet. Milatz was relaxed and hadn't gone out for the day. "I am on vacation," he smiled. But the 2008 campaign will kick off in November, when he'll start training again. While he does have the Olympics in mind, he knows it's no mean feat and with "the Fumic brothers [Lado and Manuel] and Kurschat, there are three tough competitors for the three spots in Beijing." That is, if it stays the way that Germany will get three starters in Beijing. "It will be decided on December 31, but I am hopeful." Nations' points from the last two years will count toward the final standings. The top five countries get three starting spots, the next ten two and the rest one (or none).
Milatz knows the basics have to come first and he'll "want to make sure I can fulfill the qualification criteria. I will have to crack the top six in one of the first five World Cup races or be in the top 15 twice. If more than three meet those conditions the coaches will pick, likely based on the best results up to that point. I like the way they handle it. It seems fair."
Winter training time
Milatz can head out into the woods
Photo ©: Robin Haake

In the winter 75% of his training is on the road. With the weather conditions in the Black Forest not the greatest at times, he has built up a road bike with fenders. If it gets too bad he may opt for the alternatives of his beloved running or going cross-country skiing, "although I haven't done it that much and don't do it that well," he laughed. But there are many groomed trails close by. They team even did a training camp there in the past. Milatz lives just a few kilometres outside Freiburg, in an area where he is out in the woods and on miles of trails within minutes. But he is nonetheless considering moving back to the city. "It's a bit of a hassle to go from here to downtown and it takes some planning." Not that he is completely lonely in the apartment. His roommate Tim Böhme is a renowned mountain biker himself. The two often train and race together.
Even though he is doing more road training and intervals on the trainer in the winter, he really prefers mountain biking. "It's away from the cars, in nature and then the downhills! It is just more fun." And while he has had two crashes that resulted in broken fingers and a broken arm, he pointed out that mountain biking is not that dangerous. "When I go on a road ride I start out at the multi-use path next to the Dreisam [river that runs through Freiburg]. People just don't pay attention, they don't concentrate. You have to very vigilant. Car drivers seem to be more aware of their surroundings."
That lack of concentration led to an incident recently, which in retrospect was rather funny as nobody was hurt, "just puzzled." Milatz was riding along with Böhme and they were about to pass a woman on the bike path, after a training ride. As Milatz passed her she veered over further and further to the left. Eventually they bumped shoulders. As Milatz had passed her he turned around to check and realized the encounter had completely puzzled the other biker and she was heading down the grassy embankment – too shocked to hit her brakes or steer. "She went straight into the Dreisam. I stopped and we checked on her. She was ok, but didn't really know what happened," Milatz acknowledged that the incident could have been worse.
Just to clarify
Photo ©: Robin Haake

On average Milatz trains about 15-20 hours a week, but in the preparation phase it "may be up to 30 hours." The first training camp is already slated for December with the German national team. Just like last year they will head to Cyprus. Christmas is spent at home in the Black Forest and January will also see some home training before there is a get together with his trade team in February. This is partially necessary for the photo shooting, but there is another training camp scheduled as well. And then "in March we already have the first races." During the main part of the season the training may be reduced and is sometimes "only 10-15 hours a week."
Mountain bikers commonly do some road races as well, but Milatz did only one last year. It's not disinterest – "they are great for preparation" – but his calendar is already full with mountain bike commitments. "There is too much going on and I can't fit it in." He did do the last two Sachsenrundfahrten and when he does stage races he is usually part of "a mixed team of the German federation that contains mountain bikers and track riders." But he still goes out for road rides for endurance purposes or to regenerate during the season "at least one time a week."
While Milatz has all the dates for the major events, "the detailed planning for the season hasn't been done yet. I will meet with the coaches in the next few weeks and we'll decide." But the racing season may start again with the Cape Epic stage race for mountain bikers in South Africa. "It is done in teams of two. Tim and I did that last year." If that doesn't work out, he'll start the season closer to home, at the Swiss Power Cup in the neighbouring country. And then in April it is already time for the World Cup in Houffalize, Belgium, where he will try to leave the bad luck behind and get the first step done to qualify for the Olympics.
Photography
For a thumbnail gallery of these images, click here
Images by Robin Haake