MTB index page for all MTB content
European Marathon Championship - CC
St. Wendel, Germany, September 29, 2007
Sauser and Spitz win European Marathon Championship
We present your winners: Christoph Soukup (Austria), Christoph Sauser
Photo ©: Armin Küstenbrück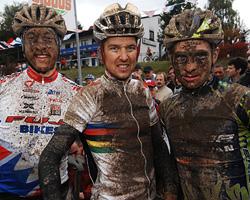 Reigning marathon world champion Christoph Sauser added the European marathon championship title to his collection of wins by finishing in a time of 4:57:15 ahead of second place Christoph Soukup (Austria) by 13 seconds and ahead of Moritz Milatz (GermanY) by 50 seconds.
Milatz and Sauser spent time forcing the pace together while chasing Soukoup, who was leading the race solo. Sauser dropped Milatz when he attacked near the end of the race on a hill. Only a short while before the finish, Sauser caught Soukoup. Milatz, a winner of the 2005 marathon world cup race in Bad Goisern, finished third after a tough season.
"Conditions were everything but pleasant," said Moritz on his website. With the starting gun, came rain, which only made the already muddy conditions, after several recent days or rain, more so.
Spitz gets another European gold medal
In the women's race Sabine Spitz of Germany prevailed to win the gold medal in the marathon championships. She was almost seven minutes faster than Dutchwoman Arielle van Meurs. Esther Süss of Switzerland came in third. German marathon champion Katrin Schwing was sixth, already 22'20" behind the winner, but was not too unhappy with the result.
"It is great to win the second European Championship title this year. That is a nice end to the season and this evenign I can have a drink," a delighted Spitz smiled after the race.
The rain had made conditions tough and Spitz, who was the favourite going into the race, prevailed on the muddy parcours of 118 kilometres. Spitz already finished second in the Mountain Bike World Championships in Great Britain, earlier in September and won the European Championships in the cross country in July in Turkey.
The women started the race relatively passively, with no-one wanting to waste energy too much on the muddy parcours. So a third into the race, until kilometre 35, a bigger group was together. But then Spitz, Maja Wloszczowska (Poland) and Elisabeth Osl (Austria) managed to get away. Osl developed a problem with her chain and later had to abandon due to a broken chain. Spitz and Wloszczowska passed the 60-kilometre mark together.
Spitz said after the race that she noticed "Maja having trouble in the uphill section, but I didn't force the pace. I just went my rhythm." This happened between kilometre 60 and 70. At the latter marker Spitz was solo, with the Polish rider 2'10" behind. The former World Champion cracked and was even pushed off the medal ranks.
Spitz kept the pace up, oblivious to what happened behind and won decisively with 6'52".
Photography
For a thumbnail gallery of these images, click here
Images by Armin Küstenbrück/www.kuestenbrueck.de
Results
Elite men, 118km

1 Christoph Sauser (Swizterland)    4.57.15
2 Christoph Soukup (Austria)           0.13
3 Moritz Milatz (Germany)              0.50
4 Alban Lakata (Austria)               4.42
5 Andreas Kugler (Switzerland)         6.04
6 Hannes Genze (Germany)               7.39
7 Lukas Buchli (Switzerland)           9.40
8 Urs Huber (Switzerland)             10.00
9 Torsten Marx (Germany)              10.54
10 Benjamin Rudiger (Germany)         15.28

Elite women, 118km

1 Sabine Spitz (Germany)          5.58.02
2 Arielle van Meurs                  6.52
3 Esther Süss (Switzerland)          9.43
4 Maja Wloszczowska (Polen)         17.06
5 Pia Sundstedt (Finnland)          18.21
6 Katrin Schwing (Mosbach)          22.21

More results coming!