Tour of Tasmania - NE
Australia, October 2-7, 2007
Main Page Results Overall standings Next Stage
Stage 1 - October 2: Devonport criterium, 21km
Howard holds off defending tour champion
Leigh Howard wins
Photo ©: Shane Goss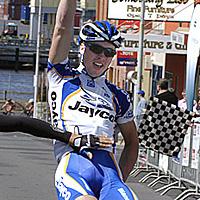 A lightning fast criterium around Devonport's CBD saw the field finish with an average speed of 41.63 kph, with Victorian Leigh Howard holding on to win by half a wheel from defending Tour of Tasmania champion Kristian House.
But neither Howard or House featured in the early intermediate sprints, instead allowing Timbercorp Cup series leader Peter McDonald (NSW) and South Australian pocket-rocket Brett Aitken to stage their own private battle. In the end, McDonald claimed the sprinter's distinctive green jersey on a count back from Aitken, although it was relinquished later on the day's second stage to Great Britain's House.
Howard and House broke clear of the chasing pack with about five laps of the 700 metre street circuit remaining and were never headed, holding on to claim the stage's top two placings by seven seconds.
Leading the peloton home was New South Wales rider Joel Pearson, with Tasmania's noted climber Sid Taberlay surprising most of the sprinters with his fourth placing. The more favoured pre-race chances of Brett Aitken (fifth), Nicholas Sanderson (seventh), Grant Irwin (10th), Patrick Shaw (15th) and Sean Finning (73rd) missed the opening stage spoils.
Photography
For a thumbnail gallery of these images, click here
Images by Shane Goss/www.licoricegallery.com
Results
1 Leigh Howard (VIC)                                        30.16 (41.63 hm/h)
2 Kristian House (GBr)                                           
3 Joel Pearson (NSW)                                         0.07
4 Sid Taberlay (TAS)                                             
5 Brett Aitken (SA)                                              
6 Bernard Sulzberger (TAS)                                       
7 Nicholas Sanderson (VIC)                                       
8 Robbie Cater (NSW)                                             
9 Jonathan Cantwell (QLD)                                        
10 Grant Irwin (QLD)                                             
11 Jarrod Harman (TAS)                                           
12 Evan Oliphant (Sco)                                           
13 Peter McDonald (NSW)                                          
14 Glenn O'Shea (VIC)                                            
15 Patrick Shaw (VIC)                                            
16 Tom Robinson (TAS)                                            
17 Nicholas Walker (VIC)                                         
18 Aaron Jones (TAS)                                             
19 Miles Watson (NZ)                                             
20 Nathan Clarke (TAS)                                           
21 Darcy Rosenlund (QLD)                                         
22 Ben Mather (TAS)                                              
23 Brad Edmunds (VIC)                                            
24 Brendan Brooks (NSW)                                          
25 Gilbert Gutowski (QLD)                                        
26 Jack Anderson (QLD)                                           
27 Ben Grenda (TAS)                                              
28 Richard England (VIC)                                         
29 Matthew Sherwin (VIC)                                         
30 Tom Middleton (SA)                                            
31 Simon Brown (TAS)                                             
32 David Pell (VIC)                                              
33 Timothy Walker (TAS)                                          
34 Benjamin King (WA)                                            
35 Stuart Shaw (ACT)                                             
36 Daniel Braunsteins (VIC)                                      
37 Cameron Hughes (QLD)                                          
38 Richie Porte (TAS)                                            
39 Joshua Wilson (TAS)                                           
40 Daniel Furmston (TAS)                                         
41 Adam Semple (WA)                                              
42 Will Wettenhall (VIC)                                         
43 Nathan Dyke (WA)                                              
44 Jason Hegert (VIC)                                            
45 Charles Howlett (TAS)                                         
46 Matthew McDonagh (TAS)                                        
47 Simon Pearson (SA)                                            
48 Cameron Meyer (WA)                                            
49 Jason Bellchambers (TAS)                                      
50 Chris Jory (NSW)                                              
51 Tony Mann (QLD)                                               
52 Andrew Roe (SA)                                               
53 Tom Southam (GBr)                                             
54 John Ebeling (NSW)                                            
55 Steven Robb (VIC)                                             
56 Tim Elmer (TAS)                                               
57 Craig McCartney (VIC)                                         
58 Jonathan Lovelock (VIC)                                       
59 Joe Lewis (NSW)                                               
60 Shaun Higgerson (NSW)                                         
61 Nathan Wise (VIC)                                             
62 Matt King (NT)                                                
63 Hayden Josefski (QLD)                                         
64 Tim Roe (SA)                                                  
65 Casey Munro (VIC)                                             
66 Trent Stevenson (VIC)                                         
67 Joshua Edwards (QLD)                                          
68 Suki Stone (QLD)                                              
69 Malcolm Rudolph (QLD)                                         
70 Mathew Camilleri (NSW)                                        
71 Peter Herzig (QLD)                                            
72 Miles Olman (QLD)                                             
73 Sean Finning (VIC)                                            
74 Lachlan Stewart (VIC)                                         
75 Peter Milostic (NSW)                                          
76 Alexander Machin (VIC)                                        
77 Reuben Meneaud-Young (SA)                                     
78 Alistair Crossling (NZ)                                       
79 Mark Jamieson (TAS)                                           
80 Brendon Sharratt (NZ)                                         
81 Jay Bourke (VIC)                                          0.27
82 Matthew Sydes (TAS)                                           
83 Travis Meyer (WA)                                         1.01
84 Ben Grieve-Johnson (TAS)                                      
85 Michael Smith (TAS)                                           
86 Jeremy Hills (TAS)                                            
87 Daniel Cutting (TAS)                                      2.02
88 Simon Price (NSW)                                         4.04
89 Brendan Jones (NSW)                                           
90 William Ford (VIC)                                            
91 Andras Nagy (TAS)                                             
92 Andrew Ward (VIC)                                             
93 Christopher Fry (VIC)                                         
94 Joshua Chugg (TAS)                                            
DNS Mark O'Brien (VIC)                                           
DNS Angus Morton (NSW)                                           
DNS Jacob Lea (VIC)                                              
DNS Pip Grinter (VIC)                                            
DNS William Zammit (VIC)                                         
DNS David Kemp (QLD)                                             
DNS Greg Campbell (QLD)                                          
 
Points
 
End of Lap 6
1 Brett Aitken (SA)                                             3 pts
2 Patrick Shaw (VIC)                                            2
3 Ben Mather (TAS)                                              1
 
End of Lap 8
1 Peter McDonald (NSW)                                          3 pts
2 Kristian House (GBr)                                          2
3 Tom Southam (GBr)                                             1
 
End of Lap 10
1 Jonathan Cantwell (QLD)                                       3 pts
2 Kristian House (GBr)                                          2
3 Brett Aitken (SA)                                             1
 
End of Lap 12
1 Cameron Hughes (QLD)                                          3 pts
2 David Pell (VIC)                                              2
3 Travis Meyer (WA)                                             1
 
End of Lap 14
1 David Pell (VIC)                                              3 pts
2 Patrick Shaw (VIC)                                            2
3 Nathan Wise (VIC)                                             1
 
End of Lap 16
1 Joel Pearson (NSW)                                            3 pts
2 Peter McDonald (NSW)                                          2
3 Charles Howlett (TAS)                                         1
 
End of Lap 18
1 Sean Finning (VIC)                                            3 pts
2 Brett Aitken (SA)                                             2
3 Nicholas Walker (VIC)                                         1
 
End of Lap 20
1 Brett Aitken (SA)                                             3 pts
2 Nicholas Sanderson (VIC)                                      2
3 Tom Robinson (TAS)                                            1
 
End of Lap 22
1 Peter McDonald (NSW)                                          3 pts
2 Joshua Wilson (TAS)                                           2
3 Charles Howlett (TAS)                                         1
 
End of Lap 24
1 Stuart Shaw (ACT)                                             3 pts
2 Charles Howlett (TAS)                                         2
3 Peter McDonald (NSW)                                          1
 
End of Lap 26
1 Leigh Howard (VIC)                                            3 pts
2 Kristian House (GBr)                                          2
3 Miles Olman (QLD)                                             1
 
Criterium Championship
 
1 Leigh Howard (VIC)                                           10 pts
2 Kristian House (GBr)                                          9
3 Joel Pearson (NSW)                                            8
4 Sid Taberlay (TAS)                                            7
5 Brett Aitken (SA)                                             6
6 Bernard Sulzberger (TAS)                                      5
7 Nicholas Sanderson (VIC)                                      4
8 Robbie Cater (NSW)                                            3
9 Jonathan Cantwell (QLD)                                       2
10 Grant Irwin (QLD)                                            1
 
Most aggressive rider
 
1 Brett Aitken (SA)                                              
 
General classification after stage 1
 
1 Kristian House (GBr)                                      30.02
2 Leigh Howard (VIC)                                         0.01
3 Brett Aitken (SA)                                          0.10
4 Joel Pearson (NSW)                                         0.12
5 Peter McDonald (NSW)                                           
6 David Pell (VIC)                                           0.16
7 Sid Taberlay (TAS)                                         0.17
8 Patrick Shaw (VIC)                                             
9 Charles Howlett (TAS)                                          
10 Jonathan Cantwell (QLD)                                   0.18
11 Stuart Shaw (ACT)                                             
12 Cameron Hughes (QLD)                                          
13 Sean Finning (VIC)                                            
14 Nicholas Sanderson (VIC)                                  0.19
15 Joshua Wilson (TAS)                                           
16 Bernard Sulzberger (TAS)                                  0.20
17 Tom Robinson (TAS)                                            
18 Nicholas Walker (VIC)                                         
19 Ben Mather (TAS)                                              
20 Tom Southam (GBr)                                             
21 Nathan Wise (VIC)                                             
22 Miles Olman (QLD)                                             
23 Robbie Cater (NSW)                                        0.21
24 Grant Irwin (QLD)                                             
25 Jarrod Harman (TAS)                                           
26 Evan Oliphant (Sco)                                           
27 Glenn O'Shea (VIC)                                            
28 Aaron Jones (TAS)                                             
29 Miles Watson (NZ)                                             
30 Nathan Clarke (TAS)                                           
31 Darcy Rosenlund (QLD)                                         
32 Brad Edmunds (VIC)                                            
33 Brendan Brooks (NSW)                                          
34 Gilbert Gutowski (QLD)                                        
35 Jack Anderson (QLD)                                           
36 Ben Grenda (TAS)                                              
37 Richard England (VIC)                                         
38 Matthew Sherwin (VIC)                                         
39 Tom Middleton (SA)                                            
40 Simon Brown (TAS)                                             
41 Timothy Walker (TAS)                                          
42 Benjamin King (WA)                                            
43 Daniel Braunsteins (VIC)                                      
44 Richie Porte (TAS)                                            
45 Daniel Furmston (TAS)                                         
46 Adam Semple (WA)                                              
47 Will Wettenhall (VIC)                                         
48 Nathan Dyke (WA)                                              
49 Jason Hegert (VIC)                                            
50 Matthew McDonagh (TAS)                                        
51 Simon Pearson (SA)                                            
52 Cameron Meyer (WA)                                            
53 Jason Bellchambers (TAS)                                      
54 Chris Jory (NSW)                                              
55 Tony Mann (QLD)                                               
56 Andrew Roe (SA)                                               
57 John Ebeling (NSW)                                            
58 Steven Robb (VIC)                                             
59 Tim Elmer (TAS)                                               
60 Craig McCartney (VIC)                                         
61 Jonathan Lovelock (VIC)                                       
62 Joe Lewis (NSW)                                               
63 Shaun Higgerson (NSW)                                         
64 Matt King (NT)                                                
65 Hayden Josefski (QLD)                                         
66 Tim Roe (SA)                                                  
67 Casey Munro (VIC)                                             
68 Trent Stevenson (VIC)                                         
69 Joshua Edwards (QLD)                                          
70 Suki Stone (QLD)                                              
71 Malcolm Rudolph (QLD)                                         
72 Mathew Camilleri (NSW)                                        
73 Peter Herzig (QLD)                                            
74 Lachlan Stewart (VIC)                                         
75 Peter Milostic (NSW)                                          
76 Alexander Machin (VIC)                                        
77 Reuben Meneaud-Young (SA)                                     
78 Alistair Crossling (NZ)                                       
79 Mark Jamieson (TAS)                                           
80 Brendon Sharratt (NZ)                                         
81 Jay Bourke (VIC)                                          0.41
82 Matthew Sydes (TAS)                                           
83 Travis Meyer (WA)                                         1.14
84 Ben Grieve-Johnson (TAS)                                  1.15
85 Michael Smith (TAS)                                           
86 Jeremy Hills (TAS)                                            
87 Daniel Cutting (TAS)                                      2.16
88 Simon Price (NSW)                                         4.18
89 Brendan Jones (NSW)                                           
90 William Ford (VIC)                                            
91 Andras Nagy (TAS)                                             
92 Andrew Ward (VIC)                                             
93 Christopher Fry (VIC)                                         
94 Joshua Chugg (TAS)                                            
 
Points classification
 
1 Brett Aitken (SA)                                             9 pts
2 Peter McDonald (NSW)                                          9
3 Kristian House (GBr)                                          6
4 David Pell (VIC)                                              5
5 Charles Howlett (TAS)                                         4
6 Patrick Shaw (VIC)                                            4
7 Stuart Shaw (ACT)                                             3
8 Sean Finning (VIC)                                            3
9 Joel Pearson (NSW)                                            3
10 Cameron Hughes (QLD)                                         3
11 Jonathan Cantwell (QLD)                                      3
12 Leigh Howard (VIC)                                           3
13 Nicholas Sanderson (VIC)                                     2
14 Joshua Wilson (TAS)                                          2
15 Miles Olman (QLD)                                            1
16 Nathan Wise (VIC)                                            1
17 Ben Mather (TAS)                                             1
18 Tom Southam (GBr)                                            1
19 Nicholas Walker (VIC)                                        1
20 Tom Robinson (TAS)                                           1
21 Travis Meyer (WA)                                            1
 
Criterium Championship classification
 
1 Leigh Howard (VIC)                                           10 pts
2 Kristian House (GBr)                                          9
3 Joel Pearson (NSW)                                            8
4 Sid Taberlay (TAS)                                            7
5 Brett Aitken (SA)                                             6
6 Bernard Sulzberger (TAS)                                      5
7 Nicholas Sanderson (VIC)                                      4
8 Robbie Cater (NSW)                                            3
9 Jonathan Cantwell (QLD)                                       2
10 Grant Irwin (QLD)                                            1
 
Most aggressive rider classification
 
1 Brett Aitken (SA)