Tour of Tasmania - NE
Australia, October 2-7, 2007
Main Page Results Overall standings Previous Stage
Stage 11 - October 7: Launceston criterium, 34km
Meyer and 'Macca' steal the show in Tassie
By Rod Morris in Launceston
Tour leader Cameron Meyer (SouthAustralia.com/AIS)
Photo ©: Shane Goss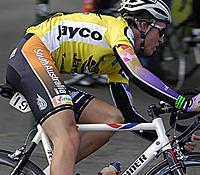 A 19 year-old West Australian rising star and an established 29 year-old New South Wales veteran took the major spoils on the final day of the Jayco Tour of Tasmania, which completed the 2007 Timbercorp Cup National Cycling series. Cameron Meyer defended his hold on the leader's yellow jersey to claim his first multi-stage tour win, while Peter McDonald held on grimly to win the series, which included the Tour of Gippsland, Australian Cycling Grand Prix, Tour of the Murray River and Tour of Tasmania - 35 individual races over four Australian states.
Meyer took over the lead after winning Stage 2 last Tuesday, a 90km trek from Devonport to Sheffield.
In that stage, Cameron and his 18 year-old brother Travis registered a Timbercorp Cup first when they finished first and second respectively in a stage race. Now they have added another chapter in cycling history by finishing first and second in a major road tour.
Cameron started the final day holding a lead of 1'50 over Travis and ultimately won by 1'36. Travis was under threat to hold onto second from leading Tasmanian Bernard Sulzberger and their individual battle in the final stage was enthralling.
Cameron Meyer is a three-time world junior track champion but with this win has signaled his outstanding attributes as a road rider. His attention will now return to the track as he represents Australia at various World Cup events, including the Sydney round in late November.
"This is my first multi stage win and I'm very happy," Cameron said. "I've been in the lead since Stage 2 and it's been pretty hard work defending it all week."
Launceston hosted a 34 km criterium to close off the tour and the tussle for overall series honours was also entertaining. McDonald started with a nine-point lead from Queenslander Grant Irwin, but the task in front of the latter was going to be tough.
The mail was good and Grant Irwin (Ord Minnett/Triple Play)
Photo ©: Shane Goss

Irwin had to win the stage and rely on McDonald missing out on a place in the first 10. Irwin did his part, he won from Brett Aitken and Leigh Howard, but McDonald also completed his chore by finishing fourth in the stage.
"This is great, I am very relieved," McDonald said."This has been a tough tour for me, I had a strained back and the pressure from Grant Irwin and the other riders was hectic all week."
The hard luck story from the series came from Victorian Patrick Shaw. Shaw has been in the top-three for a large part of the series, but was reeled in by Leigh Howard in the final stage when the Geelong 17 year-old gained valuable stage points and a further 22 points for finishing fifth in the tour to sneak past Shaw by just 1 point.
How it unfolded
A party atmosphere at the Launceston Brickfields for the final stage created plenty of excitement and to add to the festivities the starting field were escorted to the line by the Northern Caledonian Pipe Band.
Race tactics soon became obvious with Sulzberger trying to get valuable intermediate sprint points to reel in Travis Meyer in second place on general classification. But everywhere that Sulzberger went, Meyer was sure to follow. It was a similar position with Irwin and McDonald, with the latter tailing the Queenslander for most of the distance.
Another rider making the most of his opportunities was Englishman Kristian House, who started the stage holding a comfortable 41-point lead in the Timbercorp Sprint Championship. House, who celebrated his 28th birthday on Saturday, featured in eight of the 16 intermediate sprints and confirmed his undoubted ability.
An all-up field were jockeying for positions at the bell lap with the leading teams pressing to get their best sprinters into prime positions. Into the final turn for the last sprint of 150 metres, Victorian Joel Pearson - who had been on the podium in three earlier races this tour - crashed out.
Thankfully no other riders came down, but several were caught up the brief mayhem and their chances of stage victory were lost. That made things slightly easier for Irwin, who won by a full bike length from Aitken, with a similar gap to Howard.
Awe come on Cameron, let me spray it now…
Photo ©: Shane Goss

"I'm happy to win the final stage, but a little disappointed I couldn't catch Peter McDonald in the whole series," Irwin said. "But Macca rode extremely consistently and thoroughly deserved his victory."
Howard's third placing in the stage confirmed his overall status in the Country Club Criterium Championship, while Englishman Tom Southam added to his Central Coast King of the Mountain title by also winning the George Town Most Aggressive Rider award.
Whilst Sulzberger was disappointed not to have caught Travis Meyer in general classification, he had some compensation by being the first Tasmanian.
Photography
For a thumbnail gallery of these images, click here
Images by Shane Goss/www.licoricegallery.com
Results

1 Grant Irwin (Qld)                  44.37 (45.72 km/h)
2 Brett Aitken (SA)                       
3 Leigh Howard (Vic)                      
4 Peter McDonald (NSW)                    
5 Tom Robinson (Tas)                      
6 Evan Oliphant (GBr)                     
7 Brad Edmunds (Vic)                      
8 Steven Robb (Vic)                       
9 Travis Meyer (WA)                       
10 Bernard Sulzberger (Tas)               
11 Charles Howlett (Tas)                  
12 Joel Pearson (NSW)                     
13 Cameron Meyer (WA)                     
14 Tom Southam (GBr)                      
15 Cameron Hughes (Qld)                   
16 David Pell (Vic)                       
17 John Embling (NSW)                     
18 Shaun Higgerson (NSW)                  
19 Joshua Wilson (Tas)                    
20 Ben Grenda (Tas)                       
21 Miles Watson (NZl)                  
22 Richard England (Vic)                  
23 Ben Mather (Tas)                       
24 Kristian House (GBr)                   
25 Benjamin King (WA)                     
26 Hayden Josefski (Qld)              0.13
27 Adam Semple (WA)                   0.15
28 Jack Anderson (Qld)                    
29 Robbie Cater (NSW)                 0.19
30 Simon Brown (Tas)                      
31 Tim Roe (SA)                       0.21
32 Tim Elmer (Tas)                        
33 Peter Herzig (Qld)                 0.30
34 Timothy Walker (Tas)                   
35 Craig Mccartney (Vic)                  
36 Andrew Ward (Vic)                      
37 Stuart Shaw ACT                        
38 Sean Finning (Vic)                     
39 Sid Taberlay (Tas)                     
40 Andrew Roe (SA)                        
41 Brendan Brooks (NSW)                   
42 Trent Stevenson (Vic)                  
43 Chris Jory (NSW)                       
44 Tom Middleton (SA)                     
45 Daniel Braunsteins (Vic)               
46 Joe Lewis (NSW)                        
47 Nicholas Sanderson (Vic)               
48 Miles Olman (Qld)                      
49 Peter Milostic (NSW)                   
50 Lachlan Stewart (Vic)              0.41
51 Tony Mann (Qld)                        
52 Matt King NT                           
53 Gilbert Gutowski (Qld)             0.47
54 Mark Jamieson (Tas)                0.56
55 Jonathan Cantwell (Qld)                
56 Simon Pearson (SA)                     
57 Nathan Clarke (Tas)                    
58 Patrick Shaw (Vic)                 1.18
59 Daniel Cutting (Tas)               1.28
60 Jarrod Harman (Tas)                0.32
61 Nicholas Walker (Vic)              1.39
62 Glenn O'Shea (Vic)                     
63 Michael Smith (Tas)                    
64 Jay Bourke (Vic)                       
65 Casey Munro (Vic)                      
66 William Ford (Vic)                     
67 Aaron Jones (Tas)                  2.14
68 Jason Hegert (Vic)                     
69 Daniel Furmston (Tas)                  
70 Joshua Edwards (Qld)               3.21
71 Suki Stone (Qld)                   4.28
72 Malcolm Rudolph (Qld)                  
73 Matthew McDonagh (Tas)                 
74 Matthew Sydes (Tas)                    
75 Jason Bellchambers (Tas)               
76 Alistair Crossling (NZl)           5.35
77 Mathew Camilleri (NSW)                 
78 Jeremy Hills (Tas)                     
79 Nathan Wise (Vic)                      
80 Nathan Dyke (WA)                       
81 Will Wettenhall (Vic)                  
82 Ben Grieve-Johnson (Tas)               
83 Andras Nagy (Tas)                      
DNS Simon Price (NSW)                     
 
Sprints
 
Lap 6
1 David Pell (Vic)                       3 pts
2 Kristian House (GBr)                   2
3 Travis Meyer (WA)                      1
 
Lap 8
1 Kristian House (GBr)                   3 pts
2 David Pell (Vic)                       2
3 Ben Grenda (Tas)                       1
 
Lap 10
1 Kristian House (GBr)                   3 pts
2 Bernard Sulzberger (Tas)               2
3 Travis Meyer (WA)                      1
 
Lap 12
1 Bernard Sulzberger (Tas)               3 pts
2 Travis Meyer (WA)                      2
3 Stuart Shaw ACT                        1
 
Lap 14
1 Bernard Sulzberger (Tas)               3 pts
2 Kristian House (GBr)                   2
3 Travis Meyer (WA)                      1
 
Lap 16
1 Peter Milostic (NSW)                   3 pts
2 Glenn O'Shea (Vic)                     2
3 Cameron Meyer (WA)                     1
 
Lap 18
1 Tony Mann (Qld)                        3 pts
2 Joel Pearson (NSW)                     2
3 Matt King NT                           1
 
Lap 20
1 Kristian House (GBr)                   3 pts
2 Sean Finning (Vic)                     2
3 Peter Milostic (NSW)                   1
 
Lap 22
1 David Pell (Vic)                       3 pts
2 Travis Meyer (WA)                      2
3 Bernard Sulzberger (Tas)               1
 
Lap 24
1 Bernard Sulzberger (Tas)               3 pts
2 Travis Meyer (WA)                      2
3 Kristian House (GBr)                   1
 
Lap 26
1 Brad Edmunds (Vic)                     3 pts
2 Travis Meyer (WA)                      2
3 Kristian House (GBr)                   1
 
Lap 28
1 Bernard Sulzberger (Tas)               3 pts
2 Sid Taberlay (Tas)                     2
3 Travis Meyer (WA)                      1
 
Lap 30
1 Sean Finning (Vic)                     3 pts
2 Glenn O'Shea (Vic)                     2
3 Kristian House (GBr)                   1
 
Lap 32
1 David Pell (Vic)                       3 pts
2 Casey Munro (Vic)                      2
3 Tony Mann (Qld)                        1
 
Lap 34
1 Bernard Sulzberger (Tas)               3 pts
2 Travis Meyer (WA)                      2
3 Steven Robb (Vic)                      1
 
Lap 36
1 Nicholas Walker (Vic)                  3 pts
2 Richard England (Vic)                  2
3 Bernard Sulzberger (Tas)               1
 
Criterium championship
 
1 Grant Irwin (Qld)                     10 pts
2 Brett Aitken (SA)                      9
3 Leigh Howard (Vic)                     8
4 Peter McDonald (NSW)                   7
5 Tom Robinson (Tas)                     6
6 Evan Oliphant (GBr)                    5
7 Brad Edmunds (Vic)                     4
8 Steven Robb (Vic)                      3
9 Travis Meyer (WA)                      2
10 Bernard Sulzberger (Tas)              1
 
Most aggressivre rider
 
1 Kristian House (GBr)                    
 
Final general classification
 
1 Cameron Meyer (WA)              14.11.48
2 Travis Meyer (WA)                   1.37
3 Bernard Sulzberger (Tas)            1.40
4 Tom Southam (GBr)                   2.42
5 Leigh Howard (Vic)                  2.45
6 Steven Robb (Vic)                   4.01
7 Benjamin King (WA)                  5.01
8 Shaun Higgerson (NSW)               5.18
9 Kristian House (GBr)                5.23
10 David Pell (Vic)                   5.29
11 Tim Roe (SA)                       5.54
12 Joel Pearson (NSW)                 6.07
13 Cameron Hughes (Qld)               6.30
14 Evan Oliphant (GBr)                8.31
15 Ben Mather (Tas)                   9.07
16 Adam Semple (WA)                   9.25
17 Stuart Shaw ACT                    9.58
18 Joshua Wilson (Tas)               10.41
19 Casey Munro (Vic)                 14.21
20 Patrick Shaw (Vic)                15.09
21 Hayden Josefski (Qld)             19.42
22 Daniel Braunsteins (Vic)          21.39
23 Ben Grenda (Tas)                  22.14
24 Richard England (Vic)             22.24
25 Brendan Brooks (NSW)              23.18
26 Chris Jory (NSW)                  26.49
27 Matthew McDonagh (Tas)            29.34
28 Peter McDonald (NSW)              30.06
29 Mark Jamieson (Tas)               31.39
30 Timothy Walker (Tas)              31.46
31 Nicholas Sanderson (Vic)          32.35
32 Jonathan Cantwell (Qld)           35.42
33 Craig Mccartney (Vic)             35.45
34 Charles Howlett (Tas)             37.45
35 Nicholas Walker (Vic)             38.13
36 Tom Middleton (SA)                38.38
37 Miles Watson (NZl)                38.41
38 Miles Olman (Qld)                 38.47
39 Glenn O'Shea (Vic)                39.05
40 Trent Stevenson (Vic)             40.19
41 Lachlan Stewart (Vic)             40.29
42 Jack Anderson (Qld)               41.01
43 Tony Mann (Qld)                   41.46
44 Brett Aitken (SA)                 41.47
45 John Embling (NSW)                42.03
46 Sid Taberlay (Tas)                42.17
47 Joe Lewis (NSW)                   44.32
48 Tim Elmer (Tas)                   47.06
49 Simon Brown (Tas)                 47.09
50 Nathan Wise (Vic)                 48.26
51 Simon Pearson (SA)                49.00
52 Peter Herzig (Qld)                52.24
53 Andrew Roe (SA)                   53.54
54 Peter Milostic (NSW)              53.55
55 William Ford (Vic)                57.24
56 Grant Irwin (Qld)                 59.14
57 Robbie Cater (NSW)              1.00.32
58 Jay Bourke (Vic)                1.01.21
59 Tom Robinson (Tas)              1.03.13
60 Brad Edmunds (Vic)              1.05.12
61 Jarrod Harman (Tas)             1.07.26
62 Nathan Clarke (Tas)             1.08.08
63 Matt King NT                    1.09.31
64 Daniel Furmston (Tas)           1.14.48
65 Malcolm Rudolph (Qld)           1.16.31
66 Mathew Camilleri (NSW)          1.17.43
67 Gilbert Gutowski (Qld)          1.18.10
68 Aaron Jones (Tas)               1.18.32
69 Andrew Ward (Vic)               1.19.17
70 Nathan Dyke (WA)                1.19.27
71 Daniel Cutting (Tas)            1.20.14
72 Will Wettenhall (Vic)           1.23.02
73 Ben Grieve-Johnson (Tas)        1.23.50
74 Sean Finning (Vic)              1.27.35
75 Jason Hegert (Vic)              1.27.50
76 Alistair Crossling (NZl)        1.30.00
77 Joshua Edwards (Qld)            1.34.59
78 Suki Stone (Qld)                1.41.20
79 Matthew Sydes (Tas)             1.41.43
80 Jason Bellchambers (Tas)        1.44.37
81 Michael Smith (Tas)             1.53.28
82 Jeremy Hills (Tas)              2.04.04
83 Andras Nagy (Tas)               2.28.06
 
Points classification
 
1 Kristian House (GBr)                  78 pts
2 Travis Meyer (WA)                     35
3 Bernard Sulzberger (Tas)              33
4 David Pell (Vic)                      26
5 Sean Finning (Vic)                    25
6 Tom Southam (GBr)                     24
7 Stuart Shaw ACT                       22
8 Patrick Shaw (Vic)                    15
9 Cameron Meyer (WA)                    15
10 Craig Mccartney (Vic)                13
11 Peter McDonald (NSW)                 13
12 Casey Munro (Vic)                    12
13 Joel Pearson (NSW)                   11
14 Leigh Howard (Vic)                   11
15 Malcolm Rudolph (Qld)                10
16 Brett Aitken (SA)                     9
17 Richard England (Vic)                 8
18 Tony Mann (Qld)                       7
19 Jonathan Cantwell (Qld)               7
20 Trent Stevenson (Vic)                 7
21 Peter Herzig (Qld)                    7
22 Andrew Ward (Vic)                     7
23 Joshua Wilson (Tas)                   6
24 Miles Watson (NZl)                    6
25 Miles Olman (Qld)                     6
26 Brad Edmunds (Vic)                    6
27 Benjamin King (WA)                    6
28 Nicholas Walker (Vic)                 6
29 Tom Middleton (SA)                    5
30 Tom Robinson (Tas)                    4
31 Glenn O'Shea (Vic)                    4
32 Charles Howlett (Tas)                 4
33 Gilbert Gutowski (Qld)                4
34 Steven Robb (Vic)                     4
35 Peter Milostic (NSW)                  4
36 Ben Grenda (Tas)                      4
37 Cameron Hughes (Qld)                  3
38 Sid Taberlay (Tas)                    2
39 Nicholas Sanderson (Vic)              2
40 Jack Anderson (Qld)                   2
41 Shaun Higgerson (NSW)                 2
42 Chris Jory (NSW)                      2
43 Nathan Wise (Vic)                     2
44 Jason Hegert (Vic)                    1
45 Ben Mather (Tas)                      1
46 Grant Irwin (Qld)                     1
47 Matt King NT                          1
 
Mountains classification
 
1 Tom Southam (GBr)                     32 pts
2 Cameron Meyer (WA)                    23
3 Shaun Higgerson (NSW)                 16
4 Joshua Wilson (Tas)                   15
5 Bernard Sulzberger (Tas)              13
6 Travis Meyer (WA)                     10
7 Benjamin King (WA)                     8
8 Evan Oliphant (GBr)                    7
9 Leigh Howard (Vic)                     7
10 Sid Taberlay (Tas)                    6
11 David Pell (Vic)                      4
12 Patrick Shaw (Vic)                    3
13 Joel Pearson (NSW)                    3
14 Ben Mather (Tas)                      3
15 Nicholas Sanderson (Vic)              3
16 Trent Stevenson (Vic)                 3
17 Timothy Walker (Tas)                  3
18 Brad Edmunds (Vic)                    3
19 Tom Middleton (SA)                    3
20 Nathan Wise (Vic)                     2
21 Daniel Braunsteins (Vic)              2
22 Jack Anderson (Qld)                   2
23 Gilbert Gutowski (Qld)                2
24 Andrew Ward (Vic)                     2
25 Craig Mccartney (Vic)                 1
26 Malcolm Rudolph (Qld)                 1
27 Peter McDonald (NSW)                  1
28 Jason Hegert (Vic)                    1
 
Criterium championship classification
 
1 Leigh Howard (Vic)                    33 pts
2 Brett Aitken (SA)                     31
3 Joel Pearson (NSW)                    25
4 Jonathan Cantwell (Qld)               16
5 Sid Taberlay (Tas)                    15
6 Grant Irwin (Qld)                     13
7 Peter McDonald (NSW)                  11
8 Richard England (Vic)                 10
9 Bernard Sulzberger (Tas)              10
10 Kristian House (GBr)                  9
11 Miles Olman (Qld)                     7
12 Tom Robinson (Tas)                    7
13 Nicholas Sanderson (Vic)              6
14 Miles Watson (NZl)                    6
15 Evan Oliphant (GBr)                   5
16 Brad Edmunds (Vic)                    4
17 Robbie Cater (NSW)                    3
18 Steven Robb (Vic)                     3
19 Charles Howlett (Tas)                 3
20 Travis Meyer (WA)                     2
21 Joshua Wilson (Tas)                   1
 
Most aggressive rider classification
 
1 Tom Southam (GBr)                      4 pts
2 Sean Finning (Vic)                     3
3 Kristian House (GBr)                   3
4 Peter Herzig (Qld)                     2
5 Joel Pearson (NSW)                     2
6 Joshua Wilson (Tas)                    2
7 Brett Aitken (SA)                      2
8 Andrew Ward (Vic)                      1
9 Malcolm Rudolph (Qld)                  1
10 Trent Stevenson (Vic)                 1
 
Tasmanian rider classification
 
1 Bernard Sulzberger (Tas)        14.13.28
2 Ben Mather (Tas)                    7.27
3 Joshua Wilson (Tas)                 9.01
4 Ben Grenda (Tas)                   20.34
5 Matthew McDonagh (Tas)             27.54
6 Mark Jamieson (Tas)                29.59
7 Timothy Walker (Tas)               30.06
8 Charles Howlett (Tas)              36.05
9 Sid Taberlay (Tas)                 40.37
10 Tim Elmer (Tas)                   45.26
11 Simon Brown (Tas)                 45.29
12 Tom Robinson (Tas)              1.01.33
13 Jarrod Harman (Tas)             1.05.46
14 Nathan Clarke (Tas)             1.06.28
15 Daniel Furmston (Tas)           1.13.08
16 Aaron Jones (Tas)               1.16.52
17 Daniel Cutting (Tas)            1.18.34
18 Be Grieve-Johnson (Tas)         1.22.10
19 Matthew Sydes (Tas)             1.40.03
20 Jaso Bellchambers (Tas)         1.42.57
21 Michael Smith (Tas)             1.51.48
22 Jeremy Hills (Tas)              2.02.24
23 Andras Nagy (Tas)               2.26.26