56th Jayco Herald Sun Tour - 2.1
Australia, October 14-21, 2007
Main Page Results Overall standings Stage Details Previous Stage Next Stage
Stage 6 - October 20: Melbourne ITT, 8.6km
Wilson hangs on by seconds
Great showdown guaranteed
By John Trevorrow in Melbourne
Steve Morabito (Astana) looks for another stage win
Photo ©: Shane Goss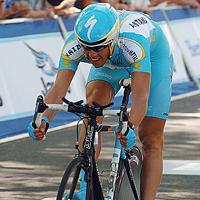 Australian journeyman Matt Wilson clings to a three second lead after the time trial in the Jayco Herald Sun Tour, over Swiss Steve Morabito. All is set for one of the greatest duels ever seen on Australian roads - well, not since last year anyway - with three riders within 14 seconds. Considering the 16 seconds in time bonuses up for grabs in the final stage a great showdown is guaranteed.
Morabito (Astana) sprinted around the 8.6-kilometre technical course in the fastest time of 11 minutes and 43 seconds, just two seconds faster than Aussie Trent Lowe (Jayco Australian National Team). But it wasn't fast enough to wrestle the leader's jersey off Wilson (Unibet) who pulled out a great ride to only drop 11 seconds on the speedy Swiss and retained the golden fleece.
"It was great to get a second stage win this week," Morabito said. When asked did he rue the 20-second penalty imposed on him after stage two, Morabito added "It was more the seconds I lost to Wilson on stage one into Nagambie. The penalty I soon forgot. This has been a very good bike race and Wilson is a very strong bike rider and I'm sure of that. I've also shown that I am a strong rider in winning the time trial. I guess I'll have to be aggressive and try something," the Swiss said.
Wilson was elated when he realised he had managed to hold on to the coveted yellow jersey. "I knew if I was in yellow at the end of the time trial, they'll have trouble getting me out of it. This whole Tour I've shocked myself," a beaming Wilson said. "I went out hard and felt that I'd loaded up my legs a bit and that's always been my problem in time trials. I just seem to go out a bit hard and can't bring it home and I didn't feel I was on top of it the whole time, but then coming in I had a couple of positive calls. I just put my head down as I was very, very excited.
Trent Lowe (Jayco Australian National Team)
Photo ©: Shane Goss

"I didn't wear an ear piece today because I didn't want to be distracted," Wilson added. "Everyone was so supportive all around the course. I had all my family and friends from years gone past, all giving me tremendous support." Wilson was full of praise for the awesome job his team have done all week. "They have done such an unbelievable job. With Baden and me up in the GC most of the week, there have been just three guys who have virtually controlled this race. "So I've got nothing but confidence in them in controlling it on the final stage. Barring any mishap we should be right."
When asked what it meant for him to finish the Tour in yellow given he is out of contract, Wilson said: "It will be a dream come true to win this event, especially after the trouble I've been through the last couple of years. But the fact I've got no contract for next year comes secondary."
Having ridden his first Herald Sun Tour as an 18 year-old Wilson was asked if he thought he could win it. "Never, never," he replied. Wilson said the Unibet.com team had been doing most of the attacking in this race, so now it'd up to the others. When pressed about tomorrow's tactics, he said "I'll be following Morabito's every move."
With Wilson and Morabito so close, and Lowe jumping up to third at 14 seconds, the two intermediate sprints worth three seconds for the win, and the final stage win dangling a 10-second bonus, will guarantee an intriguing battle. "That's the best I've felt all week," Lowe said. "I probably went a bit too hard up the climb and I paid for it in a couple of the flat spots, but you don't want to come home with something left in the tank. It's been good this week; it's a pity that I missed the split on day two, I guess that was the Tour." When informed he had moved into third place in GC, Lowe said: "That makes me feel a bit better, it would have been nice to have gotten a stage win after getting so close today, but I left nothing out on the road."
Matt Wilson (Unibet.com) from Victoria
Photo ©: Shane Goss

The lanky Dutchman Joost Van Leijen has now dropped one spot to fourth at 23 seconds with Frenchman Julien Mazat fifth at 39 seconds. It will be nigh on impossible for these guys to win from here as they will need to break clear and it is unlikely the Unibet and Astana squads are going to let that happen.
And they say history never repeats. Well, just like last year's sensational finale, each of the leading riders has a world class sprinter as a team-mate. Morabito has super fast Aussie Aaron Kemps, while Wilson has Baden Cooke, Jimmy Casper and Jeremy Hunt who are also awesomely quick, and it won't hurt Lowe to have the brilliant tactical nous of Jayco team-mate Stuart O'Grady lining things up from the front.
Stage winner Steve Morabito (Astana)
Photo ©: Shane Goss

Kemps was already thinking about tomorrow. "I looked after my legs a bit today as I want to go for the stage win tomorrow, but the objective is going to be different. We're going for the win in the GC [and] if we play our cards right we can come up with the victory. It's going to be an exciting day. Its amazing that's its come down to just three seconds after seven days of racing. It is still going to be very hard to beat Matty Wilson. He's very motivated, everything has been going his way this week, and obviously it is going to be hard to get the three seconds off him as he's also a pretty good sprinter."
O'Grady finished 19 seconds down, but wasn't feeling too hot on the day. "I didn't have the power of the punch, I had the pedal speed but when I knew I should have been punching it up the hill, I had to settle into a rhythm. I just didn't have the big power that I needed. I didn't actually get a chance to see the course before hand, which was a first. It was lucky that Davo [Dave Sanders] yelled out or I would have missed the first corner. There was definitely a couple of situations where I came over the crest of a hill where I didn't have any idea, going left, right or straight ahead. My last couple of time trials haven't been sensational, and I wasn't laying it down today for anybody. So I guess I was cornering a bit like grandma."
But realistically it is a two horse race. Lowe, as impressive as he has been this week, is unlikely to gain the sprint bonuses. The former national road champion is at the cross roads of his career and there is no doubt that Wilson wants this win desperately. It is going to be a knock 'em down, no holds barred duel and it will almost certainly come down to the final sprint of the tour.
Photography
For a thumbnail gallery of these images, click here
Images by Shane Goss/www.licoricegallery.com
Images by Fiona Carnibella
Images by Gary Newvine
Images by Veeral Patel
Results
1 Steve Morabito (Swi) Astana                               11.32 (44.739 km/h)
2 Trent Lowe (Aus) Jayco Australian National Team            0.02
3 Benjamin Jacques-Maynes (USA) Bissell-Priority Health      0.04
4 Darren Lapthorne (Aus) Drapac Porsche                      
5 Tom Zirbel (USA) Bissell-Priority Health                   0.07
6 Matthew Wilson (Aus) Unibet.com                            0.11
7 Zachary Bell (Can) Bicycle Superstore -Canada              0.12
8 Baden Cooke (Aus) Unibet.com                               0.14
9 Daniel Lloyd (GBr) DFL Cyclingnews Litespeed               0.15
10 Joost Van Leijen (Ned) Netherlands National Team          0.17
11 Stuart O'Grady (Aus) Jayco Australian National Team       0.19
12 Simon Clarke (Aus) South Australia.com - AIS              0.21
13 Julien Mazet (Fra) Astana                                 0.22
14 Timothy Gudsell (NZl) Mitchelton Wines - New Zealand      0.24
15 Cameron Wurf (Aus) Bissell-Priority Health                0.24
16 Dominique Rollin (Can) Bicycle Superstore -Canada         0.26
17 Stuart Shaw (Aus) Drapac Porsche                          0.27
18 Rhys Pollock (Aus) DFL Cyclingnews Litespeed              
19 Shaun Higgerson (Aus) South Australia.com - AIS           0.29
20 Johnnie Walker (Aus) South Australia.com - AIS            0.32
21 Peter Dawson (Aus) South Australia.com - AIS              
22 Aaron Kemps (Aus) Astana                                  0.33
23 Gene Bates (Aus) South Australia.com - AIS                0.35
24 David Pell (Aus) Savings & Loans                          
25 Richard England (Aus) Bissell-Priority Health             
26 Scott Zwizanski (USA) Bissell-Priority Health             0.36
27 Maint Berkenbosch (Ned) Netherlands National Team         0.38
28 Marc Ryan (NZl) Mitchelton Wines - New Zealand            0.40
29 Will Dickeson (Aus) Savings & Loans                       0.41
30 Malaya Van Ruitenbeek (Ned) Netherlands National Team     
31 Peter Herzig (Aus) FRF Couriers-NSWIS                     
32 Brendan Brooks (Aus) FRF Couriers-NSWIS                   
33 Cameron Jennings (Aus) DFL Cyclingnews Litespeed          0.43
34 Koen De Kort (Ned) Astana                                 
35 Bernard Sulzberger (Aus) DFL Cyclingnews Litespeed        0.44
36 Jorg Ludewig (Ger) Wiesenhof-Felt                         0.46
37 Yukiya Arashiro (Jpn) Nippo - Meitan Latrobe              0.48
38 Dominique Perras (Can) Bicycle Superstore -Canada         0.49
39 Mark O'Brien (Aus) Drapac Porsche                         0.50
40 Eric Wohlberg (Can) Bicycle Superstore -Canada            
41 Jason Allen (NZl) Mitchelton Wines - New Zealand          0.51
42 Camiel Denis (Ned) Netherlands National Team              0.52
43 Koji Fukushima (Jpn) Nippo - Meitan Latrobe               0.55
44 Christian Leben (Ger) Wiesenhof-Felt                      0.57
45 Brett Aitken (Aus) Savings & Loans                        0.58
46 Chris Jory (Aus) FRF Couriers-NSWIS                       0.59
47 Patrick Shaw (Aus) Jayco Australian National Team         
48 Aaron Tuckerman (NZl) Mitchelton Wines - New Zealand      1.00
49 Michal Golas (Pol) Unibet.com                             1.01
50 Jimmy Casper (Fra) Unibet.com                             1.02
51 Jason Hegert (Aus) FRF Couriers-NSWIS                     
52 Logan Hutchings (NZl) Mitchelton Wines - New Zealand      1.03
53 Prajak Mahawong (Tha) Nippo - Meitan Latrobe              1.05
54 Jeremy Hunt (GBr) Unibet.com                              
55 Tom Southam (GBr) Drapac Porsche                          1.06
56 Yoshiyuki Shimizu (Jpn) Nippo - Meitan Latrobe            
57 John Ebeling (Aus) FRF Couriers-NSWIS                     1.07
58 Chris Jongewaard (Aus) Jayco Australian National Team     
59 Brett Tivers (NZl) Mitchelton Wines - New Zealand         1.09
60 Ryan Anderson (Can) Bicycle Superstore -Canada            1.11
61 Adriaan Helmantel (Ned) Netherlands National Team         1.12
62 Nick Gates (Aus) Jayco Australian National Team           1.13
63 Trent Wilson (Aus) Jayco Australian National Team         
64 William Ford (Aus) South Australia.com - AIS              
65 Craig Mccartney (Aus) Savings & Loans                     1.14
66 Casey Munro (Aus) Drapac Porsche                          1.15
67 Omer Kem (USA) Bissell-Priority Health                    1.16
68 Wim Botman (Ned) Netherlands National Team                1.20
69 Peter Mueller (Aus) Savings & Loans                       1.21
70 Luke Cridland (Aus) FRF Couriers-NSWIS                    1.26
71 Tom Middleton (Aus) Savings & Loans                       1.28
72 Steffen Radochla (Ger) Wiesenhof-Felt                     1.32
73 Benoit Joachim (Lux) Astana                               1.38
74 Felix Odebrecht (Ger) Wiesenhof-Felt                      2.00
75 Jeremy Vennell (NZl) DFL Cyclingnews Litespeed            2.27
DNS Dean Windsor (Aus) Drapac Porsche                            
 
Teams
 
1 Bissell-Priority Health                                   35.10
2 Astana                                                     0.20
3 Jayco Australian National Team                             0.45
4 South Australia.Com - AIS                                  0.46
5 Drapac Porsche                                             0.47
6 DFL Cyclingnews Litespeed                                  0.50
7 Bicycle Superstore -Canada                                     
8 Unibet.com                                                 0.51
9 Netherlands National Team                                  1.00
10 Mitchelton Wines - New Zealand                            1.19
11 Savings & Loans                                           1.38
12 FRF Couriers-NSWIS                                        1.45
13 Nippo - Meitan Latrobe                                    2.13
14 Wiesenfof-Felt                                            2.39
 
General Classification after Stage 6
 
1 Matthew Wilson (Aus) Unibet.com                        16.19.57
2 Steve Morabito (Swi) Astana                                0.03
3 Trent Lowe (Aus) Jayco Australian National Team            0.14
4 Joost Van Leijen (Ned) Netherlands National Team           0.23
5 Julien Mazet (Fra) Astana                                  0.39
6 Baden Cooke (Aus) Unibet.com                               1.53
7 Simon Clarke (Aus) South Australia.com - AIS               2.11
8 Cameron Wurf (Aus) Bissell-Priority Health                 4.18
9 Dominique Perras (Can) Bicycle Superstore -Canada          4.30
10 Eric Wohlberg (Can) Bicycle Superstore -Canada            5.04
11 David Pell (Aus) Savings & Loans                          6.08
12 Darren Lapthorne (Aus) Drapac Porsche                    10.27
13 Maint Berkenbosch (Ned) Netherlands National Team        11.26
14 Bernard Sulzberger (Aus) DFL Cyclingnews Litespeed       12.26
15 Jorg Ludewig (Ger) Wiesenhof-Felt                        12.50
16 Aaron Kemps (Aus) Astana                                 13.39
17 Yukiya Arashiro (Jpn) Nippo - Meitan Latrobe             15.38
18 Daniel Lloyd (GBr) DFL Cyclingnews Litespeed             16.16
19 Cameron Jennings (Aus) DFL Cyclingnews Litespeed         16.50
20 Mark O'Brien (Aus) Drapac Porsche                        17.03
21 Koen De Kort (Ned) Astana                                17.10
22 Michal Golas (Pol) Unibet.com                            17.15
23 Dominique Rollin (Can) Bicycle Superstore -Canada        17.19
24 Timothy Gudsell (NZl) Mitchelton Wines - New Zealand     18.01
25 Stuart Shaw (Aus) Drapac Porsche                         22.57
26 Brendan Brooks (Aus) FRF Couriers-NSWIS                  23.56
27 Benjamin Jacques-Maynes (USA) Bissell-Priority Health    24.25
28 Christian Leben (Ger) Wiesenhof-Felt                     30.47
29 Benoit Joachim (Lux) Astana                              33.13
30 Omer Kem (USA) Bissell-Priority Health                   33.42
31 Johnnie Walker (Aus) South Australia.com - AIS           35.21
32 Gene Bates (Aus) South Australia.com - AIS               37.13
33 Camiel Denis (Ned) Netherlands National Team             37.14
34 Tom Zirbel (USA) Bissell-Priority Health                 38.02
35 Malaya Van Ruitenbeek (Ned) Netherlands National Team    39.12
36 Jimmy Casper (Fra) Unibet.com                                 
37 Stuart O'Grady (Aus) Jayco Australian National Team      39.37
38 Peter Herzig (Aus) FRF Couriers-NSWIS                    41.23
39 Jeremy Vennell (NZl) DFL Cyclingnews Litespeed           41.35
40 Tom Middleton (Aus) Savings & Loans                      41.51
41 Jeremy Hunt (GBr) Unibet.com                             43.29
42 Patrick Shaw (Aus) Jayco Australian National Team        45.36
43 Will Dickeson (Aus) Savings & Loans                      46.19
44 Chris Jongewaard (Aus) Jayco Australian National Team    47.30
45 Scott Zwizanski (USA) Bissell-Priority Health            47.40
46 Aaron Tuckerman (NZl) Mitchelton Wines - New Zealand     47.53
47 Nick Gates (Aus) Jayco Australian National Team          50.20
48 Richard England (Aus) Bissell-Priority Health            52.27
49 Rhys Pollock (Aus) DFL Cyclingnews Litespeed             52.28
50 Brett Tivers (NZl) Mitchelton Wines - New Zealand        53.46
51 John Ebeling (Aus) FRF Couriers-NSWIS                    54.31
52 Tom Southam (GBr) Drapac Porsche                         54.43
53 Zachary Bell (Can) Bicycle Superstore -Canada            54.55
54 Shaun Higgerson (Aus) South Australia.com - AIS          55.02
55 Chris Jory (Aus) FRF Couriers-NSWIS                      55.10
56 Peter Mueller (Aus) Savings & Loans                      57.11
57 Trent Wilson (Aus) Jayco Australian National Team        57.30
58 Adriaan Helmantel (Ned) Netherlands National Team        58.48
59 Logan Hutchings (NZl) Mitchelton Wines - New Zealand     59.09
60 Koji Fukushima (Jpn) Nippo - Meitan Latrobe            1.02.30
61 Brett Aitken (Aus) Savings & Loans                     1.02.35
62 Luke Cridland (Aus) FRF Couriers-NSWIS                 1.03.02
63 Jason Hegert (Aus) FRF Couriers-NSWIS                  1.03.10
64 Marc Ryan (NZl) Mitchelton Wines - New Zealand         1.03.19
65 Jason Allen (NZl) Mitchelton Wines - New Zealand       1.03.34
66 Casey Munro (Aus) Drapac Porsche                       1.03.36
67 Wim Botman (Ned) Netherlands National Team             1.05.26
68 William Ford (Aus) South Australia.com - AIS           1.06.44
69 Craig Mccartney (Aus) Savings & Loans                  1.07.09
70 Felix Odebrecht (Ger) Wiesenhof-Felt                   1.07.40
71 Ryan Anderson (Can) Bicycle Superstore -Canada         1.08.15
72 Yoshiyuki Shimizu (Jpn) Nippo - Meitan Latrobe         1.09.07
73 Steffen Radochla (Ger) Wiesenhof-Felt                  1.09.11
74 Peter Dawson (Aus) South Australia.com - AIS           1.09.57
75 Prajak Mahawong (Tha) Nippo - Meitan Latrobe           1.10.11
 
Sprint classification
 
1 Matthew Wilson (Aus) Unibet.com                              30 pts
2 Dominique Rollin (Can) Bicycle Superstore -Canada            30
3 Cameron Jennings (Aus) DFL Cyclingnews Litespeed             12
4 Baden Cooke (Aus) Unibet.com                                 12
5 David Pell (Aus) Savings & Loans                             12
6 Jorg Ludewig (Ger) Wiesenhof-Felt                            12
7 Peter Herzig (Aus) FRF Couriers-NSWIS                        12
8 Aaron Kemps (Aus) Astana                                     10
9 Steve Morabito (Swi) Astana                                  10
10 Joost Van Leijen (Ned) Netherlands National Team             8
11 Stuart Shaw (Aus) Drapac Porsche                             8
12 Koji Fukushima (Jpn) Nippo - Meitan Latrobe                  6
13 Bernard Sulzberger (Aus) DFL Cyclingnews Litespeed           6
14 Jeremy Vennell (NZl) DFL Cyclingnews Litespeed               6
15 Scott Zwizanski (USA) Bissell-Priority Health                6
16 Trent Wilson (Aus) Jayco Australian National Team            6
17 Felix Odebrecht (Ger) Wiesenhof-Felt                         6
18 Julien Mazet (Fra) Astana                                    4
19 Simon Clarke (Aus) South Australia.com - AIS                 4
20 Yukiya Arashiro (Jpn) Nippo - Meitan Latrobe                 4
21 Malaya Van Ruitenbeek (Ned) Netherlands National Team        4
22 Stuart O'Grady (Aus) Jayco Australian National Team          4
23 Trent Lowe (Aus) Jayco Australian National Team              2
24 Cameron Wurf (Aus) Bissell-Priority Health                   2
25 Darren Lapthorne (Aus) Drapac Porsche                        2
26 Benjamin Jacques-Maynes (USA) Bissell-Priority Health        2
27 Jimmy Casper (Fra) Unibet.com                                2
28 Patrick Shaw (Aus) Jayco Australian National Team            2
 
Mountains classification
 
1 Bernard Sulzberger (Aus) DFL Cyclingnews Litespeed           36 pts
2 Steve Morabito (Swi) Astana                                  34
3 Joost Van Leijen (Ned) Netherlands National Team             24
4 Trent Lowe (Aus) Jayco Australian National Team              18
5 Dominique Rollin (Can) Bicycle Superstore -Canada            16
6 Scott Zwizanski (USA) Bissell-Priority Health                12
7 Tom Southam (GBr) Drapac Porsche                             10
8 Daniel Lloyd (GBr) DFL Cyclingnews Litespeed                  8
9 Maint Berkenbosch (Ned) Netherlands National Team             4
10 Michal Golas (Pol) Unibet.com                                4
11 Benoit Joachim (Lux) Astana                                  4
12 Malaya Van Ruitenbeek (Ned) Netherlands National Team        2
 
Young rider classification
 
1 Simon Clarke (Aus) South Australia.com - AIS           16.22.08
2 Mark O'Brien (Aus) Drapac Porsche                         14.52
3 Brendan Brooks (Aus) FRF Couriers-NSWIS                   21.45
4 Christian Leben (Ger) Wiesenhof-Felt                      28.36
5 Johnnie Walker (Aus) South Australia.com - AIS            33.10
6 Tom Middleton (Aus) Savings & Loans                       39.40
7 Patrick Shaw (Aus) Jayco Australian National Team         43.25
8 Chris Jory (Aus) FRF Couriers-NSWIS                       52.59
9 Luke Cridland (Aus) FRF Couriers-NSWIS                  1.00.51
10 Jason Hegert (Aus) FRF Couriers-NSWIS                  1.00.59
11 Casey Munro (Aus) Drapac Porsche                       1.01.25
12 Wim Botman (Ned) Netherlands National Team             1.03.15
13 William Ford (Aus) South Australia.com - AIS           1.04.33
14 Ryan Anderson (Can) Bicycle Superstore -Canada         1.06.04
 
Teams classification
 
1 Astana                                                 49.13.04
2 Unibet.com                                                 5.07
3 Bicycle Superstore -Canada                                12.50
4 DFL Cyclingnews Litespeed                                 30.45
5 South Australia.Com - AIS                                 33.10
6 Netherlands National Team                                 35.10
7 Drapac Porsche                                            36.02
8 Bissell-Priority Health                                   40.58
9 Jayco Australian National Team                            49.55
10 Savings & Loans                                        1.13.13
11 FRF Couriers-NSWIS                                     1.26.51
12 Mitchelton Wines - New Zealand                         1.34.05
13 Wiesenfof-Felt                                         1.37.48
14 Nippo - Meitan Latrobe                                 2.06.06