Jayco Bay Cycling Classic - NE
Geelong, Australia, January 3-7, 2007
Main Page Results Overall standings Previous Stage Next Stage
Stage 2 - January 4: Portarlington
By Malcolm Sawford in Portarlington
Renshaw sprints into the yellow jersey after a tough day at Portarlington
Elite Men
Mark Renshaw won
Photo ©: CJ Farquharson
While the women's race was one of attrition, an attack by stage favourite Simon Gerrans (Portfolio Partners) soon after the first intermediate sprint saw three riders break clear and go on to lap all but seven of the seventy-rider field. Gerrans was joined by fellow European based professional Mark Renshaw (Skilled) and Darren Lapthorne, representing Australia's only Professional Continental team, Drapac-Porsche.
The trio quickly built a lead approaching one minute on the hilly 1.4km circuit, and lapped the main bunch a little over forty minutes into the one hour race. Renshaw, a winner of the final stage of the 2006 Classic, marked Gerrans closely in the final laps before sprinting to an impressive win and the series lead.
Although on paper the fastest finisher, Renshaw admitting to having doubts during the long breakaway. "I was doubting myself all day. It was really fast out there and I knew Simon had good legs. He's come off a super season last year, like I have, so you always have to be a little bit cautious with riders like that, but in the back of my head I knew that I was the best sprinter there and I had to bring it to a sprint. All three of us were strong, and any one of us could have been the winner today."
How it unfolded
It took less than ten minutes for the men's race to begin to take shape, with a strong attack, containing Rory Sutherland (Landlink), Trent Wilson (Skilled) and David McPartland (Portfolio Partners), causing a swift reaction from the bunch. The field regrouped briefly, before Gerrans powered clear on the first sprint lap with John Eblining (FRF Couriers – NSWIS) and Dean Windsor (Drapac-Porsche), with Eblining taking the sprint. Robbie McEwen (Volvo) led the pursuit, which saw series leader Johnny Clarke and Brett Perez (both Portfolio Partners), Robert McLachlan (Drapac-Porsche), Renshaw, Sutherland, Henk Vogels (BBB), McPartland and Joel Pearson (NSWIS) join the leaders.
Gerrans leads
Photo ©: CJ Farquharson

Gerrans, Renshaw and Lapthorne powered away from this group twenty minutes in, and were quickly twenty seconds clear. Eblining made a belated effort to cross the growing gap alone at the half way mark, with Sutherland, Perez, Windsor and Clarke also pulling away from the rest of the chase group. Working well, the leading trio was fifty seconds clear at the second sprint, with Renshaw leading across the line. Five minutes later, they had the main bunch in sight, and after the capture only a handful of riders were left on the circuit. The final riders to reach the chase group were Nick Gates (Volvo) and Cameron Carlyle (SHM Bikes/Carnegie Caulfield CC).
Behind the three tear away leaders, Sutherland had launched a mammoth effort to cross the chasm, and closed to within sixteen seconds with six laps remaining. The margin continued to come down by a couple of seconds each lap, and at three to go, Sutherland was a mere seven seconds adrift. Seeing the danger, the three leaders lifted their tempo once more, and increased their advantage up to seventeen seconds to put Sutherland back out of contention.
Gerrans led into the final corner but Renshaw had little trouble putting his superior speed to use to take the win. Gerrans said later "Mark's a sprinter, basically, so I knew if I lined up against him I'd likely come off second best, so I had a couple of goes in the last few laps to try and get away but I couldn't make it stick. I gave it what I had in the sprint, led it out from the corner and actually slipped a gear coming out of the corner which didn't help, but Mark just about sucked my helmet off when he came past!"
Rory Sutherland (Landlink)
Photo ©: CJ Farquharson

Renshaw said that the trio had always had enough in reserve to hold off Sutherland's impressive charge. "I knew that he'd never get us. We were holding back for most of that race. We saw at the finish that he was coming so we decided to turn it [back] on for three laps, there was never really a big doubt."
Lapthorne couldn't hold the pace in the sprint, but was still well clear of Sutherland, while McPartland attacked the chasers to solo home in fifth place. Overnight leader Johnny Clarke, a team mate of Gerrans, was well positioned in the chase group to maintain the series lead but overshot the final corner and limped across the line in ninth place.
Having claimed the yellow jersey, Renshaw is keen to keep it. "For sure now, it's definitely in the picture. I've had a really good two days and if I can have another three good days and just keep in those top five places I really think I can get it."
Gerrans hasn't given up on the overall win either, with both he and Clarke well placed. "There's still three days to go. We've got a great team and everyone's going really well. Having Johnny win yesterday was fantastic and we'll be doing everything we can to knock another stage win or two up."
Support Men
David Tanner looked set to improve on his second place on this circuit from 2006, when he rode away from the bunch after the first sprint, showing no signs of strain as the huge bunch was whittled down to less than thirty riders. He was eventually chased down, however, but bridged to the next attack by Brendan Washington in the closing stages.
The bunch reformed for the final three laps, but in the uphill sprint it was Tanner again who led the bunch to the line, before a late surge from Dale Scarfe saw Tanner relegated to second place for the second year in a row.
Belinda Goss claims first in Bay Classic
Elite Women
Belinda Goss (Volvo) takes the win
Photo ©: CJ Farquharson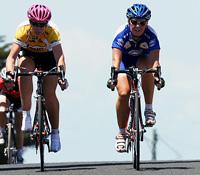 Despite claiming an early birthday present with her first ever win in the Jayco Bay Cycling Classic and relegating an exhausted stage 1 winner Kate Bates into second place, Tasmanian sprinter Belinda Goss (Volvo), who turns 23 on Saturday, won't wear the leader's jersey in Geelong. Although both are now tied on 22 points, under series rules Bates will retain the yellow jersey.
Defending champion Katie Mactier was a non starter, preferring to rest after her falls yesterday rather than jeopardize her preparations for the upcoming world track championships in March. Mactier intends to resume racing in the third stage.
Goss hadn't been overly confident about her chances in the toughest stage of the series, saying in her post race interview "I wasn't that sure going into the race. With the hill I knew it was going to hurt! There were a few attacks during that race, so it was a really hard race." Goss is in the middle of a solid block of racing, having come directly from her home state's renowned Christmas Track Carnivals, and she will also race the criterium series held in conjunction with the Tour Down Under before heading back to the track for the national titles.
"It's the best start [to a season] I've probably had for a while," she said. "I'm really happy with it. Portfolio Partners have a really strong team this year, so it made it a really hard race, but the girls in my team, Volvo, were great." Following Bates across to the leaders in the final laps forced Goss to dig deep. "My legs were hurting. She edged in front of me for a minute there, but luckily I was able to come back and take it."
How it unfolded
Kate Bates
Photo ©: CJ Farquharson

The tight corner at the bottom of the descent after the finish line saw a huge pile up on only the second lap, with Jenny Macpherson (Jayco VIS) and Alexis Rhodes (Pitcher Partners) amongst those to hit the deck. All the women were able to rejoin the race, with Nikki Egyed (Rapido Cycles) quick to lift the pace as the bunch regrouped.
Rushlee Buchanan (NZ National Team) jumped away to claim the first sprint, with Hitachi Construction Machinery/HIT Racing's local guest rider Nicole Whitburn out-sprinting Sara Carrigan for the minor places. Once Buchanan was brought back, Rhodes lifted the tempo, softening the bunch up for an attack by team mate Natalie Bates. Bates was joined by Jo Kiesonowski (Portfolio Partners) and Kate Mercer (Hitachi), and then on subsequent laps by Lisa Friend (Rapido) and Rachel Rademaker (Portfolio).
Goss saw the danger and bridged to the lead group as judges announced eight laps remaining, but had Kate Bates glued to her wheel, which spelt doom for the break. The second intermediate sprint followed, with another of the Kiwi's, Rosara Joseph, taking maximum points with a solo break, with Mercer and Natalie Bates taking the other points on offer. Joseph kept her effort going, and built her lead to thirteen seconds at three to go, before being reached by Natalie Bates and Egyed the following lap.
At the bell, Goss and Kate Bates had also crossed the gap, and turned onto the finishing straight side by side. In a draining drag race up to the line, there was little between the pair until the final metres, when a visibly fresher Goss put her wheel in front to take the win. Egyed made a lot of ground as the road flattened, but had to settle for her second successive third place finish.
Catching up with a still shattered Bates fifteen minutes after the race, it was obvious she had dug very deep in her desperate effort to take the win. "I love this course, but I'm absolutely useless in the heat. It doesn't matter what I do, I never get any better, and today the heat just killed me. Crikey!"
Belinda Goss (Volvo)
Photo ©: CJ Farquharson

She was full of praise for Goss, saying "She's a very strong bike rider and she's really, really quick. She also corners a lot better than I do!" Bates still has high hopes of keeping the leader's jersey until Sunday. "I think [my chances are] good. We've created a good buffer between the top three and the rest, so overall it looks like it's coming down to three and that changes things a little. I'm marking Belinda and Nikki now more than anyone, so we might see if we can get some of our other girls on the top of the podium in the next few days and I'll just look after myself."
With another hot day expected for Friday's race on the hotdog circuit at Geelong, Cyclingnews asked Bates how she would handle Goss' speed. "I don't know how I'll back up tomorrow. Unfortunately when you're a 70 kilo athlete you don't handle heat quite as well as the 55 kilo girls! Team mate and sister Natalie interjected with "I'll go up the road!" Kate agreed, saying "I get more confidence out of the fact that I have a really strong team. I'm not suggesting that Belinda doesn't, but I think that in the team stakes we've possibly got it over the Volvo girls. It's good, because she didn't beat me by a lot and I know where she's at, and she knows where I'm at, and neither of us can rest on our laurels."
Photography
For a thumbnail gallery of these images, click here
Images by CJ Farquharson/WomensCycling.net
Images by Shane Goss/www.licoricegallery.com
Results

Elite men
 
1 Mark Renshaw (Skilled)                                                  12 pts
2 Simon Gerrans (Portfolio Partners)                                      10
3 Darren Lapthorne (Drapac Porsche/Sofitel Spa Mansion/Sally's Paddock)    8
4 Rory Sutherland (Landlink)                                               7
5 David McPartland (Portfolio Partners)                                    6
6 Dean Windsor (Drapac Porsche/Sofitel Spa Mansion/Sally's Paddock)        5
7 Joel Pearson (NSW IS)                                                    4
8 John Eblining (FRF Couriers - NSW IS)                                    3
9 Johnny Clarke (Portfolio Partners)                                       2
10 Henk Vogels (BBB)                                                       1
 
Sprint 1
 
1 John Eblining (FRF Couriers - NSW IS)                                    3 pts
2 Dean Windsor (Drapac Porsche/Sofitel Spa Mansion/Sally's Paddock)        2
3 Simon Gerrans (Portfolio Partners)                                       1
 
Sprint 2
 
1 Mark Renshaw (Skilled)                                                   3 pts
2 Simon Gerrans (Portfolio Partners)                                       2
3 Darren Lapthorne (Drapac Porsche/Sofitel Spa Mansion/Sally's Paddock)    1
 
Sprint 3
 
1 Darren Lapthorne (Drapac Porsche/Sofitel Spa Mansion/Sally's Paddock)    3 pts
2 Simon Gerrans (Portfolio Partners)                                       2
3 Mark Renshaw (Skilled)                                                   1
 
Elite women
 
1 Belinda Goss (Volvo)                                                    12 pts
2 Kate Bates (Pitcher Partners)                                           10
3 Nikki Egyed (Rapido Cycles)                                              8
4 Sara Carrigan (Rapido Cycles)                                            7
5 Rosara Joseph (NZ National team)                                         6
6 Natalie Bates (Pitcher Partners)                                         5
7 Jo Kiesonowski (Portfolio Partners)                                      4
8 Emma Colson (Rapido Cycles)                                              3
9 Catherine Cell (Portfolio Partners)                                      2
10 Michelle Hyland (NZ National team)                                      1
 
Sprint 1
 
1 Rushlee Buchanan (NZ National team)                                      3 pts
2 Nicole Whitburn (Hitachi Construction Machinery Australia)               2
3 Sara Carrigan (Rapido Cycles)                                            1
 
Sprint 2
 
1 Rosara Joseph (NZ National team)                                         3 pts
2 Kate Mercer (Hitachi Construction Machinery Australia)                   2
3 Natalie Bates (Pitcher Partners)                                         1
 
Support race
 
1 Dale Scarf                                                              12 pts
2 David Tanner                                                            10
3 Peter Braunsteins                                                        8
4 Rohan Dennis                                                             7
5 Reuben Young                                                             6
6 Steven Rankine                                                           5
7 Dylan Newell                                                             4
8 Brendon Jones                                                            3
9 Christopher Luxton                                                       2
10 Robert Lyte                                                             1
 
Sprint 1
 
1 Matt King                                                                3 pts
2 Kyle Marwood                                                             2
3 Kris Kloke                                                               1
 
Sprint 2
 
1 Andrew Stalder                                                           3 pts
2 Joseph Lewis                                                             2
3 Dylan Newell                                                             1
 
Overall standings after stage 2
 
Elite men
 
1 Mark Renshaw (Skilled)                                                  20 pts
2 Johnny Clarke (Portfolio Partners)                                      14
2 Rory Sutherland (Landlink)                                              14
3 Robbie Williams (Drapac Porsche/Sofitel Spa Mansion/Sally's Paddock)    10
3 Dean Windsor (Drapac Porsche/Sofitel Spa Mansion/Sally's Paddock)       10
3 Simon Gerrans (Portfolio Partners)                                      10
6 Darren Lapthorne (Drapac Porsche/Sofitel Spa Mansion/Sally's Paddock)    8
7 Trent Wilson (Skilled)                                                   7
9 Robbie McEwen (Volvo)                                                    6
9 David McPartland (Portfolio Partners)                                    6
11 Joel Pearson (NSW IS)                                                   6
11 Richard England (Jayco VIS)                                             4
11 Henk Vogels (BBB)                                                       4
13 John Eblining (FRF Couriers - NSW IS)                                   3
16 Pat Shaw (HLP Mortgage Co)                                              1
 
Elite women
 
1 Kate Bates (Pitcher Partners)                                           22 pts
1 Belinda Goss (Volvo)                                                    22
3 Nikki Egyed (Rapido Cycles)                                             16
4 Sara Carrigan (Rapido Cycles)                                           12
5 Jo Kiesonowski (Portfolio Partners)                                     11
6 Rosara Joseph (NZ National team)                                         6
6 Sky-Lee Armstrong (NSW IS)                                               6
8 Natalie Bates (Pitcher Partners)                                         5
9 Toni Bradshaw (NZ National team)                                         4
9 Michelle Hyland (NZ National team)                                       4
10 Emma Colson (Rapido Cycles)                                             3
11 Catherine Cell (Portfolio Partners)                                     2
11 Emma Rickards (Jayco VIS)                                               2
12 Emma Mackie (Hitachi Construction Machinery Australia)                  1
 
Support race
 
1 Dale Scarf                                                              15 pts
2 Rohan Dennis                                                            15
3 Dylan Newell                                                            14
4 Andrew Stalder                                                          12
5 Reuban Young                                                            12
6 David Tanner                                                            10
7 Steven Rankine                                                           9
8 Peter Braunstein                                                         8
9 Brendan Washington                                                       7
10 Jarrod Maroni                                                           5
11 Brendon Jones                                                           3
12 Christopher Luxton                                                      2
13 Richard Lang                                                            2
14 Robert Lyte                                                             1
15 Michael Teggelove                                                       1
 
Sprint Championships
 
Elite men
 
1 Johnny Clarke (Portfolio Partners)                                       8 pts
2 Robbie Williams (Drapac Porsche/Sofitel Spa Mansion/Sally's Paddock)     6
3 John Eblining (FRF Couriers - NSW IS)                                    5
4 Simon Gerrans (Portfolio Partners)                                       5
5 Mark Renshaw (Skilled)                                                   4
6 Darren Lapthorne (Drapac Porsche/Sofitel Spa Mansion/Sally's Paddock)    4
7 Dean Windsor (Drapac Porsche/Sofitel Spa Mansion/Sally's Paddock)        2
8 Pat Shaw (HLP Mortgage Co)                                               1
9 Trent Wilson (Skilled)                                                   1
 
Elite women
 
1 Katie Mactier (Portfolio Partners)                                       5 pts
2 Sara Carrigan (Rapido Cycles)                                            4
3 Rushlee Buchanan (NZ National team)                                      3
4 Rosara Joseph (NZ National team)                                         3
5 Nicole Whitburn (Hitachi Construction Machinery Australia)               2
6 Kate Mercer (Hitachi Construction Machinery Australia)                   2
7 Amanda Spratt (Pitcher Partners)                                         2
8 Kate Bates (Pitcher Partners)                                            1
9 Nikki Egyed (Rapido Cycles)                                              1
10 Natalie Bates (Pitcher Partners)                                        1
 
Team championships
 
Elite men
 
1 Portfolio Partners                                                      30 pts
2 Drapac Porsche/Sofitel Spa Mansion/Sally's Paddock                      28
3 Skilled                                                                 20
4 Landlink                                                                14
5 NSW IS                                                                   6
6 Volvo                                                                    6
7 Jayco                                                                    4
8 BBB                                                                      4
9 FRF Couriers - NSW IS                                                    3
10 HLP Mortgage Co                                                         1
 
Elite women
 
1 Rapido Cycles                                                           28 pts
2 Pitcher Partners                                                        27
3 Volvo                                                                   22
4 NZ National team                                                        17
5 Portfolio Partners                                                      13
6 NSW IS                                                                   6
7 Jayco VIS                                                                2
8 Hitachi Construction Machinery Australia                                 1