Australian Open Road Championships - CN
Ballarat, Australia, January 11-14, 2007
Main Page Results Race Details Previous Race
Stage 6 - 14: Elite men's road race, 163.2 km
Big guns survive to end, but little gun fires winning shot
Lapthorne nets biggest win; team goes one-two
By Mark Zalewski in Ballarat, Victoria
Darren 'Lappers' Lapthorne
Photo ©: Shane Goss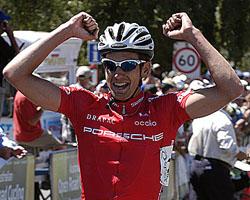 A long and torturous course pounded the field over sixteen laps, with the field dwindling through attrition on every lap. On the penultimate lap, most of the pre-race favourites were knackered, leaving only a select group of twelve to fight it out. But a surprise attack with two laps to go was what the doctor ordered, earning twenty-three year old Darren Lapthorne the biggest victory of his career - and his Drapac-Porsche team invaluable notoriety with his teammate Rob McLachlan taking out the sprint for second place.
"I was in a lot of pain, but when you have so many people behind you, pushing you along - I could hear them yelling my name," said Lapthorne. "It's an unbelievable moment for me that I will never forget."
Lapthorne admitted that he was feeling good today and hoped for a good place, but not quite as good as he ended up. "I thought a top ten was likely, that I was capable of doing that. And a top three for Rob McLachlan because he is in good form. But just to podium, I never imagined it. I was nervous and couldn't sleep last night because I was feeling good, which is a good sign. I told the guys this morning that I was feeling good and they put their faith in me."
Teammate McLachlan, 35, a 1992 Barcelona Olympian, was all compliments towards Lapthorne at the finish, despite doing a lot of work to make the win possible. "I wasn't sure I had the legs to go away for that long, 30 or 40 km to go," McLachlan said about his multiple attacks before Lapthorne's solo winner. "So they just let you go a little. One of the times I even sat up. I figured it would work for Darren, making the other teams chase, and then Darren can wack them at the end when they are fatigued. I knew those attacks were not for the win but that it may set it up for Darren." And it did.
Coming in third on the day was Tasmanian rider Karl Menzies, who races for the Health Net-Maxxis team in America. He had three teammates in the race, one with him in the final group in Rory Sutherland and Nathan O'Neill, who went out early to soften the field. "We knew it was going to be a race of attrition," said Menzies. "It's just insane. It may only be 160km, but you don't have the hard racing in your legs. It's a bit hot so you start to cramp - you feel great one lap and start to cramp the next."
"Part of the plan was to make the ride as easy as possible for Karl and Rory," said O'Neill about his suicide attack on the first lap. "With not having the numbers, the best thing I could do was draw a group early and take some sting out of the rest of the field - giving them a nice smooth ride for the first 100km."
That plan seemed to be working with major riders like Ag2R's Simon Gerrans, Astana's Allen Davis and Unibet's Baden Cooke bowing out on the biting climb throughout the day. But the Drapac-Porsche domestic riders spoiled the plans with a key attack by a young and underestimated rider. "I think we underestimated him," Menzies admitted. "He's a young guy and he's been getting better and better. Credit to him and the team, they rode awesome to get first and second. But I am happy to be on the podium."
"I just couldn't stop looking behind me - I was so nervous because I know how fast those guys sprint," said Lapthorne about the final kilometre. "But with 100 metres to go I realised I had it and enjoyed the moment."
How it unfolded
They're away in the 2007 Open Men's Road Race
Photo ©: Shane Goss

The field of more than one hundred riders were greeted with lovely cool temperatures and clear skies as they took the start. With a quick left and turn and kilometre pedaled they began the climb up the hill to Mt Buninyong for the first of sixteen laps. The climb rises up along the main highway, then turns off and goes up more to the top. On this second rise, Queenslander Nathan O'Neill ended the parade pace and got things going with a solo attack.
The immediate reaction from the field was lacking, with most likely thinking it a suicide attempt with more than 150km to race. But Hilton Clarke (Vic) who races for the Navigators Insurance team in America, kept close watch. "O'Neill did it once before and got away with Robbie [McEwen] so I was just nervous about it."
Over the top O'Neill had fourteen seconds on the field and eighteen at the bottom. On the second ascent O'Neill held his lead with the field still in sight. Then he turned on the gas more, lifting his lead to nearly a minute. At this point, more of the field took notice and a few tried to bridge. This brought the gap down to almost nothing. Eventually, Simon Gerrans showed up at the side of O'Neill as he descended the second lap, much to O'Neill's surprise.
"I was really surprised to see him come up, thinking, 'What are you doing?'," said O'Neill. "Obviously that was what he wanted to do, so great." Joining the pair was Chris Jongewaard (SA) who was wearing the colours of his team for 2007, the Jittery Joe's team. But early on it was O'Neill doing a lot of the work, along with Gerrans. "I couldn't tell what [Jongeward] was doing," said O'Neill. "He was missing a lot of turns early and then ripping our legs off later."
Still this was a powerful trio and they extended their lead to over one minute. Most of the time it was O'Neill working on the first part of the climb with Gerrans pulling through on the second portion. But as the gap neared two minutes, the team tactics started to show through. "Once the gap got to two minutes I stopped working, because I wasn't going to take those guys up the road any further," said O'Neill. "On this course, above two minutes is a long way to bring back."
With O'Neill sitting on and Jongeward stretching frequently, indicating possible cramping, Gerrans was the odd man out. O'Neill still rode on the front for the climbs, but let the pace drag. Slowly the peloton, or what remained of the shattered peloton, closed the gap. As the catch neared, a South Australia.com - AIS rider, Gene Bates, jumped across and had a go with Gerrans lifting the pace. But that was too little, too late, and the group reformed.
Health Net's Rory Sutherland and Karl Menzies rode the front of the group as they caught Gerrans and Bates, driving the pace to shed even more riders. Some counter attacks tried to get away, including Baden Cooke who was working with Matthew Wilson. But Health Net, combined with riders from Drapac-Porsche, kept the pace too high.
With six laps to go, a group thirteen made up the peloton: Peter McDonald, McLachlan, Lapthorne, Menzies, Bates, David Pell, Sutherland, Cooke, Wilson, Hilton Clarke, Matthew Lloyd, Jonathan Clarke and David McPartland. Two laps later, on the bottom of the climb a group of six got away, instigated by an attack from Bates and aided by a strong Hilton Clarke. Clarke drove the pace even higher and was only matched by Karl Menzies for a time. This put the screws on the rest of the pretenders hanging on in the field, resulting in a final group of seven.
The lead group approach the Midland Highway turn-off where Darren Lapthorne (Drapac Porsche)
Photo ©: Shane Goss
A few attacks were put on by McLachlan, Bates and Hilton Clarke - none of which were successful, except in the idea of McLachlan setting up his teammate. "We were both attacking quite a lot, and it's always easier to have a teammate up the road," said Lapthorne. "That was our plan all along, to just keep hitting the bunch."
As the laps continued to tick off, more riders dropped off and tried to catch back on - but the strong riders stayed on the front. With two laps to go, and having sat on for all of McLachlan's attacks, Lapthorne made his move on the bottom of the climb. With teammates and staff cheering him on through the feed zone, he quickly built a lead of twenty and then thirty seconds by riding an even tempo.
At first, the group just looked around at each other, thinking Lapthorne had gone too soon and not wanting to spend the energy chasing him. While the group felt each other out, Lapthorne was focused on just the ten meters in from of him. "I didn't think I was going to last! But what can you do? You just go out there, put your head down, and give it everything."
As he crested the hill he had around thirty seconds, and held it down the back side. Entering the final lap, Hilton Clarke finally started attacking, trying to bring back the solo leader. Clarke was without formal Navigators teammates, but had his younger brother still with him. "It was good having Johnny there," said Hilton. "A little bit strange having two Health Net riders who weren't really willing to chase Lapthorne. Once they dropped off, my little brother, even though we weren't on the same team, laid it down for me. He felt I was going stronger and I was really thankful, but looking at Menzies and Sutherland, they weren't willing to do it. In the end I covered everything until the finish. I wasn't willing to come second. The tactics confused me a bit."
Hilton's moves were covered by the two Health Net riders and McLachlan all the way up the final climb. "It was attacking and attacking," said Menzies. "Hilton was attacking a lot - probably the strongest guy out there. But he was getting covered everywhere he went." Up the road Lapthorne was holding on to his thirty second lead, with the officials giving him constant updates and encouragement. "I was surprised - every time it was thirty-one seconds," said Lapthorne. "I figured maybe an attack would work because the group wasn't working very well."
Over the top, it was virtually decided as the road only went down all the way to the line. At this point, McLachlan decided to start racing for second place. "I felt that with five kilometres to go, it didn't matter what I did, Darren had it," said McLachlan. "So I decided to race for second. I initially got away with Hilton, but he didn't want to work with me. I said to Hilton he could have second because he's a far better sprinter than me, just to get him to work. But then Menzies got across and we regrouped."
Screaming down the descent, the others hoped that their speed would be enough to catch Lapthorne. But it was not to be. He held his focus until 100 metres when the announcer finally convinced him that no chasers were in sight. He put his arms in the air and relished the moment.
On the podium are (L-R): Robert McLachlan (Drapac Porsche,2nd)
Photo ©: Shane Goss

But the day was not over for the Drapac-Porsche team. The sprint for second saw Sutherland catching back up to the group and trying to lead out Menzies. "Coming to the finish it was Hilton, McLachlan and me away, but the other group caught us," said Menzies. "Rory came through and led us out in the sprint, but McLachlan came through and hit us. I just couldn't get on it with cramps in my legs."
This win certainly ups the stock of both Lapthorne and his team, who plan on racing a full calendar of races this season. "At the moment I'll just see how it goes. This year we have a big racing calendar planned and a short trip to Europe as well. Most of the team wants to race in the States - thinking about doing Superweek and such, and we would be quite competitive."
But first thing was first - getting photographs and signing autographs for the new fans. And even though he just got his new team bike for the season a few weeks ago, he is hoping that this will at least earn him a new paint scheme - green and gold of course, to match the national champion's jersey he can wear all season.
Photography
For a thumbnail gallery of these images, click here
Images by Shane Goss/www.licoricegallery.com
Images by Mark Gunter/www.pbase.com/gunterphotograph
Results
1 Darren Lapthorne (Vic)                          4.16.18       
2 Robert Mclachlan (ACT)                             0.15       
3 Karl Menzies (Tas)        
4 Hilton Clarke (Vic)        
5 David Mcpartland (Vic)        
6 Matthew Lloyd (Vic)        
7 Rory Sutherland (ACT)        
8 Jonathon Clarke (Vic)                              2.08       
9 Baden Cooke (Vic)                                  2.53       
10 Peter Mcdonald (NSW)        
11 David Pell (Vic)        
12 Matt Wilson (Vic)                                 6.38       
13 Rhys Pollock (Vic)                                8.33       
14 Jai Crawford (Tas)                                8.50       
15 Cameron Jennings (Qld)        
16 Cameron Wurf (Tas)        
17 Tyler Butterfield (GBr)        
18 Peter Herzig (Qld)                               13.30       
19 Nathan Jones (WA)        
DNF James Steinhauser (Vic)        
DNF Martin Tobin (Vic)        
DNF Aaron Wilson (Vic)        
DNF Ashley Baines (Vic)        
DNF Reece-Emerson Van Beek (Vic)        
DNF Jason Tepper (Vic)        
DNF Simon Gerrans (Vic)        
DNF Nathan O'neill (Qld)        
DNF Mark Renshaw (NSW)        
DNF Gene Bates (SA)        
DNF Ben Brooks (NSW)        
DNF Allan Davis (Qld)        
DNF Chris Jongewaard (SA)        
DNF Mark Jamieson (Tas)        
DNF Peter Milostic (NSW)        
DNF Stuart Shaw (ACT)        
DNF Phillip Thuaux (NSW)        
DNF Trent Wilson (NSW)        
DNF Stephen Cunningham (SA)        
DNF Nicholas Sanderson (Vic)        
DNF Ryan Sullivan (Tas)        
DNF Matthew Rice (Tas)        
DNF James Meadley (ACT)        
DNF Troy Glennan (NSW)        
DNF Shaun Higgerson (NSW)        
DNF Richard England (Vic)        
DNF Cody Stevenson (NSW)        
DNF David Tanner (NSW)        
DNF Jonathan Cantwell (Qld)        
DNF John Ebeling (NSW)        
DNF David Evans (NSW)        
DNF Giuseppe Cirella (Qld)        
DNF Scott Kilmartin (Qld)        
DNF Kane Oakley (Qld)        
DNF Cameron Bowden (SA)        
DNF Jay Bourke (Vic)        
DNF Daniel Burtt (Vic)        
DNF Shaun Gatter (Vic)        
DNF Craig Mccartney (Vic)        
DNF Luke Pledger (Vic)        
DNF Jacob Sutherland (Vic)        
DNF Damien Turner (Vic)        
DNF Will Wettenhall (Vic)        
DNF Marcus Wettenhall (Vic)        
DNF Kristian House (GBr)        
DNF Peter Barnett (Vic)        
DNF Perren Delacour (NSW)        
DNF Ashley Humbert (NSW)        
DNF David Kemp (Qld)        
DNF Alex Malone (NSW)        
DNF Brent Miller (ACT)        
DNF Brendan Washington (NSW)        
DNF Hendricus Vogels (WA)        
DNF Ben Day (Qld)        
DNF Nicholas Formosa (Qld)        
DNF Mark Hooper (Vic)        
DNF Brett Lancaster (Vic)        
DNF Ryan Moody (Vic)        
DNF Tommy Nankervis (Vic)        
DNF Simon Pearson (SA)        
DNF Jason Phillips (Qld)        
DNF Steven Pilson (Vic)        
DNF Rhys Smith (Vic)        
DNF Andrew Ward (Vic)        
DNF Pieter Braekeveldt (Bel)        
DNF Andrew Aquilina (Vic)        
DNF Cameron Carlyle (Vic)        
DNF Tony Mann (NSW)        
DNF Wade Wallace (Vic)        
DNF Brendan Sharrat (Vic)        
DNF Brett Perez (GBr)        
DNF Jeremy Hunt (GBr)        
DNF Tom Southam (GBr)        
DNF Josh Wilson (Tas)