Australian Open Road Championships - CN
Ballarat, Australia, January 11-14, 2007
Australia's best in Ballarat

- McEwen a definite non-starter, while other top pros head overseas for team commitments
By the Cyclingnews team
Allan Davis could soon be riding in Discovery Channel colours
Photo ©: John Flynn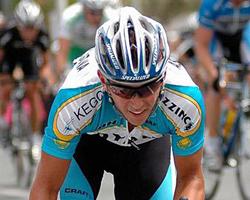 After a two-year hiatus, many of Australia's top cyclists will once again descend on Ballarat, Victoria, this week for the Australian Open Road Championships, to be conducted from January 11 to 14.
Widely regarded as the most fiercely contested one-day race in Australia, the 2007 open men's event, to be held on the very selective Buninyong circuit this coming Sunday, will feature a host of top European pros including Allan Davis, 2006 Tour Down Under winner Simon Gerrans (AG2R) plus Unibet.com pairing Baden Cooke and Matt Wilson - winner of the green and gold jersey on the same course in 2004.
"It would be a huge honour to be crowned the Australian champion," said Gerrans. "I truly believe I am capable of winning - it's always at the back of my mind."
Other riders in good form include Credit Agricole's sprinter, Mark Renshaw, who recently took out the Jayco Bay Classic criterium series, while a host of Australian professionals who ride for USA teams, such as Health Net's Karl Menzies, will also be challenging for the title.
Then there are the riders from Australia's first Professional Continental team, Drapac-Porsche, who may have a point to prove after being omitted from this year's Tour Down under stage race, not to mention the South Australian-based Savings & Loans Continental squad that features defending champion, Russell Van Hout.
However, Allan Davis is a class act who's won at the highest level in Europe, and he will no doubt be hungry for success, even if the 26 year-old has not raced an event over 100km since returning from Europe after his Liberty Seguros team were denied a start in the Tour de France. Recent reports indicate that Davis is on the verge of inking a new contract with ProTour giant Discovery Channel.
Professional team commitments - either being called to Europe for gala team presentations, or being asked to build their form for races later in the season - means the Australian Open is not a true slug-fest of the country's very top riders. Missing in action will be riders such as Brad McGee (FDJ), Stuart O'Grady (CSC), Mick Rogers (T-Mobile) and even young-gun William Walker (Rabobank), while Oenone Wood and Katherine Bates (also with T-Mobile) will also be away.
The race organiser, John Craven, was hopeful that three-time Tour de France green jersey winner, Robbie McEwen (Predictor-Lotto), would be in Victoria for Sunday's road race, but McEwen confirmed to Cyclingnews that he hasn't recovered from a chest infection that developed while racing the Jayco Bay Classic criterium series earlier this month.
"I made a definite decision last night that I won't start the nationals in Ballarat," McEwen said. "I'm still suffering with bronchitis and need to make sure I'm rid of it before TDU. I had been leaving my options open until now but there is little point making the trip if I'm not healthy."
No repeat of 2006 likely
Last year's men's road race finished under controversial circumstances, where under 23 rider from Victoria, William Walker, out-gunned the entire field to win. The best senior rider, Russell Van Hout, finished in third place behind Wes Sulzberger, another U23 rider from Tasmania.
While Van Hout was entitled to wear the national champion's jersey in 2006, Walker could not, a decision that clearly disappointed the young rider. Walker had secured a contract to ride with Dutch ProTour team Rabobank, but couldn't wear his national champion's jersey. Later in 2006 he was finally permitted to wear the 'green and gold' in European competition, such as such as his Grand Tour debut in the Vuelta a España.
Wes Sulzberger, a firm favourite in the under 23 race
Photo ©: Shane Goss

Consequently, Cycling Australia has decided to hold separate events for the open and under 23 categories in 2007. "It's a decision I don't necessarily agree with," said race organiser John Craven. "You've got top class bike riders in the under 23s like Wesley Sulzberger from Tasmania - there's heaps of them that are capable of winning the open."
It was a genuine race of attrition in 2006, with only 26 finishers out of 180 starters - the only factor reducing the field was the speed of the leading riders. "It's so tough and unforgiving, the best rider always wins," said Craven. "If anyone's underdone they're not going to win the Australian championship."
For 2007, the men's race has been reduced from 18 to 16 laps, a total race distance of 163.2km. Robbie McEwen, champion in 2002 and 2005, was instrumental in having the distance cut after he advised Craven of his views some weeks ago. "You will still get the same result," said McEwen. "This Buninyong course is so hard you won't miss a couple of laps."
It was also the race that brought Australian cycling's 'Crocodile Man', Adam Hansen, into focus. The Queenslander and two-time winner of the brutal Crocodile Trophy mountain-bike stage race showed he was a very accomplished road cyclist. Hansen animated the final few laps of a very select group and finished fourth overall, ahead of riders such as Henk Vogels. This year Hansen will ride for Germany's T-Mobile ProTour team.
Despite the prestige and financial rewards which accompany a national champion's jersey - pro riders can earn bonuses of several thousand Euros from their teams - some seasoned European-based Australian professionals who aren't called away for team presentations, are still unwilling to reach peak form early in the season for fear of jeopardising their chances in later races. Also, they would line up against a clutch of promising riders - eager to impress selectors and professional teams - who've trained almost specifically for the event.
Katie Mactier
Photo ©: Shane Goss
It's a similar situation among the elite women. However, the proximity of the first round of the women's World Cup in Geelong means the leading women are likely to be closer to full race fitness. Among the star names competing in women's event are 2004 Olympic road race champion Sara Carrigan, 2006 Commonwealth Games gold medallist Natalie Bates, and 2005 world individual pursuit champion Katie Mactier.
As mentioned previously, 2006 Australian women's road champion Katherine Bates, plus 2004 winner Oenone Wood, are both absent from this year's start sheet due to commitments at the T-Mobile team presentation in Majorca. Fellow T-Mobile riders Michael Rogers, Scott Davies and Adam Hansen will miss out on the men's event for the same reason.
Nathan's new record possible
While the men's road race is unlikely to be a repeat of 2006, there is a degree of certainty in the men's individual time trial, with Queenslander Nathan O'Neill (Health Net) lining up once again in the men's individual time trial, an event that the talented Queenslander has won seven times.
In last year's men's TT it was O'Neill first, daylight second, as he completed the 40km almost three minutes ahead of second-placed rider, Luke Roberts (CSC).
In the women's TT, it should not be a surprise if the veteran of Australian women cycling, 1992 Barcelona Olympics gold medalist, Kathy Watt, upstages her younger rivals and takes out another TT title on the challenging Buninyong course. Watt won the title last year, and this year she will not be racing against Sara Carrigan or Natalie Bates, however, emerging AIS rider Amanda Spratt will be a rider to watch.
In the U23, it will be a battle of the country's emerging riders, even if some are away on team commitments. But riders such as Zac Dempster and Miles Olman are considered favourites for the race against the clock.
All in all, a total of 301 riders will contest the six championship events to be held over four days - a record since the open championship concept was introduced into Australian cycling in 1999. The titles will kick off on Thursday with the men's under 23 and women's time trials, both over 28 kilometres. The open men's 39km time trial is on Friday, followed on Saturday by the men's under 23 road race (122kms) and women's road race (102kms). Sunday will feature the men's open road title.
When last held in Ballarat in 2004, the event attracted strong crowds from nearby Melbourne. Bright sunshine and warm temperatures aside, the Lion of Flanders flags and Australia's own version of Didi the devil created a spectacle not unlike a Belgian Classic.