Australian Open Road Championships - CN
Ballarat, Australia, January 11-14, 2007
Main Page Results Race Details Previous Race Next Race
Stage 5 - January 13: Elite women's road race, 102 km
Mactier takes out hard-fought sprint finish
Queenslanders have numbers but come up short
By Mark Zalewski in Ballarat, Victoria
Podium time
Photo ©: Mark Gunter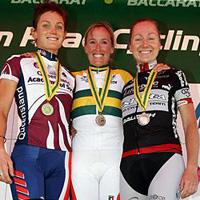 Eleven Queenslanders toed the line at the open road championships but none were able to contain the sprint of Katie Mactier (Vic), who played her cards right until the end, unleashing her sprint to hold off Nikki Egyed (Qld) and fellow Victoria rider Emma Rickards in the closing meters of a tough bunch finish. "Queensland worked all day and outnumbered us, so to come first and third today is exciting!" said Mactier told Cyclingnews just after her win. "I had a lot of patience, but it's a hard course. I always say it's an honest course. You cannot come here without a lot of form ... expecting to ride well."
Queensland did try to work the numbers advantage but was clearly disappointed with the result. "We said yesterday that we have eleven girls and if we don't make it we'll be really embarrassed," second place Egyed said. "And I have to say that is what we are all feeling right now. Eleven riders and we couldn't pull off the win but I'm really disappointed for Louise."
Egyed is referring to her teammate Louise Kerr who spent more than six of the ten laps of the race solo off the front. "That was a very long 70 kilometre time trial!" said a tired Kerr, who still managed to finish the race. "We decided to come out and work as a team today. I attacked and thought I might have had it, but I knew if I didn't the team was there to come in after me. It would have been nice to have a team win, but I did everything I could."
The sprint finish some action that a few thought questionable; namely Egyed edging Mactier along the barriers in the final metres. "Katie took the initiative," said Egyed. "I got on her wheel feeling I had enough room to get around her, but she must have thought on the right was a better line to take and I was pushed over into the barriers. You can say that is just sprinting so it may take me a little longer to learn to win and all costs. I wasn't prepared to cause a crash to win, so I'm disappointed I lost the jersey but I would be more disappointed if I had caused a crash to get it. But all credit to Katie, a win is a win."
Mactier did not see it the same way, saying she was focused only on the line and the jersey that came with it. "Sprints, you know... You got so much adrenaline going through your body, and I wish I had my SRM so I could see my power output because I was just giving it absolutely everything!"
The officials also found nothing awry with the sprinting. Looking at the finish straight, the road did narrow at about 250 meters where the barriers began, naturally resulting in door closing on riders taking a wide line.
How it unfolded
Louise Kerr (QLD)
Photo ©: Mark Gunter

The racing began with the usual parade on the first lap, with the only excitement coming from Sarah Carrigan flatting in the opening kilometres. This would have been an easy way for the peloton to take the current Olympic gold medalist out, but cooler heads prevailed. After rejoining, a few riders did get away, not surprisingly a Queenslander amongst them. Helen Griffiths spent some time off the front for a couple of laps, but was caught and replaced by Louise Kerr who rode away, building a lead of nearly three minutes at one point.
During this time a crash on the back side of the course took out a few riders including Kate Mercer. Initial reports indicated she was taken to hospital, with the medics on the scene thinking a collarbone break. But luckily those reports turned out to be false and Mercer was treated on the scene and taken back to her team car.
While Kerr was building her lead, a surprise chase came from Jenny Fay of Ireland, who was down under for some training. "I'm just getting some training in down here; I did the Bay Crits last week," said Fay. "It was very start-stoppish early so I decided to go since I have nothing to win here since I am Irish. I figured out the course over three laps and went on the back side; no one was on my wheel and just kept going, time trialing for three laps."
Sara Carrigan (QLD)
Photo ©: Mark Gunter

Fay never caught Kerr, and the peloton eventually reeled her in. That did cause Kerr's lead to shrink to less than two minutes, signaling the inevitable. But without radios and only the occasional time update from the officials, the brave Kerr soldiered on knowing that her teammates could just sit on and rest. Teammate Carrigan was especially thankful for Kerr's work. "I would have hated to see how it felt to have that race really raced; we had our Queenslander out there doing an awesome, awesome job, so we were allowed to sit there. If we had to really race it would have been an even tougher day!"
"We stayed at the front ready to go with any other moves," Carrigan continued. "There were a few little attacks but everyone seemed pretty tired." Kerr was finally caught on the last lap, staying away just long enough to take the final sprint points, putting her into first place in the category. "I turned around on the hill and saw the bunch coming behind me and though, 'Oh noooo!'"
Then the tactics shifted to either a short solo time trial or a sprint finish. It was Carrigan that made the first big move, attacking after the climb at the start of the descent. "I went with three kilometres to go on the descent hoping to set one of the Queenslanders up, or maybe stay away for the solo win!"
The sprint to the line.
Photo ©: Mark Gunter

"When Sara Carrigan attacked and got a solid gap, Katie and I just looked at each other then kept the pace high coming off the descent into that final turn," said third place Emma Rickards. "Sarah can descend very well so we just drove it on the descent," Mactier added. "We caught her as we made the corner. Queenslanders attacked and attacked, and I just followed wheels; maybe having a bit of fake in my power... knowing that if I kick out I will have a chance for a podium."
While Carrigan's attack failed, it did allow the other Queenslander rider to setup a lead out. "Sarah's attack from a couple of kilometres out allowed us to sit in," said Egyed. "Jocelyn [Loane] had me on her wheel and was starting an awesome lead out."
But the lead out came too early and Mactier, the former world champion track rider, was able to just counter it. "It was long!" said Mactier about the drag to the finish. "I didn't know if I was going to win. I came off the turn fourth but before that Sara Carrigan had broken away on the descent and I had to chase and chase. Luckily nobody came over me but I could feel them breathing down my neck! I went a little early, but the point is I won."
Photography
For a thumbnail gallery of these images, click here
Images by Mark Gunter/www.pbase.com/gunterphotograph
Images by Shane Goss/www.licoricegallery.com
Images by CJ Farquharson/WomensCycling.net
Results
1 Katie Mactier (Vic)                          3.10.35
2 Nikki Egyed (Qld)	        
3 Emma Rickards (Vic)	        
4 Renee Fortunato (NSW)	        
5 Candice Sullivan (Qld)        
6 Olivia Gollan (NSW)	        
7 Kate Nichols (NSW)	        
8 Natalie Bates (NSW)	        
9 Kathryn Watt (Vic)	        
10 Jocelyn Loane (Qld)                            0.04
11 Sara Carrigan (Qld)	  
12 Carla Ryan (Qld)	  
13 Lorian Graham (Qld)                            0.51
14 Tory Thomas (Vic)                              1.19
15 Tiffany Cromwell (SA)  
16 Vicki Whitelaw (ACT)	  
17 Amanda Spratt (NSW)                            1.57
18 Kate Warren (Tas)	  
19 Bridget Evans (Qld)                            2.03
20 Jenny Fay (Irl)	  
21 Emma Mackie (Qld)	  
22 Peta Mullens (Vic)	  
23 Jemma O'brien (NSW)	  
24 Maryam Rogers (Vic)                            4.32
25 Deborah Fagg (Vic)                             4.35
26 Toireasa Gallagher (NS W)
27 Patricia Palmer (Qld)  
28 Louise Kerr (Qld)	  
29 Kerry Knowler (ACT)                            6.48
30 Jessica Berry (Vic)	  
31 Emma Colson (Vic)	  
32 Sophie Ruderman (GBr)  
33 Nicole Whitburn (Vic)  
34 Bridie O'donnell (Vic)                        10.08
35 Amber Jenkins (NSW)                           12.07
36 Linda White (Qld)                             16.52
37 Simone Spykers (Vic)                          21.51
38 Helen Griffiths (Qld)                         24.25
DNF Jenny Macpherson (Vic)
DNF Jenni King (Vic)
DNF Erin Chamberlen (NSW)
DNF Kate Finegan (NSW)
DNF Vanessa Mcdonald (NSW)
DNF Joanna Somerville (NSW)
DNF Sarah White (NSW)
DNF Kate Mercer (Qld)
DNF Amy Schramm (Qld)
DNF Liz Young (Qld)
DNF Naomi Williams (Tas)
DNF Freya Scollay (NSW)
DNF Bebe Adams (NSW)
DNF Megan Ross (Vic)
DNF Kerryn Charman (Vic)
DNF Nicole Magner (Qld)
DNS Sallyanne Cowman (NSW)
DNS Emma Gaul (Vic)
DNS Lorraine Meinke (Vic)
DNS Briana James (Vic)
DNS Claire Stevens (Vic)