Australian Open Road Championships - CN
Ballarat, Australia, January 11-14, 2007
Main Page Results Race Details Previous Race Next Race
Stage 3 - January 12: Elite men's time trial, 39 km
Eight is great for O'Neill
Queenslander sets new course record with win
By Mark Zalewski in Ballarat, Victoria
Nathan O'Neill (Qld)
Photo ©: Mark Gunter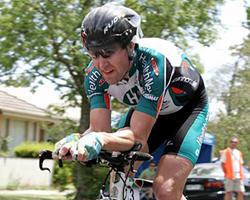 Unlike yesterday's women's time trial, defending champion Nathan O'Neill (Qld) had no trouble in adding an eighth title to his resume, winning the 2007 elite men's time trial. To give the crowd something to watch, O'Neill set a blistering pace, breaking the course record, going under fifty minutes by twenty-five seconds. O'Neill bested his new teammate Rory Sutherland (ACT) by more than a minute, with David Pell (Vic) taking third almost another minute down.
O'Neill was not sure what contributed to his record setting ride, but thinks that the cooler weather probably helped. "I think the conditions helped a little bit today," he said. "A little cooler and the wind direction was a little more favourable."
The other two riders on the podium with O'Neill have both come back from time off the bike - Sutherland from a questionable suspension and Pell from a year to deal with what he called family matters.
For Sutherland, this was the first big race since his suspension was served, and the result indicates his training has not suffered. "It feels really good to be back," he said. "You don't realise until you aren't [riding.] To be able to race again, straight back into it, makes it even better."
With O'Neill seven minutes behind him in the start order, Sutherland was not too worried about being caught, but never underestimates his new teammate. "He is riding fast, but seven minutes was a big gap. I know what he is capable of riding and I'm sure it is pretty close to that. If I had a really bad day I would have seen him! But I felt pretty good today."
Rory Sutherland (ACT)
Photo ©: Mark Gunter

O'Neill used his teammate's time checks to keep on target. "Rory was there and was pushing me. He says every year he has closed the gap to me by twenty seconds, so in three years he'll have me. It might be time to retire by then!"
Sutherland will look forward to Sunday's road race to be another indicator of his condition, before heading to the States for a training camp and the Tour of California with the Health Net team. "I'm really looking forward to it - a new opportunity, a new start. As you can see today I have some pretty bloody strong teammates! I heard Karl [Menzies] is always motivated and ready to go, so I am pretty excited."
David Pell is also back from a year off the bike in 2005, using 2006 to train specifically for this event. "I was fourth in 2003 and struggled since, so it was nice to get back on the podium. I had a year off in 2005 and getting back on last year was all pointing towards this time trial. It is a lot more motivating having a year off."
How it unfolded
David Pell (Vic)
Photo ©: Mark Gunter

Cyclingnews rode along with O'Neill's follow car. From the start, he was ticking over an up-tempo cadence, making it up the main climb with no problems, with his one minute man already in sight. By the bottom on the other side of the climb, just about seven kilometers in, he had his one minute man behind him, with sights set on the next rider and touching nearly eighty kilometers per hour.
The main road that the early part of the course was on had some traffic backing up behind the next rider, causing O'Neill to maneuver around on the shoulder in order to pass. "What are you going to do?" he said. "It was a little scary for a minute and I had to think about it." After getting off the busy road, O'Neill concentrated on keeping a good rhythm, as the roads were only rolling hills at their most difficult.
At the mid-stage time check, O'Neill was leading, almost a minute up on teammate Sutherland. He caught and passed more riders, riding cautiously through the sharp turns but with the gas full-on throughout the rest. "I hardly felt the pedals today!" he said just after crossing the line. A check of his power meter indicated that he averaged 412 watts throughout the 39 kilometers, twelve more than at last year's Commonwealth Games.
With so many wins in this discipline, it could be easy to be complacent about it, but O'Neill says that having to travel so far to come back puts it in perspective. "You don't worry about it but you always want to get a good result. It's a long way to come to not get a result - yeah, I get to see my family too, but I treat it as a mission. I've been thinking about this for the past several times and I wanted it."
The podium during the National Anthem.
Photo ©: Mark Gunter

Another reason O'Neill focuses his training now is to be ready for the early season races in the US, which now starts even earlier with the addition of the Tour of California in February in 2006. Last year O'Neill arrived in good form and almost took out the opening prologue, but crashed with a mishap in the closing meters. "I'll try to avoid that, watch for the tree roots in the road!" he said laughing. "That was the most bizarre thing I have ever seen! But my form is going pretty good and I'll just try to ride a smart race like last year. California has changed a bit, in terms of the stages, so it's a new year.
The addition of riders like Sutherland to Health Net comes as a result of many personnel changes for the team, as well as changes to the team dynamics at the top level in the U.S. "There have been some changes over the winter for us, but I think there are positive changes," said O'Neill. "We lost some guys but have replaced them with guys that are at least equally as strong, if not stronger in other areas. I think we stand a good change to be more than competitive on the circuit. There are also some new teams, the dynamics have really changed in the States now."
But first thing is first, the open road championships on Sunday, with O'Neill having more teammates than ever in Rory Sutherland and strongman Karl (ten) Menzies. "We'll just try to put something together for the team, with three guys here. The other time I raced this course I had Brownie as a teammate, and obviously these other two are a lot better suited to this type of a course.
Photography
For a thumbnail gallery of these images, click here
Images by Mark Gunter/www.pbase.com/gunterphotograph
Images by Shane Goss/www.licoricegallery.com
Results

1 Nathan O'Neill (Qld)          0.49.35 (47.19 km/h)
2 Rory Sutherland (ACT)            1.11
3 David Pell (Vic)                 2.03
4 Cameron Wurf (Tas)               3.09
5 Mark Jamieson (Tas)              3.32
6 Tony Mann (NSW)                  3.36
7 Marcus Wettenhall (Vic)          3.57
8 Peter Mcdonald (NSW)             4.01
9 Troy Glennan (NSW)               4.09
10 Peter Milostic (NSW)            4.12
11 Peter Herzig (Qld)              4.19
12 Gavin Nicholls (Qld)            4.58
13 Peter Hatton (NSW)              5.08
14 Dylan Newell (Vic)              5.12
15 Brendan Sharrat (Vic)           5.44
16 Jacob Sutherland (Vic)          5.51
17 Brent Miller (ACT)              6.58
18 Mark Hooper (Vic)               7.23
19 Peter Gwynne (Qld)              8.41
20 Reece-Emerson Van Beek (Vic)    8.44
21 Shane Miller (Vic)              9.05
22 Will Wettenhall (Vic)           9.16
23 Samuel Rix (Vic)               10.13
24 James Steinhauser (Vic)        11.52
25 Martin Tobin (Vic)             15.40
DNS Chris Jongewaard (SA)              
DNS Shaun Higgerson (NSW)              
DNS David Treacy (NSW)                 
DNS James Fitzgerald (Vic)             
DNS Damien Turner (Vic)