Geelong Women's Tour - 2.2
Australia, February 27-March 1, 2007
Main Page Results Overall standings Stage Details Previous Stage Next Stage
Stage 3 - February 28: Lara-Lara road race, 115km
Teutenberg triumphs at Lara
Cooke holds on to overall lead of Geelong Women's Tour
By John Michael Flynn in Lara, Victoria
Teutenberg salutes the judges
Photo ©: John Veage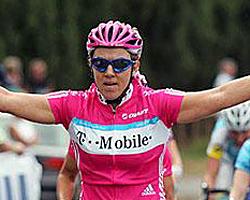 On a day for double-shots at the Geelong Women's Tour, German powerhouse Ina-Yoko Teutenberg triumphed for both the second consecutive day and second consecutive year as the race headed into the Victorian countryside on a 115 kilometre stage, including the soul destroying ascent of Mount Wallace.
In the end, once the breakaway was reeled in, the winner of yesterday's criterium and the victor in the same stage at Lara in 2006, was virtually unchallenged in the finishing straight as teammate Oenone Wood, who was on Teutenberg's wheel, eased up and created a gap which no one was capable of bridging.
Teutenberg crossed the finish line in her customary pose, hands raised in the air, but it was the mark of respect from Wood, who finished second, which said perhaps as much about the building morale of the new-look German/Australian juggernaut.
"Coming into the sprint, I actually got on Ina's wheel, then let a bit of a gap go when she started sprinting, so she had a nice clean sprint," Wood said of her selfless team role. "Ina's an awesome sprinter, it's just nice to be on an awesome team."
Wood was't the only teammate to play a role in Teutenberg's second consecutive stage victory. As well as having riders present in the breakaway, taking the pressure off the team sprinter, magenta jerseys were there when most needed on the flat run into the finish at Lara. "I found Kate and Judith with like 800 metres to go to the finish," a beaming Teutenberg said at stage end. "Kate took it to 300 metres and Judith took over and I did the rest."
How the race unfolded
Oenone Wood
Photo ©: John Flynn

Overcast and slightly wet conditions greeted the peloton for the 115 kilometre journey starting and finishing in the rural hamlet of Lara. It was a stage punctuated with sections of narrow country back roads, and the short but incredibly steep climb of Mount Wallace at the 58 kilometre mark - traditionally the backbreaker of the Geelong Women's Tour.
In her pre-race analysis, Olympic Road Race Champion Sara Carrigan predicted a breakaway 'might' get up the road. "I think everyone's plan will be to carve it up," Carrigan told Cyclingnews. "It'll be difficult to know [if a breakaway succeeds].
"You've got Nicole Cooke's team and T-Mobile who'll be in contention overall, they'll be the ones I'm sure who'll be controlling it for their top riders." Jessie Maclean (Landlink) was the first rider to exit the race, thanks to a broken seat, but there was plenty of carnage to come.
As expected a breakaway formed before the climb of Mount Wallace, with 13 riders present at first, but the steep gradient quickly sorted out the serious contenders. Australian Institute of Sport cyclist Niki Egyed led the escapees over the top of the ascent. Queenslander Lorian Graham, who has endured five knee operations since the crash in Germany which killed team-mate Amy Gillett, also close to the front of the group in her return to racing at international level.
At its best, the breakaway group held a margin of one minute and 40 seconds, made up of riders including Linda Villumsen (T-Mobile), Andrea Graus (Equipe Nürnberger Versicherung), Olivia Gollan (Menikino Gysko), Tina Pic (Colavita / Sutter Home presented by Cooking Light), Nikki Egyed (Australian National Team), Toni Bradshaw (Bike NZ National Team), Clemilda Fernandes (Brazilian National Team), Tiffany Cromwell (NSW Institute of Sport), and Graham (Q.A.S.).
But it soon became clear the gap would not be enough, with British World Cup Champion Nicole Cooke and her Raleigh Lifeforce Creation team working overtime to reel in the move. At the eight-seven kilometre mark the gap was down to just one minute, 10 seconds.
Cooke retains overall lead
Tour leader and world number one
Photo ©: John Veage

The remnants of a breakaway group held together until three kilometres to go, when the bunch finally came back together for a sprint finish, which was won, most convincingly, by Ina Teutenberg with T-Mobile team-mate Oenone Wood second and Rochelle Gilmore (Menikini Gysko) third. Teutenberg did her placing in the overall standings no harm, collecting a ten second time bonus, while Wood picked up six seconds for finishing second.
Less fanfare surrounded the arrival at the finish of Nicole Cooke who finished with the bunch and collected a bonus of two seconds. The World Cup Champion leads the race overall by seven seconds, with time bonuses in tomorrow's final stage at Barwon Heads to be crucial.
"Yeah we had a really challenging climb mid-stage and a breakaway went away as well so we had a lot of things to deal with," Cooke told Cyclingnews. "My team was really strong today, every single rider was doing a fantastic job and we closed the breakaway down. Then it was just a case of controlling the sprint and making sure none of my rivals [on general classification] got away and got bonuses."
Cooke was also surprised to discover she could become the first international cyclist to win the Geelong Women's Tour, which has in the past been dominated by Australians. "I didn't know that," Cooke said. "It'd be awesome to be the first international winner. There's still one day to go, so I won't start getting too carried away yet."
Wood may have other ideas
If any cyclist is capable of ruining the party for the Brit, it could be T-mobile's Oenone Wood. The three-time winner of the Geelong Tour is still twenty-two seconds behind Cooke on general classification and just two seconds behind T-mobile's highest ranked rider Ina Teutenberg, who is considering taking it easy tomorrow, ahead of defending her 2006 victory in Saturday's World Cup race.
"You know there are other people in there and we have to watch out a little bit because there's only one day rest between the Tour and the World Cup," Teutenberg said. "We'll see what we plan tomorrow, but I would prefer an easy day tomorrow."
Graham pure inspiration
Lorian Graham
Photo ©: John Flynn

The results sheet might not have shown it, but if any cyclist deserved to be at the top of the podium today, it was Queensland's Lorian Graham. As little as six months ago, no-one would have predicted Graham would make it to the top of the climb of Mount Wallace. In fact, three years ago, long before the trauma which almost destroyed her life, Graham was among the riders walking her bike to the top of the ascent - in her first assault on the Geelong Women's Tour.
Back then, Graham was a rookie with the Queensland Academy of Sport. Today, after enduring five knee operations in the wake of the German crash which decimated the A.I.S. Women's Team, the Rockhampton product was at the pointy end of the breakaway group.
In the end, the gutsy Queenslander simply ran out of petrol on the run into the finish. "I certainly found my limits today but I'm so thankful to be amongst it again," Graham told Cyclingnews. "I gave it my all and I just ran out of legs in the end, but I know my limit."
Graham was quick to point out though, that this performance was an improvement on her first effort on the punishing mountain - and no doubt there is more to come. "Well the first year I did this Tour I was one of the girls stepping off my bike," Graham noted. "I wanted to be in that break and there was a couple of breaks going early but nothing was sticking, so I gave it that last shot before the climb and got a small group away. I think I'm still not at my absolute, it's only been four months back in racing and proper training so I've still got more room for improvement."
As for Saturday's World Cup Race? It will take a mammoth effort for the Queenslander to recover and feature, but the message today was clear - don't write off Lorian Graham! "Well I won't go down without a fight, put it that way," she concluded.
It should be noted, Graham wasn't the only cyclist involved in the German accident to feature today. Kate Nichols once again was among the strongest riders on the climb of Mount Wallace. The AIS cyclist finishing fifth in the stage and retaining the Under 23 leader's jersey.
Photography
For a thumbnail gallery of these images, click here
Images by John Veage
Images by John Flynn/Cyclingnews.com
Results
1 Ina-Yoko Teutenberg (Ger) T-Mobile Women                              3.06.05
2 Oenone Wood (Aus) T-Mobile Women                                             
3 Rochelle Gilmore (Aus) Menikini Gysko                                        
4 Tina Pic (USA) Colavita/Sutter Home presented by Cooking Light               
5 Kate Nichols (Aus) Australian National Team                                  
6 Nikki Egyed (Aus) Australian National Team                                   
7 Angela Brodtka (Ger) German National Team                                    
8 Laura Van Gilder (USA) Cheerwine                                             
9 Catherine Hare (GBr) Biggin & Scott                                          
10 Loes Gunnewijk (Ned) Team Flexpoint                                         
11 Alex Wrubleski (Can) Colavita/Sutter Home presented by Cooking Light        
12 Carla Ryan (Aus) Queensland Academy of Sport                                
13 Annette Beutler (Swi) Team Flexpoint                                        
14 Larissa Kleinmann (Ger) German National Team                                
15 Dorte Rasmussen (Den) Menikini Gysko                                        
16 Peta Mullens (Aus) NSW Institute of Sport                                   
17 Candice Sullivan (Aus) Australian National Team                             
18 Leigh Hobson (Can) Cheerwine                                                
19 Madeleine Sandig (Ger) Team Flexpoint                                       
20 Betina Hold (Can) Cheerwine                                                 
21 Amber Jenkins (Aus) Landlink Cycling Team                                   
22 Clemilda Fernandes (Bra) Brazilian National Team                            
23 Nicole Cooke (GBr) Raleigh Lifeforce Creation                               
24 Uenia Fernandes (Bra) Brazilian National Team                               
25 Melissa Holt (NZl) BikeNZ New Zealand National Team                         
26 Karin Aune (Swe) Menikini Gysko                                             
27 Judith Arndt (Ger) T-Mobile Women                                           
28 Dotsie Bausch (USA) Colavita/Sutter Home presented by Cooking Light         
29 Michelle Hyland (NZl) BikeNZ New Zealand National Team                      
30 Tiffany Cromwell (Aus) NSW Institute of Sport                               
31 Annelies Basten (NZl) Team Kiwi                                             
32 Eva Lutz (Ger) Equipe Nürnberger Versicherung                               
33 Joanne Kiesanowski (NZl) Raleigh Lifeforce Creation                         
34 Vicki Whitelaw (Aus) Landlink Cycling Team                                  
35 Edita Pucinskaite (Ltu) Equipe Nürnberger Versicherung                      
36 Andrea Graus (Aut) Equipe Nürnberger Versicherung                           
37 Janildes Fernandes (Bra) Brazilian National Team                            
38 Sara Carrigan (Aus) Queensland Academy of Sport                             
39 Sarah Düster (Ger) Raleigh Lifeforce Creation                               
40 Gina Waibl (NZl) Team Kiwi                                                  
41 Toni Bradshaw (NZl) BikeNZ New Zealand National Team                        
42 Natalie Bates (Aus) NSW Institute of Sport                                  
43 Susanne Ljungskog (Swe) Team Flexpoint                                      
44 Olivia Gollan (Aus) Menikini Gysko                                          
45 Rachel O'connell (Aus) Cheerwine                                            
46 Linda Villumsen (Den) T-Mobile Women                                        
47 Janine Ridsdale (Aus) Team South Coast - raceconcept.net                    
48 Alexis Rhodes (Aus) T-Mobile Women                                          
49 Trixi Worrack (Ger) Equipe Nürnberger Versicherung                          
50 Patricia Palmer (Aus) MB Coaching                                           
51 Hannah Banks (Aus) Queensland Academy of Sport                              
52 Rushlee Buchanan (NZl) BikeNZ New Zealand National Team                     
53 Amanda Spratt (Aus) Australian National Team                                
54 Sophie Ruderman (GBr) Biggin & Scott                                        
55 Alison Powers (USA) Colavita/Sutter Home presented by Cooking Light         
56 Brei Gudsell (NZl) Team Kiwi                                                
57 Regina Schleicher (Ger) Equipe Nürnberger Versicherung                      
58 Emma Rickards (Aus) Raleigh Lifeforce Creation                              
59 Toireasa Gallagher (Aus) NSW Institute of Sport                             
60 Sereina Trachsel (Swi) Raleigh Lifeforce Creation                           
61 Priska Doppmann (Swi) Raleigh Lifeforce Creation                            
62 Tanja Slater (GBr) Great Britain National Team                              
63 Sarah Murdoch (NZl) Team Kiwi                                               
64 Deborah Fagg (Aus) Landlink Cycling Team                                    
65 Brooke Ourada (USA) Cheerwine                                               
66 Kerri-Anne Torckler (NZl) Team Kiwi                                         
67 Liz Hayman (Aus) Team South Coast - raceconcept.net                         
68 Niki Fisher (Aus) Team South Coast - raceconcept.net                        
69 Katherine Bates (Aus) T-Mobile Women                                        
70 Naomi Williams (Aus) NSW Institute of Sport                             0.25
71 Virgina Henning (Ger) German National Team                              2.50
72 Lorian Graham (Aus) Queensland Academy of Sport                         3.43
73 Charlotte Becker (Ger) Equipe Nürnberger Versicherung                   5.00
74 Jenny Macpherson (Aus) Australian National Team                             
75 Sarah Ulmer (NZl) BikeNZ New Zealand National Team                          
76 Jocelyn Loane (Aus) Australian National Team                                
77 Sigrid Corneo (Ita) Menikini Gysko                                          
78 Louise Kerr (Aus) Queensland Academy of Sport                           7.42
79 Jennifer Fay (Irl) Biggin & Scott                                       8.36
80 Liz Young (Aus) MB Coaching                                                 
81 Theresa Cliff-Ryan (USA) Landlink Cycling Team                              
82 Miho Oki (Jpn) Menikini Gysko                                               
83 Sheba Farrin (USA) MB Coaching                                              
84 Loes Markerink (Ned) Team Flexpoint                                         
85 Skye-Lee Armstrong (Aus) NSW Institute of Sport                             
86 Gail Johnston (Aus) Team South Coast - raceconcept.net                      
87 Jemma O'brien (Aus) Team South Coast - raceconcept.net                      
88 Emma Lovelock (Aus) Team South Coast - raceconcept.net                      
89 Nina Köhn (Ger) German National Team                                        
90 Sheree Richmond (Aus) MB Coaching                                      16.46
91 Rebecca Jones (GBr) MB Coaching                                        24.26
92 Camila Rodrigues (Bra) Brazilian National Team                              
93 Maryam Rogers (GBr) Great Britain National Team                             
94 Courtney Le Lay (Aus) Queensland Academy of Sport                           
 
After time limit
 
95 Kristen Watt (Aus) MB Coaching                                         39.24
96 Emma Pooley (GBr) Great Britain National Team                          40.56
DNF Anneliese Heard (GBr) Great Britain National Team                          
DNF Marina Duvnjak (NZl) BikeNZ New Zealand National Team                      
DNF Kerryn Charman (Aus) Landlink Cycling Team                                 
DNF Jessie Maclean (Aus) Landlink Cycling Team                                 
DNS Tara Stewart (Aus) Biggin & Scott                                          
 
 Intermediate sprint 1 - Glenmore, 50 km
 
1 Nikki Egyed (Aus) Australian National Team                                  6 pts
2 Tina Pic (USA) Colavita/Sutter Home presented by Cooking Light              4
3 Tiffany Cromwell (Aus) NSW Institute of Sport                               2
 
 Intermediate sprint 2 - Anakie, 86km 
 
1 Tina Pic (USA) Colavita/Sutter Home presented by Cooking Light              6 pts
2 Clemilda Fernandes (Bra) Brazilian National Team                            4
3 Olivia Gollan (Aus) Menikini Gysko                                          2
 
Final Sprint
 
1 Ina-Yoko Teutenberg (Ger) T-Mobile Women                                    8 pts
2 Oenone Wood (Aus) T-Mobile Women                                            6
3 Rochelle Gilmore (Aus) Menikini Gysko                                       4
 
General classification after stage 3
 
1 Nicole Cooke (GBr) Raleigh Lifeforce Creation                         4.16.05
2 Larissa Kleinmann (Ger) German National Team                             0.07
3 Dotsie Bausch (USA) Colavita/Sutter Home presented by Cooking Light      0.08
4 Judith Arndt (Ger) T-Mobile Women                                        0.17
5 Ina-Yoko Teutenberg (Ger) T-Mobile Women                                 0.20
6 Annette Beutler (Swi) Team Flexpoint                                         
7 Oenone Wood (Aus) T-Mobile Women                                         0.22
8 Laura Van Gilder (USA) Cheerwine                                         0.26
9 Susanne Ljungskog (Swe) Team Flexpoint                                   0.34
10 Sara Carrigan (Aus) Queensland Academy of Sport                         0.37
11 Kate Nichols (Aus) Australian National Team                             0.38
12 Vicki Whitelaw (Aus) Landlink Cycling Team                              0.41
13 Nikki Egyed (Aus) Australian National Team                              0.48
14 Natalie Bates (Aus) NSW Institute of Sport                                  
15 Edita Pucinskaite (Ltu) Equipe Nürnberger Versicherung                  0.50
16 Tina Pic (USA) Colavita/Sutter Home presented by Cooking Light              
17 Loes Gunnewijk (Ned) Team Flexpoint                                         
18 Tiffany Cromwell (Aus) NSW Institute of Sport                           0.56
19 Alex Wrubleski (Can) Colavita/Sutter Home presented by Cooking Light    0.58
20 Alexis Rhodes (Aus) T-Mobile Women                                      0.59
21 Priska Doppmann (Swi) Raleigh Lifeforce Creation                        1.01
22 Sarah Düster (Ger) Raleigh Lifeforce Creation                               
23 Tanja Slater (GBr) Great Britain National Team                          1.05
24 Eva Lutz (Ger) Equipe Nürnberger Versicherung                           1.07
25 Trixi Worrack (Ger) Equipe Nürnberger Versicherung                          
26 Katherine Bates (Aus) T-Mobile Women                                        
27 Andrea Graus (Aut) Equipe Nürnberger Versicherung                       1.09
28 Leigh Hobson (Can) Cheerwine                                            1.10
29 Olivia Gollan (Aus) Menikini Gysko                                      1.12
30 Karin Aune (Swe) Menikini Gysko                                             
31 Madeleine Sandig (Ger) Team Flexpoint                                   1.17
32 Dorte Rasmussen (Den) Menikini Gysko                                        
33 Toni Bradshaw (NZl) BikeNZ New Zealand National Team                    1.19
34 Joanne Kiesanowski (NZl) Raleigh Lifeforce Creation                     1.21
35 Rushlee Buchanan (NZl) BikeNZ New Zealand National Team                     
36 Michelle Hyland (NZl) BikeNZ New Zealand National Team                  1.23
37 Rochelle Gilmore (Aus) Menikini Gysko                                   1.24
38 Melissa Holt (NZl) BikeNZ New Zealand National Team                     1.30
39 Carla Ryan (Aus) Queensland Academy of Sport                            1.35
40 Regina Schleicher (Ger) Equipe Nürnberger Versicherung                  1.38
41 Candice Sullivan (Aus) Australian National Team                             
42 Betina Hold (Can) Cheerwine                                             1.41
43 Emma Rickards (Aus) Raleigh Lifeforce Creation                          1.44
44 Linda Villumsen (Den) T-Mobile Women                                    2.02
45 Catherine Hare (GBr) Biggin & Scott                                         
46 Gina Waibl (NZl) Team Kiwi                                              2.04
47 Brooke Ourada (USA) Cheerwine                                           2.07
48 Alison Powers (USA) Colavita/Sutter Home presented by Cooking Light     2.16
49 Angela Brodtka (Ger) German National Team                               3.26
50 Toireasa Gallagher (Aus) NSW Institute of Sport                         4.32
51 Niki Fisher (Aus) Team South Coast - raceconcept.net                    4.39
52 Janine Ridsdale (Aus) Team South Coast - raceconcept.net                4.41
53 Hannah Banks (Aus) Queensland Academy of Sport                          4.44
54 Clemilda Fernandes (Bra) Brazilian National Team                        4.59
55 Annelies Basten (NZl) Team Kiwi                                         5.14
56 Lorian Graham (Aus) Queensland Academy of Sport                             
57 Peta Mullens (Aus) NSW Institute of Sport                               5.20
58 Liz Hayman (Aus) Team South Coast - raceconcept.net                     5.28
59 Sarah Murdoch (NZl) Team Kiwi                                           5.37
60 Patricia Palmer (Aus) MB Coaching                                       5.46
61 Charlotte Becker (Ger) Equipe Nürnberger Versicherung                   5.49
62 Brei Gudsell (NZl) Team Kiwi                                            5.57
63 Jenny Macpherson (Aus) Australian National Team                         6.05
64 Kerri-Anne Torckler (NZl) Team Kiwi                                         
65 Jocelyn Loane (Aus) Australian National Team                            6.14
66 Janildes Fernandes (Bra) Brazilian National Team                        6.34
67 Uenia Fernandes (Bra) Brazilian National Team                           6.44
68 Sereina Trachsel (Swi) Raleigh Lifeforce Creation                       6.46
69 Sarah Ulmer (NZl) BikeNZ New Zealand National Team                      7.01
70 Amanda Spratt (Aus) Australian National Team                            7.10
71 Sophie Ruderman (GBr) Biggin & Scott                                        
72 Naomi Williams (Aus) NSW Institute of Sport                             7.22
73 Amber Jenkins (Aus) Landlink Cycling Team                               7.33
74 Deborah Fagg (Aus) Landlink Cycling Team                                    
75 Rachel O'connell (Aus) Cheerwine                                        7.44
76 Sigrid Corneo (Ita) Menikini Gysko                                      7.58
77 Miho Oki (Jpn) Menikini Gysko                                           9.23
78 Virgina Henning (Ger) German National Team                             11.01
79 Louise Kerr (Aus) Queensland Academy of Sport                          12.23
80 Jennifer Fay (Irl) Biggin & Scott                                      12.59
81 Theresa Cliff-Ryan (USA) Landlink Cycling Team                         13.32
82 Jemma O'brien (Aus) Team South Coast - raceconcept.net                 13.55
83 Liz Young (Aus) MB Coaching                                            14.55
84 Loes Markerink (Ned) Team Flexpoint                                    15.24
85 Nina Köhn (Ger) German National Team                                   15.51
86 Gail Johnston (Aus) Team South Coast - raceconcept.net                 16.19
87 Skye-Lee Armstrong (Aus) NSW Institute of Sport                        16.30
88 Sheba Farrin (USA) MB Coaching                                         17.08
89 Emma Lovelock (Aus) Team South Coast - raceconcept.net                 18.14
90 Sheree Richmond (Aus) MB Coaching                                      24.55
91 Courtney Le Lay (Aus) Queensland Academy of Sport                      31.56
92 Camila Rodrigues (Bra) Brazilian National Team                         33.11
93 Maryam Rogers (GBr) Great Britain National Team                        33.39
94 Rebecca Jones (GBr) MB Coaching                                        34.38
 
Points Classification
 
1 Ina-Yoko Teutenberg (Ger) T-Mobile Women                                   16 pts
2 Oenone Wood (Aus) T-Mobile Women                                           16
3 Nicole Cooke (GBr) Raleigh Lifeforce Creation                              14
4 Tina Pic (USA) Colavita/Sutter Home presented by Cooking Light             10
5 Rochelle Gilmore (Aus) Menikini Gysko                                      10
6 Nikki Egyed (Aus) Australian National Team                                  6
7 Clemilda Fernandes (Bra) Brazilian National Team                            4
8 Tiffany Cromwell (Aus) NSW Institute of Sport                               2
9 Alex Wrubleski (Can) Colavita/Sutter Home presented by Cooking Light        2
10 Melissa Holt (NZl) BikeNZ New Zealand National Team                        2
11 Olivia Gollan (Aus) Menikini Gysko                                         2
12 Tiffany Cromwell (Aus) NSW Institute of Sport                              2
 
Young rider classification
 
1 Kate Nichols (Aus) Australian National Team                           4.16.43
2 Tiffany Cromwell (Aus) NSW Institute of Sport                            0.18
3 Alex Wrubleski (Can) Colavita/Sutter Home presented by Cooking Light     0.20
4 Alexis Rhodes (Aus) T-Mobile Women                                       0.21
5 Rushlee Buchanan (NZl) BikeNZ New Zealand National Team                  0.43
6 Michelle Hyland (NZl) BikeNZ New Zealand National Team                   0.45
7 Carla Ryan (Aus) Queensland Academy of Sport                             0.57
8 Candice Sullivan (Aus) Australian National Team                          1.00
9 Linda Villumsen (Den) T-Mobile Women                                     1.24
10 Hannah Banks (Aus) Queensland Academy of Sport                          4.06
11 Peta Mullens (Aus) NSW Institute of Sport                               4.42
12 Kerri-Anne Torckler (NZl) Team Kiwi                                     5.26
13 Uenia Fernandes (Bra) Brazilian National Team                           6.05
14 Amanda Spratt (Aus) Australian National Team                            6.31
15 Virgina Henning (Ger) German National Team                             10.23
16 Louise Kerr (Aus) Queensland Academy of Sport                          11.44
17 Loes Markerink (Ned) Team Flexpoint                                    14.46
18 Nina Köhn (Ger) German National Team                                   15.12
19 Skye-Lee Armstrong (Aus) NSW Institute of Sport                        15.51
20 Emma Lovelock (Aus) Team South Coast - raceconcept.net                 17.35
21 Courtney Le Lay (Aus) Queensland Academy of Sport                      31.18