Geelong Women's Tour - 2.2
Australia, February 27-March 1, 2007
Main Page Results Overall standings Stage Details Previous Stage Next Stage
Stage 2 - February 27: Portarlington criterium, 30km
Smashing start from T-Mobile's star sprinter
Teutenberg wins stage two criterium in Geelong
By John Michael Flynn in Port Arlington
Teutenberg wins
Photo ©: John Veage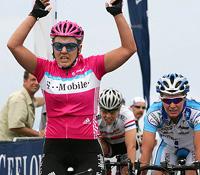 T-mobile's Ina-Yoko Teutenberg today started her 2007 Geelong Women's Tour campaign the way she finished her last - with an emphatic stage victory.
The German super-sprinter blasted home in the stage two criterium this afternoon on the waterfront at Port Arlington, leaving last year's winner of the same stage, Rochelle Gilmore (Menikini Gysko) and Britain's World Cup Champion Nicole Cooke (Raleigh Lifeforce Creation) in her wake.
It was a vintage sprint performance from the many times German national champion, who has spent the past five months based in Sydney, Australia, preparing for the World Cup season.
"I felt a bit shitty, I felt it would be better to lead out Oenone [Wood,] but then I over-ruled," the matter-of-fact Teutenberg said. "I had a perfect position and then Nicole [Cooke] kind of run out of people to lead her out.
"I was worried about Rochelle Gilmore because I knew she was on my wheel and last year she nipped us at the line here and I was waiting for her to come, but luckily she didn't come."
How the race unfolded
Backs to the wall
Photo ©: John Veage

Teutenberg's sprint effort came at the end of thirty laps of a one kilometre course at Port Arlington. The demanding criterium circuit featured more than it's share of up-hill roads, made all the more difficult with the fast pace of the race.
Just over 100 cyclists lined up for the stage, featuring seven of the world's top ten ranked female cyclists.
"I think it's always the same here because everybody wants to get a front position, to make sure they don't get gapped off," Teutenberg said. "That hill doesn't really look like anything when you ride it but in the last couple of laps when people attack it really hurts because you have to do it so many times."
In the early laps it was the second place getter from the morning's time trial who featured. Larissa Kleinmann driving hard on the front, trying on several occasions to establish a breakaway which never eventuated.
Kleinmann's attacks also served to expose varying standards of fitness among the riders contesting the Geelong Women's Tour - with numerous proven criterium performers going out the back door.
Despite struggling with illness in recent months, Rochelle Gilmore (Menikini Gysko) managed to stay comfortably in the lead group, with Teutenberg never far from the lead and Cooke getting her team-mates to do the work.
"It was very fast, there were a fair few attacks from, for example, Larissa Kleinmann who was second this morning. It was very aggressive," Cooke told Cyclingnews. "My team rode well to help me with the intermediate sprints and I did what I could in the final sprint, but Ina Teutenberg was very strong and the same with Rochelle Gilmore."
Gilmore was well positioned on Teutenberg's wheel heading into the uphill finishing straight, but couldn't reproduce last year's winning effort. Still, there was plenty to be positive about.
"Yeah I think it's done a little bit for my confidence mentally because I've had a tough track season and my health hasn't been right for the last couple of weeks," Gilmore said. "[I'm] disappointed with the finish and maybe I just left my run a little bit late, but being beaten by Ina's nothing to be disappointed about."
Gilmore and Pic waiting for Barwon Heads
Tour leader Dotsie Bausch
Photo ©: John Veage

While Ina Teutenberg managed to win the Lara stage at last year's Geelong Women's Tour, it's the Barwon Heads stage which has the marquee sprinters a little on edge.
The order for the stage has been reversed in 2007, with the circuit race around Barwon heads, the final stage for the Geelong Women's Tour this time around.
Rochelle Gilmore, who crashed at Barwon Heads last year, is planning to make amends, but will face a determined American Tina Pic (Colavita Sutter Home Presented by Cooking Light) in the long windy finishing straight along the magnificent stretch of Victorian coastline.
"I think tomorrow [at Lara] the whole time I'll be thinking about the next day so tomorrow I probably won't want to burn myself too much," Gilmore said. "Just sit in the bunch and if the breaks go so be it."
As for Pic, the American who has twice won at Barwon Heads isn't making bold predictions.
"Oh we'll see," Pic told Cyclingnews. "It's a dicey finish that one."
Photography
For a thumbnail gallery of these images, click here
Images by John Veage
Images by John Flynn/Cyclingnews.com
Results
1 Ina-Yoko Teutenberg (Ger) T-Mobile Women                                58.29
2 Rochelle Gilmore (Aus) Menikini Gysko                                        
3 Nicole Cooke (GBr) Raleigh Lifeforce Creation                                
4 Kate Nichols (Aus) Australian National Team                                  
5 Emma Rickards (Aus) Raleigh Lifeforce Creation                               
6 Alex Wrubleski (Can) Colavita/Sutter Home presented by Cooking Light         
7 Nikki Egyed (Aus) Australian National Team                                   
8 Dorte Rasmussen (Den) Menikini Gysko                                         
9 Susanne Ljungskog (Swe) Team Flexpoint                                       
10 Judith Arndt (Ger) T-Mobile Women                                           
11 Larissa Kleinmann (Ger) German National Team                                
12 Charlotte Becker (Ger) Equipe Nürnberger Versicherung                       
13 Annette Beutler (Swi) Team Flexpoint                                        
14 Toni Bradshaw (NZl) BikeNZ New Zealand National Team                        
15 Laura Van Gilder (USA) Cheerwine                                        0.06
16 Jocelyn Loane (Aus) Australian National Team                                
17 Catherine Hare (GBr) Biggin & Scott                                         
18 Olivia Gollan (Aus) Menikini Gysko                                          
19 Dotsie Bausch (USA) Colavita/Sutter Home presented by Cooking Light         
20 Michelle Hyland (NZl) BikeNZ New Zealand National Team                      
21 Jenny Macpherson (Aus) Australian National Team                             
22 Karin Aune (Swe) Menikini Gysko                                             
23 Tina Pic (USA) Colavita/Sutter Home presented by Cooking Light              
24 Oenone Wood (Aus) T-Mobile Women                                            
25 Sarah Düster (Ger) Raleigh Lifeforce Creation                               
26 Candice Sullivan (Aus) Australian National Team                             
27 Miho Oki (Jpn) Menikini Gysko                                               
28 Leigh Hobson (Can) Cheerwine                                                
29 Loes Gunnewijk (Ned) Team Flexpoint                                         
30 Edita Pucinskaite (Ltu) Equipe Nürnberger Versicherung                      
31 Madeleine Sandig (Ger) Team Flexpoint                                       
32 Emma Pooley (GBr) Great Britain National Team                               
33 Alexis Rhodes (Aus) T-Mobile Women                                          
34 Trixi Worrack (Ger) Equipe Nürnberger Versicherung                          
35 Andrea Graus (Aut) Equipe Nürnberger Versicherung                           
36 Rushlee Buchanan (NZl) BikeNZ New Zealand National Team                     
37 Katherine Bates (Aus) T-Mobile Women                                        
38 Natalie Bates (Aus) NSW Institute of Sport                                  
39 Lorian Graham (Aus) Queensland Academy of Sport                             
40 Vicki Whitelaw (Aus) Landlink Cycling Team                                  
41 Joanne Kiesanowski (NZl) Raleigh Lifeforce Creation                         
42 Sara Carrigan (Aus) Queensland Academy of Sport                             
43 Eva Lutz (Ger) Equipe Nürnberger Versicherung                               
44 Tiffany Cromwell (Aus) NSW Institute of Sport                               
45 Priska Doppmann (Swi) Raleigh Lifeforce Creation                        0.18
46 Regina Schleicher (Ger) Equipe Nürnberger Versicherung                  0.20
47 Carla Ryan (Aus) Queensland Academy of Sport                                
48 Tanja Slater (GBr) Great Britain National Team                          0.29
49 Gina Waibl (NZl) Team Kiwi                                              0.30
50 Betina Hold (Can) Cheerwine                                             0.34
51 Sigrid Corneo (Ita) Menikini Gysko                                      0.37
52 Brooke Ourada (USA) Cheerwine                                           0.43
53 Linda Villumsen (Den) T-Mobile Women                                        
54 Melissa Holt (NZl) BikeNZ New Zealand National Team                     0.45
55 Sarah Ulmer (NZl) BikeNZ New Zealand National Team                      1.00
56 Alison Powers (USA) Colavita/Sutter Home presented by Cooking Light     1.23
57 Angela Brodtka (Ger) German National Team                               1.30
58 Patricia Palmer (Aus) MB Coaching                                       3.30
59 Theresa Cliff-Ryan (USA) Landlink Cycling Team                              
60 Peta Mullens (Aus) NSW Institute of Sport                                   
61 Sarah Murdoch (NZl) Team Kiwi                                               
62 Jennifer Fay (Irl) Biggin & Scott                                           
63 Louise Kerr (Aus) Queensland Academy of Sport                               
64 Hannah Banks (Aus) Queensland Academy of Sport                              
65 Liz Hayman (Aus) Team South Coast - raceconcept.net                         
66 Niki Fisher (Aus) Team South Coast - raceconcept.net                        
67 Janine Ridsdale (Aus) Team South Coast - raceconcept.net                    
68 Clemilda Fernandes (Bra) Brazilian National Team                            
69 Toireasa Gallagher (Aus) NSW Institute of Sport                             
70 Jemma O'brien (Aus) Team South Coast - raceconcept.net                      
71 Marina Duvnjak (NZl) BikeNZ New Zealand National Team                   4.30
72 Uenia Fernandes (Bra) Brazilian National Team                               
73 Loes Markerink (Ned) Team Flexpoint                                         
74 Naomi Williams (Aus) NSW Institute of Sport                                 
75 Annelies Basten (NZl) Team Kiwi                                             
76 Kerri-Anne Torckler (NZl) Team Kiwi                                         
77 Brei Gudsell (NZl) Team Kiwi                                                
78 Sereina Trachsel (Swi) Raleigh Lifeforce Creation                       5.30
79 Nina Köhn (Ger) German National Team                                        
80 Skye-Lee Armstrong (Aus) NSW Institute of Sport                             
81 Amber Jenkins (Aus) Landlink Cycling Team                                   
82 Liz Young (Aus) MB Coaching                                                 
83 Rachel O'connell (Aus) Cheerwine                                            
84 Deborah Fagg (Aus) Landlink Cycling Team                                    
85 Sophie Ruderman (GBr) Biggin & Scott                                        
86 Jessie Maclean (Aus) Landlink Cycling Team                                  
87 Kerryn Charman (Aus) Landlink Cycling Team                                  
88 Janildes Fernandes (Bra) Brazilian National Team                            
89 Courtney Le Lay (Aus) Queensland Academy of Sport                           
90 Amanda Spratt (Aus) Australian National Team                                
91 Sheba Farrin (USA) MB Coaching                                              
92 Gail Johnston (Aus) Team South Coast - raceconcept.net                      
93 Anneliese Heard (GBr) Great Britain National Team                       6.30
94 Maryam Rogers (GBr) Great Britain National Team                             
95 Virgina Henning (Ger) German National Team                                  
96 Camila Rodrigues (Bra) Brazilian National Team                              
97 Sheree Richmond (Aus) MB Coaching                                           
98 Emma Lovelock (Aus) Team South Coast - raceconcept.net                  7.00
99 Tara Stewart (Aus) Biggin & Scott                                           
100 Kristen Watt (Aus) MB Coaching                                         7.30
101 Rebecca Jones (GBr) MB Coaching                                            
 
Intermediate sprint 1 - 10km
 
1 Nicole Cooke (GBr) Raleigh Lifeforce Creation                               6 pts
2 Oenone Wood (Aus) T-Mobile Women                                            4
3 Melissa Holt (NZl) BikeNZ New Zealand National Team                         2
 
Intermediate sprint 2 - 20km
 
1 Oenone Wood (Aus) T-Mobile Women                                            6 pts
2 Nicole Cooke (GBr) Raleigh Lifeforce Creation                               4
3 Alex Wrubleski (Can) Colavita/Sutter Home presented by Cooking Light        2
 
Final sprint
 
1 Ina-Yoko Teutenberg (Ger) T-Mobile Women                                    8 pts
2 Rochelle Gilmore (Aus) Menikini Gysko                                       6
3 Nicole Cooke (GBr) Raleigh Lifeforce Creation                               4
 
General classification after stage 2
 
1 Nicole Cooke (GBr) Raleigh Lifeforce Creation                         1.10.00
2 Larissa Kleinmann (Ger) German National Team                             0.07
3 Dotsie Bausch (USA) Colavita/Sutter Home presented by Cooking Light      0.08
4 Judith Arndt (Ger) T-Mobile Women                                        0.17
5 Annette Beutler (Swi) Team Flexpoint                                     0.20
6 Laura Van Gilder (USA) Cheerwine                                         0.26
7 Oenone Wood (Aus) T-Mobile Women                                         0.28
8 Ina-Yoko Teutenberg (Ger) T-Mobile Women                                 0.30
9 Susanne Ljungskog (Swe) Team Flexpoint                                   0.34
10 Sara Carrigan (Aus) Queensland Academy of Sport                         0.37
11 Kate Nichols (Aus) Australian National Team                             0.38
12 Vicki Whitelaw (Aus) Landlink Cycling Team                              0.41
13 Emma Pooley (GBr) Great Britain National Team                           0.43
14 Miho Oki (Jpn) Menikini Gysko                                           0.47
15 Natalie Bates (Aus) NSW Institute of Sport                              0.48
16 Charlotte Becker (Ger) Equipe Nürnberger Versicherung                   0.49
17 Edita Pucinskaite (Ltu) Equipe Nürnberger Versicherung                  0.50
18 Nikki Egyed (Aus) Australian National Team                              0.51
19 Loes Gunnewijk (Ned) Team Flexpoint                                         
20 Tina Pic (USA) Colavita/Sutter Home presented by Cooking Light          0.55
21 Tiffany Cromwell (Aus) NSW Institute of Sport                           0.57
22 Alex Wrubleski (Can) Colavita/Sutter Home presented by Cooking Light    0.58
23 Alexis Rhodes (Aus) T-Mobile Women                                      0.59
24 Priska Doppmann (Swi) Raleigh Lifeforce Creation                        1.01
25 Sarah Düster (Ger) Raleigh Lifeforce Creation                               
26 Jenny Macpherson (Aus) Australian National Team                         1.05
27 Tanja Slater (GBr) Great Britain National Team                              
28 Eva Lutz (Ger) Equipe Nürnberger Versicherung                           1.07
29 Trixi Worrack (Ger) Equipe Nürnberger Versicherung                          
30 Katherine Bates (Aus) T-Mobile Women                                    1.08
31 Andrea Graus (Aut) Equipe Nürnberger Versicherung                       1.09
32 Leigh Hobson (Can) Cheerwine                                            1.10
33 Karin Aune (Swe) Menikini Gysko                                         1.13
34 Olivia Gollan (Aus) Menikini Gysko                                          
35 Jocelyn Loane (Aus) Australian National Team                            1.14
36 Madeleine Sandig (Ger) Team Flexpoint                                   1.17
37 Dorte Rasmussen (Den) Menikini Gysko                                        
38 Toni Bradshaw (NZl) BikeNZ New Zealand National Team                    1.19
39 Joanne Kiesanowski (NZl) Raleigh Lifeforce Creation                     1.21
40 Rushlee Buchanan (NZl) BikeNZ New Zealand National Team                 1.22
41 Michelle Hyland (NZl) BikeNZ New Zealand National Team                  1.23
42 Rochelle Gilmore (Aus) Menikini Gysko                                   1.28
43 Melissa Holt (NZl) BikeNZ New Zealand National Team                     1.30
44 Lorian Graham (Aus) Queensland Academy of Sport                         1.32
45 Carla Ryan (Aus) Queensland Academy of Sport                            1.35
46 Regina Schleicher (Ger) Equipe Nürnberger Versicherung                  1.38
47 Candice Sullivan (Aus) Australian National Team                             
48 Betina Hold (Can) Cheerwine                                             1.41
49 Emma Rickards (Aus) Raleigh Lifeforce Creation                          1.44
50 Sarah Ulmer (NZl) BikeNZ New Zealand National Team                      2.01
51 Linda Villumsen (Den) T-Mobile Women                                    2.02
52 Catherine Hare (GBr) Biggin & Scott                                     2.03
53 Gina Waibl (NZl) Team Kiwi                                              2.04
54 Brooke Ourada (USA) Cheerwine                                           2.07
55 Alison Powers (USA) Colavita/Sutter Home presented by Cooking Light     2.16
56 Sigrid Corneo (Ita) Menikini Gysko                                      2.58
57 Angela Brodtka (Ger) German National Team                               3.26
58 Jennifer Fay (Irl) Biggin & Scott                                       4.23
59 Toireasa Gallagher (Aus) NSW Institute of Sport                         4.32
60 Niki Fisher (Aus) Team South Coast - raceconcept.net                    4.39
61 Louise Kerr (Aus) Queensland Academy of Sport                           4.41
62 Janine Ridsdale (Aus) Team South Coast - raceconcept.net                    
63 Hannah Banks (Aus) Queensland Academy of Sport                          4.44
64 Theresa Cliff-Ryan (USA) Landlink Cycling Team                          4.56
65 Clemilda Fernandes (Bra) Brazilian National Team                        5.01
66 Annelies Basten (NZl) Team Kiwi                                         5.14
67 Marina Duvnjak (NZl) BikeNZ New Zealand National Team                   5.15
68 Jemma O'brien (Aus) Team South Coast - raceconcept.net                  5.19
69 Peta Mullens (Aus) NSW Institute of Sport                               5.20
70 Liz Hayman (Aus) Team South Coast - raceconcept.net                     5.28
71 Sarah Murdoch (NZl) Team Kiwi                                           5.37
72 Patricia Palmer (Aus) MB Coaching                                       5.46
73 Brei Gudsell (NZl) Team Kiwi                                            5.57
74 Kerri-Anne Torckler (NZl) Team Kiwi                                     6.05
75 Liz Young (Aus) MB Coaching                                             6.19
76 Janildes Fernandes (Bra) Brazilian National Team                        6.34
77 Uenia Fernandes (Bra) Brazilian National Team                           6.44
78 Sereina Trachsel (Swi) Raleigh Lifeforce Creation                       6.46
79 Loes Markerink (Ned) Team Flexpoint                                     6.48
80 Naomi Williams (Aus) NSW Institute of Sport                             6.57
81 Jessie Maclean (Aus) Landlink Cycling Team                              7.08
82 Amanda Spratt (Aus) Australian National Team                            7.10
83 Sophie Ruderman (GBr) Biggin & Scott                                        
84 Nina Köhn (Ger) German National Team                                    7.15
85 Kerryn Charman (Aus) Landlink Cycling Team                              7.20
86 Courtney Le Lay (Aus) Queensland Academy of Sport                       7.30
87 Amber Jenkins (Aus) Landlink Cycling Team                               7.33
88 Deborah Fagg (Aus) Landlink Cycling Team                                    
89 Gail Johnston (Aus) Team South Coast - raceconcept.net                  7.43
90 Rachel O'connell (Aus) Cheerwine                                        7.44
91 Skye-Lee Armstrong (Aus) NSW Institute of Sport                         7.54
92 Sheree Richmond (Aus) MB Coaching                                       8.09
93 Anneliese Heard (GBr) Great Britain National Team                       8.10
94 Virgina Henning (Ger) German National Team                              8.11
95 Sheba Farrin (USA) MB Coaching                                          8.32
96 Camila Rodrigues (Bra) Brazilian National Team                          8.45
97 Maryam Rogers (GBr) Great Britain National Team                         9.13
98 Tara Stewart (Aus) Biggin & Scott                                       9.17
99 Emma Lovelock (Aus) Team South Coast - raceconcept.net                  9.38
100 Rebecca Jones (GBr) MB Coaching                                       10.12
101 Kristen Watt (Aus) MB Coaching                                        10.17
 
Sprint classification
 
1 Nicole Cooke (GBr) Raleigh Lifeforce Creation                              14 pts
2 Oenone Wood (Aus) T-Mobile Women                                           10
3 Ina-Yoko Teutenberg (Ger) T-Mobile Women                                    8
4 Rochelle Gilmore (Aus) Menikini Gysko                                       6
5 Melissa Holt (NZl) BikeNZ New Zealand National Team                         2
6 Alex Wrubleski (Can) Colavita/Sutter Home presented by Cooking Light        2
 
Young rider classification
 
1 Kate Nichols (Aus) Australian National Team                           1.10.38
2 Tiffany Cromwell (Aus) NSW Institute of Sport                            0.19
3 Alex Wrubleski (Can) Colavita/Sutter Home presented by Cooking Light     0.20
4 Alexis Rhodes (Aus) T-Mobile Women                                       0.21
5 Rushlee Buchanan (NZl) BikeNZ New Zealand National Team                  0.43
6 Michelle Hyland (NZl) BikeNZ New Zealand National Team                   0.45
7 Carla Ryan (Aus) Queensland Academy of Sport                             0.57
8 Candice Sullivan (Aus) Australian National Team                          1.00
9 Linda Villumsen (Den) T-Mobile Women                                     1.24
10 Louise Kerr (Aus) Queensland Academy of Sport                           4.02
11 Hannah Banks (Aus) Queensland Academy of Sport                          4.06
12 Peta Mullens (Aus) NSW Institute of Sport                               4.42
13 Kerri-Anne Torckler (NZl) Team Kiwi                                     5.26
14 Uenia Fernandes (Bra) Brazilian National Team                           6.05
15 Loes Markerink (Ned) Team Flexpoint                                     6.10
16 Jessie Maclean (Aus) Landlink Cycling Team                              6.29
17 Amanda Spratt (Aus) Australian National Team                            6.31
18 Nina Köhn (Ger) German National Team                                    6.36
19 Courtney Le Lay (Aus) Queensland Academy of Sport                       6.52
20 Skye-Lee Armstrong (Aus) NSW Institute of Sport                         7.15
21 Virgina Henning (Ger) German National Team                              7.33
22 Tara Stewart (Aus) Biggin & Scott                                       8.39
23 Emma Lovelock (Aus) Team South Coast - raceconcept.net                  8.59
24 Kristen Watt (Aus) MB Coaching                                          9.39