Open de Suède Vargarda - CDM
Sweden, August 5, 2007
Main Page Results World Cup standings
Beltman continues T-Mobile dominance
By Susan Westemeyer
Chantal Beltman (T-Mobile) celebrates as she takes
Photo ©: AFP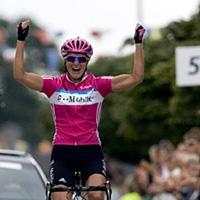 Chantal Beltman of T-Mobile attacked out of a two-woman break to win the women's World Cup race in Vagarda, Sweden, beating Karin Thürig (Team Raleigh Lifeforce) by an impressive 32 seconds. Italian Noemi Cantele (Bigla) won the bunch sprint for third place, some 2.57 minutes down on the magenta winner.
"It was the perfect day for the team," said T-Mobile sporting director Anna Wilson. "Everything worked out today. I am so happy for Chantal. Chantal was in tears afterwards!"
Having spent last week in Beijing, previewing the Olympic course with her Dutch national teammates, Beltman made the most of a worn-down peloton to claim her first World Cup victory of 2007. "I really didn't expect top form from her today, as she has been doing a lot of travel recently and hadn't raced in three weeks," noted Wilson. "But in the end it was the extra freshness that counted.
"The Thüringen Rundhfahrt took a lot out of many riders, you could see Karin Thürig was looking a bit tired when she is normally so strong, but Chantal was fresh and she was able to take advantage of that to win for the team here," continued Wilson. "A World Cup win was a long time coming, and we were very close on many occasions, but now we have one in the bag and we are all delighted."
It was the 30-year-old Dutchwoman's first victory this season. She won two races in 2006, has finished second in the national championships twice, and won the World Cup race in Rotterdam in 2003 and 2000. She finished second in the World's in 2000.
How it unfolded
The decisive move - Karin Thurig (Raleigh Lifeforce)
Photo ©: Petra Rossner

A three rider escape, ignited by Raleigh's Nikki Egyed, went off the front immediately and stayed away for the first 60 kilometres. As the peloton hit a climb with 50 kilometres remaining, Belman and Thürig took their opponents by surprise; attacking the peloton and quickly drawing out a two minute gap.
"After that, some riders tried to attack the bunch, and teams had one rider taking pulls at the front, but there was no organised chase - ideal for Chantal!" explained Wilson.
A second group containing seven riders, including Cantele, Fabiana Luperini (Menikini Selle Italia Gysko) and world champion Marianne Vos (Team DSB Bank), splintered from the peloton as the race wound down into its final kilometres.
Great Britain's Nicole Cooke (Raleigh Lifeforce) maintains her overall World Cup lead, despite finishing 12th on the day.
Photography
For a thumbnail gallery of these images, click here
Images by AFP Photo
Images by Petra Rossner/WomensCycling.net
Results - 132 km
1 Chantal Beltman (Ned) T-Mobile Women                              3.22.52 (39.040 km/h)
2 Karin Thürig (Swi) Raleigh Lifeforce Creation HB Pro Cycling Team    0.32
3 Noemi Cantele (Ita) Bigla Cycling Team                               2.57
4 Andrea Bosman (Ned) Team DSB Bank                                        
5 Irene Van Den Broek (Ned) AA-Drink Cycling Team                          
6 Sarah Düster (Ger) Raleigh Lifeforce Creation HB Pro Cycling Team        
7 Eva Lutz (Ger) Equipe Nürnberger Versicherung                            
8 Fabiana Luperini (Ita) Menikini Selle Italia Gysko                       
9 Tatiana Guderzo (Ita) AA-Drink Cycling Team                              
10 Marianne Vos (Ned) Team DSB Bank                                        
11 Angela Brodtka (Ger) Team Getränke-Hoffmann                         3.14
12 Nicole Cooke (GBr) Raleigh Lifeforce Creation HB Pro Cycling Team       
13 Anita Valen-De Vries (Nor) Norweigan National Team                      
14 Trixi Worrack (Ger) Equipe Nürnberger Versicherung                      
15 Judith Arndt (Ger) T-Mobile Women                                       
16 Grete Treier (Est) Estonian National Women Team                         
17 Susanne Ljungskog (Swe) Team Flexpoint                                  
18 Catherine Hare (GBr) Rapha/Condor                                       
19 Andrea Graus (Aut) Equipe Nürnberger Versicherung                       
20 Nikki Egyed (Aus) Raleigh Lifeforce Creation HB Pro Cycling Team        
21 Edwige Pitel (Fra) Team Uniqa                                           
22 Monica Holler (Swe) Bigla Cycling Team                              5.47
23 Kirsten Wild (Ned) AA-Drink Cycling Team                                
24 Adrie Visser (Ned) Team DSB Bank                                        
25 Yong Liu (Chn) Giant Pro Cycling Team                                   
26 Karin Aune (Swe) Menikini Selle Italia Gysko                            
27 Emma Johansson (Swe) Swedish National Team                              
28 Emma Rickards (Aus) Raleigh Lifeforce Creation HB Pro Cycling Team      
29 Jennifer Hohl (Swi) Bigla Cycling Team                                  
30 Sara Mustonen (Swe) Swedish National Team                               
31 Priska Doppmann (Swi) Raleigh Lifeforce Creation HB Pro Cycling Team    
32 Serena Danesi (Ita) Top Girls Fassa Bortolo Raxy Line                   
33 Malgorzata Jasinska (Pol) Pol-Aqua                                      
34 Tina Liebig (Ger) Team Getränke-Hoffmann                                
35 Marije Profijt (Ned) Therme Skin Care                                   
36 Tanja Hennes (Ger) Bigla Cycling Team                                   
37 Lang Meng (Chn) Giant Pro Cycling                                       
38 Magdalena Zamolska (Pol) Pol-Aqua                                       
39 Olivia Gollan (Aus) Menikini Selle Italia Gysko                         
40 Lidia Arcangeli (Ita) Bigla Cycling Team                                
41 Linda Villumsen-Serup (Den)                                             
42 Kimberly Anderson (USA) T-Mobile Women                                  
43 Sigrid Corneo (Ita) Menikini Selle Italia Gysko                         
44 Anke Wichmann (Ger) T-Mobile Women                                      
45 Amber Neben (USA) Team Flexpoint                                        
46 Mirjam Melchers-Van Poppel (Ned) Team Flexpoint                         
47 Kristine Saastad (Nor) Norweigan National Team                      6.59
48 Nathalie Lamborelle (Lux) Team Uniqa                                8.48
49 Marie Lindberg (Swe) Equipe Nürnberger Versicherung                     
50 Laura Lepasalu (Est) Estonian National Women Team                       
51 Julie O´Hagan (Irl) Rapha/Condor                                        
52 Roxane Knetemann (Ned) AA-Drink Cycling Team                            
53 Tone Temtemoen (Nor) Norweigan National Team                            
54 Catrine Josefsson (Swe) Swedish National Team                           
55 Monika Schachl (Aut) Team Uniqa                                         
56 Nathalie Bates (Aus) Team Getränke-Hoffmann                             
57 Fei Wang (Chn) Giant Pro Cycling                                        
58 Virginia Hennig (Ger) Team Getränke-Hoffmann                            
59 Madelene Olsson (Swe) Swedish National Team                             
60 Min Gao (Chn) Giant Pro Cycling                                         
61 Noortje Tabak (Ned) Team DSB Bank                                       
62 Sharon Van Essen (Ned) Team DSB Bank                                    
63 Laura Pisaneschi (Ita) Top Girls Fassa Bortolo Raxy Line                
64 Silvia Valsecchi (Ita) Menikini Selle Italia Gysko                      
65 Linn Torp (Nor) Norweigan National Team                            12.15
66 Trine Schmidt (Den) Team Flexpoint                                      
67 Rixt Meijer (Ned) Therme Skin Care                                      
DNF Linda Van Riisen (Ned) Team DSB Bank                                   
DNF Oenone Wood (Aus) T-Mobile Women                                       
DNF Dorte Rasmussen (Den) Menikini Selle Italia Gysko                      
DNF Andrea Thürig (Swi) Bigla Cycling Team                                 
DNF Luise Keller (Ger) Team Flexpoint                                      
DNF Sandra Missbach (Ger) Team Getränke-Hoffmann                           
DNF Stephanie Pohl (Ger) Team Getränke-Hoffmann                            
DNF Bernadette Schober (Aut) Team Uniqa                                    
DNF Inge Van Den Broeck (Bel) AA-Drink Cycling Team                        
DNF Latoya Brulée (Bel) AA-Drink Cycling Team                              
DNF Bertine Spijkerman (Ned) Therme Skin Care                              
DNF Kristy Miggels (Ned) Therme Skin Care                                  
DNF Hilde Van Slochteren (Ned) Therme Skin Care                            
DNF Anna Farina (Ita) Top Girls Fassa Bortolo Raxy Line                    
DNF Francesca Tognali (Ita) Top Girls Fassa Bortolo Raxy Line              
DNF Xiao Huang (Chn) Giant Pro Cycling Team                                
DNF Joanna Ignasiak (Pol) Pol-Aqua                                         
DNF Malgorzata Wysocka (Pol) Pol-Aqua                                      
DNF Monika Krawczyk (Pol) Pol-Aqua                                         
DNF Agnieszka Ryczek (Pol) Pol-Aqua                                        
DNF Mélissa Flagothier (Bel) Rapha/Condor                                  
DNF Jennifer Fay (Irl) Rapha/Condor                                        
DNF Amy Mosen (NZl) Rapha/Condor                                           
DNF Arien Torsius (RSA) Rapha/Condor                                       
DNF Theresa Cliff-Ryan (USA) Verducci Breakaway Racing                     
DNF Jessie Maclean (Aus) Verducci Breakaway Racing                         
DNF Kacey Manderfield (USA) Verducci Breakaway Racing                      
DNF Nonnie Howard (USA) Verducci Breakaway Racing                          
DNF Alexandra Engen (Swe) Swedish National Team                            
DNF Caroline Eriksson (Swe) Swedish National Team                          
DNF Kirsti Ruud (Nor) Norweigan National Team                              
DNF Kata-Liina Normak (Est) Estonian National Women Team                   
DNF Maris Nurm (Est) Estonian National Women Team                          

World Cup standings
Individual

1 Nicole Cooke (GBr) Raleigh Lifeforce Pro Cycling Team           287 pts
2 Marianne Vos (Ned) Team DSB Bank                                236
3 Oenone Wood (Aus) T-Mobile Team                                 109
4 Fabiana Luperini (Ita) Menikini - Selle Italia - Gysko          108
5 Karin Thürig (Swi) Raleigh Lifeforce Pro Cycling Team            77
6 Edita Pucinskaite (Ltu) Equipe Nürnberger Versicherung           76
7 Judith Arndt (Ger) T-Mobile Team                                 76
8 Trixi Worrack (Ger) Equipe Nürnberger Versicherung               76
9 Chantal Beltman (Ned) T-Mobile Team                              75
10 Adrie Visser (Ned) Team DSB Bank                                75
11 Andrea Graus (Aut) Equipe Nürnberger Versicherung               63
12 Ina Teutenberg (Ger) T-Mobile Team                              60
13 Eva Lutz (Ger) Equipe Nürnberger Versicherung                   59
14 Nikki Egyed (Aus) Raleigh Lifeforce Pro Cycling Team            53
15 Mara Abbott (USA)                                               50
16 Zoulfia Zabirova (Kaz) Bigla Cycling Team                       50
17 Elodie Touffet (Fra) Menikini - Selle Italia - Gysko            50
18 Amber Neben (USA) Team Flexpoint                                47
19 Angela Brodtka (Ger) Team Getränke-Hoffmann                     46
20 Irene Van Den Broek (Ned) AA-Drink Cycling Team                 45
21 Monia Baccaille (Ita) Saccarelli EMU Marsciano                  40
22 Andrea Bosman (Ned) Team DSB Bank                               37
23 Sofie Goor (Bel) Vlaanderen-Capri Sonne-T Interim               36
24 Noemi Cantele (Ita) Bigla Cycling Team                          35
25 Rochelle Gilmore (Aus) Menikini - Selle Italia - Gysko          35
26 Joanne Kiesanowski (NZl) Raleigh Lifeforce Pro Cycling Team     33
27 Annette Beutler (Swi)                                           32
28 Kristin Armstrong (USA) Team Lipton                             29
29 Susanne Ljungskog (Swe) Team Flexpoint                          28
30 Suzanne De Goede (Ned) T-Mobile Team                            27
31 Sarah Düster (Ger) Raleigh Lifeforce Pro Cycling Team           27
32 Nicole Brändli (Swi) Bigla Cycling Team                         24
33 Edwige Pitel (Fra) Team Uniqa                                   24
34 Jeannie Longo-Ciprelli (Fra) Team Uniqa                         21
35 Regina Schleicher (Ger) Equipe Nürnberger Versicherung          21
36 Tatiana Guderzo (Ita) AA-Drink Cycling Team                     21
37 Marta Bastianelli (Ita) Safi-Pasta Zara Manhattan               18
38 Regina Bruins (Ned)                                             18
39 Giorgia Bronzini (Ita) Safi-Pasta Zara Manhattan                18
40 Emma Rickards (Aus) Raleigh Lifeforce Pro Cycling Team          16
41 Tanja Hennes (Ger) Bigla Cycling Team                           15
42 Priska Doppmann (Swi) Raleigh Lifeforce Pro Cycling Team        15
43 Lorian Graham (Aus)                                             12
44 Claudia Häusler (Ger) Equipe Nürnberger Versicherung            11
45 Mie Bekker Lacota (Den) Team Flexpoint                          11
46 Christine Thorburn (USA)                                        10
47 Tina Mayolo Pic (USA) Colavita-Sutter Home p/b Cooking Light    10
48 Olga Slyusareva (Rus) Fenixs-HPB                                10
49 Paulina Brzezna (Pol) AA-Drink Cycling Team                     10
50 Marina Jaunatre (Fra) Vienne Futuroscope                        10
51 Kirsten Wild (Ned) AA-Drink Cycling Team                         9
52 Madeleine Sandig (Ger) Team Flexpoint                            9
53 Anita Valen (Nor) Vrienden Van Het Platteland                    8
54 Martina Corazza (Ita) Team FRW                                   8
55 Ludivine Henrion (Bel) Team DSB Bank                             8
56 Lieselot Decroix (Bel) Lotto-Belisol Ladiesteam                  8
57 Gunn-Rita Dahle Flesjaa (Nor) Safi-Pasta Zara Manhattan          8
58 Laura Vangilder (USA) Cheerwine                                  8
59 Svetlana Bubnenkova (Rus) Fenixs-HPB                             8
60 Karin Aune (Swe) Menikini - Selle Italia - Gysko                 7
61 Brooke Miller (USA)                                              7
62 Tina Liebig (Ger) Team Getränke-Hoffmann                         6
63 Miho Oki (Jpn) Menikini - Selle Italia - Gysko                   6
64 Eleonora Van Dijk (Ned) Vrienden Van Het Platteland              6
65 Grete Treier (Est) S.C. Michela Fanini Record Rox                5
66 Alex Wrubleski (Can) Colavita-Sutter Home p/b Cooking Light      5
67 Silvia Parietti (Ita) Team FRW                                   5
68 Tiffany Cromwell (Aus)                                           5
69 Sigrid Corneo (Ita) Menikini - Selle Italia - Gysko              4
70 Catherine Cheatley (NZl) Cheerwine                               4
71 Sylvie Riedle (Fra)                                              4
72 Grace Verbeke (Bel) Lotto-Belisol Ladiesteam                     4
73 Liesbeth De Vocht (Bel) Lotto-Belisol Ladiesteam                 4
74 Catherine Hare (GBr) Rapha-Condor                                3
75 Moniek Rotmensen (Ned)                                           3
76 Monika Schachl (Aut) Team Uniqa                                  1
77 Daiva Tuslaite (Ltu) S.C. Michela Fanini Record Rox              1
78 Loes Markerink (Ned) Team Flexpoint                              1

Team Standings
 
1 Raleigh Lifeforce Pro Cycling Team                              454 pts
2 Team DSB Bank                                                   356
3 T-Mobile Team                                                   347
4 Equipe Nürnberger Versicherung                                  306
5 Menikini - Selle Italia - Gysko                                 210
6 Bigla Cycling Team                                              124
7 Team Flexpoint                                                  120
8 AA-Drink Cycling Team                                            85
9 Australian National Team                                         63
10 Team Uniqa                                                      46
11 Safi-Pasta Zara Manhattan                                       44
12 Saccarelli EMU Marsciano                                        40
13 Vlaanderen-Capri Sonne-T Interim                                36
14 American National Team                                          34
15 German National Team                                            27
16 Team Getränke-Hoffmann                                          19
17 Dutch National Team                                             18
18 Fenixs-HPB                                                      18
19 Lotto-Belisol Ladiesteam                                        16
20 Colavita-Sutter Home p/b Cooking Light                          15
21 Team Ista                                                       13
22 Cheerwine                                                       12
23 Vienne Futuroscope                                              10
24 Vrienden Van Het Platteland                                      9
25 Norwegian National Team                                          8
26 Estonian National Team                                           5
27 French National Team                                             4
28 Rapha-Condor                                                     3
29 Team Lipton                                                      2
30 S.C. Michela Fanini Record Rox                                   1